A demonstration of some of the sounds available from the legendary Wasp synthesiser.
The Wasp is a quirky little synthesizer that, despite its toyish look, is a quality instrument capable of fun and funky analog sounds. It really is black and yellow too, just like the insect it is named after. Probably its most distinguishing feature is the 2-octave keyboard which uses non-moving touch-sensitive keys. The flat little keys are sensitive only to your electro-static touch. It's a nifty technology for 1978, but in reality they are unreliable and difficult to play. Other unique touches include a little speaker built-in to the synth and EDP's own pre-MIDI connector ports for linking it to other Wasps and EDP gear.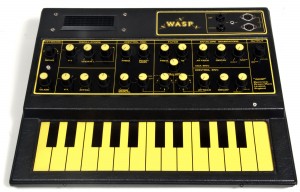 A look under the hood, however, reveals some nice surprises. The WASP is monophonic and powered by two digital oscillators supported by analog filters, envelopes and controls. This makes it one of the earliest compact digital/analog hybrid mono-synths, and it sounds great! The Wasp offers flexible subtractive synthesis. It's pretty easy to dial up some cool bass, synth, and other classic monophonic sounds. Its designer, Chris Hugget, also designed the Oxford Synthesizer Company's venerable OSCar Synthesizer.
Later versions of the Wasp included the Wasp Deluxe (released 1979) which had all the features of the original plus a standard 3-octave keyboard, wood panels, an oscillator mixer, an external audio-input, a larger built-in speaker, and battery operation. It was definitely redesigned for the practical musician. There was also the Wasp Special (released 1981) which also came with wood panels, a black and gold color scheme, and an internal power supply, but no built-in speaker and a return to the 2-octave touch-sensitive keyboard design. EDP also produced a heavily modified Wasp that was built into a guitar-form called the Keytar. It had a 2-octave keyboard with transpose and portamento buttons on the neck. However, only two Keytars were ever made as far as we know.
The rest of EDP's wild world of synthesis includes the Spider, a 252-note step, or 84-note real time digital sequencer designed to control the Wasp. The Caterpillar which is a 3-octave master keyboard for controlling up to four inter-connected Wasps played polyphonically. The Gnat which is a smaller, single-oscillator version of the Wasp that could also be linked to another Wasp to form a makeshift triple-oscillator synth playable from either keyboard (the Gnat also came in three versions similar to the Standard, Special and Deluxe models of the Wasp). All EDP instruments could be inter-connected via their own pre-MIDI style connection interface. While the Wasp and it's fellow insects may seem quirky and even toy-like, their sound, technology, flexibility and portability make them surprisingly good instruments that can still be found in use today.
.
YouTube Published on Jul 14, 2012 by mauriziodami
"'Ascension' is the first of 4 video-clips resulting from a session held at Alexander Robotnick's studio in April 2012.
A couple of cuts were made to bring the original 20 minute session down to a 10 minute video. No adjustment to the music was made in post-production. The parts played by Alexander Robotnick and Ludus Pinsky are totally improvised, with the exception of the central break and the theme of ascending notes that gives the title to the track. These two were previously agreed upon by the two musicians. The rhythmic part and the bass line were written on the sequencer in the modular synth operated by Ludus Pinsky. Some other sequencer lines derive from the main bass line.
The computer appearing in the video was used to record the performance on 24 tracks.
The video was shot by three standing cameras. The shots made by the mobile camera were mainly used to fill in the cuts.
"Ascension" is part of The Analog Session's forth-coming album featuring Alexander Robotnick and Ludus Pinsky that will be released in November 2012 by Hot Elephant Music.
More info at www.robotnick.it
More videos by The Analog Session at my channel: www.youtube.con/mauriziodami
Hot Elephant Music: www.hot-elephant.com"
Lead on EDP Wasp:
Wikipedia: The Wasp was undoubtedly EDP's most famous product, distinctive for its black/yellow colour scheme and brittle, cheap construction. It was notorious for its lack of a mechanical keyboard; instead, it used flat conductive copper plates, hidden under a silk-screened vinyl sticker. This was claimed to be unreliable, unintuitive, and devoid of much of the expression present with a real keyboard. Despite these flaws, the Wasp was fairly advanced technologically. It was one of the first commercially available synthesisers to adopt digital technology, which at the time was just beginning to become a standard. It also utilised a proprietary system for connecting several Wasp synthesisers together, predating the invention and standardisation of MIDI by several years. The digital interface should not, however, be confused with MIDI, even though similar DIN plugs are utilised (7-pin DIN instead of the 5-pin DIN which MIDI standardized to.
Architecturally, the wasp is dual DCO (not VCO) synth, with dual envelopes, and single, switchable (low/band/highpass) CMOS-based filter.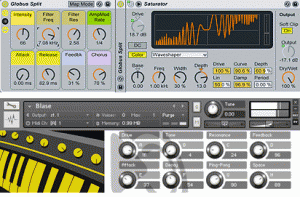 Vespine is a free sound a Micropack from Puremagnetik that includes over 30 expertly tailored programs that fully capture the characteristic charm of the legendary EDP Wasp synthesizer. Owners of Ableton Live 8.2.1, Kontakt 3.5 or Logic 8 can load up an arsenal of sounds derived from the classic analog hardware. Get the Vespine Micropak now from http://www.puremagnetik.com/…
The Wasp is a quirky little synthesizer that, despite its toyish look, is quite capable of funky analog sounds. It really is black and yellow too, just like the insect it is named for. Probably its most distinguishing feature is the keyboard and its non-moving touch-sensitive keys. That's right, the flat little keys are only sensitive to your electro-static touch. It's a nifty technology for 1978, but in reality they are difficult and unreliable to play. The WASP is powered by two digital oscillators supported by analog filters, envelopes and controls. This makes it one of the earliest digital/analog hybrid synthesizers to come in such a compact package, and it sounds great! The Wasp offers flexible and traditional synthesis of cool bass, synth, and other classic monophonic sounds. Its designer, Chris Hugget, also designed the Oxford Synthesizer Company's OSCar Synthesizer. The Wasp has been used by 808 State, Dave Holmes, Vince Clarke, WhiteHouse and Add N to (X).

Vespine comes packed with a variety of programs that fully exhibit the characteristic sound of the Electric Dream Plant's Wasp synthesizer.

Vespine Features:

• Close to 600 hi quality 24-bit multi-samples
• Programmed with modern sampler features for voice layering & polyphony variations
• Live version includes over 30 expertly designed rack instruments
• Kontakt version includes native Kontakt effects and a custom KSP GUI for easy editing