Totally useless it seems to me, but hey it might be a fun conversation piece. What do you do when two friends show up at home? Cambox them! Cambox is an amazing app on iOS devices. Capture any moment of your life, remix it and share it in seconds. Fun guaranteed.
Available on the App Store
Abylight has introduced Music On: Drums – DSiWare for the Nintendo DSI, described as "The definitive beatbox for creating songs and rhythms".
Here's what they have to say about it:
With a library of 160 sounds, use your creative skills to assign them to each of the 8 tracks available per pattern, activate or deactivate each of the 16 steps that make up a track using the buttons or the stylus, and combine the 8 patterns to compose up to 64 songs.
If you want to produce a more complex tune, you can customize each step and set the volume, change the frequency and assign a panning.
Like a professional DJ, create and play in real time!
Once you have laid down your patterns, you can use them to create much more complicated rhythms in the Song mode, where you can add them to a sequence of up to 32 parts and change their length, activate/deactivate tracks, add repeats, etc.
Release date: Europe+Australia December 24th, the Americas January 3th. Price: 500 Nintendo DSi Points.
What if you could create something musically amazing with just your voice? What if you didn't need musical instruments, sheet music, or complicated recording software? What if you could create an entire song with your voice, simulating bass lines, melodies, rhythms and sound effects, all in one pass, without ever stopping to think about it?
If you answered "that would be freaking amazing", then you need to download VoiceJam. VoiceJam is your access to performing, creating, and sharing amazing musical compositions.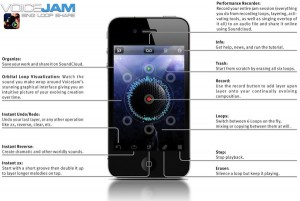 It wasn´t more then 24h after CDM released the beatbox thinking in relation to Google Translate before this video appeard
Google translate beatbox Meme Video Mashups
Thanks internet for the LOLs :*
This is actually quite funny

German to German translation turns Google Translate into a Beatbox
Click here and then click on listen >>
http://www.youtube.com/watch?v=HYQp9-cha4I&feature=player_embedded
Beat Kangz is introducing a new sampling workstation that looks like it could be the sexiest beat box ever – The Beat Thang.
The Bourne-o-vision video above is pretty bad, but even with the bad video, the interface looks like it will be pretty spectacular. If Beat Kangz can deliver, this could heat up things up in the world of drum machines/MPCs.
Features:
Sampling with onboard waveform editing
Over 3000 new sounds designed by The Beat Kangz
16 Track MIDI sequencer
500 production ready Platinum beats and loops created by The Beat Kangz
Sleek design and styling with customizable "Paintz" and "Grillz"
Convenient, light-weight portable design with internal rechargable battery
USB In & Out
Pitch and Mod Wheels
On Board FX including Reverb, Delay, Automated Filters and tons of Crazy "Freak FX" including "Chopped and Screwed"!!!!
On Board "Mo Bang" Mastering with EQ and Limiting
256 MB Ram standard
2 High Speed SD Card Slots
Export Beats to a Mac or PC
Easy to USE
And – "More top Secret Features and Surprises that we dont want our sleezy, thieving corporate competitors to know…. but we'll tell ya soon!"
Specifications:
2 Headphone Jacks
Carry audio output via USB. USB Connects to any Hard drive, USB keys can also be read and write to
Read directly off of the SD cards. 2 Slots capbable of 16GB's each
256 MB Ram Stock
512 Flash for user content on board. Higher if its a custom order
Stereo Mic Line input with Phantom Power
Sampling, and Resampling of outputs
Tempo sync Delay, Mastering, Reverb, Filters and tons of other weird FX
Plans to open FX section to 3rd party developers . Can you say VST (Ed. Very interesting…..)
Custom Paint. Any Color LED's, Custom Grillz
Each pad can have 16 layers with independent pitch, cut off res, pan, velocity, vol and a single pad can be spread across a whole keyboard with Loop points so you can sample synths strings or anything and turn it into multi layered patches.
PC Drum Kit builder with Drag and Drop capabilities
Sequencer Information
96 PPQ
1000 Sequences
500 Songs
Individual Bar Length which can be changed in real time even while recording. (Ed. Excellent!!)
Quantize and Swing can be changed in real-time.
All your Songs, Sequences, Beats, Kits, Patches, Samples and settings that are on your SD cards are always there and show up just like the presets.
13 Pads with Velocity
8 Pad banks per track
16 Tracks
Pad and Track mute and Solo
Mixer with level control FX send, Pan, Pitch Automation, Filter and EQ Automation per Track including (Low Pass, Band Pass, Hi pass, Low Shelf, High Shelf and Notch, Automated Q control to)
Dynamic Kit and Patch creator which is easy and to use. Samples can all have categories (Kicks, Snares Hats etc) App for converting your own samples into the categories and the ability to create your own.
16 Layers per PAD with velocity, pan, pitch ,cut off, res and volume control
Can create multilayerd patches that span a keyboard from one pad or multiple. Each bank can have a different patch (keys and bass or drums and synth )
Mike Gao has released an new $2.99 app for iPhone and iPod Touch, Vocal Beater, that lets you beatbox into a phone, email it, then load it up in a MPC, other beat machine, or DAW.
Vocal Beater turns your beat boxing into a velocity sensitive MIDI file to email. Detected hits can be edited.