And here's the background info:
Sorry for too long preface/introduction 😉 but it was my very _first_ contact with ZXpand module for ZX81 computer (32Kb or RAM, SD-card instant loading plus additional AY-interface in standard of classic ZX81's ZonX AY-interface from 80s).
It is really ZX81 playing music via AY chip (well, actually its Japanese version: YM). You can get both modules from RWAP Software: http://www.rwapsoftware.co.uk/zx812.html
Quite fascinating videos with some nice synth sounds, enjoy
Jacob 2-2 is a Brooklyn-based sound and video artist who takes his name from an obscure, late-70s movie about a fearless kid investigator. "It's probably one of the weirdest things I've ever seen," says the producer, whose first name is David but who prefers not to give his last name. It makes total sense when you listen to his music: there's a kid-like wonder to it, crossed with a dose of playful humor and an bunch of weird 80s synths. It's a lot like Look Around You condensed into musical form.
David's prized possession is an old Roland Juno 6. That particular Juno has no presets at all, so every time he gets something he likes he has to record it immediately. "I always think to myself, 'I'd better record it now or else I'll never be able to recreate it.'" Its warm sound in turn drives his beats and effects, filled with pings and blips that could be straight from any 80s video game. Sometimes his beats are muffled, while at other times they shine through clearly.
So far, David has put out three EPs, two self-released through his Bandcamp: (The Gifted Child and Cabazon). His most recent EP, Fantasiarexia, was picked up by Jakub Alexander of Moodgadget. He's also had a couple compilation releases and a handful of remixes for Aleph, Starfawn, Macka and others. (You can listen to all of them on his SoundCloud page.) A motion graphic designer by trade, David also makes his own videos for his live show, performing against a background of material loosely cut together to his music and full of weird and wonderful nostalgia and color.
Background info via CDM
Trash80 ends the first night of Blip Festival with some snazzy sounds.
You can find Trash80 at http://trash80.net
Blip Festival Australia was presented by 8bitpeoples and SoundBytes.
Amanda Palmer and Alex Yabsley (aka Dot-AY) perform Lana Del Rey's "Video Games" live at the Blip Festival (February 18th, 2012).
Filmed at the Evelyn Hotel in Fitzroy, AU by Jim Batt (@battsignal)
Special thanks to Mike Rosenthal (for Blip/of Paracadute), 8bitpeoples, and Kristy Dossor (for dpad productions/SoundBytes)
http://australia.blipfestival.org | @BlipFestival
http://amandapalmer.net | @amandapalmer
http://dot-ay.com/ | (@Dot_AY
Apart from a rather ugly introduction scene, this is quite a nice chip influenced video, enjoy
Directed by Jonathan Yi and Sam Goetz.
MATH THE BAND will be touring in support of Andrew WK's "I Get Wet Tour" all across America this March and April. More info about the band can be found at facebook.com/maththeband
Cast: Chris Cipriano, Jeff Williams, Kevin Steinhauser, Justine Mainville, Joe Gannon, James Gannon, Mary Perrino, Peter Brown
Production Company: Decoupage Productions
Producers: Tara Power and Joselyn Allen
Assistant Director: Michael Haertlein
Production Assistants: Mike Goetz and Kengo Hioki
And here's a Googlish translation of the project from Portuguese:
Lecture and performance audio and visual free Pulselooper and Roger. AVLAB pt.03 end of # 6.
Pulselooper is a project of Andrew ZP, audiovisual producer and musician who uses as a tool for creation and composition Game Boys, old computers and other technologies vintage. Andrew ZP show how the few bits of an old game can turn into a musical instrument. With Game Boys (the classic Nintendo handheld game) and 80 years of old computers, is Pulselooper
electronic music full of beats and heavier bases and distorted than is usually drawn from a hi-fi art.
His electronic music made ​​with vintage consoles has passed, among others, places like Campus Party 2010; GameMusic Festival, conducted by the Instituto Itau Cultural in Sao Paulo, the Continuum, I Festival of Art and Technology of Recife, the Animefriends in San Paulo and Rio FILE Hipersônica 09, where he shared the stage with artists that are reference style, like Bit Shifter, Covox, Sabrepulse and some of the biggest names in
chipmusic world.
His presentation at the meeting will focus on AVLAB chiptune or Chip Music, musical style synthesized in real time by video games and old computers. Aesthetic feature of the year 80, when these devices were one of the few digital tools for composition, still used by aficionados of tones in low definition.
Time for some chip tunes and glitch I guess

Da Pantz – Leech (Survival Tactics: Part 2), from "Survival Tactics."
Easy to get somewhat nostalgic watching this Atari project

"The "gAtari" was my excuse to do something a little silly after I discovered that the Atari 2600 was more limiting than I realized! (31 pitches, minimal waveforms and only 2 channels!) I needed an EQ which could take a high voltage and drop it down to line level (Boss bass EQ) plus a way to hold loops between tracks and parts (Boss delay). So rather than have it "DJ" style config, I thought I make something a little more creative. It uses my atari-x-mod converter software which compiles binary files for Atari. You can find a little video about it here: http://vimeo.com/23589320"
Big ups to Celsius / Trash80 / nf / Lazerbeat for the audio recording. Massive thankyou to sebastienvd81 & JDD3J for shooting additional video footage. Thanks to Wing / Celsius / Abrasive for their assistance and filming. Mega-thanks to Paul Slocum for the maco asm code for 2600 that I based my software around interfacing with

Come to Blip Festival Melbourne 2012!
ps. You can download a similar set to the one I played here at at: http://www.freemusicarchive.org/music/cTrix/Blip_Festival_2011-cTrix/cTrix_-_…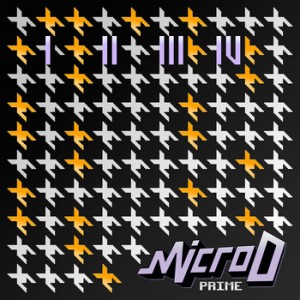 Interesting concept, here´s what Prime says about the album:
Prime began as a concept that would challenge me to write more songs in odd time signatures. The idea to write a series of songs in prime number time signatures ultimately became Prime parts I through IV. Part I in 3/4 time, Part II in 5/4 time, Part III in 7/4 time, and Part IV in 11/4 time with a medley to bring it all together for the finish.
Of course, it couldn't stop there… Orange patterns on the cover artwork (designed by Party Time! Hexcellent!) appear only on the prime repetitions, and tempos within the montage have only prime beats per minute.
This was an ambitious project and I'm really happy with the end result! As an added incentive, I have recorded and remastered some tunes that were previously exclusive to various compilations I contributed to and released them together for the first time. This includes Rebound, Sixty Second Shakes, Niner and Frostbitten Dub. Closing out the record is another brand new song titled Fist.bmp that ends it all on a fun note.
Download it or buy the CD and let me know what you think!
sweet chip tunes at Blip from Minikomi