"Der Kalte Krieg" is the name of Welle:Erdball new album featuring covers of songs during the Cold War era. We wanted to know more of what has happened with the band since the DVD Zeitsturm was released and really understand what this Homo Futura project is all about. Honey and Freuline Plastique took some time to chat with us and transmit the latest buzz from the Funkhausstudio.
Why did you start Homo Futura and what is it that you can do there that you cannot do in Welle:Erdball?
In the begining it was "Das Präparat" that started as an official Welle:Erdball side project. However, when we split up there were still some shows to do, so we did them anyway with a different set up (F.Nstein & Plastique). This worked out really fine and was a lot of fun. So we decided to keep going and it was really fun to create a new band, new image, new stage show etc.
Official video of "homo~futura – Links-Rechts"
The Zeitmaschine played an important role in the DVD you released last year. Do you see yourself as time travellers when it comes to your music and the band image?
We're traveling through time constantly – just take a look at your watch! Apart from that, music is definately a good way to travel through time with your mind.
You once said (some 10 years ago) that Welle:Erdball had a long way to go before reaching the goal of Welle:Erdball – The goal was to sound like Welle:Erdball. Have you reached that goal now and how is it shown in your music and visuals?
I think we are really close with the new album "Der Kalte Krieg". But we haven't really reached our goal yet. It might sound hard to believe, but since the start of Welle: Erdball, all the concepts and partly the names of the broadcasts and songs were already set. And we still have to accomplish a couple of things on this list.
So it won't be over for a long time.
Could we expect a radio show by Welle:Erdball including only Gainsbourg song? We feel that the work of Serge matches the Welle concept very well. We're sure he would approve of you bringing his work to a younger generation.
Probably not. We're not a "cover band" although we appreciate Gainsbourg's work a lot.
But actually the upcoming release "Der Kalte Krieg" will contain only cover versions of favorite songs from different artists about the cold war and others.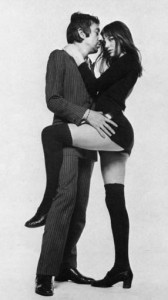 Serge Gainsbourg was a French singer-songwriter, actor and director. Gainsbourg's extremely varied musical style and individuality make him difficult to categorize. His legacy has been firmly established, and he is often regarded as one of the world's most influential popular musicians.
You have a lot of political and social ambitions with your songs, ranging from the criticism of gaming consoles to the man-machine integration. What areas are your main concerns today and why, and would you agree on the theories of a technological Singularity that has been put forward by e.g Kurzweil?
It is hard to comment on this. Since the opinion of Welle: Erdball not always is the personal opinion. I find it important that you first have an opinion at all and that there is a message in the music and in the lyrics. Not: "Come on, let's have a party tonight!"

. And we see it as our duty to have a social commitment but we are no judges, who tell the audience what to think.It is only important that you form your own opinion or that there is a chance to do so."
What is it that you like about the 50′s sound?
Well we're using 50s asthetics since the beginning and we're all big fans of this aera. The sound of the 50s and the subculture behind it was one of the first "punk" movements in music history.
Probably the most charming way of going against the mainstream.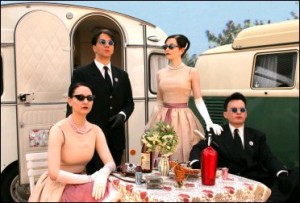 You describe yourself as hard working, keeping you self busy 28 hours a day. Is that just the German spirit and work morale showing or do you have an artistic fire burning inside?
I don't know if it is the German mentality, maybe a little…But under any circumstances is it the Welle: Erdball-mentality.
Read the full interview here >>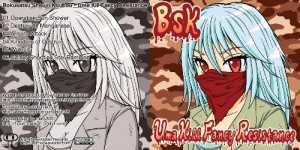 BSK! BSK! BSK! Whilst he and pal Maru are over in the UK, Bokusatsu Shoujo Koubou has unleashed his Uma Kill Fancy Resistance towards CDKr, and I can only but accept! Six tracks of astonishing Game Boy prowess are yours to behold if you download this album, but be warned – exposure to music this good can only be amazing for your health! If you like your music like your like your coffee, dark yet occasionally sugary at the same time, this might just be your new favourite album.
Via CDKo55
Official music video for Samo Sound Boy's "Shuffle Code"! Samo Sound Boy is the only west coast US based producer signed to Trouble & Bass is Samo Sound Boy who calls his home Los Angeles. Being the select member to hold it down for the west side, let us tell you that Samo is something special. Coming back with his 2nd release for T&B after his successful Heavy Bass Champions of the World Vol. VIII release, Samo has really taken his song writing, production and mixing skills to the next level with this Shuffle Code EP, containing two new fresh tracks. As you know from our back catalog, one of our favorite things to do is to seek out young and new talent and Samo has been one of the highlights of our roster in 2011, making his first appearances at SXSW, Miami Music Week, Coachella weekend and all around North America thanks to T&B Bookings!
Directed and Animated by Mykola Dosenko
myk31.com/​
Shuffle Code EP releases on Trouble & Bass on August 30th, 2011
troubleandbass.com/​artist/​samo-sound-boy/​shuffle-code
Chip tunes with a touch of Japan

Hietsuki Bushi (Full version) / Omodaka (Far East Recording)
Animation+Dir.: Ryo Hirano
On 2011/8/14 Omodaka has a new release!!!
New album including "Hietsuki Bushi" will be downloadable
in iTunes Store,Amazon MP3 or many online music stores
on 2011/8/14. The physical CD is also available from
amazon.co.jp (Asin: B005DDNIGW) on 2011/8/14,too.
It can be searched with"Omodaka" as the artist's name.
http://fareastrecording.com
http://www.amazon.co.jp/dp/B005DDNIGW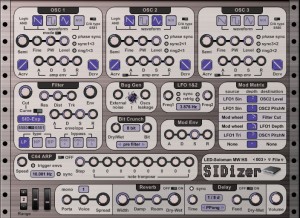 HyperSynth has released an update of SIDizer, a circuit modeled emulation of the legendary SID chip.
SIDizer is a state-of-art emulation of legendary SID chip in a form of a modern software synthesizer. Using circuit modeling technology nearly all unique features of two versions (6581-8580) of SID chip among their famous flaws are accurately modeled.
Changes in SIDizer v1.2
Added new modulation source: LFO S/H.
Added Loop point option for wavetable sequencer.
Fixed crash while changing filter types.
Fixed issue with preset manager lock feature that was produced in v1.1.
SIDizer for Windows (VST) is available to purchase for $49 USD.
Main features:
-3 oscillators offering 8 waveforms: Saw, Triangle, Square, Pitched noise, "AND" combinations of them
-Oscillators special features: ring, sync, phase sync, Sqr PW, level
-Wavetable sequencer (8 tracks)
-Selectable 6581-8580 D/A distortion
-3 Amp envelopes ADSR
-12 dB (LP & HP), 6 dB BP SID modeled Filter
-Best matched Exponential-fitted curves for 6581-8580 filter frequencies
-Simulating 6581 half wave filter distortion
-1 Filter envelope + key track for filter freq
-2 LFOs each with 4 simultaneous outputs offering sync and retriggering option
-1 Mod envelope
-Versatile Modulation matrix
-Bug-generator module for reproducing famous bugs: oscillator leakage, ex-input noise
-Bit Cruncher with pre and post filter route option
-Advanced 8 step C64 like arpeggiator
-Master: Pitch and Mod wheel, Porta, Spread, Reverb, Delay
-Easy to use GUI
-Factory soundbank created by Torben Hansen (aka Metal of Vibrants)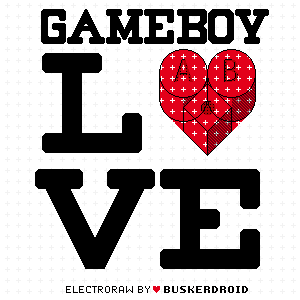 Gameboy Love EP is the new album by the hyperactive Italian chiptuner Buskerdroid. It comprises 5 tracks made exclusively using the LSDJ software.
This 16th original Da! Heard It Records production is back to the basics : 8bit music!
Buskerdroid offers his listeners some serious energy through his doped-up sounds. Taking no prisoners, he drags his Gameboy into the most unexpected corners by creating hybrid tracks combining 8bit and hardtek.
Gameboy Love EP will leave you breathless, it's short, clear and concise, leaving the listener in an over-excited, confused and crazed state of mind. The title track 3D(istortion), to mention just one,submerge the listener into an absurd universe thanks to its relentless rythm and throbbing melody.
Gameboy Love EP is meant for connoisseurs of the chiptune movement, but also for fanatics of much more violent electro styles.
Reformat the Planet (RTP) is a feature length documentary which delves into the movement known as chip music, a vibrant underground scene based around creating new, original music using obsolete video game hardware. Familiar devices such as the Nintendo Game Boy and Nintendo Entertainment System are pushed in new directions with startling results.
This version of Reformat the Planet is tailored specifically for Youtube with all new annotations. If you have never watched the film before you may want to turn them off for the first viewing.
Reformat the Planet is available to purchase on DVD from 2 Player Productions at-
http://shop.indieblitz.com/2player
This all new 2 disc set features remastered picture and audio as well as tons of bonus features.
DISC 1: REFORMAT THE PLANET:
All new Director's Cut of Reformat the Planet
Commentary track with the Filmmakers
Additional Interviews
Deleted Scenes
Trailers
DISC 2: REFORMAT THE PLANET 1.5:
All new documentary short RTP 1.5
Commentary track with the Filmmakers
Music videos
Conversations feat. Johan Kotlinkski, Peter Swimm, and David Sugar
Chip music tutorials feat. Glomag and Bit Shifter
Plus a full color 16-page collector's booklet featuring photos and all new essays from critics and noted members of the chip community.
Casual talk I gave at the CoDaMe ART & TECH party in San Francisco. I'm embarrassed that I glossed over so many details, especially with an original member of Future Crew in the audience, but I hope that I sparked some fingers to get into (or back at) being creative using code as their crayons!

Also want to mention that Sit Up Straight Kids (music for the Binary Alchemy production) was a musical collab with my kREW mate Albert who released a great catalog of his stuff as mp3s/wax at bbpwc.com/​tgnp020/

More exciting coverage of the after-the-talks party is up on vimeo too! vimeo.com/​23732051

0h, and the tech difficulties that were solved last minute … a big hum would occur if both the audio and projector were plugged into any of the computers we were using for presentation. Not surprising since the projector cable was as long as the room and crossing over a bunch of cables and hung from the ceiling etc, impossible to fix. The solution I saw was to stream either the video or audio to another device, breaking the physical connection. I chose audio since it's lower bandwidth and installed RemoteHD on my iPhone and the presentation computer. No more hum! However, the audio was behind the video since it was streaming. This was compensated for in VLC by setting the audio delay to -2500 milliseconds. I was able to play both Binary Alchemy by Northern Dragons and Elevated by RGBA & TBC in perfect sync on the big screen =)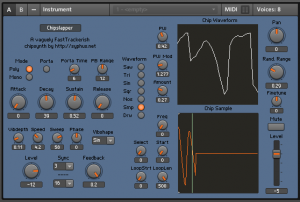 Chipslapper is a new instrument for Reaktor, here's what the maker has to say about it:
Sure, the world probably doesn't need another simplistic, single-osc Reaktor synth, but I made this specifically to mimic the behaviour of so-called 'chipsamples' in ProTracker, FastTracker2 and similar trackers.
Traditionally, since the late '80s, tracked chipmusic has been created by looping short (~32byte) samples which the tracker automatically uses as pitched instruments. Effects are applied using hex commands and more advanced trackers had extended instrument options which emulated the behaviour of basic synths.
Anyway, purely for my own work, I wanted to have a straightforward, cross-platform means of composing using my old tracker styles/technique in newer DAWs like Ableton Live. If it's useful to any other afficionados, great – but most people will just find it to be a very dull synth that looks like a Reaktor beginner's project
Features etc:
Drop the polyphony in Reaktor if you want to emulate XM channel-count limitations, or switch to mono and use the severely restricted delay controls to mimic pattern-delay.
Vibdepth (pitchmod vibrato) behaves in the FT2 way, with sweep delaying the effect and phase allowing you to turn the triangle waveshape into FT2′s two optional sawtooth shapes.
Pan has a Random Range control which, when twiddled, means each successive noteon event will be given a random pan position within that range. This is the closest I can be bothered to get to FT2′s pan envelope, as it wasn't synced with the song anyway…if you want proper panning envelopes for phrases of notes, do them in your DAW!
One thing which definitely doesn't appear in FT2 or PT is the pulsewidth modulation. However, I often use a bank of around 8 squarewave samples with varying pulsewidths and then cycle through them over the course of a melody line: the pulsewidth mod emulates *that* trick, which in turn was always supposed to emulate pulsewidth mod
Chip Waveform – draw it yourself. This is a bit flakey and doesn't seem to save the shape if you switch waveforms to something else and then back again.
Chip Sample – I've included a single small looping sample which *hopefully* gets included with the .Ens (if not, I need to figure out how), but the idea is just to load in a short sample and then play it like an instrument. Because Reaktor isn't as limited as PT/FT2, it's slightly less fun to use…but you can experiment with longer samples too and play around. 'Select' chooses between samples in the sample map, so I guess you could load in a tonne of samples and then automate the Select knob in your DAW to get a wavetable thing going on…
Arpeggiator – There isn't one. Real musicians write their own arpeggiations; proper oldschool chipmusicians, even more so But if you're really keen on abdicating compositional responsibility, your DAW probably has an arpeggiator built in as a MIDI effect. Go nuts!
Download it here.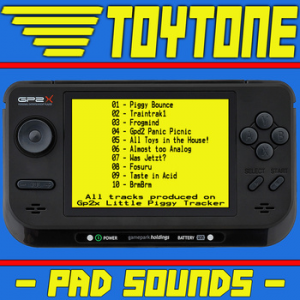 Fresh out of the oven! A new production by Patric Catani, completely made in LGPT running on a GP2X.
The first officially released tracks of the Toytone project come as bassy as they wanna be. Varying between Club, Booty Bounce and an exaggerated approach of speed acid dub, you will notice that this collection was not done overnight.
Enjoy this full package of passionated Piggy tracking -
Download the full album and get two Bonus songs!
Tracklist:
1. Piggy Bounce 04:14
2. Traintrak1 03:30
3. Frogmind 03:06
4. Gpd2 Panic Picnic 03:12
5. All Toys in the House! 06:11
6. Almost too Analog 04:23
7. Was Jetzt? 02:49
8. Fosuru 09:11 download
9. Taste in Acid 08:18
10. BrmBrm 06:40
Download and listen to it from his Bandcamp page