September 19, 2011 · Posted in
Uncategorized
·
Comments Off

on Generative music performance app now released on Android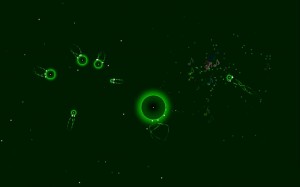 Orbits is an application for generative music performance, based around a gravity-based particle simulation. As a sandbox-type toy, there is no goal or ultimate aim.
Instructions:
Place a finger (or multiple fingers) on the screen to create particles. While you hold a finger down, the particle increases in size. Drag while holding down to set a starting direction for the particle (as if pulling back on a slingshot).Release to make the particle take off in the opposite direction. When two particles collide, they play two notes based on the particles' sizes. The notes are locked to a scale/chord (which changes automatically), and thus are always in tune. Create particles of different sizes to get something interesting. Particles attract each other with a gravity-like force. Try to put particles in orbit around each other to create some interesting movements! Larger particles exert a more powerful force.

Press the Android menu button to open the option menu, where you can turn off the background chord or set the app into "autoplay" mode. When in autoplay, the particles will generate themselves, and you can sit back and watch what happens (you can still interact).
You can find it at the Android Market here.
November 18, 2008 · Posted in
Electronic Music
·
Comments Off

on Generative arts in music
Demo of dj64, a DJ environment for the Monome interface written in Max/MSP.
This patch is still under development, but will be available from monome.org soon.
[youtube=http://www.youtube.com/watch?v=3A0BkOkK3rA]
"When one thinks about it, music and the visual arts are really languages that have their own grammars. We find that certain types of sequences and juxtapostions of components create effective communications. The message is whatever the artist creates or programmer allows in the system. There are certain types of systems that use a small set of rules with various permutations. Other systems use a loose set of rules with a large vocabulary. In some cases, there are many algorithms that have little or no permutation within, but the communication is made by the permutations of sequencing and juxtaposition of the algorithms into a grammar and a language.
In some cases, a formal scientific approach is taken, and the images reflect this in their pure mathematical rigor. The reliance on the formula may limit the range of expression. In other cases, a free-form artistic approach is taken, and the ad-hoc, organic nature and human hand is revealed., and the idiosyncrasies of the person come through. A close friend of mine would say that the scientific approach is the result of a fear of intimacy. Perhaps the free-form approach has its own fear of responsibility.
It's interesting that generative art is related to grammar, the vehicle of meaning. Are we looking for meaning in art without injecting it with ourselves? Have we lost the connection with our own meaning or purpose? Is generative art the reliance on computers and technology for the solutions to our problems, even in the search for beauty or meaning?"
Dj emulation for the 40h / 64. Using 64 buttons, the user controls 2 decks, a virtual mixer, and several effects.
Created by Bitbasic