We take a look at the new Odyssey reboot from Korg – smaller and comes with a lovely case.
If you feel the urge, we made the end jam available via Bandcamp. https://soniclab.bandcamp.com/track/o…
A Korg remake of the legendary synthesizer from the 70´s , the ARP Odyssey. All sounds in this track are coming from this great sounding duophonic synthesizer. The track will be included on the Firechild album , Fireheart , release mid 2015.
Demonstration of the sound and functionality of an ARP Odyssey II synthesizer from the 1970s, concluding the look at the oscillators by examining some of the aspects of the synth's duophonic capabilities.
The Odyssey is recorded direct with no pre- or post-processing.
We let Dave from GForce Software – look at the ARP Odyssey reboot we have in for review, this is what he thought. Full review coming soon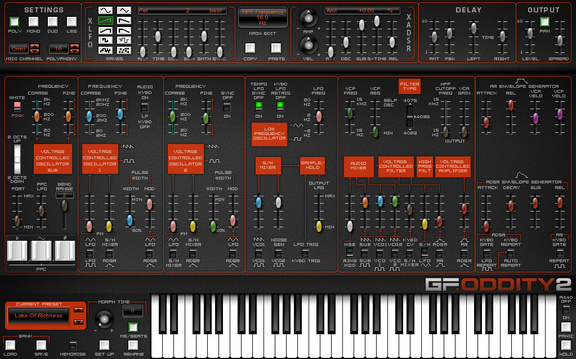 GForce has announced the release of Oddity2, a synthesizer instrument modelled on the legendary ARP Odyssey, manufactured between 1972 and 1981.
Sporting a new livery based on the final revision Odyssey, Oddity2 takes the character and operational architecture of the original and, via a wave of enhancements, transports the spirit of the original into a new dimension.

While the duophonic and monophonic modes have been retained, Oddity2 now also offers a monophonic legato mode which wasn't evident on the Odyssey, plus a Polyphonic Mode. Now finally it's possible to stop wondering what the Odyssey's classic tones would sound like within the context of chord based structures, and put it into practice. Everything from spiky and resonant textures to lush and warm pads sounds can either be programmed from Oddity2's intuitive controls or simply dialled up via the accompanying presets.

Furthermore, via three filter modes and an additional oscillator, Oddity2 can sound as versatile and punchy as its main rival back in the day.

Oddity2 doesn't stop there either, in order to overcome the original instrument's limitation of a single LFO, they've also added the ability to apply an additional LFO and ADSR to almost any of the main Oddity2 sliders, which gives the instrument almost unrivalled versatility and depth when it comes to sound design options.

Additional improvements over its predecessor include an on-board delay, spread or random pan modes, patch morphing via beats or seconds, program change recognition and implementation of the two octave transpose switch for dynamic real-time performances.
Oddity2 for Windows and Mac (VST/AU/RTAS) is currently on sale for £99 GBP inc VAT. The upgrade from Oddity is £49 GBP inc VAT.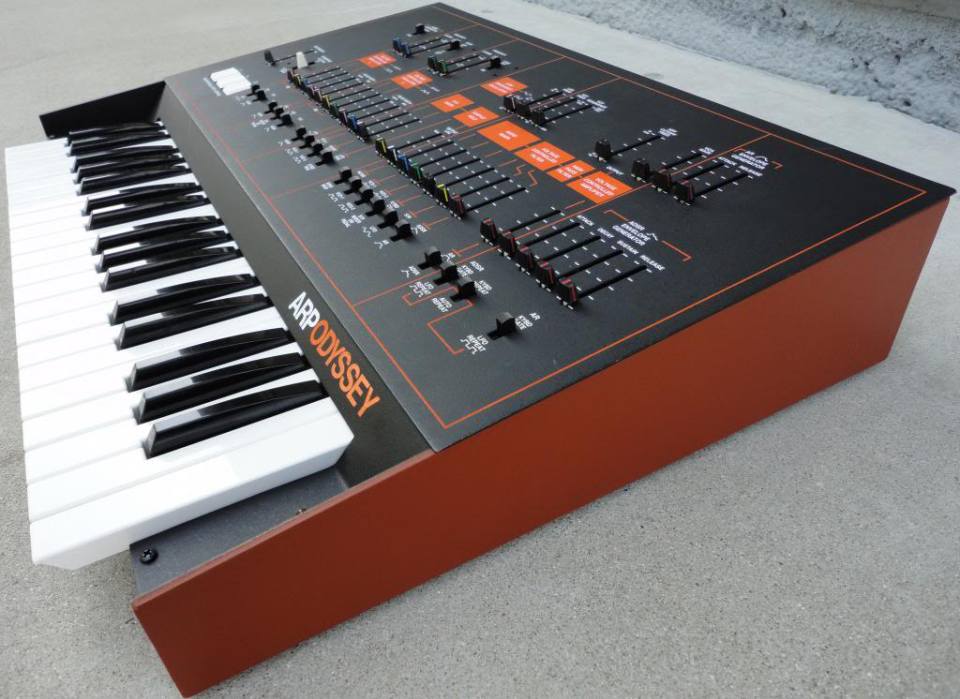 Korg has announced an update for the release date for the reissue of the ARP Odyssey analog synthesizer.
Korg's new schedule has the updated ARP Odyssey shipping in early 2015 The original shipping schedule was September 2014.
"We are sorry for this delay especially since the extraordinary reaction to the initial Odyssey announcement. We are refining the Odyssey to make this product even better.
We appreciate your understanding regarding this delay and thank you for your continued interest in the reissued Odyssey."
More info to follow….
runo Ender Lee – "Saturn" – studio recording August 16. 2014
the new album "Saturn" is now available:
http://brunoenderlee.bandcamp.com/alb…
Roland JP-8000 (Pads), Roland Juno-106 (bass), ARP Odyssey, Moog Little Phatty & Analogue Solutions Vostok (fx), Korg MS2000 (leads), Synthesizers.com Studio-88 (leads), MiniMoog Voyager OS (bass), MacBeth M5N & Korg MS-20 mini (sequence with Doepfer MAQ)
composed, arranged & performed by Bruno Ender Lee
2014 Velvet Voyage Productions / all rights reserved
Vintage synthesizer sound tutorial series by RetroSound
part two: the agressive synth lead sound from the new wave group Ultravox.
very important is the oscillator sync function and the pitch modulation.
unfortunately it came to a few disturbing noises during the recording. the output level was a bit too high for the electric mistress guitar pedal
Binary Music has announced that they are now supporting Reason's NN-XT with some Refills for Reason -ARP Odyssey, Valve 4 Op and Crosswave.
The ARP Odyssey Refill contains 101 NN-XT patches made from over 1,400 samples.
Valve 4 Op is a collection of samples from a Yamaha TX81Z – 65 patches for NN-XT and 47 Combinator patches.
The Crosswave Refill contains 133 NN-XT patches of an Ensoniq SQ80.
Pricing and Availability:
Pricing is £11 – €13 – $15 for the first week, thereafter £17 – €20 – $23, including VAT in EU.
More information:

This is a short demo of the ARP Odyssey's sound and synthesis capabilities. This Odyssey is a late mk1 model. It has a gritty and present sound.
While the Minimoog proved to be a runaway success as the first compact studio synthesizer, ARP responded with a compact and user-friendly studio synthesizer of their own with the Odyssey in 1972. An almost equally legendary machine itself, the Odyssey was ARP's highest selling synth back then, and still is to this day in the second-hand market.
The Odyssey essentially gives you a simplified hard-wired ARP 2600 in a much smaller and affordable package. The Odyssey is a 2-oscillator analog synth (with duo-phonic capability) and it sounds really nice; the Minimoog has three oscillators and is capable of thicker sounds. The Odyssey comes well equipped with all the tweakable features and analog goodness you'd expect: a resonant low pass filter, ADSR envelopes, sine or square wave LFO, and a sample-and-hold function.
First came the Odyssey Mk I (Model 2800) produced between 1972-75. These used a smooth but tinny sounding 2-pole voltage-controlled filter design (model 4023) similar to those used in the Oberheim SEM modules. From 1972 to 74 the Odyssey was produced with a white-faced front panel with black lettering. During 1974 to 75 they switched to a redesigned black front panel with gold lettering. However, all Mk I's can be identified by the rotary knob they use for pitch bending. None had any interface jacks, but a factory modification was available to add interface jacks as well as a PPC pitch bender in place of the rotary knob.