A little improve with two vintage synths. The MS-20 is also run through an mf-104z and mf-103 moogerfoogers.
Hardware:
Korg MS-20
ARP Odyssey MK 2
Moogerfooger MF-104z Analog Delay
Moogerfooger MF-103 Phaser
Software:
Valhalla DSP Room
PSP Vintage Warmer 2
"Next Hypnotic Live" (NightBirds Electronic Music)
Recorded with the RSF Polykobol sequencer, ARP Odyssey & ROLAND System 100.
Video by R.V.
NightBirds P&C 2011
http://fr-fr.facebook.com/people/NightBirds-Electronique/100000038001995
http://soundcloud.com/nightbirds-electronic
Manx has released Destiny, a new synth VSTi for Windows. Here are some sounds from the Manx Destiny, an Arp Odyssey clone from Manx Synthesizers which runs as a VST plugin on PC computers. "The emphasis here, as always with Manx products, is on authenticity; we're fans of the original classic and we didn't consider it to be in need of much updating other than full midi implementation and one or two minor tweeks."
Destiny is the latest product from Manx Synthesizers, who specialize in the implementation of classic analog synthesizers in software; in this case, an Arp Odyssey clone. It is designed to emphasize sound authenticity so the Destiny feature set closely matches that of the original, although the user can select between monophonic and duophonic functionality.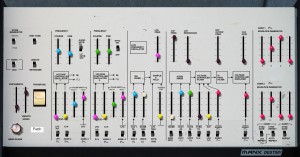 Features:
Monophonic & duophonic modes.
Oscillator sync, PWM, sample & hold.
2 LFOs.
MIDI learn for all parameters.
Price: $59.

Binary Music has announced the release of ARP Odyssey, a new sample library for Kontakt 4.
Consisting of 101 patches made up of over 1,400 samples, this is a detailed representation of a classic analogue synthesizer. The patches cover a wide variety of sounds, including a selection from the original patch book and a set of multi-sampled patches where different filter settings are mapped to velocity.
There were three main versions of the Odyssey. The first white-faced models were manufactured from 1972, then the black and gold face from 1974.
The model that we've sampled is a black and orange faced 2821 from about 1979. This has the advantage of more stable oscillators – though nothing like the stability that we take for granted in modern gear.  The Odyssey has attracted an eclectic mix of players: Herbie Hancock, Chick Corea, George Duke, Portishead, Pink Floyd, Kraftwerk, Ultravox, Gary Numan and Abba!
ARP Odyssey is available for download purchase now, priced at £12.00 (approx. $20 U.S.). There is also a free version with a small selection of patches.
The full version of Kontakt 4 is required to use this library.
http://www.youtube.com/watch?v=QqRJyOql3ac
vintage synth demo by RetroSound
"Odyssey feat. Minimoog"
2 VCO deep bass: Moog Lintronics Minimoog
2 VCO lead sound: ARP Odyssey MkIIII
FX: Lexicon reverb and delay
more info: http://www.retrosound.de and
http://www.myspace.com/retrosound72