Andy McCluskey and Paul Humphreys talk about Metroland, the first single (out 25/3) from their new album English Electric out 8th April
The track by track is taken from the DVD available in the Collectors' Tin Boxset as well as the Ltd edition CD+DVD mediapack.
http://www.beatport.com/release/metro…
Metroland is a synth-pop band from Belgium making music, heavily inspired by bands like Kraftwerk, Komputer, OMD, Orbital, Marsheaux and many others. Their 2012 debut album "Mind The Gap" (GAP001) was hailed worldwide due to its original vintage electronic sound, mixed with up tempo sequences and paced bass sounds. Metroland came in touch with OMD singer Andy McCluskey in April 2012 when he fell in love with the Düsseldorfer influences from Metroland. The chance a band like OMD making a song about Metroland, coincidentally the name of the Belgian band, simply had to result in a mix-treatment by Metroland in their very particular style. Yet, with very much respect for the original OMD version.
This Metroland video, which is an unofficial OMD video, accompanies the full length version of the remix represents a journey through the typical 19th century English landscape around greater London up until London as we know it today. The viewer can discover numerous historical artefacts linked to the original Metro-land incorporating the OMD artwork for their latest album "English Electric. All of this is gently dipped in a sauce of psychedelic and joyful moving images, mingled with synthetic vintage electronics.
"We both hate those darn f*cked up club mixes where you can barely recognize something of the original. We started all from scratch. So, every sequence and bass line, melody was played a-new (we did not have a MIDI file), and we searched for new sounds. In the end, it became a more orchestral mix spiced up with the typical bass sounds from METROLAND, along with our famous layered sequences."
Metroland information
https://www.facebook.com/metrolandmusic
www.metrolandmusic.com
Night Café is taken from the forthcoming album English Electric.
Pre-order on iTunes here: http://smarturl.it/iTunesEE
Pre-order physical copies here: http://omd.firebrandstore.com/
From the upcoming OMD album English Electric out April 8th.
Preorder your physical copy from http://omd.firebrandstore.com/
Preorder on iTunes from http://smarturl.it/iTunesEE
Manhattan Clique Remix of the forthcoming OMD single Metroland. Metroland is out 25th March digitally and on limited 12″ vinyl from http://omd.firebrandstore.com/metrola…
Metroland, the first single from the forthcoming album English Electric.
Preorder English Electric and the Metroland 12″ single at http://omd.firebrandstore.com/
Kraftwerk's opening show at the Tate; incredible, say OMD
This article is taken right of the BBC website, we own no rights to the content, enjoy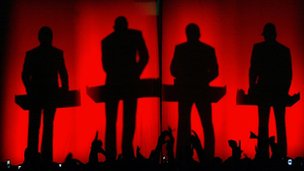 The first of eight shows by German electro pioneers Kraftwerk has taken place at London's Tate Modern. Among the 1,250-strong crowd were Andy McCluskey and Paul Humphreys, whose music with Orchestral Manoeuvres In The Dark has been heavily influenced by Kraftwerk. What did they make of the performance?
McCluskey described it as "the best multimedia arts project on the planet".
"It gets better and better. I saw them three-and-a-half-years ago at the Manchester Velodrome and now that the whole show is in 3D, with surround sound, it's incredible.
"It's amazing that 40 years into their career, they're still relevant.
"The whole remit of Kraftwerk, when they moved away from that early jazz krautrock roots, was that they were trying to get away from Anglo-American cliches. When I saw them in 1975 they had their names in neon lights and they had some projections.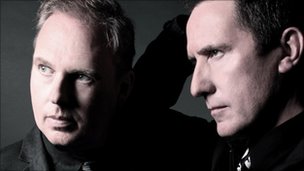 "They were already quite minimal but they were moving away from the cliches. This now, with the whole show in 3D, is taking it to the nth degree, 30 odd years later. It's a wonderful extra string on their bow.
 Orchestral Manoeuvres in the Dark were heavily inspired by Kraftwerk
"I have to admit… some of the songs reflect the fact that they are so distilled that it's hard to put [visuals] to them, but for two hours the whole show was incredible."
Fellow OMD member Paul Humphreys added: " To move from concert halls into museums is the perfect move for them, because even from the very beginning they were performance art, except they were playing in concert halls."
"They have changed a couple of things," noted McCluskey.
"It's noticeable that Radioactivity has now become an anti-radioactivity song. And Ralf is now singing in Japanese. We thought they'd changed some of the words to Man Machine – made it slightly more sinister and negative.
"Because the music is so highly conceptual they are able to mutate and twist it. They're not going to play the exact same song with the same riff and the same lyrics, they can vary it and it's quite an interesting concept," he said.
"For us it was incredible to hear both comet melodies live. This is what's incredible about this series of concerts. They are going to play tracks that they have never played live before. The Autobahn album – trimmed down – is not very long, so the rest of it was essentially their highlights, their greatest hits."
Humphreys added: "They are one of the most important bands for popular music.
"People say the Beatles were the most important band to change popular music but I think Kraftwerk were. Their DNA has permeated the blood of bands since then. There's parts of Kraftwerk in all the popular music today."
Original article can be found here >>
A sneak preview from the new upcoming album from the Swedish EBM act Code 64
Accelerate (Radio Edit)
Accelerate (Apoptygma Berzerk vs Ok Minus Remix)
Sd Sequence
Accelerate (Henrick Bäckström Remix)
Love Sees No Colour
The British new wave pioneers take a scenic drive through a futuristic utopia.
OMD let's us know via their FB page:
We are delighted to announce our new album English Electric. It will be released on April 8th on CD, deluxe CD+DVD, heavyweight vinyl LP, collectors' tin boxset as well as digitally.
The tracklist is as follows:
Please Remain Seated
Metroland
Night Café
The Future Will Be Silent
Helen of Troy
Our System
Kissing The Machine
Decimal
Stay With Me
Dresden
Atomic Ranch
Final Song
The first single will be Metroland, released 25th March. The video for Decimal is attached to this post.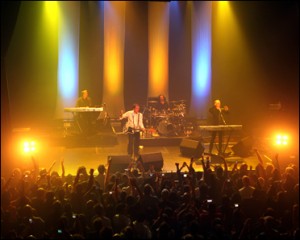 Orchestral Manoeuvres in the Dark have posted an update on the recording progress for their new upcoming studio album "English Electric".
Here's what singer Andy McCluskey had to say: "After a few weeks concentrating on rehearsals and concerts, we shall be focussing exclusively on spending September and October finishing English Electric. Many of the tracks are ready to mix and 3 need vocals finally recording."
OMD's previous (11th) studio album, "History of Modern", was released on 20 September 2010 selling well over 100,000 copies in Europe. McCluskey also appeared at a round table panel discussion on electronic music recently as part of EMI's 'Electrospective' campaign.
Mojo ask Daniel Miller, Andy McCluskey, Martyn Ware, Mark Jones, Trevor Jackson, Matthew Herbert and Bill Brewster their thoughts on electronic music.
Visit: http://www.electrospective.com
You may also check out Andy's favorite tracks on Spotify: