Simple Minds Feat. Orchestral Manoeuvres In The Dark
Neon Lights
26/11/2009
Amsterdam
Heineken Music Hall
Well I must say that 2011 seems to be a very promising year from a synthpop and electronic music perspective, I almost feel tempted to opening my wallet

Here are a couple of must haves:
Covenant – Modern Ruin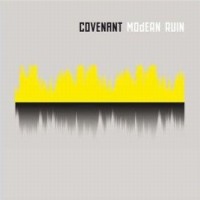 Mirrors – Lights and Offerings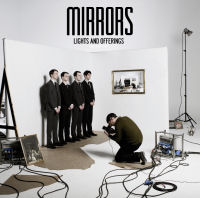 OMD – History of Modern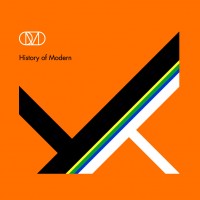 System – Circle of Infinite Radius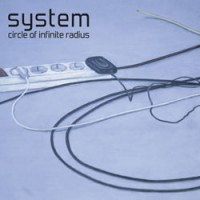 Daft Punk – Tron Legacy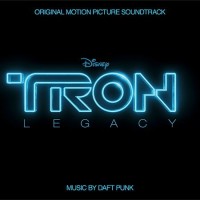 And there's more coming your way; Mr Jones Machine, Depeche Mode remix album…..so stay tuned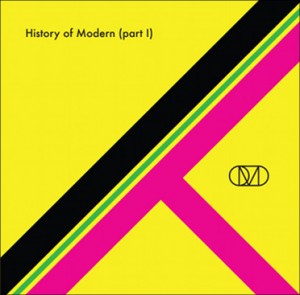 Out 28th February is the next single by OMD, "History of Modern (part I)". It will be released as a limited edition collectors digipack CD and 10″ vinyl. The CD includes all the "History of Modern" b-sides plus three remixes of "History of Modern (part I)", an OMD extended remix and the newly mixed radio version. The 10″ includes the b-side "The Grand Deception", OMD's Extended mix and "VCR (xx cover)". The full bundle will be available online as download as well.
Teaser below:
OMD – History of Modern (part I) – Selebrities Remix by 100% Records
We got an exclusive interview with the probably most hyped synthpop act in Europe right now – Mirrors. Mirrors has recently finished their European tour together with OMD and Stereoklang caught up with the frontman in the band in their studio chatting about their music, gear, influences and their work on the new album. Below is one of their latest video releases.
You have been touring with OMD during the fall, how was it?
It was of course a very special thing for us, we have always been big fans of OMD and it was even more fun to discover that they were also fans of us. The fact that we now come to play in front of an audience made up entirely of people devoted to electronic music is a tremendous experience.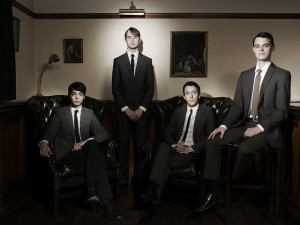 Mirrors lets me know that they also felt that the two bands really complemented each other on stage, rather then just that Mirrors were there to warm up the crowd. Mirrors adding perhaps a more saturated, heavy and modern sound to the equation.
You have received very positive reviews, what is the secret behind the success?
Apart from being happy by this for me obvious fact they gave me this explanation: For Mirrors it is all about combining great and cold electronic sounds, with a heart. If your soul is not present there will not be any great songs, a cliché perhaps, but you need to follow your heart. A lot of bands are "just" making futuristic music, Mirrors wants it to be warm as well – just like Kraftwerk. Of course the songs need to be well structured. Almost everything we do emanates from a traditional piano exercise, then you can get carried away when you do remixes
Your stage line up resembles another quartet based out of Germany, is that a coincidence?
– Not really ☺, although I need to say that the dress code is a coincidence. Kraftwerk is certainly a massive influence. However, in a sense Mirrors is more kind of a revolt to the massive indie-scene we have in the UK – and we are the anti-thesis of that.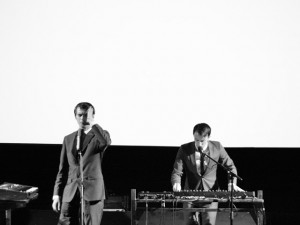 Can you tell me what synths you are using on stage, are you a pure hardware band or are there software synths hidden in your studio?
To begin with James is writing most of the material and what is being used differs, but in general you will always find a Juno 60, Moog Phatty (although they are dreaming of a Moog Voyager) and a Prophet in the mix. The Juno is used for pads and chords, the Moog for basses, and then we have some samplers like the MPC in there as well.
We asked them if the Linn drum sounds were genuine or samples, and although they could have lied to us, they said that they were samples. In general Mirrors rely very little on backing tracks. – If we can´t play it we loop it. We want to do everything live on stage. So if you spot an Apple on stage it will only be used for the visuals.
Read the full interview here >>
Side-Line Music Awards are now ready, each year Side-Line nominates the best songs, bands and acts in the electro, synth, EBM etc space and now the final results are here, as voted by the Side-Line readers. And it seems Recoil got a fair share of the prices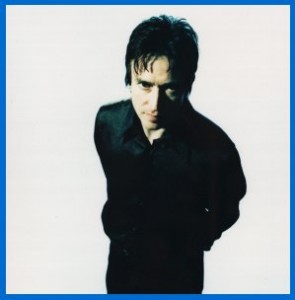 The results of the Side-Line Music Awards 2010 are in. Yes, it did take us a few days more than we had originally planned. But then again, we never imagined getting stuck in London and Brussels the past week due to the unexpected harsh winter conditions circling over Europe. We spent the last two days counting the votes and deleting the invalid ones. But before we give the results, we really want to thank all those readers who have cast their votes in the past two election rounds. You were among the 39,203 people (!!) to have cast a valid vote. That is an all-time record for Side-Line.
Best Band:
Combichrist (5,391)
Unter Null (4,985)
Front Line Assembly (3,818)
Front 242 (3,803)
Mesh (2,756)
Recoil (2,542)
Suicide Commando (2,459)
Hocico (2,327)
Depeche Mode (2,314)
Leaether Strip (2,201)
A-ha (2,227)
Kant Kino (1,837)
De/Vision (1,571)
Edge Of Dawn (589)
Diorama (383)
Best Album:
Recoil – "Selected" (10,442)
Front Line Assembly – "IED" (8,252)
Unter Null – "Moving On" (7,898)
OMD – "History Of Modern" (6,908)
Angelspit – "Larva Pupa Tank Coffin" (5,811)
Best Single:
Covenant – "Lightbringer" (10,330)
Combichrist – "Scarred" (8,983)
Rotersand – "Waiting To Be Born" (7,038)
In Strict Confidence – "Silver Bullets" (6,825)
I:Scintilla – "Prey On You" (6,027)
Best Label:
Mute (13,072)
Alfa Matrix (10,736)
Metropolis/Dependent (10,479)
Trisol (4,916)
Best Live Band:
Recoil (14,545)
Combichrist (9,107)
Depeche Mode (6,032)
Front Line Assembly (4,851)
Leaether Strip (4,668)
Out on November 15th is OMD's newest single "Sister Marie Says" taken from the album "History of Modern". But the band has now released the video for said single. The single will also be released as a limited edition 7″ coloured vinyl. This limited edition 7″ coloured vinyl includes "Sister Marie Says (Radio Edit)" and the exclusive B-side "History of Modern (part III & IV)".
Sister Marie Says

OMD | Myspace Music Videos
A free download demo of the track was released on 25 November 2009. Elements of the song were originally composed in 1981 and a reworked version of the track was due to appear on the 1996 album "Universal" but got shelved because it sounded too much like early OMD and was out of step with the more reflective tone of Universal.
OMD's 11th studio album, "History of Modern, was released on 20th September 2010″. It is their first album since 1996, and the first album featuring the classic 4-piece line-up since 1986's "The Pacific Age". A tour to promote the album will follow in November 2010.
OMD are returning to their avant pop roots, Andy McClusky and Paul Humphreys tells The Quietus' Julian Marszalek. I really nice and in deep interview.
OMD (Orchestral Manoeuvres in the Dark) has released the first single from their forthcoming album "History of Modern" (which you can now pre-order here on iTunes), their first since the 1996 album "Universal". You can now download the "If You Want It" single bundle from iTunes which includes the exclusive b-side "Alone" and "If You Want It (Album version)" and "If You Want It (Villa Nah remix)".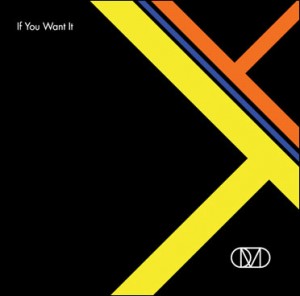 The full remix bundle is available here including 6 mixes. A very limited amount of yellow 7″ vinyls with the exclusive B-side "Idea 1″.
No mistake it is OMD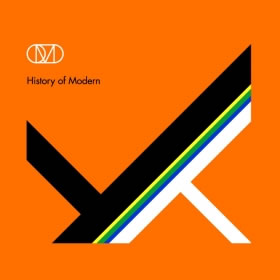 The sleeve is designed by Peter Saville, the inhouse designer from old Factory Records.
The first album after the OMD reunion, "The History of Modern", is scheduled for a September 20 release on 100% Records.
– The title felt appropriate, says Andy McCluskey When we started we were very conscious of trying to be modern in the future. But that was over thirty years ago. You were trying to do something that was modern and then the world changes and what you did use to do somehow has become historical.
Its seems to be a metaphor for the band, Andy thinks.
– Also, currently electronic music is very much in fashion. But again, a huge percentage of it to me is really a pastiche of something from thirty years ago. They are not really doing anything new. They've just bought a lot of old records and copied them. So it is just this idea of perception of what is modern and what the future is.
The first single and video pick will be "If You Want It" (September 6), released in a limited edition yellow 7″ vinyl with the B-side "Idea 1″ and as digital download with another B-side, "Alone".
There will be an album listening and launch party at Club 24 in London on the day of the single release (September 6), featuring a 30 minute performance by Paul Humphreys and Andy McCluskey. London is where Paul lives with his partner Claudia Brücken (ex-Propaganda). Andy has remained in Merseyside near Liverpool.
The new tour starts in Liverpool on October 2 where OMD will perform with the Royal Liverpool Philharmonic Orchestra. UK, Germany, BeNeLux and France are the countries in question for the tour so far. Mirrors is the support act.