MESSE 2015: Reactable On Your Mac or PC Using your touch surface to play with Reactable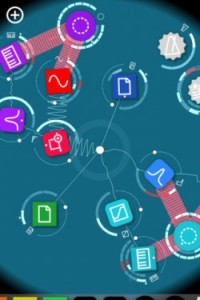 Reactable Systems has announced an updated to Reactable Mobile, introducing a new social networking feature, Reactable Community.
Here's what's new in Reactable 2.0
Direct access to Reactable Community
Save and View Performances
Direct table upload
Table Meta data
Brand new menus
Reactable is a performance oriented synthesizer that combines modular synthesis, sampling, digital audio effects and DJing with multitouch control.
Reactable Mobile is $9.99 in the App Store.
Here's a nice live performance of Reactable at this year's MWC in Barcelona Spain, done by Reactable's own music maestro in the Intel booth.
For more electronic news go to our website:
Steelberry Clones
http://stereoklang.se/blog
About Reactable:
The revolutionary Reactable instrument hits the stage with its new incarnation: The Reactable Live! It brings all the possibilities of the original Reactable and makes it portable and easy to setup. The Live! version of the instrument allows you to touch and see the music while performing. The different sound generation and manipulation modules, which are real physical objects, permit infinite flexibility and control in musical expression. Exploring and using modern techniques of music production has never been easier or more exciting.
The Reactable was conceived as an instrument to bring back the expressive possibilities of traditional instruments to musicians who are working with new technologies. It uses concepts of modular synthesis, sampling, advanced digital effects processing, and DJing and combines them with modern human computer interaction, multitouch technology and a tangible interface.
Background data:
More info – http://bit.ly/sAjMDV
In September, Dubspot had the wonderful pleasure of hosting a live streaming workshop with Create Digital Music's Peter Kirn and Martin Kaltenbrunner of Reactor. Developed in Spain by Austrian and Spanish music and media technologists, Reactable is a musical instrument that is changing the way modern electronic music is produced and performed. In this video recap of the live webcast, Peter Kirn asked the necessary question "what makes this an instrument?" and Martin Kaltenbrunner answered that question with a demonstration using Reactable's tangible and intuitive interface to create and manipulate sounds on the fly. Furthermore, Peter and Martin talked about interface design, music technology, production and performance of electronic music without a computer, and much more.
Reactable Mobile Android Launch, Reactable Showcase and Music Hackday
The Reactable uses a so called tangible interface, where the musician controls the system by manipulating tangible objects. The instrument is based on a translucent and luminous round table, and by putting these pucks on the Reactable surface, by turning them and connecting them to each other, performers can combine different elements like synthesizers, effects, sample loops or control elements in order to create a unique and flexible composition.
As soon as any puck is placed on the surface, it is illuminated and starts to interact with the other neighboring pucks, according to their positions and proximity. These interactions are visible on the table surface which acts as a screen, giving instant feedback about what is currently going on in the Reactable turning music into something visible and tangible.
Additionally, performers can also change the behavior of the objects by touching and interacting with the table surface, and because the Reactable technology is "multi-touch", there is not limit to the number of fingers that can be used simultaneously. As a matter of fact, the Reactable was specially designed so that it could also be used by several performers at the same time, thus opening up a whole new universe of pedagogical, entertaining and creative possibilities with its collaborative and multi-user capabilities.
Shared via marcosalonso
More information: http://www.reactable.com/live
Music and performance: Carles López