Torley takes you on a tour through every preset/snapshot in Razor so you know what it sounds like before buying! Yes, it's really that simple. Torley is using Razor in his upcoming Musical Dream Journal entries @ http://torley.com
—
http://www.native-instruments.com/#/en/products/producer/powered-by-reaktor/r…
"Discover the new cutting edge of synthesis with RAZOR — a refreshing, truly new instrument based on additive synthesis. Created by maverick Berlin producer Errorsmith in partnership with NATIVE INSTRUMENTS, RAZOR has a characteristically dynamic and precise sound suited to tense basses, bristling leads and shifting, sci-fi soundscapes.
RAZOR's approach to additive synthesis is pragmatic and musical, providing detailed control without sacrificing usability. So shake off the virtual analog dust — go additive and carve a new path with RAZOR.
RAZOR runs in the free REAKTOR 5 PLAYER and REAKTOR 5.5."
I wanted to recreate this mythical game just for fun. Very soon in the library users.
Shared by Krumlek
Lazerbass
The newest addition to the REAKTOR library is a monophonic synthesizer delivering a pure and direct sound without additional effects. The new additive synthesis module means Lazerbass can create a large number of timbres, themselves made up of multiple harmonic or non harmonic partials. The result is a sound of immense quality, equally at home creating spacey sci-fi sounds as full and punchy sub basses ideal for dubstep and other leading-edge electronic productions that need that signature "wobble."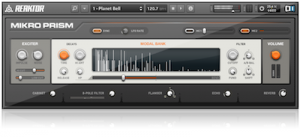 MIKRO PRISM is a new free instrument, based on the successful synthesizer REAKTOR PRISM. Using the same sound engine as its bigger brother and REAKTOR 5.5's new dynamic "Modal Bank" technology, this fully-playable instrument shines with a stunning range of brilliant sounds.
With 70 presets, the built-in cabinet simulation, filter, flanger, echo and reverb effects and some seasonal bell and chime sounds included, this gift is guaranteed to get you in the mood for the holidays!
Download Mac Version
Download PC Version
MIKRO PRISM requires the free REAKTOR 5 PLAYER orREAKTOR 5.5!
This is my second voice synthetiser (no samples, only analogic!!)…..
This is my 1st builded version from speak n spell. Made with reaktor 5.5
Via Krumlek
Native Instruments has released Reaktor 5.5 – a free update that adds a number of improvements and additions.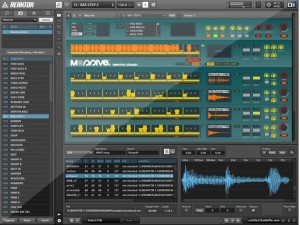 New in Reaktor 5.5:

Fully reworked, streamlined user interface: A complete overhaul of REAKTOR's interface delivers a new level in usability and improved workflow. The changes make REAKTOR 5.5's iconic creative potential easier to tap than ever before.
Two new synthesis modules:

Additive Synthesis – The additive synthesis technology in REAKTOR 5.5 allows instrument builders to create sound in a new way. This elaborate module allows instrument designers to realize additive synthesis beyond the CPU limitations of previous REAKTOR versions, as it has been radically optimized to handle large number of partials in a more efficient way. For ensemble users, instruments can now be created that allow accesses to sound parameters that were not possible before. The included Lazerbass instrument is a ready-made example of this technology in action.
Modal Synthesis – The Modal Module is a synthesis method made up of an exciter signal and a resonator, and is great for synthesizing percussive sounds ranging from mallets to vibraphones, as well as sustained sounds like woodwinds. The physical modeling algorithms used in modal synthesis simulate the behavior of real instruments, allowing for highly expressive and playable results. The first synth to utilize this technology is REAKTOR PRISM*, created by Native Instruments founder and father of REAKTOR, Stephan Schmitt.

New Ensemble Content – REAKTOR 5.5 comes armed with fresh sounds and ensembles. Alongside the now-included REAKTOR Electronic Instruments 1 and 2, comes a new synth from the creators of MASSIVE – Lazerbass.
Revised Structure Editor and Audio Engine – The improvements made to the Structure editor and audio engine mean greater flexibility and more powerful control over REAKTOR.
Improved documentation – REAKTOR 5.5 also brings reworked documentation, with the Application Reference manual (400 pages) completely rewritten to better reflect the latest improvements, updates and enhancements within this version. All materials now refer to the new user interface while the reworked Getting Started makes it even easier to join the world of REAKTOR.