January 7, 2011 · Posted in
Uncategorized
·
Comments Off

on For all SoundCloud users out there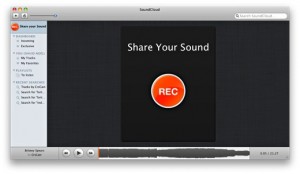 SoundCloud today released a free SoundCloud client for Mac OS X, available in the Mac App Store:
We're bringing the SoundCloud experience to your desktop that allows you to access all the sounds shared exclusively with you to browse, listen to and favorite sounds. Create custom playlists and saved searches to see the sounds you need in an instant and download others for offline playback. And just like all the official SoundCloud apps it also includes record functionality that lets you easily capture and upload any sound whenever you need to share or store something quickly.
SoundCloud is free service (with paid options) for sharing music on the Web, desktop and mobile platforms.
Features:
Record: capture your sounds right in the app and upload to your SoundCloud account in no time.
Listen to, favorite and manage your exclusive and incoming tracks in one place.
Browse and search any sound
Create playlists and saved searches
December 16, 2010 · Posted in
Uncategorized
·
Comments Off

on Promote your music at Stereoklang
Do you want to share your electronic music with our readers, then this is your chance. We have added a SoundCloud player where we on a regular basis will upload your songs for the benefit of our readers/listeners.
Check it out in the right hand column below our sponsors >>>>
We have added a Dropbox beneath the player so that you can easily send us your material.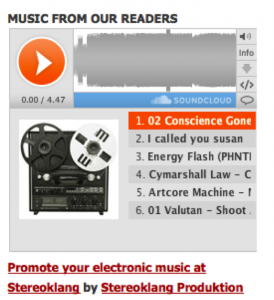 December 10, 2010 · Posted in
Uncategorized
·
Comments Off

on Online Jam session has begun
Message from timexile
Tim Exile, laptop virtuoso, vocalist, and Reaktor software creator, has apparently taken a liking to the recording features SoundCloud is touting. He's got a novel idea: you record samples into SoundCloud, he takes your samples and incorporates them into his set.
Since Soundcloud launched their awesome recording iPhone app last week it's now really easy for you to record and upload sounds wherever you are. To mark this fine achievement in modern sociauditory engineering I've elected to have an online jam. Please join me at www.timexile.com/interactive and feed me sounds to jam with by recording something using the free Soundcloud app on your iPhone on the night and sending it to exile@timexile.com.
If you don't have an iPhone you can use the browser version to send sounds. www.soundcloud.com
Head to www.timexile.com/discuss to dicuss
Here's a sample: