Do you want to share your electronic music with our readers, then this is your chance. We have added a SoundCloud player where we on a regular basis will upload your songs for the benefit of our readers/listeners.
Check it out in the right hand column below our sponsors >>>>
We have added a Dropbox beneath the player so that you can easily send us your material.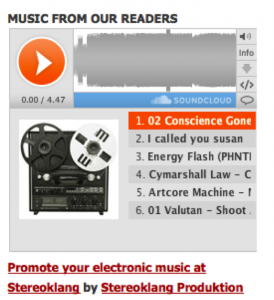 Message from timexile
Tim Exile, laptop virtuoso, vocalist, and Reaktor software creator, has apparently taken a liking to the recording features SoundCloud is touting. He's got a novel idea: you record samples into SoundCloud, he takes your samples and incorporates them into his set.
Since Soundcloud launched their awesome recording iPhone app last week it's now really easy for you to record and upload sounds wherever you are. To mark this fine achievement in modern sociauditory engineering I've elected to have an online jam. Please join me at www.timexile.com/interactive and feed me sounds to jam with by recording something using the free Soundcloud app on your iPhone on the night and sending it to exile@timexile.com.
If you don't have an iPhone you can use the browser version to send sounds. www.soundcloud.com
Head to www.timexile.com/discuss to dicuss
Here's a sample: