)
MESSE 2014: Roland Aira System 1 Raw and un-effected, and yes we have pitch bend
A look at the new Roland Aira TR-8 Rhythm Performer, their new drum machine, modeled on the classic Roland TR-808 and TR-909 drum machines, video details below:
A review and demonstration of Roland's new Aira TR-8 Rhythm Performer. www.SonicSense.com

For more information, visit our resource center: http://bit.ly/1fklpfv
Preorder AIRA now: http://bit.ly/1d5wjlb
Browse our website: http://www.SonicSense.com
Sonic Sense takes a look at an early prototype of the Roland Aira System 1 Plug-Out Synthesizer.
Features:
Four oscillators
Oscillator colors create continuous waveform changes from simple to complex
All parameters can be controlled with physical knobs and sliders with LED indicators
Advanced arpeggiator with Scatter function
Scatter jog dial offers 10 different phrase variations with dynamic, real-time control over 10 stages of depth
-12 dB and -24 dB filter types with independent high-pass filters
Tone knob for easy tonal balancing
Crusher knob for modern edge
Integrated delay and reverb effects
Tempo syncing for LFO and delay
Innovative thin keyboard with 25 normal-sized keys
The Roland AIRA System-1 is priced at US $599
DemoBackground video description:
I`ve had a chance to try out these new toys. Not for too long though… Anyway I out together a tech-like, rap-like, chill something with no use of external FX, compression or EQ. Some standard limiting added. I had lots of fun with the gear
As an addition to the TR8 review I managed to get hold of an original TR808.
I must say that after using the TR8 – its not at all intuitive to use – hence the rather simple demo.
System-1 synth will get its premiere (worldwide) at Dancefair on the 15th of february 2014. Yesterday we got a exclusive sneak peek from Roland CE.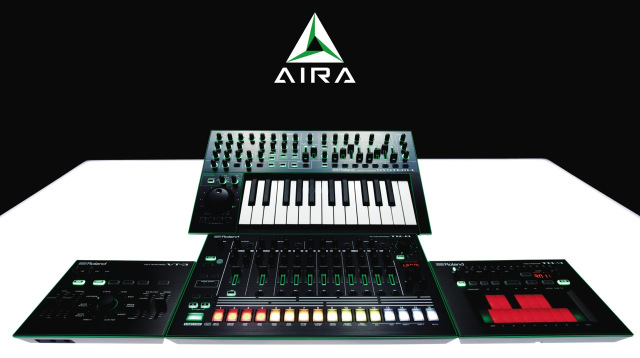 Roland has officially announced its new series of AIRA products:
The AIRA TR-8 Rhythm Performer – a $499 drum machine;
The AIRA TB-3 Touch Bassline – a $299 bassline synth;
The AIRA VT-3 Voice Transformer – a $199 vocal effects processor and vocoder; and
The AIRA System-1 Plug-Out Synthesizer – a $599 virtual analog synthesizer that can transform into a variety of classic synth, and act as a hardware controller for a new line of software synthesizers.
The AIRA series is based on Roland's newly-developed Analog Circuit Behavior (ACB) which the company says faithfully captures the sound of some of Roland's most revered classics. In developing the AIRA line, Roland modeled classic circuits, using original design specs, consultation with original product engineers, and a detailed part-by-part analysis of each analog circuit, using pristinely-archived Roland drum machines and synthesizers.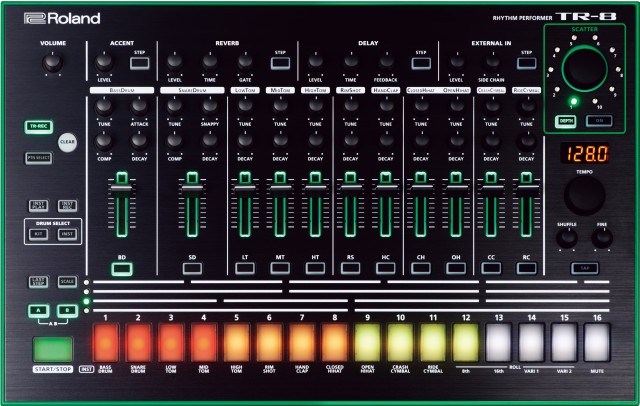 The TR-8 Rhythm Performer is a 'performance rhythm machine'. It offers the sounds of Roland's classic TR-808 and TR-909, 4 audio outputs and greater tweakability than the originals.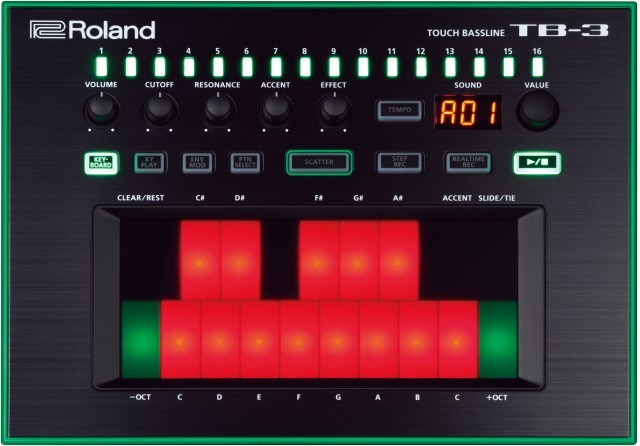 The TB-3 Touch Bassline is based on the classic Roland TB-303.
The new TB-3 Touch Bassline uses Roland's ACB modeling to recreate the classic bassline sound and offers controls that will be familiar to users of the original. But the TB-3 also offers a large touch control surface that streamlines sequence programming and introduces new performance options.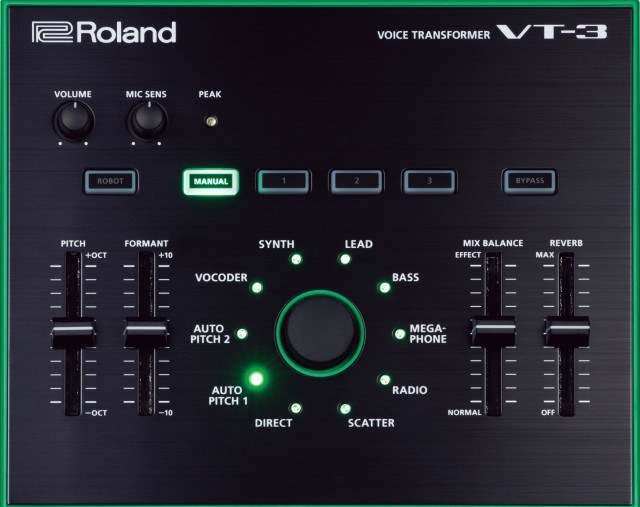 The VT-3 Voice Transformer is designed for creating heavily processed vocal sounds, with pitch and formant shifting, vocoder effects and more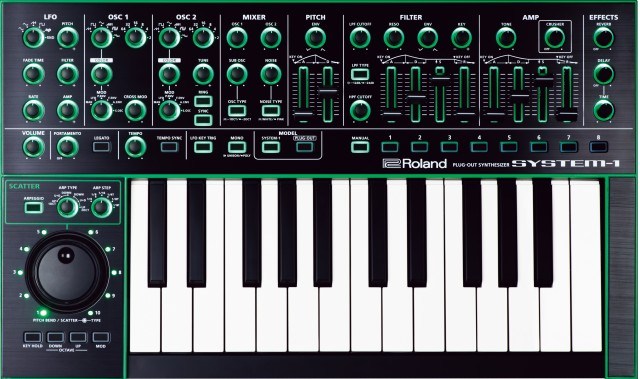 The System-1 Plug-Out Synthesizer is a new keyboard that can transform into a variety of types of synths.
It's very hands-on and knobby, but the key feature is the synth's Plug-Out technology, which lets the System-1 control – and even host – software recreations of classic Roland synths, with no computer connected.
Videos:
Pricing and Availability:
The TR-8 Rhythm Transformer will retail for a street price of $499;
the TB-3 Touch Bassline has a street price of $299;
the VT-3 street price will be $199; and
he System-1 Plug-Out Synthesizer will retail for $599.
Roland AIRA products will be shipping by the end of second quarter 2014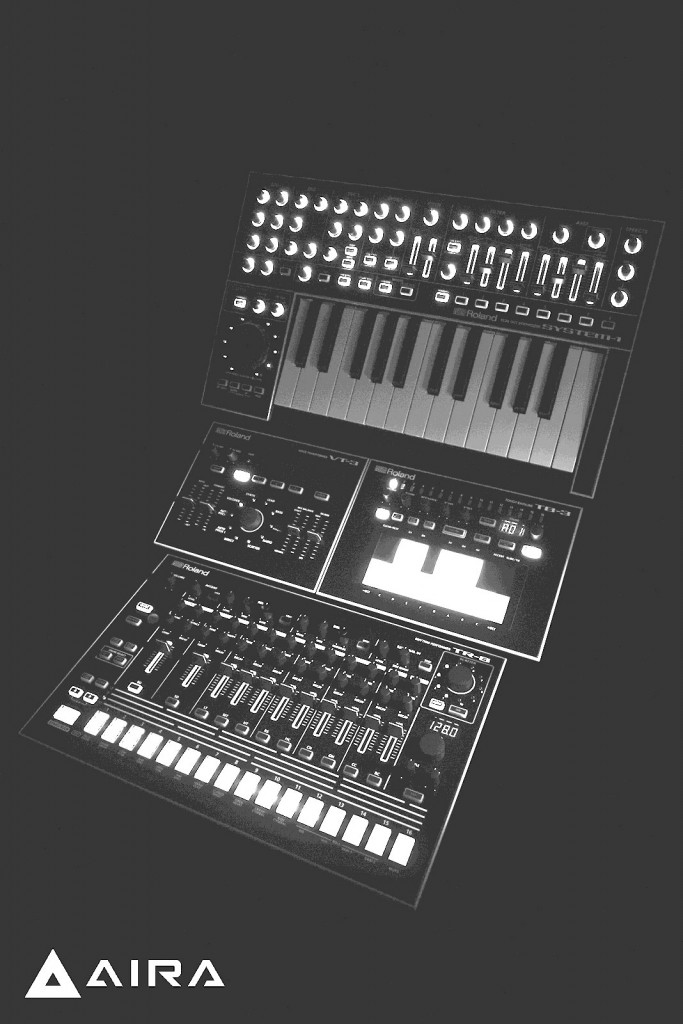 Star Trek here we go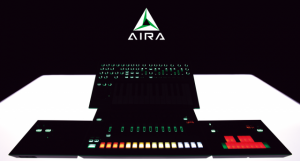 Roland has released another set of Aira teasers, showing that they've got four new devices on the way. With roots in the very origins of electronic music, AIRA is the new series of products designed to meet the evolving needs of today's electronic musicians. In the studio or on the stage, AIRA brings genre-defining sound and modern performance features to a new generation.
Roland also released a video that covers one of the technologies used in the Aira line – Analog Circuit Behavior, which appears to be a type of circuit modeling technology. Roland's newly developed Analog Circuit Behavior (ACB) faithfully captures the sound and feel of some our most revered classics. ACB is the technology behind the authentic sound and responsive behavior of the AIRA products.
It utilizes original design specs, consultation with original engineers, and a detailed, part-by-part analysis of each analog circuit in Roland's own pristine units.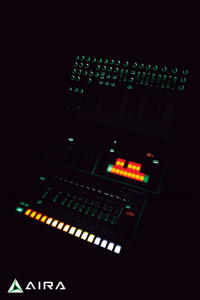 "With this project, we really focused on analog instruments. However, this does not mean we only wanted to reproduce the analog gear, rather that we wanted to create a new technology to produce new electronic instruments," says Watanabe. "We wanted to create the next step in electronic music, and I believe that with ACB technology we just might have succeeded."
Roland engineers discuss the technologies involved in getting the right sounds for the successor to the TR-808. The TR-909 Rhythm Composer evolved from the TR-808, adding digital samples and MIDI. House and Techno were born. Now the next step begins.