Roland AIRA TR-8 + TB-3 + FA-06
Impro with the AIRA and Roland FA
What you see in this video was all recorded live, in one take, using AIRA gear, Even the laser robot was controlled from the TR-8 and TB-3 via SBX-1.
The MX-1 Mix Performer brings together your synths, drum machines, loops, DAW tracks, and more into a single performance-optimized mixing instrument. Combining elements of a mixer, control surface, audio interface, and step-based effector, the MX-1 is designed to be the nerve center of your electronic music rig. It's a mixer you can play – and so much more.
more information : http://www.roland.com/aira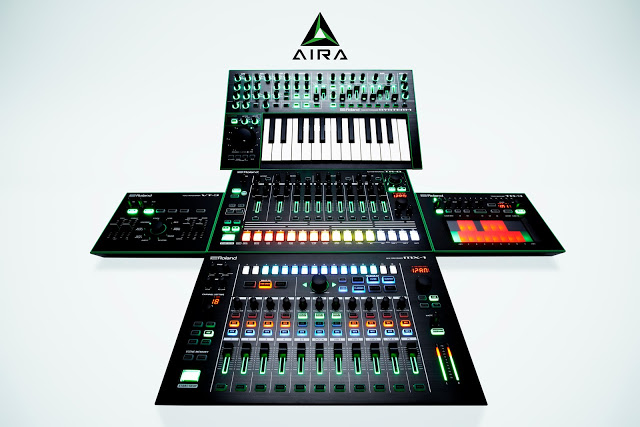 ROLAND UNVEILS MX-1 MIX PERFORMER
Performance-Ready Mixer for AIRA Instruments, DAWs, and Other Gear
Los Angeles, CA, January 22, 2015 — Roland is pleased to introduce the MX-1 Mix Performer, a performance-optimized mixing instrument for bringing together synths, drum machines, loops, DAW tracks, AIRA gear, and more. The MX-1 can mix up to 18 audio channels from a computer, and AIRA devices are able to communicate directly via USB alongside other analog and digital gear. With its versatile input selection, intuitive layout, and numerous tempo effects with step and real-time control, the MX-1 is a unique and powerful tool for delivering spontaneous, dynamic musical performances.
Designed to function as the nerve center for a modern electronic music rig, the MX-1 is perfect for working with AIRA devices such as the TR-8, TB-3, and SYSTEM-1, as well as other music equipment. Simple to use, the MX-1 provides high-quality sound at rates up to 96 kHz, plus a wealth of mixing features optimized for real-time creativity. Master tempo control (with fine and tap functions) synchronizes the MX-1's effects with all connected devices via USB and/or MIDI.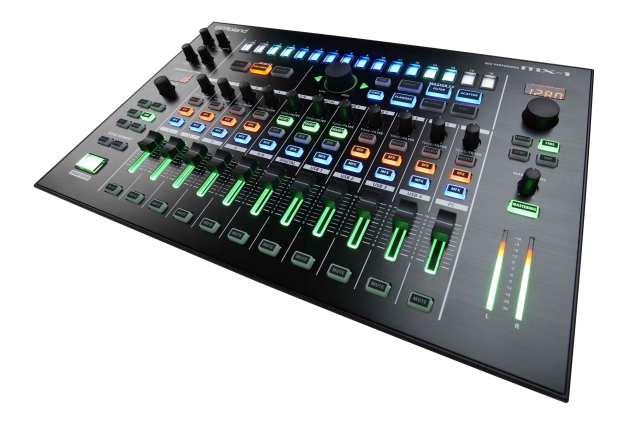 Up to four AIRA devices can be connected to the MX-1 via standard USB cables, making setup simple and quick. The AIRA Link USB connection provides both 96 kHz audio transfer and MIDI tempo sync information over just one cable. The MX-1 is also equipped with multiple analog inputs for connecting gear such as synths, drum machines, smartphones, tablets, and other various gadgets. A coaxial digital jack can be configured as either an input or output, and stereo send/return jacks are provided for connecting external effects units.
Each input channel on the MX-1 features a smooth level fader with six selectable volume curves, a Tone/Filter knob with ten different settings, and quick-access mutes that work with the LED-lit faders to clearly show their status, even in dark environments.
Scene memories allow users to instantly recall different mixer states that include all settings and effects configurations. The DJ-style cue function can be used to monitor input sources without affecting the main mix outputs.
With its integrated tempo-based effects, the MX-1 lets users enhance performances with dramatic, pulsing effects. Beat FX (Filter, Side Chain, and Slicer) can be applied to each channel independently, and the effect tempo is automatically synced to the clock master. The 16 TR-style step sequencer buttons allow the processing to be triggered at specific steps to create all sorts of interesting grooves. Master FX such as Scatter, Roll, Bit Crush, and others are included as well, and these can be quickly turned on or off per channel as desired.
The MX-1 integrates seamlessly with Mac and Windows computers, functioning as a high-performance, 18-channel 24-bit/96 kHz USB audio interface. MIDI over USB is also supported, allowing the MX-1 to send or receive tempo information and provide control surface functionality for music production software. Audio outputs from the computer can be mixed in the MX-1 alongside external devices to create a powerful and versatile software/hardware music system.
For more information about the MX-1 Mix Performer, visit RolandUS.com.
In the mid-1980s, Roland released the now-famous TR-707 and TR-727 Rhythm Composers. Loved deeply by groove-minded musicians the world over, these machines have been the beating heart of a wide range of styles including synth pop, acid house, techno, industrial, electro and experimental. Now, the sound of these classic rhythm machines, with every nuance accounted for, can be injected into your TR-8, taking the whole experience to an entirely new level.
– Every sound of the TR-707 and TR-727 Rhythm Composers, faithfully reproduced using the original PCM wave data and detailed models of the original circuitry.
– Analog Circuit Behavior captures the unmistakable sound of the original units—a result of lo-fi sampling and the behavior of the analog envelope and VCA circuitry design.
– Newly modified TR-909 kick and snare sounds with enhanced attack characteristics.
– Five new TR-808 sounds including Noise Toms, Noise Clap and Finger Snaps.
– Unique flam and accent behaviors of the TR-909 and TR-707, with adjustable flam intensity and two levels of accent.
– Upgrades the TR-8 to have all the sounds and articulations of four iconic TR drum machines, plus all new sounds, in one performance-ready instrument.
Dark electronic madness by Glenn Keteleer with pounding Rave sounds and techno hooks. No excuses regarding styles, Gloomy atmosphere's ,Wave & Elektro infuences by legendary bands as TNJ and Front 242 are part of the game" – radicalg.com
A remake of The Prodigy – Smack My Bitch Up.
Only hardware used.
Gear used:
Elektron Octatrack
Elektron Analog Four
Roland Aira TR-8
Roland Aira TB-3
www.facebook.com/nerwrak
Thanks Liam Howlett and "jimpavloff" for the inspiration

Coming soon!!!
A mashup with Front 242 – Circling Overland and Gesaffelstein – Hate And Glory.
All live, no computer.
Gear used:
Elektron Octatrack
Elektron Analog Four
Roland Aira TR-8
Roland Aira VT-3
All video and audio c.2014 G-Storm Electro
http://gstormelectronica.blogspot.com/
The focus of this demo is the SH-101 plug-out: down-n-dirty short basses, basic arpeggios, and sequences from Arturia Beatstep. I don't have an original SH-101 so I can't comment on how similar it may be. I stayed away from tone/crusher and kept the delay/reverb to a minimum just so you could hear the SH-101 sound engine in all its monophonic glory. Some backing rhythms provided by SCI Drumtraks and Roland MC-303.
The entire AIRA family has been updated with exciting and useful new features requested by users from around the globe. Easy to install and free for all users, this update includes enhancements to the whole line, such as backup and restore facilities, and better overall MIDI management. It also provides a wealth of product-specific enhancements, such as external MIDI pitch control for VT-3, tuning control for TB-3, and instrument gain control for TR-8.
Video description:
Product specialist David Ahlund came to show us the new features in the firmware updates for the TR-8 TB-3, VT-3 and System-1 synth. We also got a loot at the new SH-101 Plug-out.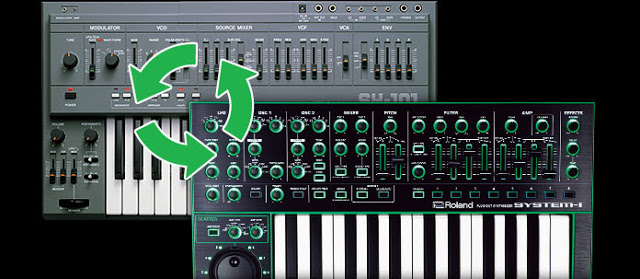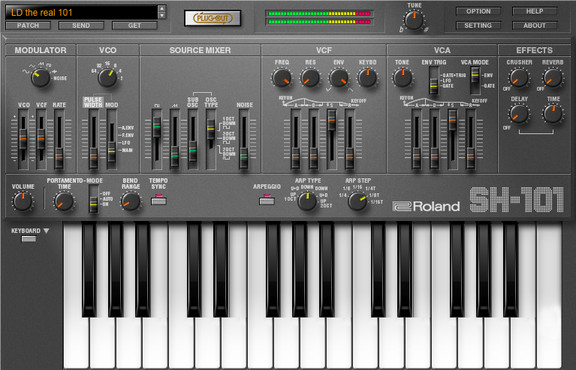 Roland has introduced the SH-101 PLUG-OUT, a software synthesizer for the SYSTEM-1.
The SH-101 PLUG-OUT Software Synthesizer is a complete reproduction of the iconic SH-101 – right down to the fine details and odd quirks that make it one of the most popular classic synthesizers of all time.

Based on Analog Circuit Behavior (ACB) technology, it not only reproduces the SH-101's legendary sounds, but faithfully recreates the very behavior of its analog circuitry – all with a level of authenticity that could only come from the company that created the original.
SH-101 PLUG OUT features
Total authenticity through face-to-face consultation with the original designers and relentless research beyond the original schematics.
Meticulously recreated oscillator and filter behavior – hallmarks of the SH-101 sound.
Authentic behaviors including the unique interaction between low pass filter and envelope controls.
Faithfully reproduces the unstable fluctuations that resulted from quirks in the SH-101's circuitry.
Classic SH-101 synth sounds – bass, lead, noise, and sound effects.
Software layout features standard gray model, as well as red and blue models originally sold as limited editions.
Two envelope sections allow different settings for VCF and VCA while maintaining the option of classic SH-101 envelope behavior.
Reverb, chorus, delay and crusher effects that were not included in the original.
Run as many instances as your computer can handle.
Use SYSTEM-1 as a dedicated USB keyboard controller with lighted knobs and sliders that show only available parameters.
PLUG-OUT with SYSTEM-1 lets you take an authentic SH-101 wherever you go, from mobile production to live performance.
Transfer sounds between SYSTEM-1 and SH-101 with PLUG-OUT.
Supports Macintosh and Windows, and AU and VSTi formats.
The SH-101 PLUG-OUT synthesizer will be available to SYSTEM-1 users on July 24th, 2014.