A brief demo of an audio sequencer I've been working on for SEGA Master System. To be clear – you right the audio sequence in assembly code (see start of video) which is then compiled, and then the ROM file actually plays back the sequence. Just some fun for a Sunday evening

http://little-scale.blogspot.com
—————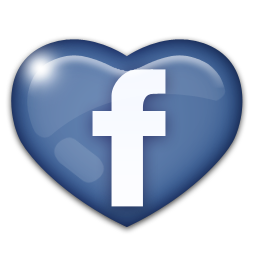 By the way, don´t forget to stop by our new Fanpage >>
Patternsketch is an HTML5 and Javascript audio sequencer and drum machine.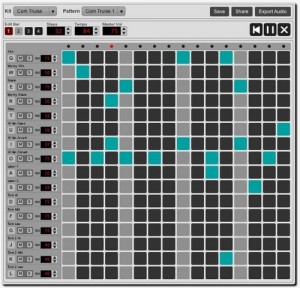 Patternsketch is an HTML5 and Javascript audio sequencer and drum machine. With it, you can create audio patterns, play them back, adjust playback tempo, volume, and change the audio kit. You can also save, export, and collaborate with your friends.
Patternsketch is an excercise in imagining what browser based music tools could be, and an exploration in the possibilities of new web technologies. It was built with Javascript (no frameworks) and HTML5 (no flash).
The goal of this project was to create a tool that musicians and casual music fans could use to create music patterns and collaborate on rhythmic ideas with friends. We recognize the performance is currently unacceptable for serious use, but look forward to updates in browser technology to make tools like this a viable option for music lovers.
Demo showing shift the pitch of individual markers
Audioprom was originally called Sausage Sequencer. The idea was to build a sound sequencer that uses slices of sausages placed on the iPad as physical markers to make sounds. After our first prototype we realized that sausages, or any other food item, is sensed reliably only when touching your hand. As soon as you let go of the sausage, the iPad thinks it's gone too. Our dream of chopping and placing food on the screen to make sounds ended there, but we were left with a decent audio sequencer. So we kept at it, trying to make an intuitive and simple interface that takes advantage of the multitouch screen.
Sausage Sequencer turned into Audioprom, a sequencer for fingers on the iPad.

Audioprom is an audio sequencer and live performance application for the iPad.
"We just launched Audioprom, a super intuitive audio sequencer app for the iPad. Audioprom doesn't look or feel like other iPad sequencers out there because it doesn't simulate popular physical interfaces from 90's drum machines. We built it from the ground up for the multitouch screen.

It's been a labor of love. We built it because we wanted it for ourselves and now we hope others might like it enough to buy it so we get to keep working on it.

We posted some how-to and demo videos at audioprom.cwandt.com.

We are CW&T, a Brooklyn based art and design duo. We make hard and soft things for fun and to feed ourselves. This is our first go at an iPad app. cwandt.com"

You can find more info and videos on http://audioprom.cwandt.com/
REAPER Latest Version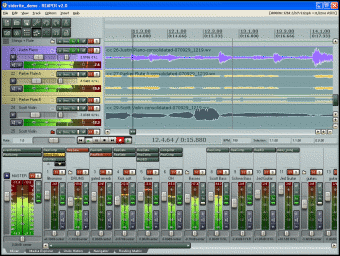 before spending big bucks on a software package (or worse, pirating it), try Reaper – it's fully operational straight away and you're free to demo it for as long as you want, has features enough to rival a lot of commercial packages and only costs $40 if you decide to support it at some point by registering it.
REAPER v2.51 – September 26, 2008
Download: 3.4 MB installer
JS: new development environment with editor, debugging support (variable watches)
Saving track templates now saves any track media items as well (since people seem to want this)
Loading track templates, fx chains, presets, now prompts for missing media (if REAPER is configured to do so)
Action: move cursor back or forward one beat or measure, move cursor to start of this or next measure
Move to start of current measure action moves back a measure if cursor is already at measure start
Create measure from selection actions optionally set project tempo instead of inserting markers
REX2: adjust imported slice length to hear the longest tail of previous slices underneath later slices
JS: better UI auto-sizing/arrangement
JS: MIDI/midi_CC_mapper, updates to spectropaint, added spectropaint_filter
OSX: fixed keyboard focus issue on many actions
OSX: fixed bug with screensets window (could also affect win32)
OSX: fixed keyboard state loading bug (required manually removing some key assignments — could also affect win32)
Vegas EDL: load/save of fade shapes, lock state, preserve pitch state, loading of mute state
ReaSynDr: fixed non-multiout mode
Fixed crashes when MIDI files are not found and ignored on project load
Fixed project start time offset when rendering cues
Fixed FX-add recent search combobox height
Fiddly fixes for zero crossing navigation with high frequency content