October 8, 2012 · Posted in
Uncategorized
·
Comments Off

on Peavey DSC-4 Dual Clock Stereo Chorus Quick Demo
http://gstromelectronica.blogspot.com/
This is a quick demonstration of the Peavey DSC-4 Dual Clock Stereo Chorus.
"I stumbled across this pink nightmare in a second hand store for cheap. It was hard to pass up being an analog pedal. And holy sh*t it's made in USA. After my not finding any demos out there I wanted to make a quick demo of my own."
The DSC-4 is a mono input, stereo output effect pedal. It uses a simple sine wave on MOD 2, and a rectified wave on MOD 1. Each side of the chorus has its own speed and depth controls. This is an analog pedal using an MN3101 clock chip to drive an MN3007 Bucket Brigade chip. The pedal is capable of having one of its outputs fed back into the input for obnoxious noises as I show in Part 3.
Part 1 – Oberheim Matrix-6 Synthesizer, one synth voice enabled.
Part 2 – Fender Strat
Part 3 – Feedback loop using OUT A. Warning: loud obnoxious sounds.
Recorded straight to a Tascam DR-05 from an Alesis Multimix-8 mixer.
No other effects were used. This being a stereo effect demo make sure to listen on some decent studio monitors or headphones.
May 12, 2012 · Posted in
Uncategorized
·
Comments Off

on New version of a classic chorus echo device with tape-delay simulation

Variety Of Sound has released NastyDLA mkII, a new version of the classic chorus echo device with tape-delay simulation.
The mkII version of this plug-in is an overall technical redesign and features "stateful saturation" algorithms for an overall improved sound experience and changes several things under the hood. Basically, NastyDLA mkII remains feature-wise the very same but introduces the input stage modelled by this new technology and also redesigns the tape compression algorithm for an improved IM distortion performance. In general, the distortion generation appears to be more analog-like and the perception of width and depth has been improved significantly.
Improvements:
The behaviour of the input stage has been changed. It acts output level compensated now and only is active if the SAT switch is engaged. It is modeled based upon a stateful saturation algorithm which sound wise turns in to a way better distortion performance as well as a more "3d" sound perception.
The tape compressor has been improved for a better IM distortion performance and a less muddy sound.
The level of noise which can be dialed in has been altered. The level itself is corrected and by moving the according knob to the left-most position the noise can be switched off.
The .dll name and the VST plug-in ID has been changed and so both, old and new version, can be used in parallel in any case. Nevertheless, the mkII version remains preset-compatible with version 1.x so one can transfer presets between them in both directions.
NastyDLA mkII is a Windows 32-bit freeware release for VST compatible applications and you can grab your copy via the download page.
June 15, 2011 · Posted in
Uncategorized
·
Comments Off

on Flux is a new member in the Moog family, check it out here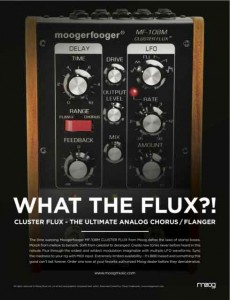 Moog have a new member of their Moogerfooger family coming soon. The MF-108M Cluster Flux will be officially announced later this week but the news has already leaked out, so, what the Flux? Here's what Moog has to say…
It's an analog BBD based chorus flanger w/ Tap Tempo modulation for guitar players, and extensive MIDI control for keyboardists, recording, etc. This new Moogerfooger takes the Chorus/Flanger to a completely new level, significantly expands the musician's sonic palette; and is CV as well as MIDI controllable.
This will be a limited availability product. The MF-108M Cluster Flux uses BBD (Bucket Brigade Device) chips that were specifically designed for the short delay times associated with chorus / flanger type effects. But like all BBD devices (e.g. the MF-104 Analog Delay) the availability of this chip is very limited. We are constantly looking for more supply but as with the MF-104, the supply will be limited by chip availability.
Features:
The Cluster Flux provides warm, great sounding analog chorus / flanger / vibrato effects. In addition, it has a much wider (and wilder) range of modulated delay line effects than traditional chorus / flangers due to the extended range of front panel controls, the multi-waveform LFO, and the extensive CV and MIDI control.
The LFO has six waveforms. Use sine or triangle for classic chorus flanger effects. Check out the Sample and Hold, Square, Sawtooth, and Ramp for radical new sounds. There are no analog chorus / flangers that have a sample and hold capability
In Flange mode, you adjust the delay time from approx. .6 to 10 milliseconds. In Chorus mode, from approx. 5 to 50 milliseconds.
The Feedback control is continuously bi-polar for both non-inverted and inverted feedback for flanging with even or odd harmonics.
The MF-108M has both input drive and output level control so you can use it from instrument to line level.
Parameters are MIDI controllable and the MF-108M will ship with an application editor for managing the array of possibilities. Just one example of the many applications: Control the delay time with MIDI notes for "tuned" flanger comb-filter effects.
There's a Feedback Insert jack on the back for external processing of just the wet signal just after the BBD's.
The design includes high voltage MN3007 BBD's for their superior headroom and excellent signal to noise ratio.
Pricing and Availability:
Expected to begin shipping in late summer.
More information:
October 26, 2010 · Posted in
Uncategorized
·
Comments Off

on Last sneak before the release of NastyDLA
NastyDLA – a classic chorus echo device with tape-delay simulation.
The device enables:
classic chorus and echo effects
authentic signal path coloration
tape-delay style feedback and saturation

NastyDLA – a classic chorus echo device with tape-delay simulation
Plug-in specification:
input stage model including signal coloration and non-linearities (switchable)
classic chorus/flanger effect with amount and rate control which automatically adopts to the delay line configuration
frequency balancing filter for dead-easy overall tone adjustments in the feedback path
two different feedback color modes
feedback circuit and control which supports resonance up to self-oscillation
standard DSP 12dB high-pass filter
custom "tape style" low-pass filtering
sophisticated "tape hiss" noise simulation
negative or positive pre-delay
comprehensive tape dynamics simulation taken from the core of the award winning FerricTDS
the dynamics offers a slight audio ducking effect (switchable)
two independent delay lines with up to 3sec delay time and sync to host
delay time modulation with two different modes
additional phase distortion (switchable)
audio level metering display
dry/wet controls plus "wet only" option
power / bypass switch
all parameters available through host automation
NastyDLA is a Windows x32 release for VST compatible applications and will be available as freeware early November.
August 12, 2010 · Posted in
Uncategorized
·
Comments Off

on Lexor is giving you a pristine clear chorus sound
WOK has announced the release of Lexor, a chorus effect plug-in for Windows.
Lexor is giving you a pristine clear chorus sound, free of unwanted artefacts or signal colouring and with a clear and easy user interface for quick results.

While our vintage CromFX has it's focus on reproducing the sonic instabilities of old hardware, this plugin takes advantage of the highest precise mathematical calculations for a pure and plain signal modulation.
Lexor features
Full stereo signal path.
Triple chorus line per path with multi-modulation.
Bass filter to keep the lower frequencies "clear" when used with bass sounds.
Mono switch.
Low on CPU.
Lexor is available to purchase as a VST effect plug-in for Windows PC for 14 EUR.