Filthy little modified Monotron jam: LFO out to gate in, 1 sequencer feeds CV to pitch in, another sequencer feeds CV to manipulate the LFO's rate. ////This Tron is a beast! ////// Mods: CV in for pitch, gate, filter cutoff and LFO rate. External LFO out with depth control knob. Two 1/4″ outs, two 1/4″ inputs for the filter and a master volume knob. Also added an over drive feature.
-electro lobotomy
Little Blue Dub Siren
small on/off latching switch
switched 1/4inch jack output
green LED (and a red one inside which produces a light glow)
4 large momentary buttons for each sound
Pitch Up control
switchable 4 way rotary switch to loop each sound
"Icebreaker Audio have recently released HandySynth – a sample based emulation of a custom circuit-bent Yamaha HandySound.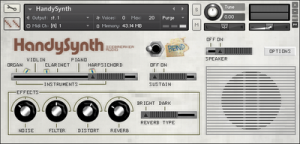 Key Features include:
All original instrument sounds chromatically sampled at 24-bit 48kHz
8 circuit-bent sound variations
Convolution based emulation of the original speaker at various microphone positions
Authentic emulation of the HandySound volume envelopes and tuning via custom scripts
Additional Effects: Distortion, Filter and Spring Reverb
Download also includes a copy of C-Bent Kit for Battery
Available now from the Icebreaker Audio website for £5 (€6/$8 approx.)"
And here are some snapshots:
Background info:
"This toy was a Christmas present from my girlfriend's mum, just about the most thoughtful Christmas present i've ever had. I painted it my favourite colour (Duck-Egg Blue), then I added a pitch circuit, and trigger circuit to make it a bit more useable, then I went ahead and bended it up."
A new circuit bending synth, enjoy:
FROM SMALL MACHINES COME A MIGHTY SOUND
FITTED WITH 1/4″ JACK OUTPUT
EXTREME PITCH CONTROL
SQUAREWAVE LFO
Hexagon Eye is a circuit bent Yamaha PSS-270. Chorus speed, depth, and morphback controls have been fitted. Morphback adjusts the chorus feedback and changes the timbre of the chorus signal simultaneously. An overdrive control is also provided. The sustwist control emphasizes the decay tails of sounds and brings out higher harmonics. An octave drop switch pitches notes down. The randomize switch produces new timbres when active during a patch change. When in use, the keys will play shifting sounds. All controls are fitted into a side cart to allow plenty of room and easy identification for live use.
Schematics available at: http://seaweedfactory.blogspot.com/2011/12/yamaha-pss-270-modifications.html
See more at http://seaweedfactory.blogspot.com
Circuit bent with 24 modifications + a new wooden framework and control interface. See the build here… http://www.cocoelectrik.co.uk/2011/12/s-cat-casio-mt40-build/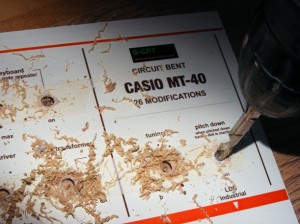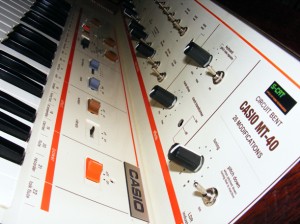 The Casio Casiotone MT-40 is a musical keyboard, formerly produced by Casio and originally developed for the consumer market. It is 9 voice polyphonic, with 37 main keys and 14 smaller bass keys. Eight notes may be played on the main keys, and one note on the bass. The bass section has one timbre, and the main section has 22, assignable to one of four presets. Like most small Casio keyboards, it also has a drum section with 6 different beats, a tempo knob, and a "fill" button. The fill button plays sixteenth note pulses of either the "snare" or "kick" as long as it is held down. Production started in the early 1980s and ceased shortly thereafter. The successor of the MT-40 came with a gray case, and was sold as the MT-41.
The keyboard is a prime candidate for modification through circuit bending, owing to simple circuits and a series of smaller potentiometers inside for factory adjustments, there are two examples of circuit bent units on Youtube, which have been built by S-CAT. The relative scarcity of these makes bending relatively risky, and most are left as stock.
The MT-40 had a built-in pattern based on the Eddie Cochran song "Somethin' Else". Because of this, a synthesizer version of the song's bassline ended up as the basis of one of the most popular dancehall music riddims of Jamaican music – the Sleng Teng riddim which started the "Digital Reggae" revolution in 1985.
It has also secured a niche in indie music. It occurs occasionally in songs by The Magnetic Fields, and is featured prominently on most of Emperor X's album Tectonic Membrane/Thin Strip on an Edgeless Platform. Its thin fuzz can be heard on lesser known Australian indie band Turnstyle's top 20 single Spray Water On The Stereo. In the UK, The Farmer's Boys, who were signed to EMI and beloved of John Peel, used it on a number of singles and album tracks – with an ironing board as a keyboard stand.
The crazy box has 10 inputs and 10 outputs, which in this video go out to 10 amplifiers. A photoresistor on each channel controls the signal levels. This is why the audio levels rises when the room lights are turned on. In other words, the more light, the louder the sound. Circuit bent devices are plugged into the 10 inputs. With the room lights off, you can use a flashlight to turn up the levels on individual channels. Videography be Andy Ben.