I can't say I am circuit bending guy myself, but it is pretty nice to get this insight to the world of circuit bending in all its aspects.
Circuit bending is the creative customization of the circuits within electronic devices such as low voltage, battery-powered guitar effects, children's toys and small digital synthesizers to create new musical or visual instruments and sound generators.
Emphasizing spontaneity and randomness, the techniques of circuit bending have been commonly associated with noise music, though many more conventional contemporary musicians and musical groups have been known to experiment with "bent" instruments. Circuit bending usually involves dismantling the machine and adding components such as switches and potentiometers that alter the circuit.
monotron with cv/gate modification
http://samoletuvvp.narod.ru/​vto/​diy/​monotron.html
A loop build using a DL4 looper pedal and Skullface as the only audio source. All live in one take, no overdubs, no effects other than looping.
Skullface has been built from a Kawasaki keyboard, with added pitch bend and a custom paint job.
See more at http://seaweedfactory.blogspot.com
Circuit Bending workshop, conducted by John Alex Hvidlykke, as a part of No 9 Festival event, "A Technolor Dream Part II", in Silkeborg, Denmark. 2011-09-30.
iMASCHINE is a professional instrument designed for beat producers of all levels – you don't need to have experience with MASCHINE to create spontaneous beats. With its intuitive threshold-based pad sampling, note repeat, auto-loop length feature, on-board mixer with six handy effects and the unique audio recording function, iMASCHINE makes it easy to instantly create grooves whenever the mood hits.
Use the included drum kits and melodic sounds, all in professional WAV-format, or expand your library with the iMASCHINE EXPANSIONS – available directly from your device via the in-app store.

The SK-1 has been used by a few major recording artists for its simplicity and lo-fi sound. It became very popular in the late 1990s among the circuit bending crowd after the first guide to bending it was published by Reed Ghazala in Experimental Musical Instruments magazine, though the SK-1 was being modified as early as 1987 when Keyboard Magazine published an article on adding MIDI support[1]. The synthesizer was one of the first pieces of equipment that Autechre had when they began recording music. Musician and score composer Michael Andrews featured a circuit bent SK-1 heavily in the Me and You and Everyone We Know musical score. It was used by notable Jungle artist DJ Hype for his seminal production attempts, as written in book All Crews by Brian Belle-Fortune, and rapper and producer Large Professor used it in his early years of beat-making.
Analog Chorus Hacked to reveal sweet LFO, which is then patched into the Pitch-Bend wheel for Pitch LFO. Also can be patched into the drum circuits for unique Drum Pitch LFO……
Loads of Glitch Mods for the Digital Drum machine section, including Pitch Modulation Knobs (Pitch down & Pitch Up 'Over-Clock' Knobs), Tonal Distortion / Ring Mods, Glitch & Phat Modulating Bleep Tones / Bass Tones…
Description of the PSS-780:
The Yamaha PSS-780 is a five-octave (61-key) small-key keyboard, and was a very sophisticated keyboard when it came out in 1989.
The keyboard uses a 2-operator FM Synthesizer to produce 100 pre-set voices, and also offers manual control of some (but not all) of the synthesizer parameters, so the user can create their own sounds. Five user-defined sounds can be stored in memory with single-button access. Percussion is PCM (sample) based, and can be played manually using the row of pads in front of the keyboard. A total of 32 percussion sounds are available, selectable in four banks of eight, and custom rhythm patterns can be created and looped using the "Custom Drummer" feature.
There are also 100 pre-set rhythm and auto-accompaniment patterns, each with an orchestrated ending and three different fill-ins available.  The fill-ins are orchestrated, and are activated using the three large purple pads in front of the keyboard, and are therefore very easy to hit at the right moment during a live performance. The three fill-ins can also be used as Intros, but when used like this they play percussion only with no orchestration, and the orchestration begins after the Intro. With the "Synchro Break" function enabled, you can also add your own manual fill-ins or a drum solo (!) using the drum pads during the performance. This works with either the pre-set rhythms, or your own "Custom Drummer" loop.
There is also a five-track sequencer, which allows independent recording of each track using different voices (including user-defined voices) with simultaneous playback, together with auto-accompaniment or custom rhythm pattern, so complex orchestrations can be achieved.
There is also a pitch-bend wheel (configurable range between 1 and 12 semitones) and lots of other features and effects which I won't detail here – get the Manual if you are interested.
While the PCM rhythm sounds each have a defined stereo "position" the voices are fundamentally mono, and the only stereo effect comes from enabling the "Stereo Chorus" function.
The built-in speakers are remarkably good (as expected on a Yamaha), but my example has an unusually hissy amplifier, and there is also a constant high-pitched whistle on the output. The hiss gets even worse when "Stereo Chorus" is enabled. I have owned my PSS-780 since I was bought it for Christmas in 1989, and it has always had this noisy output, so I suspect this is a design flaw on the PSS-780.
There is an interesting easter egg in the PSS-780's firmware. If you hold down the top two white keys at the far right-hand end of the keyboard while switching on the power, the keyboard enters what I can only assume is some kind of diagnostic test routine. I won't spoil the surprise for you, but try pressing some buttons and see what happens! Don't worry – you can restore normal operation by switching off and back on again.
Omnichord Synthesizer, well circuit bent with loads of useful modifications and wicked touch points.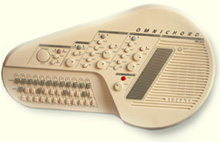 Analog Drums and Rhythms have new controls for tweeking and combining the preset rhythms. Also have touch points which allow the drums to be triggered by fingers!
LFO Circuit allows trippy vibrato & pitch modulation.
Lots of shiny metal touch points, and of course Wicked Glitch….
Flashing lights indicate drums, chord & bass.
About the Omnichord:
The Omnichord is an electronic musical instrument, introduced in 1981 and manufactured by the Suzuki Musical Instrument Corporation. It typically features a touch plate, and buttons for major, minor, and diminished chords. The most basic method of playing the instrument is to press the chord buttons and swipe the touch plate with a finger or guitar pick in imitation of strumming a stringed instrument.
The Omnichord is the technological successor to an earlier instrument, known as the Tronichord, with which it shares many technical and functional similarities. Omnichords often feature preset rhythms with a tempo control which the player may use as accompaniment. Several models of the Omnichord were produced, which added MIDI compatibility, a selection of voices for the touch plate, effects such as vibrato and sustain, and chord memory. Some Omnichord musicians will play the instrument as a keytar, by strapping the instrument on both ends and playing it as if it were an electric guitar.
Originally designed as an electronic substitute for an autoharp, the Omnichord has become popular as a unique instrument in its own right, due to its unique, chiming timbre and its value as a kitsch object.
The Omnnichord is still produced by Suzuki, but rebadged as the Q-chord. It features more modern versions of the original Omnichord's features.
Background information:
Here's a circuit bent delay, built from a karaoke machine. There are four feedback modes: soft, hard, static wave, and dump repeat. The speed can vary from a fraction of a second to over ten seconds, with awesome grain added as the delay increases. A hold and pulse button are also provided. Runs off batteries and has built-in speakers. Makes noise without anything running through it as well.
More details has been announced on the upcoming Meeblip SE synthesizer – an updated version of the Meeblip open hardware synth. The design retains the basic interface of the original, with the addition of features that make it more powerful (like an adjustable PWM waveform) and easier to use (patch storage).
New Features:
Sixteen patch memories (accessed by tapping the save/load button and flipping one of the sixteen front panel switches)
Two envelopes – a dual-mode A/D or A/S/R amplitude envelope and an A/D envelope for the filter
Bandlimited oscillators (with optional raw waveforms, if aliasing is your thing)
Dual-mode PWM waveform on oscillator A. Select either a pulse wave with user-programmable width, or sweep the pulse width with user-programmable sweep speed
New triangle waveform on oscillator B
Filter envelope amount has been added to the front panel
Extended MIDI parameter control
A redesigned front panel
There are also a few board tweaks to reduce noise.
Meeblip SE will be available in two versions:
A new front panel and pre-programmed microcontroller for existing MeeBlip owners — all the new features except programmable patch storage (there are no save/load switches on the original). Available August 8th for $25.
New meeblip se hardware that includes patch save/load and midi channel buttons, power switch on the front panel, and an easier-to-assemble design (the I/O board now mounts directly to the back panel and connects to the main board with a single ribbon cable).
The Meeblip SE synth will be available in a few weeks for the same price as the original — $139, including multi-volt power adapter. See the Meeblip site for details.
Puremagnetik has released Devil07, an emulation of the classic Roland TR-707 as modified by Diabolical Devices with ring modulation, filtering, distortion and doubling type effects.
Devil07 is a classic Roland TR-707 drum machine instrument and much, much more! With close to 600 individual samples, and 21 banks of sounds, Devil07 will take you to places that the original 707 could never come close to.
The TR-707 used for this library was completely upgraded by master circuit bending technician Diabolical Devices. Using a system of patches and switches, each "bent" sound was explored and all of its expressions captured with high resolution a/d conversion. The library includes an enormous collection of "Mechanical", "Bitpitched", "Shorted" and "Rusted" sounds all categorized into individual banks.
Devil07 features
– Over 20 multi-sampled banks.
– Close to 600 high quality samples.
– Singly integrated Ableton Live Rack can be played as a seamless instrument.
– "Renoise Ready" XRNI files for instant playability.
– Kontakt KSP easy edit GUI
Devil07 is now available to Puremagnetik subscribers (requires Ableton Live 8.2.2, Kontakt 4.2, Logic 8 or Renoise 2).