Background details:
Circuitbended toy with 4 drum sounds, changed the buttons contacts to car antenna and metal sponges -the idea is from Mateo Carabajal- playing along with a 555 osc -drawdio style- on a Plectranthus australis (aka dollar plant)
A circuit Vtech Tiny Tot Driver at Robotspeak in San Francisco.
For more info: http://www.wiretotheear.com/2012/08/24/robotspeak
Checking out the Doepfer Dark Time analog sequencer.
Star Wars – Arch Nemesis – Sound FX unit
A rehoused Star Wars Keyring.
switched mono mini jack output
blue LED
pitch up/down control – turn it down to enter the "Darkside"
switchable pitch down LDR – Use "The Force" to control this one
"Choose One" – Rotary switch – flick through each of the six voices/sound fx
Loop Skywalker Switch – this will loop each of the sound fx
Hands Solo – this will give you one shot playability of the sounds
.fd. online
Facebook – http://www.facebook.com/pages/freeform-delusion/144587583120
Twitter – http://twitter.com/#!/freeformd
eBay – http://www.ebay.co.uk/sch/freeform-delusion/m.html
Background info:
Here's my take on bending the Coleco Talking Teacher toy. Four bends have been added: short glitch loop, long glitch loop, unsteady long glitch loop, and pitch adjustment. A side cart was added to make room for the controls.
This is one of the most stable talking toys I have bent. The long and short loops are repeatable, so the glitches can be played like you would a drum machine. The sound is also very clear.
See more (including schematics for the bends) at:
http://seaweedfactory.blogspot.com/2012/06/circuit-bent-coleco-talking-teache…
DIY and Circuit Bending all the way:
"Filmmmaker Maren Sextro created this portrait of me for Groove.de in May 2012. Together, we visited the flea market and my studio, and spoke about my approach to sound, performance, "circuit bending" (a term I rarely use to describe my own constructions), DIY electronics and self-education."
Filthy little modified Monotron jam: LFO out to gate in, 1 sequencer feeds CV to pitch in, another sequencer feeds CV to manipulate the LFO's rate. ////This Tron is a beast! ////// Mods: CV in for pitch, gate, filter cutoff and LFO rate. External LFO out with depth control knob. Two 1/4″ outs, two 1/4″ inputs for the filter and a master volume knob. Also added an over drive feature.
-electro lobotomy
Little Blue Dub Siren
small on/off latching switch
switched 1/4inch jack output
green LED (and a red one inside which produces a light glow)
4 large momentary buttons for each sound
Pitch Up control
switchable 4 way rotary switch to loop each sound
"Icebreaker Audio have recently released HandySynth – a sample based emulation of a custom circuit-bent Yamaha HandySound.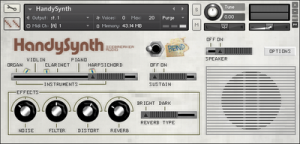 Key Features include:
All original instrument sounds chromatically sampled at 24-bit 48kHz
8 circuit-bent sound variations
Convolution based emulation of the original speaker at various microphone positions
Authentic emulation of the HandySound volume envelopes and tuning via custom scripts
Additional Effects: Distortion, Filter and Spring Reverb
Download also includes a copy of C-Bent Kit for Battery
Available now from the Icebreaker Audio website for £5 (€6/$8 approx.)"
And here are some snapshots: