Background video description:
To Mauro Motoki !
A DIY experimental Synth made of MFOS, YUSYNTH and RANDOM MODULE
An overview of all the features on my "Teensy Synth".
You can find the materials to make this synthesizer in the Arduino Projects section of www.brianpeters.net
Hear this synthesizer in action with 4 other chip-based synthesizers:
https://www.youtube.com/watch?v=D0git…
https://www.youtube.com/watch?v=ZfXdt…
Homemade analog synthesizer, partly built with minimoog model d circuits. VCF circuit here http://www.diodenfilter.de, which produced the synthi sounds (and drumbox V1.0).
Selbstgebauter analoger Syntheiszer, teilweise aus Minimoog Modell D – Schaltungen aufgebaut. VCF-Schaltung hierhttp://www.diodenfilter.de, welches die Synthie-Klänge produzierte (und Drumbox V1.0).
We build our own full-size MS20, add a filter selection switch and compare with an original.
I built the MS20 Kit – one of only 1,000 available. Be sure to check out our full review coming soon. Music: Intellijel Atlantis through Behringer X32 with Vintage Room freeze reverb for pads, stereo delay.
The MS-20 Kit is a true-analog, 1:1 scale reissue of the MS-20, with both filters built in (the more aggressive early production filter and more mellow late production one). Every details has been replicated, right down to the packaging, which includes a letter from the original MS-20 engineers and the President of Korg, Inc.
The Korg MS-20 kit has a street price of about $1,400.
TTSH – ARP 2600 Clone Time Lapse Build. Track includs only sound from the finished TTSH, some additinal delay and eq :).
Martin Widmann documents his build of the ARP 2600 clone, the  Two Thousand Six Hundred (TTSH) synthesizer.  TTSH  is based on the classic ARP 2600. It's one of the nicest DIY projects and a a very complex build. The TTSH is available as a kit containing PCBs and front panel. Nothing is pre-built and no components are included, so you have to source your own parts.
The video is a time-lapse video, 36,852 pictures, taken every 5 seconds. The full build is shown, including: ttsh, midi interface, case, calibration & bug fixing.
The soundtrack was made with only the finished TTSH.
)
monophonic handmade granular sampler / MIDI in, sync, crush + much more
info and buy: http://www.bastl-instruments.com/inst…
Features
-monophonic mono sampler
-microSD card (storing + recording samples, storing presets)
-6 sounds with full adjustments storable in a preset at once
-60 presets in 10 banks (6 preset per bank), stored as .txt files on microSD card
-wav sample playback from microSD card (mono, 22050 Hz, 8 or 16 bit, two letter file name)
-8-bit 22050Hz wav recording via line input or onboard microphone
-hold button
-sample rate (tuned or free run)
-crush
-start, end position with repeat, instant loop
-granular settings: grain size and shift speed (positive or negative)
-amplitude envelope attack and release
-MIDI Input — responds to note, cc and clock (synchronize loop and grains)
-MIDI side chain envelope restart
-copy, paste
-input & output volume knob
-power switch — plug / battery
-hackable — arduino based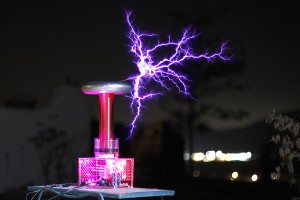 Peff has a new item out – a pulse wave oscillator called the oneTesla, here's what he has to say about it:
For those who follow my social media streams, you may have already seen the various DIYAudio, DIYSynth, DIYrepair projects going on around here for the past year. One of these projects is the oneTesla Musical Tesla Coil kit. In "synth speak" it's essentially a pulse wave oscillator. The oneTesla incorporates an arduino brain that receives MIDI note information, and the sparking plasma threads emitting from the coil oscillate at musical pitches. I certainly recommend the kit if you're looking for a fun weekend project, however it may require some debugging and may also require the need for a function generator and oscilloscope. Over the past year it seems that the development team has ironed out the kinks in the design and even novices generally have great success in their builds.
The link below is an archive of the multisampled notes generated from the oneTesla. I've provided the archive as a folder containing an NN-XT patch. The audio was recorded at quite a distance from the Tesla coil, mainly because I didn't want the coil to discharge through the microphone, but also because the output is incredibly loud. The recorded results aren't as impressive as having the real-time audio-visual experience, so get a better "feel" of the actual sound, it's recommended that you run the sampler output into a peak limiter and push the gain up 3dB to 9dB, and play the samples back at very high levels. The coil is sampled note-by-note from MIDI C0 to C5, and you will hear "spark" artifacts and a few obvious loop edits.
oneTesla-TeslaCoil_samples.zip
Instructions at http://littlebits.cc/projects/mountin…
This little guy has 2 mounting boards for a body. Just add littleBits and some sturdy legs to get him walking. Control his stride by adjusting the pulse and slide dimmers that connect to his servo-activated legs. Activate the sound and motion triggers and he will happily come over and greet you.
littleBits makes an open source library of electronic modules that snap together with magnets for prototyping, learning, and fun. Find out more at littleBits.cc
The Ototo is an experimental PCB-based synthesizer, created by design and invention studio Dentaku.
Ototo allows you to combine sensors, inputs and touchpads to create your own electronic musical instrument. Ototo is designed to let anyone unpack a kit and interact with sound however they want to, no soldering or coding required.
Features:
12 key capacitive touch keyboard (1 octave) with connectors
4 sensor inputs, 5V analog input
Onboard speaker and 3.5mm headphone output
Powered by 2 x AA batteries or micro USB
No coding required
128 Mbit Flash memory