TTSH – ARP 2600 Clone Time Lapse Build. Track includs only sound from the finished TTSH, some additinal delay and eq :).
Martin Widmann documents his build of the ARP 2600 clone, the  Two Thousand Six Hundred (TTSH) synthesizer.  TTSH  is based on the classic ARP 2600. It's one of the nicest DIY projects and a a very complex build. The TTSH is available as a kit containing PCBs and front panel. Nothing is pre-built and no components are included, so you have to source your own parts.
The video is a time-lapse video, 36,852 pictures, taken every 5 seconds. The full build is shown, including: ttsh, midi interface, case, calibration & bug fixing.
The soundtrack was made with only the finished TTSH.
)
monophonic handmade granular sampler / MIDI in, sync, crush + much more
info and buy: http://www.bastl-instruments.com/inst…
Features
-monophonic mono sampler
-microSD card (storing + recording samples, storing presets)
-6 sounds with full adjustments storable in a preset at once
-60 presets in 10 banks (6 preset per bank), stored as .txt files on microSD card
-wav sample playback from microSD card (mono, 22050 Hz, 8 or 16 bit, two letter file name)
-8-bit 22050Hz wav recording via line input or onboard microphone
-hold button
-sample rate (tuned or free run)
-crush
-start, end position with repeat, instant loop
-granular settings: grain size and shift speed (positive or negative)
-amplitude envelope attack and release
-MIDI Input — responds to note, cc and clock (synchronize loop and grains)
-MIDI side chain envelope restart
-copy, paste
-input & output volume knob
-power switch — plug / battery
-hackable — arduino based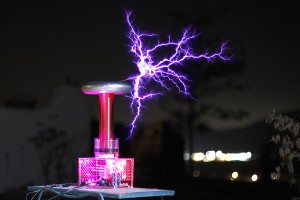 Peff has a new item out – a pulse wave oscillator called the oneTesla, here's what he has to say about it:
For those who follow my social media streams, you may have already seen the various DIYAudio, DIYSynth, DIYrepair projects going on around here for the past year. One of these projects is the oneTesla Musical Tesla Coil kit. In "synth speak" it's essentially a pulse wave oscillator. The oneTesla incorporates an arduino brain that receives MIDI note information, and the sparking plasma threads emitting from the coil oscillate at musical pitches. I certainly recommend the kit if you're looking for a fun weekend project, however it may require some debugging and may also require the need for a function generator and oscilloscope. Over the past year it seems that the development team has ironed out the kinks in the design and even novices generally have great success in their builds.
The link below is an archive of the multisampled notes generated from the oneTesla. I've provided the archive as a folder containing an NN-XT patch. The audio was recorded at quite a distance from the Tesla coil, mainly because I didn't want the coil to discharge through the microphone, but also because the output is incredibly loud. The recorded results aren't as impressive as having the real-time audio-visual experience, so get a better "feel" of the actual sound, it's recommended that you run the sampler output into a peak limiter and push the gain up 3dB to 9dB, and play the samples back at very high levels. The coil is sampled note-by-note from MIDI C0 to C5, and you will hear "spark" artifacts and a few obvious loop edits.
oneTesla-TeslaCoil_samples.zip
Instructions at http://littlebits.cc/projects/mountin…
This little guy has 2 mounting boards for a body. Just add littleBits and some sturdy legs to get him walking. Control his stride by adjusting the pulse and slide dimmers that connect to his servo-activated legs. Activate the sound and motion triggers and he will happily come over and greet you.
littleBits makes an open source library of electronic modules that snap together with magnets for prototyping, learning, and fun. Find out more at littleBits.cc
The Ototo is an experimental PCB-based synthesizer, created by design and invention studio Dentaku.
Ototo allows you to combine sensors, inputs and touchpads to create your own electronic musical instrument. Ototo is designed to let anyone unpack a kit and interact with sound however they want to, no soldering or coding required.
Features:
12 key capacitive touch keyboard (1 octave) with connectors
4 sensor inputs, 5V analog input
Onboard speaker and 3.5mm headphone output
Powered by 2 x AA batteries or micro USB
No coding required
128 Mbit Flash memory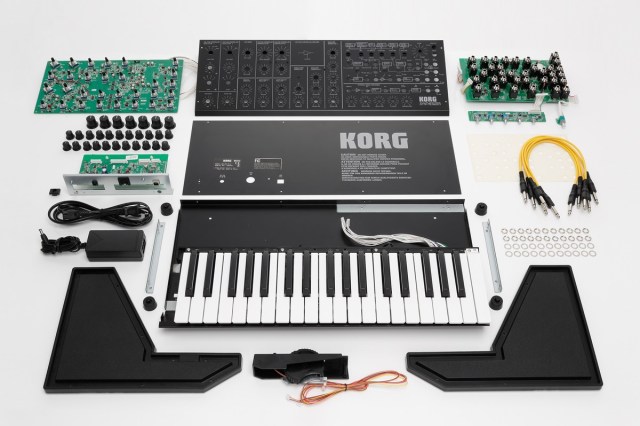 Korg MS-20 Synth Kit – a limited edition MS-20 Kit is a kit that lets you create a real, full-size MS-20 by assembling the parts yourself.
The MS-20 Kit is a true-analog, 1:1 scale reissue of the MS-20, with both filters built in (the more aggressive early production filter and more mellow late production one). Every details has been replicated, right down to the packaging, which includes a letter from the original MS-20 engineers and the President of Korg, Inc.
Just like the MS-20 mini, development of the MS-20 Kit was led by the original engineers themselves, who spared no effort to perfectly replicate the circuitry of the original unit. When it was necessary to substitute a part, the engineers made the decision based on their own ears, ensuring that the exact sound of the original unit has been reproduced.  According to Korg, the sound of the MS-20 kit has a 'somewhat bright and extreme quality' to it, because its sound is that of an original MS-20 in mint condition at the time it went on sale, before any of the components aged.
The MS-20 Kit comes dissembled, and can be put together with simple tools (some included), providing the user with a bit of the experience that often went hand-in-hand with ownership of vintage modular analog gear.
No soldering or understanding of circuit diagrams required. The updated MS-20 also features the same modern connectivity (MIDI and USB MIDI) as the mini.
The MS-20 Kit is a being released as a limited edition product.
Features:
A full-size, true analog MS-20
Build yourself with simple tools
Early and late filters at the flip of an internal switch
¼" patch cables
Limited edition
The Korg MS-20 kit is expected to have a street price of about $1,400 and to be available in March.
More "Space Exploration"

Retro electronic Sci-Fi improv………
All sounds straight out of the instrument- no external processing.
The little volume jumps are caused by the 266 QRV affecting a one of the 227 channel inputs.
Just a quick rundown of some MIDI controllers 'otemrellik' has built recently for ios music making fun.
Here are some helpful links:
https://github.com/unsymbol/teensy-mi…
http://little-scale.blogspot.com/2012…
I use the 2.0 Teensy board for all my projects:
http://www.pjrc.com/teensy/
HandmadeElectronicInstruments.com
This handmade synthesizer is played by bridging the contact points. There are 15 contact points, each of which plays a higher pitch. It is monophonic and will sound the highest pitch being played and 2 effect points.
There is controllable LFO that is activated by pressing the far left contact point and is fed to the square-wave oscillator producing quick modulation, or an almost distorted throaty sound. In addition to LFO speed there is a low pass filter and volume control. Also the far right contact point will create some interesting effects, responding well to light touches that can zap the frequency well out of audible range.
The contact strip is sensitive to pressure and even the resistance of a particular player's skin. For example someone with sweaty hands will produce a higher frequency. Please note with excess sweat on the contact points you will find a slight decay, however it's quirks are easily learned and tamable.
It has a 1/4″ output and is powered by an included 9volt battery. The copper finish will have an aged look especially after being played a bit.
All sounds are played by Yocto. More information www.e-licktronic.com
Best quality sound on SoundCloud https://soundcloud.com/e-licktronic/s…
The reproduction comes courtesy of E-licktronic, who says it represents an exact reproduction, with a modern sequencer and additional features included – such as the ability to mute each instrument, a roll mode, and the ability to store up to 256 patterns.
Says E-licktronic: "The only difference compared to the TR-808 is the BA662, VCA Clap has been replaced by the modern equivalent BA6110."
The OCTO is a build-it-yourself model, and ships with all the necessary components to assemble. The clone costs €379,00 and is out now.
For more info, visit E-licktronic.