Cubasis tutorial showing how to use 3rd party iOS effect apps with Audiobus as 'DIY send effects' within Cubasis.
The AteOhAte Mutant Cowbell is a DIY (do it yourself) TR-808 Cowbell module based on the analogue circuit in Roland's famous drum machine. The circuit has been adapted for use in a modular synthesizer, and, while being able to create the same sounds featured on the 808, can also create other sounds thanks to the modified tunable oscillators and voltage control over the cowbell's pitch.
You can build one yourself at home (along with many other x0x-based drum modules) once PCBs are available from me at hexinverter.net
I will be releasing the AteOhAte Mutant HiHats at the same time as this project.
Receive an email when PCBs are available by signing up for the mailing list here: http://eepurl.com/pDf_5
Visit the Muffwiggler forum thread for updates on the project: http://www.muffwiggler.com/forum/view…
Testing the second prototype of the Two Thousand Six Hundred, an ARP 2600 clone. This is a DIY kit to be released in September.
Read more at www.thehumancomparator.net
Welcome to the site of the Two Thousand Six Hundred project, or TTSH for short. The TTSH is the attempt to replicate an old classic semi-modular synthesizer. It will be available as a kit containing PCBs and front panel (Nothing is pre-built). The goal is to release it this fall, September preliminary.

I've put up an interest list, and you can find it here. If you don't want to miss this opportunity, make sure you're on it. As it'll be where the information goes once this is live. From now on this will be the main portal for communicating changes in the project. But if you'd still like to know more and follow the evolution of the project, you can read this thread over at Muffwiggler. The project is currently in prototyping stage, where one prototype has been received and built. Errors on the prototype has been fixed, and the second prototype board is being laid out at this moment.
Wouter van Veldhoven has shared this multi machine video, details below:
This basically put almost every machine in my studio in operation,
Everything is controlled by a doepfer a100 system + some home-brew modules, in combination with some self made step sequencers build
In the MooG for Love
Animation film tribute to Legend of Electronic music KLAUS SCHULZE.
Directed by James L. Frachon
These "cut-outs" are faithful counterparts paperboard kits * of some mythical synthezisers which make me dream since ages (I'm almost vintage too !).
I'm still dreaming…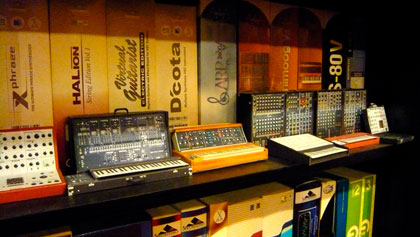 The Groovesizer is an arduino-based DIY 32-step sequencer / synth – the project is based around a custom PCB that in it current form features 4 rows of 8 tactile switches and leds – the final version will add a fifth row of buttons and leds dedicated to control functions. It features an embedded hackduino, an 8-bit DAC option, an LM386 amp output, MIDI in/out/sync and is configurable to work with some of the most popular existing arduino audio projects. Firmware can be updated from the arduino IDE, either via an AVR ISP programmer, or by flashing the chip on an arduino board and swapping it out. Furthest along in its development is the Alpha firmware which features a 3 oscillator monosynth. Other firmware will include the Bravo which borrows code from the Bleeplabs Bleepdrum https://www.sparkfun.com/products/11606 , the Charlie, based around the Illutron 4-voice wavetable synth http://www.instructables.com/id/Turn-… , and the Delta, based on the original Groovesizer with the auduino synth engine http://www.youtube.com/watch?v=9zsxWf…
The complete kit with PCB and all components will be sold for around US$100 – follow the progress on this project at http://groovesizer.com
First test of the new DIY case with six Doepfer A-111-5 synthesizer voices.
Two sequensers: Doepfer A-155, Modcan Touch-Sequencer
Two extra filters: A-108, A-106-5.
Controllers: Doepfer A-174-2 Wheels, Intellijel Planar joystick, A-198 Ribbon control
FX: Tiptop Z-DSP with Dragon Fly
Extra LFO: Doepfer A-143-4 Quad LFO (controlable)
Mixers: 3x Doepfer A-138b
Multiples: 2* 4×4 DIY multiples
More info: http://www.creativegallery.nl/index.p…
A test of the prototype PCB for the Two Thousand Six Hundred (TTSH) project.
Multitracked with all sounds, including drums, from the TTSH.
www.thehumancomparator.net
Two DIY expander modules for the RLS from Music Thing Modular. Pulses produces seven pulse outputs, related to the master clock and controlled by the main module. Voltages (with the faders) is an eight step sequencer where multiple steps can be active at once, creating very unpredictable patterns.
Patch details:
One pulse output is pulsing the white noise from the RLS module through a QMMG low pass gate, creating the kick drum sound at the start.
The two outputs (normal and inverted) from the voltages module are going into a A156 quantizer, then into two sizes of a DPO oscillator. Each time the note changes, the sine wave outputs are gated through the QMMG.
One more output from the pulse module is triggering the FM bus on the DPO, causing the bleeps and bloops.