More "Space Exploration"

Retro electronic Sci-Fi improv………
All sounds straight out of the instrument- no external processing.
The little volume jumps are caused by the 266 QRV affecting a one of the 227 channel inputs.
Just a quick rundown of some MIDI controllers 'otemrellik' has built recently for ios music making fun.
Here are some helpful links:
https://github.com/unsymbol/teensy-mi…
http://little-scale.blogspot.com/2012…
I use the 2.0 Teensy board for all my projects:
http://www.pjrc.com/teensy/
HandmadeElectronicInstruments.com
This handmade synthesizer is played by bridging the contact points. There are 15 contact points, each of which plays a higher pitch. It is monophonic and will sound the highest pitch being played and 2 effect points.
There is controllable LFO that is activated by pressing the far left contact point and is fed to the square-wave oscillator producing quick modulation, or an almost distorted throaty sound. In addition to LFO speed there is a low pass filter and volume control. Also the far right contact point will create some interesting effects, responding well to light touches that can zap the frequency well out of audible range.
The contact strip is sensitive to pressure and even the resistance of a particular player's skin. For example someone with sweaty hands will produce a higher frequency. Please note with excess sweat on the contact points you will find a slight decay, however it's quirks are easily learned and tamable.
It has a 1/4″ output and is powered by an included 9volt battery. The copper finish will have an aged look especially after being played a bit.
All sounds are played by Yocto. More information www.e-licktronic.com
Best quality sound on SoundCloud https://soundcloud.com/e-licktronic/s…
The reproduction comes courtesy of E-licktronic, who says it represents an exact reproduction, with a modern sequencer and additional features included – such as the ability to mute each instrument, a roll mode, and the ability to store up to 256 patterns.
Says E-licktronic: "The only difference compared to the TR-808 is the BA662, VCA Clap has been replaced by the modern equivalent BA6110."
The OCTO is a build-it-yourself model, and ships with all the necessary components to assemble. The clone costs €379,00 and is out now.
For more info, visit E-licktronic.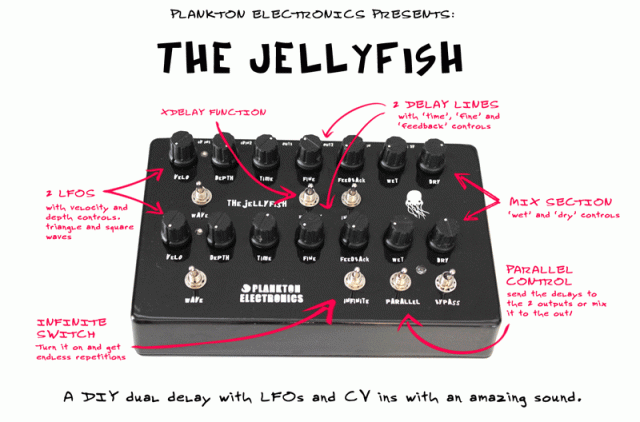 Plankton Electronics has introduced The Jellyfish – a DIY double delay, with modulation options capable of a wide variety of sounds, from simple delay lines to crazy modulated stereo sounds.
Features:
Analog passive filters
CV inputs
Two LFOs
Infinite feedback switch
Xdelay function
Dry/Wet controls
Pseudo-stereo (1 in-2 outs) or mono mixed sound
The Jellyfish is available as a kit for 120 Euro (the case is additional).  Schematics and other documentation are provided on their site – right here >>
http://groovesizer.com
A demo of infinite random mode, accents, and pattern chaining on the Groovesizer Alpha.
The Groovesizer (pronounced groove-a-sizer) is a DIY 8-bit audio platform. It's a musical chameleon that can take on a number of different roles from sequencer to synth, drum machine, or midi controller. Exactly what the Groovesizer is at a given moment depends on the firmware it's running. Existing firmware can be freely hacked, or new firmware developed using the beginner friendly Arduino IDE. Firmware is loaded to the board directly from the Arduino IDE, either via an AVR ISP programmer, or by flashing the Atmega chip on an Arduino board and swapping it out.

The Groovesizer is based around a custom PCB that features 6 potentiometers and  5 rows of 8 tactile switches and leds  (4 rows for the sequencer / trigger buttons and 1 row dedicated to control functions). It features an integrated Arduino clone, an 8-bit DAC option, an LM386 amp output, MIDI in/out/sync and is configurable to work with some of the most popular existing Arduino audio projects.

Furthest along in its development is the Alpha firmware which features a 3 oscillator monosynth attached to a 32-step sequencer with 112 memory locations to store patches and patterns.
Cubasis tutorial showing how to use 3rd party iOS effect apps with Audiobus as 'DIY send effects' within Cubasis.
The AteOhAte Mutant Cowbell is a DIY (do it yourself) TR-808 Cowbell module based on the analogue circuit in Roland's famous drum machine. The circuit has been adapted for use in a modular synthesizer, and, while being able to create the same sounds featured on the 808, can also create other sounds thanks to the modified tunable oscillators and voltage control over the cowbell's pitch.
You can build one yourself at home (along with many other x0x-based drum modules) once PCBs are available from me at hexinverter.net
I will be releasing the AteOhAte Mutant HiHats at the same time as this project.
Receive an email when PCBs are available by signing up for the mailing list here: http://eepurl.com/pDf_5
Visit the Muffwiggler forum thread for updates on the project: http://www.muffwiggler.com/forum/view…
Testing the second prototype of the Two Thousand Six Hundred, an ARP 2600 clone. This is a DIY kit to be released in September.
Read more at www.thehumancomparator.net
Welcome to the site of the Two Thousand Six Hundred project, or TTSH for short. The TTSH is the attempt to replicate an old classic semi-modular synthesizer. It will be available as a kit containing PCBs and front panel (Nothing is pre-built). The goal is to release it this fall, September preliminary.

I've put up an interest list, and you can find it here. If you don't want to miss this opportunity, make sure you're on it. As it'll be where the information goes once this is live. From now on this will be the main portal for communicating changes in the project. But if you'd still like to know more and follow the evolution of the project, you can read this thread over at Muffwiggler. The project is currently in prototyping stage, where one prototype has been received and built. Errors on the prototype has been fixed, and the second prototype board is being laid out at this moment.