Wouter van Veldhoven has shared this multi machine video, details below:
This basically put almost every machine in my studio in operation,
Everything is controlled by a doepfer a100 system + some home-brew modules, in combination with some self made step sequencers build
In the MooG for Love
Animation film tribute to Legend of Electronic music KLAUS SCHULZE.
Directed by James L. Frachon
These "cut-outs" are faithful counterparts paperboard kits * of some mythical synthezisers which make me dream since ages (I'm almost vintage too !).
I'm still dreaming…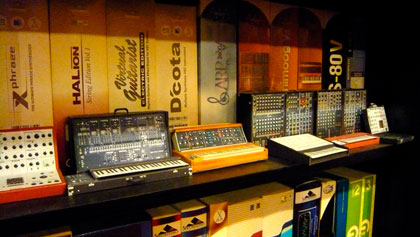 The Groovesizer is an arduino-based DIY 32-step sequencer / synth – the project is based around a custom PCB that in it current form features 4 rows of 8 tactile switches and leds – the final version will add a fifth row of buttons and leds dedicated to control functions. It features an embedded hackduino, an 8-bit DAC option, an LM386 amp output, MIDI in/out/sync and is configurable to work with some of the most popular existing arduino audio projects. Firmware can be updated from the arduino IDE, either via an AVR ISP programmer, or by flashing the chip on an arduino board and swapping it out. Furthest along in its development is the Alpha firmware which features a 3 oscillator monosynth. Other firmware will include the Bravo which borrows code from the Bleeplabs Bleepdrum https://www.sparkfun.com/products/11606 , the Charlie, based around the Illutron 4-voice wavetable synth http://www.instructables.com/id/Turn-… , and the Delta, based on the original Groovesizer with the auduino synth engine http://www.youtube.com/watch?v=9zsxWf…
The complete kit with PCB and all components will be sold for around US$100 – follow the progress on this project at http://groovesizer.com
First test of the new DIY case with six Doepfer A-111-5 synthesizer voices.
Two sequensers: Doepfer A-155, Modcan Touch-Sequencer
Two extra filters: A-108, A-106-5.
Controllers: Doepfer A-174-2 Wheels, Intellijel Planar joystick, A-198 Ribbon control
FX: Tiptop Z-DSP with Dragon Fly
Extra LFO: Doepfer A-143-4 Quad LFO (controlable)
Mixers: 3x Doepfer A-138b
Multiples: 2* 4×4 DIY multiples
More info: http://www.creativegallery.nl/index.p…
A test of the prototype PCB for the Two Thousand Six Hundred (TTSH) project.
Multitracked with all sounds, including drums, from the TTSH.
www.thehumancomparator.net
Two DIY expander modules for the RLS from Music Thing Modular. Pulses produces seven pulse outputs, related to the master clock and controlled by the main module. Voltages (with the faders) is an eight step sequencer where multiple steps can be active at once, creating very unpredictable patterns.
Patch details:
One pulse output is pulsing the white noise from the RLS module through a QMMG low pass gate, creating the kick drum sound at the start.
The two outputs (normal and inverted) from the voltages module are going into a A156 quantizer, then into two sizes of a DPO oscillator. Each time the note changes, the sine wave outputs are gated through the QMMG.
One more output from the pulse module is triggering the FM bus on the DPO, causing the bleeps and bloops.
A 1st generation Nanoloop (cartridge for Gameboy classic) and a modified Korg Monotron are synced by a Roland TR-626. Nanoloop is triggered by the rimshot pattern of the 626. The sawtooth LFO (low frequency oscillator) of the Monotron is triggered by syncuino (http://chemiker1981.blogspot.com/) and the cutoff frequency of the Monotron analog filter is controlled by a sequence generated by Syncuino.
The Meganome is inspired by the monome controller and powered by an Arduino Mega. Like other grid controllers like the Launchpad and Push, it has performance modes for triggering drums, playings synths, and launching clips and effects. I like the feel of arcade buttons and look of exotic hardwoods, so mass-market products just weren't right for me.
You can see how the grid-based layout makes octave jumps and glisses really easy in this video: http://youtu.be/Gsph_10sb64?t=2m18s
Watch the Meganome be used as a drum machine: http://youtu.be/rMrk-pZ4RBk
Patrick writes with more details:
I just uploaded a demo video for my custom grid-based controller, the Meganome. The design is obviously inspired by the monome, but it departs in a couple ways from the monome and its cousins. I wanted larger buttons with light but solid action for triggering drum hits and synth notes–buttons that are hard to miss and give you a nice "clack" sound when struck. The rectangular arrangement with 14 buttons per row lets me display the entire
chromatic scale plus two notes of overlap when the Meganome is in synth control mode. Like the Push controller in its chromatic mode, the notes of the scale I'm in light up, but unlike the Push, the Meganome lays octaves along its columns, which makes for easy traversal of octave space and wide chord voicings. Triads, on the other hand, are tricky.
I did a blog post on difficulties I encountered while building it and posted my Arduino code on my blog:
http://jazarimusic.com/finally-a-diy-midi-controller-with-purpleheart/
Home-made synth + modified Korg Monotron, both synced by Syncuino (http://chemiker1981.blogspot.com/)
Making the most of your next second hand shop visit:
At second hand sales there are often piles of old analog computer modems that absolutely nobody wants. But it can be worthwile to go through the piles because amongst those seemingly useless plastic boxes there can be little treasures that looks like a modem but certainly isn't.
I found this little box at a Y-mens money raising sale and because they thought it was just another old modem I got it for the equivalent of 2$ (which some people say is written $2). But I knew that it wasn't because modems ususally doesn't come with a MIDI interface.
There wasn't anything wrong with it so I took the lid off it only to see what was inside. I have used it in the music that I play in this video for all the piano sounds and most of the strings. The rest is played on Roland RA-30 arranger, JX-8P synthesizer and Technics SX-C600 organ.