Background info:
Here is an awesome computer mod that I have been working on for the last four months. I built this computer mod to appeal to DJ's and music artists. I call it DJ SOUND CONTROL or DSC for short.
I made it as compact as possible, but not too small that you could not be comfortable performing a set. I added a powerpack that allows true portability, giving you a full hour of power without plugging it in.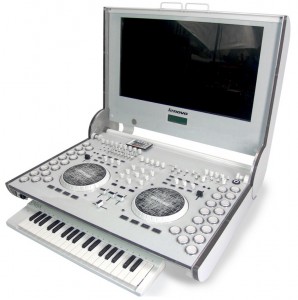 With the 23″ touch screen the performance can now include finger gestures and multitouch controls. Crazy RGB backlit panels makes sure your party keeps hoppin' through the night. Cutting edge DJ hardware, like the Midifighter that has been customized to put super fresh effects right at the fingertips of both your right and left hands, will make this a musical game changer. Built in Meeblip digital synth controlled by the optional slide out keyboard will let you rip off an amazing bass solo or dub step routine.
On board effects from the Alesis NanoVerb give you instant overall expression of the multiple outs. And the meat and potatoes customized Numark Mixtrack gives you all the standards that every DJ needs to stylize their set. With tough Lexan custom CNC machined panels and high strength aluminum frame this box is ready to travel around the world with you no matter where and how you perform.
See Blarsky's site for more info!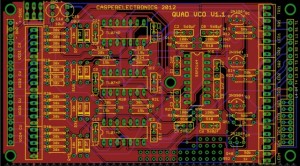 Casper Electronics has announced plans for a mini modular synthesizer kit:
I'm working on a new compact modular synth kit project, based largely (but not entirely) on the SSM2164 quad VCA chip.
Modules will include:
QUAD VCO (wide range VCOs from LFO to audio)
VCO/VCA/VCF (single voice module)
S&H/RING/RUNGLE(modulation and complex sequencer)
TOUCH CONTROL,PROGRAMMER (touch controlled voltage and preset bank)
Details and pricing are to come.
A close up look at the HackMe Rockit synth:
This is a demonstration of some of the sounds and features of this HackMe Rockit synthesizer, designed by Matthew Heinz, which I built from kit a little while back. This demo is less about music and more about the technology and functions of the machine so if you are not into synths you will probably find it boring. You can find out all about the synth or order your own kit from this site http://hackmeopen.com/?page_id=474&fb_source=message.
The Rockit is a dual oscillator monophonic synthesizer. The oscillators are 8 bit and each have 16 different waveforms. It has a VCA with full ADSR as well as a multi-mode 2 pole VCF again with full ADSR. Add to this a pair of LFOs with complex routeing options, Full MIDI support and 16 patch memories and you have a nice little package.
Because of the 8 bit wave table oscillators this thing can do a plethora of Atari sound with the VCA and VCF wide open but once you start get them involved then it moves over to more traditional analogue mono sounds.
Just so you are aware I built the little box case for my Rockit from scratch, the designer does have a case for sale from his site but I am planning to rack mount this thing at some point so I built my own cheap case as a temporary method of keeping it dust free.
Livid shows off their latest development in relation to their Builder DIY controller set:
Brain v2 expands the original Brain with a lot more functionality. We've added the Brain v2 Bus Board that make it easy to connect your controls to the Brain. We expanded LEDs from 48 to 192 with added circuitry for extra brightness. Encoders can now be used with led encoder ring support. RGB LEDs can also be used to greatly enhance your possibilities. We've also added a 5v power jack for standalone operation without a computer. Velocity sensitive pads and can also be used with version 2. Music by Henry Strange
Background information:
I successfully compiled the ASAP (Another Slight Atari Player) library [1] for a PIC32MX795F512H. ASAP emulates a 6502 CPU and the famous POKEY sound chip [2] used for example in the ATARI 400/800 and XL/XE 8-bit computers. To say it with Wikipedia's words: POKEY's sound is distinctive

About 60 tunes (worth about 2.5 hours of music) taken from ASMA (Atari SAP Music Archive) [3] are included and stored in the PICs flash memory. D0 is the left and D1 the right PWM channel.
The source code is available here: http://dangerousprototypes.com/forum/viewtopic.php?f=56&t=3944
[1] http://asap.sourceforge.net/
[2] http://en.wikipedia.org/wiki/POKEY
[3] http://asma.atari.org/
Some fun with an old joystick and a sampler made from an Arduino + the Adafruit Waveshield.
Curious about what the Adafruit is? Here's a description:
Adding quality audio to an electronic project is surprisingly difficult. Here is a shield for Arduinos that solves this problem. It can play up to 22KHz, 12bit uncompressed audio files of any length. It's low cost, available as an easy-to-make kit. It has an onboard DAC, filter and op-amp for high quality output. Audio files are read off of an SD/MMC card, which are available at nearly any store. Volume can be controlled with the onboard thumbwheel potentiometer.
This shield is a kit, and comes with all parts you need to build it. Arduino, SD card, tools, speaker and headphones are not included. It is fairly easy to construct and anyone with a successful soldering project under their belt should be able to build it.
The shield comes with an Arduino library for easy use; simply drag uncompressed wave files onto the SD card and plug it in. Then use the library to play audio when buttons are pressed, or when a sensor goes off, or when serial data is received, etc. Audio is played asynchronously as an interrupt, so the Arduino can perform tasks while the audio is playing.
http://adafruit.com/products/94
Patchwerk is a new web browser-based application that lets you control a massive modular synthesizer, housed at MIT, and hear the results: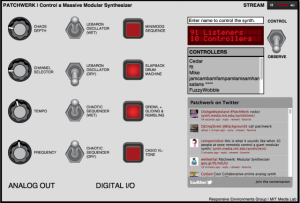 Patchwerk lets you control a massive analog synthesizer from your browser, and streams the results back to you and everyone connected. The interface on this site is linked to a physical synth cabinet connected to the world's largest homemade modular synth, currently housed at the MIT Museum.
Turn a knob here, and Patchwerk will turn a motorized knob on the cabinet. If someone at the Museum grabs a knob, you'll see it turn too.
The synth that you can control is the giant DIY modular synthesizer of Joe Paradiso:
Enjoy
Background information:
This is a quick video of the maiden voyage of my DIY modular synth.
Most of the modules are Yusynth designs, but it also includes a few Paia, CGS and Ian Fritz designs.
The patch is fairly straight foward. The two randomized sequences are generated by Reaktor (via a Paia MIDI2CV). A Kurzweil Mangler is adding a small amount of Delay.
About 2:05 you will hear the second VCO frequency modulated by an Ian Fritz Chaos module.
A big thanks to all of the DIY synth community, but especially the Yusynth designer Yves Usson. His designs are brilliant and sound unbelievably good! Hopefully this video does them justice.
This video is an original composition and performance (David Gerhard) using the Rainboard. The Rainboard is a DIY dynamic isomorphic keyboard. It can interface the Musix iOS app in order to change layouts and adjust settings. As well, it can be played on its own after a layout is set. More details can be found at http://rainboard.shiverware.com or sign up for the Rainboard newsletter: http://eepurl.com/g3G0r