Background video description:
Breaking in a new DIY Buchla format "Retro 158″ dual oscillator that I just made. Also testing a one-off Buchla format Joystick I'm building.
The delay is a Modcan 59a Digital Delay, re-faced with a custom Buchla style panel that I created the artwork for.
I'm using the Joystick module to alter pitch and audio attenuation – as well as pulsing the delay for a sync.
These make up a KILLER sci-fi efx box

Peter Speer demonstrates his DIY Euro Bow Interface – a unique bowed string instrument he uses with his Eurorack modular synthesizer.
Technical details below.
Hollow laser cut MDF enclosure, with a guitar string pulled across two zither pins and a contact mic underneath (connected to the front jack).
Bow is homemade, too (2×4 + horsehair).
Pressure Points and the Wogglebug's Stepped Out (triggered by the Pressure Points) are controlling the frequency on the DPO, as well as the pitch shift on the Echophon. The envelope out from an A-119 is opening the low pass gate on the output and controlling the modulation index on the DPO.
The knobs of a home-made synth are tweaked while it plays a sequence of notes (Syncuino DIY 16-step sequencer, see link below).
—————————————————————–
https://sites.google.com/site/synthaquarium/
http://chemiker1981.blogspot.de/
Mixtape Alpha is the smallest synthesizer we could make without a prescription. It has a stylophone style input for continuous note generation, and 6 buttons for discrete notes. With 4 voices, 4 effects, and 5 note polyphony there is quite a range of expression. But, the best part is, you can record the songs you make, and trade mixtapes with your friends! Perhaps even better, it's based on the ATmega328p, and can be hacked to make even crazier sounds than we came up with.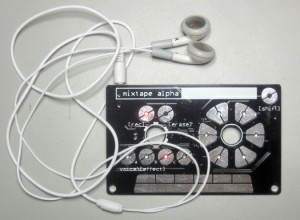 If you want to dig into the guts of this 8-bit synth, check out the wiki page. There you will find all the schematics and code, and we even have a Pure Data patch for making your own wavetables. Mixtape Alpha even comes in its own cassette case, with instructions! So check out the Mixtape Alpha store to own your very own.

Mixtape Alpha was done in collaboration with Jie Qi from the High-Low Tech group at the MIT Media Lab. It's an attempt to break down the barriers between people and electronics: To get them comfortable touching PCBs, and change expectations about how electronics should look. To this end, there are resistive touch pads, and all the trace routing took aesthetics into consideration as well. These are ideas very familiar to circiut benders, and we're hoping they catch on with other folks as well.
Steelberry Clones had the opportunity to try out one of only 50 copies of the unique micro synth Travel Weevil at a Bug Brand hosted modular synth meet up in Sweden, on October 29th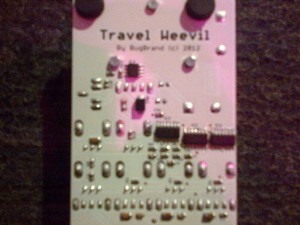 As always find out more on what is cooking in the electronic music space first at http://stereoklang.se/blog
DIY triggering and connectivity playground on camera. The Oplab Musical Experimental Board allows you to interconnect virtually any electronic musical instruments. And finally it's just plug and play. No more hassle with one box for MIDI and another for CV or a third for USB. Oplab has it all in one place. Just connect your cables, set the appropriate scenario and experience a perfect sync.
One of the fundamental ideas behind Oplab is to let you connect things, toys or junk that you already have around you and to make it interact with your electronic musical instruments. Grab a broken hard drive, rip it apart, connect and use it as a scratchpad. A simple one is to just connect a mouse. Eureka! The mouse is now a pitch bender.
A basic overview and presentation of the Artemis Synthesizer built in about a month as a kit for a group of 24 rising high school freshmen enrolled in Boston University's Women in Technology outreach program called "Artemis". Made by the Boston University EDF headed by Christopher Woodall (cjwoodall.com and happyrobotlabs.com), and with the support of the BU Physics department.
More info at happyrobotlabs.com
more infos: http://www.synth-project.de/diva.html
Just an overview and function test of the DIVA Controller. Nothing more nothing less !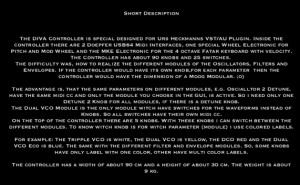 Here's a demo of the Random Looping Sequencer DIY module. This patch features the RLS' seq out multed to uscale in and envelator gate in. envelator out to borg 1… borg out to mixer and into camera. The sound source is the uncle & anti osc tripple wave folded and filtered with the z2040 and ems synthi filter clone.
The Random Sequencer is a circuit that produces random control voltages. These can be completely random, or they can be locked into loops that repeat every 8, 16 or 32 steps. It was inspired by the long history of shift register pseudorandom synth circuits, including the Triadex Muse, Buchla 266 Source of Uncertainly, Ken Stone's gated comparator and Grant Richter's Noisering. This circuit includes a transistor noise generator, so should create true random binary sequences. However, the structure of the sequencer and the nature of the digital-to-analog converter used seem to give a particular character – tones that rise and fall in a particular way.
-Tom Whitwell
Here's more info on this open source diy synth project:
musicthing.co.uk/modular/?page_id=21
Despite the slight cryptic header this is a nice machine

Akira Kurosawa's Seven Samurai 七人の侍 x0xb0x special tribute edition. Here are seven x0xb0x made with full audio analog modifications. They have an outstanding sound capabilities, not only clonning the original Roland TB303 sound, even adding more powerful sound mods. Totally hand made and with the name of each samurai engraved on it. Very limited edition of very powerful analog synth.