Background video description:
1st jam with my finished DIY synthesizer.
The additional sounds are generated by another device.
See my other videos for earlier versions of this synth.
—————————————-
­————————-
https://sites.google.com/site/synthaq…
Brain Jr. is a compact and affordable micro controller platform for artists, students, educators, and professional controller builders. This video explains the basic operations of the device.
It features:
16 digital connections (switches, buttons, etc.)
16 analog connection (faders, potentiometers, sensors)
16 LED connections (monochrome and RGB)
USB connectivity
Class compliant, no drivers needed
The CGS747 is one of a family of 3 CGS drum simulators from Ken Stone. It generates a single drum sound that can be adjusted to sound like a cymbal, hi-hat, snare drum, electronic drum, or numerous other percussive sounds. It is a complete dedicated synthesizer in its own right, including six oscillators, a noise source, a mixer, an envelope generator, a VCF and a VCA. – elby-designs.com
Background video description:
If you are new to DIY synths and are wondering what modules you should delve into then hopefully this video will help you decide on Ken Stone's fantastic Cynare. A complete synthesizer on one board, the Cynare has a wealth of options that return a lot of fun for your investment of effort.
Check out http://www.cgs.synth.net for more info.
LegoTone Synth
ClearTone Synth with LFO inside a nice lego project box with a house, dog, flowers, LEDs and a female figure drinking away to the synths excellent sound!
.fd. online
Facebook – http://www.facebook.com/pages/freeform-delusion/144587583120
Twitter – http://twitter.com/#!/freeformd
eBay – http://www.ebay.co.uk/sch/freeform-delusion/m.html
http://www.theufocontroller.com
The UFO is an ultrasonic MIDI controller designed to let you control your music software and external synthesizers with hand gestures.
The UFO controller uses five ultrasonic sensors and captures gestures, based on distance detection. The vertical movement of your hand above any of the sensors is converted to standard MIDI data.
Improvising with the UFO Controller and Ableton Live 8. UFO is a performance MIDI controller designed to change your electronic music livesets for good. Wave your hands in the air and create complex musical patterns. UFO is currently an Arduino based prototyping project.
UFO = Ultrasonic Frequency Controller
The video was shot in Friedrichshain, Berlin on December 4th, 2012.
Mutable Instruments latest analog DIY synth Anushri. Tweaking the digital drum sounds with a Doepfer Pocket Control sending Midi CC.
Background video description:
Breaking in a new DIY Buchla format "Retro 158" dual oscillator that I just made. Also testing a one-off Buchla format Joystick I'm building.
The delay is a Modcan 59a Digital Delay, re-faced with a custom Buchla style panel that I created the artwork for.
I'm using the Joystick module to alter pitch and audio attenuation – as well as pulsing the delay for a sync.
These make up a KILLER sci-fi efx box

Peter Speer demonstrates his DIY Euro Bow Interface – a unique bowed string instrument he uses with his Eurorack modular synthesizer.
Technical details below.
Hollow laser cut MDF enclosure, with a guitar string pulled across two zither pins and a contact mic underneath (connected to the front jack).
Bow is homemade, too (2×4 + horsehair).
Pressure Points and the Wogglebug's Stepped Out (triggered by the Pressure Points) are controlling the frequency on the DPO, as well as the pitch shift on the Echophon. The envelope out from an A-119 is opening the low pass gate on the output and controlling the modulation index on the DPO.
The knobs of a home-made synth are tweaked while it plays a sequence of notes (Syncuino DIY 16-step sequencer, see link below).
—————————————————————–
https://sites.google.com/site/synthaquarium/
http://chemiker1981.blogspot.de/
Mixtape Alpha is the smallest synthesizer we could make without a prescription. It has a stylophone style input for continuous note generation, and 6 buttons for discrete notes. With 4 voices, 4 effects, and 5 note polyphony there is quite a range of expression. But, the best part is, you can record the songs you make, and trade mixtapes with your friends! Perhaps even better, it's based on the ATmega328p, and can be hacked to make even crazier sounds than we came up with.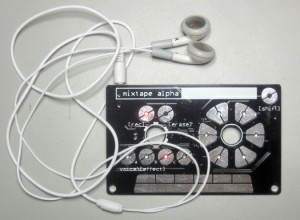 If you want to dig into the guts of this 8-bit synth, check out the wiki page. There you will find all the schematics and code, and we even have a Pure Data patch for making your own wavetables. Mixtape Alpha even comes in its own cassette case, with instructions! So check out the Mixtape Alpha store to own your very own.

Mixtape Alpha was done in collaboration with Jie Qi from the High-Low Tech group at the MIT Media Lab. It's an attempt to break down the barriers between people and electronics: To get them comfortable touching PCBs, and change expectations about how electronics should look. To this end, there are resistive touch pads, and all the trace routing took aesthetics into consideration as well. These are ideas very familiar to circiut benders, and we're hoping they catch on with other folks as well.