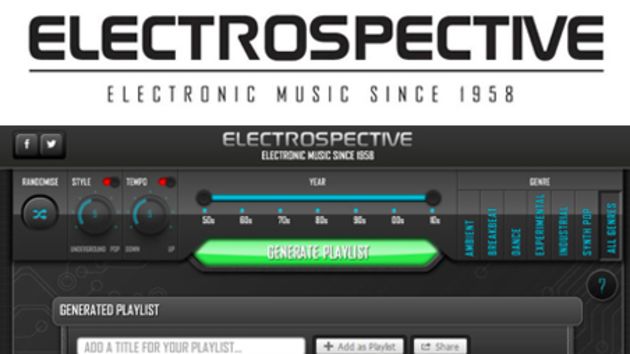 Electrospective, the multi-platform celebration of electronic music from 1958 to the present day, has added another string to its bow – the Electrospective Spotify app.
From the press release below:
Pop, classic rock, jazz, metal, and classical music are all already catered for amongst Spotify's apps – Electrospective fills the gap for fans of everything from synth pop, ambient, breakbeat and dance to experimental and industrial.
The app's home page offers event driven playlists, such as the set list from The Human League's recent Kew Gardens shows, artist curated playlists from the likes of Mute records founder Daniel Miller and artist focused playlists such as the Daft Punk collaborators playlist.
Want to look back through the ages of electronic music? Head to The Electrospective tab and navigate your way through the complete retrospective of 550+ albums. Too much music for you to take in? You can of course scale it back by selecting different decades and sorting by artist or specific sub-genre.
The real power of the app lies in its Playlist Generate function. Turn the style to your preferred setting (underground to pop, or anything in between), select the tempo, choose from a selection of sub-genres and a time span from the past 50 years. One click on generate and the app creates a bespoke playlist for your to listen to there and then, or save for later.
The app is the latest offering from the Electrospective project which was launched last Summer to bring together the extraordinary wealth of electronic music from the catalogues of Virgin, Parlophone, EMI and Mute. It chronicles the key works of visionaries like Kraftwerk and Brian Eno as well as the ground breaking success of Depeche Mode and The Human League, the explosion of electronic dance music in the late 80s and the rise of global stars like Daft Punk and The Chemical Brothers. The project is now being curated by the team at Universal Music Catalogue, with electronic gems from across Universal Music's labels due to join the already stellar line up.
Electrospective kicked off last year with a 2-CD compilation, offering the listener a snap shot of the collection. Merchandise including iconic logo T-shirts and limited vinyl LPs were available to purchase from the Electrospective online store.
A broader chronological selection was chosen for the Electrospective website which has a timeline highlighting key moments such as the invention of the Korg, Moog and Nord synthesizers, release of Propellerhead production software and the launch of online DJ store Beatport.
Artist interaction has been central to Electrospective, both on an offline. Visionaries, tastemakers and influencers Daniel Miller (The Normal and founder of Mute), Andy McCluskey (Orchestral Manoeuvres in The Dark), Martyn Ware (The Human League/Heaven 17), Mark Jones (Wall Of Sound/Back to The Phuture), Matthew Herbert and Bill Brewster (DJ and Co-author of Last Night A DJ Saved My Life) came together at Abbey Road last July to talk about the influence and importance of electronic music.
Other current DJs and producers such as David Guetta, Eric Prydz, Richie Hawtin and Paul Oakenfold have supported Electrospective by giving interviews and taking part in webcast events.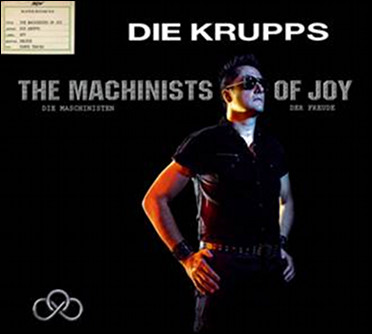 "The Machinists of Joy" is the first all-new album of the millennium for the german electro pioneers Die Krupps so Audioglobe informs us. The new 11-track album will be released on October 25 2013 in 4 formats: normal digipak CD, limited 2CD digipak, a fan box and as a limited LP/CD combo.
The limited edition 2CD will contain an exclusive bonus CD of which the final tracklist is not known yet but it will for sure include the tracks "Nazis on Speed" and the digital-only single "Industrie-Mädchen". According to the band several tracks will refer to the origins of Engler and Dörper who have both had been active in the Düsseldorf Punk scene long before the first Krupps release "Stahlwerksynfonie" (1980). Included will be also a collaboration with Punk-Pioneers Metal Urbain from France ("Panik"), and one track with ex-Kraftwerker Wolfgang Flür.
Tracklist:
Ein Blick zurück im Zorn
Schmutzfabrik
Risikofaktor
Robo Sapien
The Machinist of Joy
Essenbeck
Im falschen Land
Part of the Machine
Eiskalter Engel
Nocebo
Im Schatten der Ringe
There is a new Autechre EP planned for release on 28th October 2013. The 26 minute EP 'L-event' will be available on CD, vinyl and high quality download. Just like the in March 2013 released album "Exai" it has album artwork and packaging by the Sheffield based graphic design studio The Designer's Republic (tDR) who also worked on covers for Aphex Twin, Moloko, Fluke, Funkstörung, The Orb, Pulp (and Jarvis Cocker), Pop Will Eat Itself, Supergrass and Towa Tei.
Autechre is the English electronic music duo consisting of Rob Brown and Sean Booth. Formed in 1987, they are one of the most prominent acts signed to Warp Records, a label known for its pioneering electronic music and through which all Autechre albums have been released.
Tracklist:
tac Lacora
M39 Diffain
Osla for n
newbound
Soft chill electronica from Noblesse, details below:
Director & concept: Carmen Lidia Vidu
Cristina Baciu: VFX
Horatiu Lazar: Photography
Special thanks to Oana Dorobantu, Cornelia & Raluna
Hotel California appears on the Noblesse Oblige Album "Affair of the Heart"
(RepoRecords, release date: May 24th 2013)
Buy the album:
Germany: http://www.amazon.de/Affair-heart-Nob…
UK: http://www.amazon.co.uk/Affair-The-He…
USA / Canada: http://www.stormingthebase.com/nobles…
France: http://www.amazon.fr/Affair-heart-Nob…
Italy: http://www.amazon.it/Affair-Heart-Nob…
iTunes: https://itunes.apple.com/album/affair…
Original version by The Eagles, written by Don Felder, Glenn Frey, Don Henley.
More infos on:
www.noblesseoblige.co.uk
www.facebook.com/noblesseobligemusic
Everywhere video with actor Helena Helena Sandström. Filmed on location in Stockholm at Skogskyrkogården, Skokloster and Bar Side Track,
July 2011. Director and cinematographer Johan Svenson
The Synthetic Dream Foundation's contemporary classical – idm track "summoning her iron golem".
The Synthetic Dream Foundation has released a brand new video for the track "Summoning her iron golem" off the project's latest CD "Where drowned suns still glimmer"?. The video is an example how mechanical animation can be the perfect visual companion to hard kicking instrumental music.
Catching up with world renowned visual artist and installation designer Vello Virkhaus to talk about his beginnings in visual art and his current state of "suspending reality, and going to fantastic places" with Ultra Music Festival, Skrillex, Amon Tobin.
This 80sObscurities was founded by DJ Rexx Arkana to showcase old, often unknown or forgotten acts and tracks from the decade when electronic music was truly the new wave. Rexx Arkana has been a club/radio DJ and promoter since the mid-80s and headlined festivals on several continents and currently holds a residency at DEFCON, NYC's current longest-running weekly scene party. He is also the founder and lyricist of Brudershaft and one half of harsh electro act FGFC820.
Hump day here at 80sObscurities and I'm hoping that today's selection will crank things up and get us closer to the weekend, faster. Force Legato only ever released one song, 1989's "System", but that doesn't mean they didn't leave their mark. This 12" has the distinction of being the first record released by legendary Frankfurt DJ/producer Oliver Lieb. Not only that, but it's also notable for the fact that Lieb's partner in the project was none other than equally legendary German producer and Dorian Gray night club resident DJ Torsten Fenslau (R.I.P.).
"System" was an audio documentation of the shift occurring in electronic music at the turn of the decade, where the "traditional" EBM and industrial beats that had dominated dance floors were beginning to morph into new styles and sounds. New Beat was already coming to fashion and it wouldn't be long before techno would totally take over. This track, however, has one foot firmly in both camps, which might explain why it resonated so well with so many and nearly hit the official German pop charts at the time.
Lieb would go on to achieve international acclaim for his trance projects LSG and Paragliders and today has over 250 production credits to his name. Fenslau, for his part, was even more successful in a sense. While outside of the Frankfurt scene he might not have gotten the same name recognition as Lieb, his "group" Culture Beat (really Fenslau and production partner Peter Zweier, with guest vocalists Tania Evans and Jay Supreme) topped charts around the globe with their 1993 hit "Mr. Vain." Sadly, Fenslau would be killed in a car accident later that year, but Oliver Lieb continues to be a major presence in electronic music. The more you know… from 80sObs.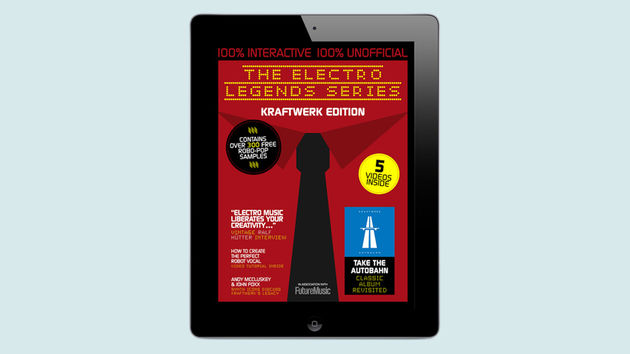 Nova State Machine have announced the release of their debut album "Show of Force". The band is a collaboration between the music of C. Saunders (aka SiK from the Australian industrial act NOVAkILL) and the vocals and lyrics of D. Ilyn from the Russian EBM act Ultimate Soldier.
"Show of Force" is the first release for the new label Shoknova Records and can be ordered here on Bandcamp.