June 28, 2011 · Posted in
Uncategorized
·
Comments Off

on Alien robot attacks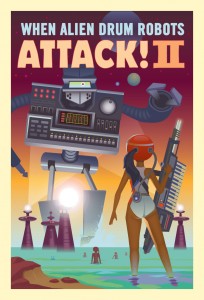 Goldbaby Productions has released When Alien Drum Robots Attack II, a new sample library featuring drum and fx sounds for electronic music.
WHO IS THIS FOR? People who make: Hip Hop, Drum & Bass, Dub Step, Techno, House, Dub, Break Beat… any genre that needs solid punchy drums with lots of character and plenty of variety.

WHAT WAS USED TO MAKE IT? Everything in Goldbaby's studio! Using a studio full of vintage and new drum machines, samplers, synths, rack effects, vinyl, tape, real drums and perc, field recordings… this product will give you a huge palette of super solid drums and sweet FX.
When Alien Drum Robots Attack II features
2112 samples (24 bit).
129 Rex loops.
81 Battery 3 Kits.
40 Presets and 67 kits for Geist.
40 Bundles for Guru.
81 EXS24 Patches for Logic.
40 Kong Patches and 41 x NNXT Patches for Reason 5.
When Alien Drum Robots Attack II is available to purchase for $39 USD.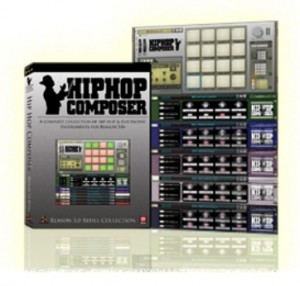 Goodness Gracious Productions and Quicktrackz Entertainment is a new team based out of the US delivering their first Reason Refill focusing on Hip Hop and electronic music artists, check it out
Here's what they have to say about it:
Goodness Gracious Productions and Quicktrackz Entertainment announce the release of Hip Hop Composer v1.0 – The Refill Collection.  Containing an arsenal of custom created new sounds for any Propellerhead Reason 5 User, the unmatched quality and sonic presence in this Refill sets this sound library in a class of its own.  Select recordings picked from over 5000+ hours of studio sessions with some of the hottest names in the business along with the high quality multi-sampling of select instruments have led to the creation of this unique sound library.  Perfectly
matched for today's modern Hip Hop, Electronic and Dance producers Hip Hop Composer is its own virtual workstation of sounds.
* Two Reason 5 Refills – A total of 3.7GB
* Complete with Drums, Leads, Basses, Keys, Pads, Strings, Brass, Bells and Arpeggio Instruments.
* Featuring over 1,000 playable instruments patches in Kong, Combinator, NNXT, Malstrom, Subtractor, Thor and Redrum formats.
* Over 700 One-Shot Drum and Percussion samples.
Right out of the box Hip Hop Composer instruments have been layered and crafted for a thicker radio ready feel over other sound libraries that may need a lot of mixing of tweaking for a sound to fit into your production.  If you're looking to step-up your tracks and are in need some of the hottest sounds, less hassle and an all-in-one sound library solution for Reason 5, then Hip Hop Composer is for you! Look out for it at your favorite Music Retailer or visit www.HipHopComposer.com to order, download or for more information.
* Audio Demo's available at: www.HipHopComposer.com
* Price:  $199.99 MSRP
* Available Now at www.HipHopComposer.com
March 20, 2008 · Posted in
Electronic Music
·
Comments Off

on Demo: old school reunion

old school reunion
Web site/MySpace : oldschoolreunion.blogspot.com / myspace.com/oldschoolreunion
Contact info: banthedrummer@hotmail.co.uk
Music production tool/s:Logic pro, garage band
old school reunion is really what I would call old school electro hip hop and to my best judgment they are doing a good job doing so as well

I think it is very refreshing to here how "osr" so successfully incorporate the traditional sounds of the 80's and 90's into their songs, which is not very common in today´s hip hop sounds. However, what disturbs me a little is that the drums does not really stand out in the mix – you do not get that really juicy damped sound of the bass drums, they feel a little to sterile
Conclusively, I like the vocals and the overall sound scape that "osr" has put into their mix, but I would give a little more love to the drum loops, both in terms of choice of sounds and its variation over the mix, some sounds does not feel as they belong their.
Worth listening to: Definitly, if you're into hip hop