http://youtu.be/4CUMiBDwozQ
Marc Doty, Archive and Education Specialist for the Bob Moog Foundation, gets hands on with Moog's new synthesizer Minitaur and gives a run down of its features. For specs and purchasing info go to http://www.moogmusic.com/products/taurus/minitaur
Moog Music has announced the release of Minitaur, the newest addition to Moog's Taurus Bass Synthesizer family. Minitaur is a compact and powerful analog bass synthesizer that features a classic one knob per function layout. Most notably, it is the first instrument in the Taurus family that does not have foot pedals. At only 8.5″ x 5.25″ and less than 3lbs, the Minitaur puts powerful analog Moog bass into a package designed to fit seamlessly into today's performance and production environments.
For more info, pricing and specs:
http://www.moogmusic.com/products/taurus/minitaur
Moog visited Geddy Lee in his Toronto studio to get his take on the Taurus pedals, old and new. This is the first of a 3-part series relaying touching stories and musical innovations from the start of Rush's reigning fame to now. In this installment, Geddy talks about his first introduction to the Taurus sound and what he would like to see next from Moog…Minitaur.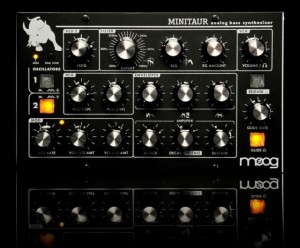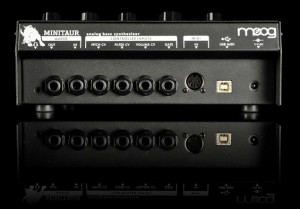 Winter NAMM appears to treat us with a nice analog surprise – a new synth called Minitaur from Moog. Here are the preliminary details:
100% analog audio signal path, based on Taurus I and Taurus III synthesizers.
2 Taurus VCOs with variable Glide amount
Sawtooth (original Taurus) or Square waveform selection for both VCOs
External Audio Input
Headphone out
2 Mixer VCAs for setting the level of the VCOs
1 VCF Moog/Taurus-style Ladder Filter w/ VC Resonance
1 VCA
Two Minimoog-style ADSR Envelope generators with the Decay and Release segments controlled by the Decay knob plus a Release On/Off switch
1 MIDI-syncable triangle wave LFO for modulating VCF/VCOs
DIN MIDI In and MIDI over USB out
As of right now these are unofficial photos of Moog Minitaur Analog Bassline Synthesizer! It is said to retail at around 599USD.
The Minitaur is a compact tabletop monophonic MIDI-and-CV-controllable analog bass synthesizer module, based on the design of the Taurus 3bass synthesizer. The front panel of the Minitaur is designed for maximum tweakability, with a knob-per-function design. Schwing!. This isn't a preset synth – but you can can create and manage patches via MIDI.
The Minitaur has several features added to the classic Taurus synth engine, including an external audio input.
More info will follow as soon as we get it