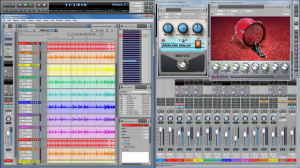 MOTO today introduced Digital Performer 8.
The biggest DP news from the show is that version 8 now supports Windows. MOTU also debuted some other significant new features, including a new video playback engine, Punch Guard confidence recording, 14 new user interface themes, and 15 new included plug-ins. DP8 will operate in 32-bit or 64-bit mode on Mac OS X and Windows 7. On Windows, it will support VST plug-ins and Rewire.
Here's what's new in DP 8:
Punch Guard records an extra four seconds of audio before and after record passes, allowing users to edge-edit in/out points to "uncover" audio material accidentally cut off during recording. DP8's new video engine allows full- screen viewing of full 720 or 1080 HD video clips on a primary or secondary computer monitor, or on a conventional HDMI or SDI video monitor connected to a MOTU video interface such as the HD Express or HDX-SDI.
Digital Performer's Themes allow users to change the entire look of the software with one click. DP8 adds 14 new themes, including "Hi-Fi", "Arctic", and "None More Black".
MOTU demonstrated 15 new plug-ins to be included with DP8, including two new classic guitar amp models, a bass cabinet model, several classic guitar pedals, modeled analog delay, a multi-band dynamic equalizer, a de-esser, the Subkick kick drum enhancer, and Springamabob, a modeled vintage spring reverb processor.
Digital Performer 8 is expected to ship by Spring, 2012. Pricing is TBA.
iPad support for CueMix FX
MOTU also demonstrated iPad support for CueMix FX, the mixing and effects processing engine in MOTU's current line of audio interfaces. With a simple software update, MOTU audio interface users will be able to control the mixing and processing features in their MOTU interface from OSC-compatible iPad software, which offers graphic, multi-touch control over the hardware's mixer, EQ, compression and reverb. iPad support for CueMix will ship as a free software update in Spring, 2012.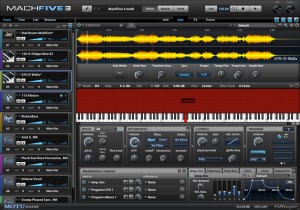 MachFive | 3 is available now for Mac OS X 10.5.8 or later and PC for Windows Vista or 7.  MF3 comes in AU, RTAS and VST Plug-In formats  and can be purchased for £395/$565 MSRP.  As an interesting offer from MOTU, MF3 can also be upgraded from a competing product for a discount price of $295 MSRP and as a cross-grade for $179 MSRP.
"Within minutes after you begin using MachFive 3, you'll appreciate the years of user interface design and engineering that have gone into this 3rd-generation release. From the configurable part list to the full-screen envelope editor, MachFive 3 has been designed to spur your creative muse while delivering state-of-the-art virtual instrument technology in a streamlined, efficient environment. After all, music, sound design, and audio production are creative endeavors that deserve a worthy partner in creativity."
•    Scripting engine – Instead of guitar presets, you get a guitar player…
•    A universe of sounds – 45 GB of included instruments, loops and phrases
•    Powerful new synth engine – Twelve forms of synthesis that span music history
•    IRCAM Technology.
•    Automation and modulation – Twist, morph, and pulsate.
•    New flexible effects architecture.
•    New filters and effects.
•    Convolution reverb.
•    Enhanced sample library support – Load anything. Directly, with no conversion.
•    Event processors.
•    Preset browsing and searching.
•    LoopLab beat slice editor.
•    Full-screen operation.
•    Unlimited everything – Oscillators, layers, parts, effects — add all you want
•    Oscillator Editor – It's way more than just a sample editor
•    Mapping Editor – Keygroup mapping so intuitive, you'll never have to stop and ask for directions
•    Tree Editor
•    List Editor – If you are a list person, this editor is for you
•    Effects Rack – Comprehensive effects processing throughout
•    Performance View – Transform MachFive into the ultimate live performance instrument
•    Mixer – A complete, self-contained mixing environment
•    3rd-generation UVI Engine XT. – Acclaimed worldwide for its sound quality.
•    Multiple outputs. – Submix to 17 stereo output pairs.
•    Disk streaming. – Conserve RAM and quicken load times.
•    Unlimited polyphony. – With ultra-low software latency.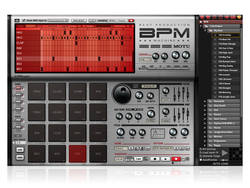 MOTU is now shipping BPM Version 1.5, a major update of MOTU's rhythm production virtual instrument and UVI sound library for Mac and Windows.
BPM 1.5's expanded library of over 19 GB of kits, patterns, samples, loops, and instruments covers dozens of new musical styles, such as big beat, dancehall, dub, electro, hard trance, house, drum 'n' bass, progressive, and others. New software features include enhanced support for hardware MIDI controllers, a note repeat function, and bank effects that can be saved with kits.
"With its expanded sound library and enhanced MIDI controller support, BPM delivers the ultimate cutting-edge virtual instrument rhythm programming experience," said Jim Cooper, MOTU Director of Marketing.
Beat Box Anthology
BPM 1.5 includes Beat Box Anthology, a comprehensive 4 GB collection of legacy rhythm sounds (over 10,000 samples) from 80 classic drum machines from the 1970's, 80's and 90's — iconic rhythm machines from decades past that established the legendary sounds that still drive today's beats. Users can browse individual samples, kits, and patterns from three categories of devices: classic, analog, and digital, the "classic" category being reserved for machines that attained true cult status, such as the 808 and 909 series. Samples are also organized by type (kick, snare, etc.) for easy browsing.
Utmost care was taken in sampling the original instruments, with 24-bit 96 kHz audio quality and professional mastering of all samples at Sterling Sound in NYC.
FlexLoops and musical styles
BPM 1.5 includes hundreds of new FlexLoops™, which are fully programmable kits+patterns that give users control of every loop element, from individual samples to specific FX parameters. Dozens of expanded musical styles are represented, including:
Big beat
Dancehall
Dirty south
Dub
Electro
Hard trance
Hip hop
R 'n' B
House
Jungle
Drum 'n' bass
Minimal
Progressive
Ragga
Trip hop
Vinylized
Users can combine kits and patterns from each style to quickly create unique hybrid beats. BPM 1.5 also introduces bank aux FX, which allow users to create three independent effects processing chains for a bank of sounds, apply the effect chains as desired to each individual component sound of the bank, and then save the effects with the bank. This new feature makes the effects an integral part of the bank, so that when the bank is saved with a pattern, the result is a fully programmable FlexLoop.
Enhanced MIDI controller support
As a software-only virtual instrument, BPM 1.5 has been enhanced with programmable MIDI remote control features that allow it to work seamlessly with third-party hardware controllers, including pad controllers and MIDI keyboards. BPM ships with hardware template files for several popular drum pad controller products, such as the Akai™ MPD Series. When loaded into the hardware, the template file quickly programs the controller for use with BPM.
Users can further customize their beat making experience using BPM's new MIDI Remote preferences, a long list of BPM functions that can be attached to any MIDI controller key, switch, fader, or knob using "MIDI learn" functionality.
The new MIDI Select feature gives users direct access to each pad — up to 64 simultaneous pads per scene — for quick editing and tweaking directly from a MIDI controller. For example, if a user needs to tweak the filter cutoff on the crash cymbal, they simply play the crash cymbal pad and then twist the assigned knob to tweak the filter.
Note repeat
To repeat the currently held note, users hold down the Note Repeat button. Any note repeat value, from triplet 64ths to dotted quarters to 32x, can be chosen. The note repeat button can be used on-screen or mapped to any control item on a MIDI controller. Users can even change the repeat value on the fly from their controller. Volume (velocity) of repeated notes is controlled with aftertouch pressure.
BPM 1.5 upgrade package
The BPM 1.5 upgrade package includes:
— BPM 1.5 installer CD
— Updated BPM 1.5 soundbank DVDs
— New Beat Box Anthology soundbank DVD
— Beat Box Anthology serial number (iLok authorization code)
The Beat Box Anthology serial number is used to deposit an authorization in the user's ilok.com for download into their BPM iLok.
Availability
BPM 1.5 is now shipping. Price remains the same at $295. Registered 1.0 users can upgrade to version 1.5 for $79.
MOTU has introduced DP Control – a new iOS app that lest you control MOTU's Digital Performer audio workstation software over a WiFi network using your iPhone, iPad or third-generation iPod Touch.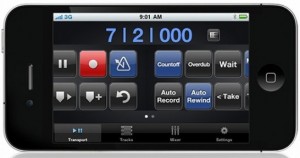 DP Control is designed to give you access to the most important transport and mixer functions for tracking, simple mixing, and live performance. DP Control can easily be used with only one hand by pressing buttons and swiping to new pages with your thumb. DP Control works in both portrait and landscape orientations.
DP Control is a free download via the App Store.
What app would you like to see a dedicated iOS app for?
DP Control Features:
Real two-way communication — everything that you update in DP updates in DP Control, and vice versa.
Editable time counter with selectable format (including real-time, SMPTE time, samples, and marker names).
Main transport control and many other transport-related Control Panel functions (click, countoff, memory-cycle, etc.)
Page-controlled, scrollable mixer with animated, recordable pan knobs and volume sliders, plus level meters and peak indicators.
Solo, Mute, Record-enable, Play automation, Record automation and automation mode settings for each track.
Track list for your DP project, complete with collapsable nested track folders and dynamically linked track organization that matches your currently open DP project on your Mac.
Infinite undo, with a view that shows you the names of the next and previous tasks in your DP document undo history.
Marker creation and naming.
New Take, Previous Take, and Next Take functions that operate on all of the record-enabled tracks at once (essential for tracking drums).
Take selection, by name, for individual tracks. Also New Take, Delete Take, and Rename Take for the current take on any individual track.
Save function for saving changes made to the DP document.
Requirements:
Compatible with iPhone, iPad, and third-generation iPod Touch
Not compatible with first or second generation iPod Touch
Requires Digital Performer 7.2 or later running on a Mac on the same WiFi network as DP Control
Electric Keys puts a slice of music history at your fingertips with the most complete collection ever of classic and vintage electric pianos, clavs, organs, strings machines, tape sampler and other electric keyboard instruments.
Digital Performer 6 offers new features, enhanced operation and improved performance at all levels, from hundreds of small enhancements driven by user requests to major new features and plug-ins that add unprecedented value. Features like track comping will transform your everyday work, while industry-leading features like DP6's new Final Cut Pro integration could very well transform the way film scoring is done. If you are an existing DP user, upgrade today to discover the many enhancements you've been waiting for. If you are new to Digital Performer, there has never been a better time to try DP.
MOTU has finally released Digital Performer 6 which is a a major upgrade to the company's flagship digital audio sequencer. DP 6 features a redesigned user interface, which includes the ability to zoom in the Track window.
Two new signal processing plug-ins are included: Pro Verb, a convolution reverb that MOTU says is very CPU efficient, and Masterworks Leveler, a dynamics processor that models the classic LA-2A. A new, and very flexible track comping feature is also included. It gives you plenty of control for comping takes, and it even lets you comp your comps.
DP 6 will also include support for Broadcast WAV files, which means your sequence's audio files no longer need to be in Sound Designer II format. Also included is support for Final Cut Pro XML files, allowing you easily edit your video's audio track in DP. Another key addition is the ability to burn CDs directly from DP.