The Beatniks – Exitentialism
Playlist: http://www.youtube.com/playlist?list=…
1) Le Sang du Poete
2) No Way Out
3) Ark Diamant
4) Now And Then
5) Loopy
6) Une Femme N'est Pas Un Homme
7) Mirrors
8) Le Robinet:
9) L'Etoile de Mer
10) Inevitable:
11) River In The Ocean
The Beatniks – Exitentialism
Documentary directed by French photographer Elizabeth Lennard featuring the eclectic Japanese composer Ryuichi Sakamoto during the recording sessions of his 1984 album "Illustrated Musical Encyclopedia".
Here's a nice new video featuring one of my favorite synth acts – Yellow Magic Orchestra
This strange message was accompanying the video, if anyone knows what it means, please let us know

"Previously I UP, UP was again!" (Googlish japanese)
Always an YMO fan

I recorded this two years ago using only analogue equipment. The audio is entirely digital-free, except for the transfer to PC and YouTube's compression. No sequencing here!
I reluctantly sold the Axxe earlier this year (but she's gone to a good home!), so I dug out this old recording and added some very silly images for a quick video to put on YouTube as a tribute to this great beast of a machine.
All parts played on an ARP Axxe monoophonic analogue synthesizer
All effects from an Electro-Harmonix Memory Man delay pedal
Recorded and mixed on a TASCAM Portastudio 414 mkII 4-track cassette deck
"Firecracker" performed by James Cronin, written by Martin Denny, based on the cover by Yellow Magic Orchestra.
Enjoy

YMO (Yellow Magic Orchestra) in the studio, discussing electronic music, in an undated early 80's clip. From "Sukiyaki & Chips – The Japanese Sounds Of Music"
The biggest names in Japanese pop music gather for this once-in-a-lifetime concert spanning genres and generations. Electro-pop pioneers YMO return for their first L.A. show since 1979, plus a Cibo Matto reunion, rare U.S. appearances by Buffalo Daughter and DJ Towa Tei, traditional kabuki dance, taiko drumming, visuals, and more!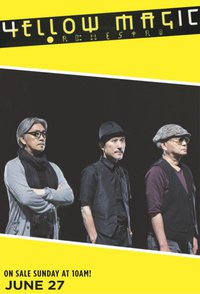 Time
Sunday, June 26 · 7:00pm – 10:00pm
Location
Hollywood Bowl
2301 North Highland Avenue
Hollywood, CA
YMO will be live at 31th July on Fuji Rock Festival!!!
http://dwww-news.sblo.jp/article/43730247.html
'83 YMO / KEY
http://www.youtube.com/watch?v=RifpPG0gMBI
YMO '83 dispersed concert at Budokan / Keys
Thanks Eddie for the tip
Wish I had enough resources to attend, anyone feel like sponsoring me, hehe
Seminal Japanese electronic act Yellow Magic Orchestra will reunite for a performance at this year's Meltdown festival, taking place June 13-22 at the Southbank Centre in London, UK. Founded by experimental composer Ryuichi Sakamoto, Yellow Magic Orchestra last performed at the Live Earth festival in 2007. This year's Meltdown festival, curated by trip-hop act Massive Attack, will also feature shows by acts such as Gang of Four, The Tom Tom Club and George Clinton, plus a special performance of the Blade Runner film soundtrack played by the Heritage Orchestra and mixed by Massive Attack. Visit the links for more information.
An old time favorite of course
[youtube=http://youtube.com/watch?v=sk6o4GWFIV8]