August 29, 2012 · Posted in
Uncategorized
·
Comments Off

on Taking a closer look at the Yamaha Arp & Drum Pad
Music iPad App – first look at some of the features of the Yamaha Synth Drum Pad.
"My first impressions are that this is one mother of an app. The sonic possibilities are great, although I'm a little in awe of it."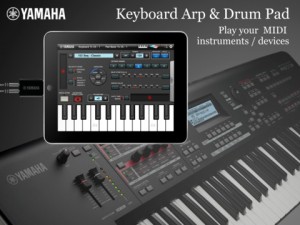 Overview
Keyboard Arp & Drum Pad is a Core MIDI application that transmits notes to external MIDI instruments and includes a keyboard, arpeggiator and assignable drum pads. You can play the built-in keyboard, trigger arps and play various patterns of instruments like drum, keyboard, or guitar. Also the drum pads let you play drum phrases or assign the multiple notes on one pad and play chords. You can set the Keyboard Arp and Drum Pad to different channels so you can play drum beats and pad chords along with the sequence phrases run by the arpeggiator.
*Yamaha MOTIF XF offers you WiFi connectivity which enables wireless control.
*If you use the Yamaha i-MX1 iPhone/iPad MIDI Interface, you can connect to any MIDI instrument.
Features
Keyboard Arpeggiator
– You can choose from 342 arps including many different instrument categories.
– Each arp phrase can be modified in real time for swing, beat stretch, octave range and variation
Drum Pad
– Each of the 16 Drum Pads can have up to 5 notes with assignable velocities, so you can play chords or layered percussion with one pad.
– You can even split the pads in half and assign different notes or velocities to the left side and right sides of the pad.
– A learn mode makes it easy to program the pads directly from the MOTIF XF.
– 64 user templates
Tap Tempo
– A Tap Tempo feature allows you to quickly set the Tempo of the arps
Ribbon Controller
– A Ribbon Controller let's you control Velocity, Pitch and 2 Assignable Parameters
*For the detailed information please refer to the following url.
http://4wrd.it/YAMAHASYNTH
*In order to have the WiFi connection, you need to get an OS updater for MOTIF XF from http://4wrd.it/YAMAHASYNTH and buy a compatible Wi-Fi USB adapter.
February 15, 2011 · Posted in
Uncategorized
·
Comments Off

on Simple and easy to use drumpad controller for your iPad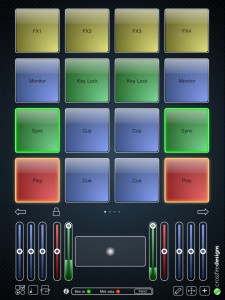 Crossfire Designs has released MidiPads, a simple and easy to use drumpad controller for your iPad.
It sports 16 drumpads on four pages. The bottom part is fully configurable by the user with resizable touchpads and sliders. Both sliders and touchpads support snapping to a value and fading to the touch position (duration user-configurable). One very unique feature is the drumpad-integrated X/Y-controller: Change your instruments' or your effects' sound just by moving your finger while still triggering – very useful also for DJ software like Traktor Pro (see video in App description to see how it works).

All elements can be edited by the user: Color, label, Midi channel, Midi CC can be changed for each element individually. Both sliders and drumpads can receive incoming Midi values: Sliders act as VU meters, drumpads glow depending on the incoming value.

MidiPads supports USB Midi over the iPad camera connection kit and network Midi – take your iPad on stage and trigger your music wirelessly! Included is also an extensive manual which helps you to set up all connections and configure MidiPads.
MidiPads features
Supports USB MIDI over iPad Camera Adapter.
Supports network MIDI over WiFi.
All elements customizable (color, label, Midi channel, CC/key, range…).
Bottom part fully customizable with resizable touch pads and sliders.
Four pages with 16 touch sensitive drum pads each.
Several modes to influence velocity: Two-finger-tap, vertical pad position, rand ndom velocity, and min and max velocity always definable.
Touch pads and sliders support snapping and fading.
Use drum pads as tap or toggle buttons, either in key or CC mode.
Drum pads can act as X/Y controller and pad at the same time.
Sliders can act as VU meter and slider at the same time.
Drum pads can show incoming values (e.g. that a sample is on that pad).
Gravity controller (use iPad's rotation axis as controller).
Lock mode hides all elements that would hinder your performance.
Supports all 16 midi channels (for each element separately!)
Drum pads can blink on incoming midi sync and hence support you with the beat.
Extensive help covering connection, editing the user interface and troubleshooting (tap i-symbol).
MidPads is available to purchase on the iTunes App Store for the introductory price of 4 EUR / $5 USD.
More information: Crossfire Designs / MidiPads