The electro-music festival, known as the "Woodstock of electronic music," is the world's premiere event for experimental electronic music. This year's event features three mind-bending days of innovative electronic music concerts, seminars, workshops, demonstrations, jam sessions, video art, a laptop battle, and a swap-meet. Action starts at 12 noon on Friday, September 10 and runs until after midnight on September 12. Musical activities will be running continuously throughout the three days of the festival.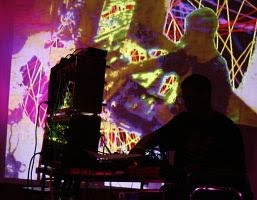 electro-music 2010 takes place at the Greenkill Retreat Center in Huguenot, New York. On-site lodging and meals are available. Tickets range from $25 for a single day to $325 for a 3-day pass including meals and lodging.
More information, including a complete schedule of events can be found on the web site at:
http://event.electro-music.com/
You may also contact us at
event@electro-music.com
A wide variety of instruments and musical styles will be represented, ranging from theremin to analog modular synthesizers to home made devices, from classic space music to abstract electronica to world beats.
The following artists will be performing:
Abuse Tactics
Acoustic Interloper
Aether Generator
Azimuth Visuals

The Bent Doctors
Brainstatik
Delicate Monster
Jeremy dePrisco
Robert Dorschel
dRachEmUsiK
Robert Edgar
Ben Fleury-Steiner
Paul Harriman
Glenn Henriksen
Hylantown
Kevin Kissinger
Andrew Koenig
Roland Kuit
Richard Lainhart
the Last to Sleep
Lunetta Maelstrom
Mayakara
Kurt Michaels
D. Minoza
Logan Mitchell
Modulator ESP
Shane Morris
Mosquito Gita
Howard Moscovitz
Mark Mosher
MusicMan11712
MyOwnYoko
NEOREV
Northern Valentine
Michael O'Bannon
Joo Won Park
Kip Rosser
Project Ruori
redgreenblue
Siebert and Lepre
Spinning Plates
SPITZNAGEL
State Machine
Symmetry
Jack Tamul
Technicolor Travel Agency
Transistor Club
Trigal
The Tronic
Twyndyllyngs
Harvey Valdes
VJ Cargo
Waked Lunch
Laura Woodswalker
xeroid entity
Seminars and Workshops:
Darren Bergstein – Studio Storming, Remaking Universes
Jeremy dePrisco – Making Music in Second Life
Rosemary Haskins – Internet Marketing and Promotion
Rosemary Haskins – Reverbnation
Les Hall and Mathe Sluijter – Lunetta Breadboard Workshop
Kevin Kissinger – DIY Modules for Analog Synthesis
Andrew Koenig – Introduction to Ableton Live
Roland Kuit – Soundlab Synthesis Tutorial
Richard Lainhart – Intermediate Analog Synthesis
Rebecca Mercuri and Kevin Meredith – Dr. Harry Olson and Audio Research at RCA
Kevin Meredith – Circuit Bending Workshop
Howard Moscovitz and Robin Miller – Ambiophonic Sound
Mark Mosher – Spatial, Visual, and Matrix Controllerism with Ableton Live
Michael O'Bannon – Generating Sound and Music with Brainwaves
Dale Parson – Mapping Language Structures to Musical Phrases
Steve Weinstock – Introduction to MIDI
Tanya Thielke – Creative Process
This guy really knows his way around the MorphWiz
The second inspiration of the night. This time I lay down some improvised chords and just expressed (improvised a melody on MorphWiz. Once again filming with one hand and playing with the other! Gotta get one of those Iphone tripods for the road!!
Experience the darker side of the sonic potential iWIthin MorphWiz.
I like

Big Chill Bundle' combines the 3 most popular Equinox Sounds Ambient & Chill Out collections into one big bundle making this an invaluable tool for all the Ambient, Chill Out, Downtempo producers and Soundtrack composers.
Big Chill Bundle features
Ambient Chill, 1.9 GB of quality loops and samples suitable for ambient, chill, downtempo, dub, atmospheric avant garde, lounge, dark and whatever else you chill with. Includes ACID/WAV, Apple Loops and REX2 formats.
Downtempo Chill, 20 laid-back construction kits for creating downtempo, trip-hop, smooth electronica, ambient and chill out music. You'll get a total of 300 loops and phrases containing basslines, synthlines, pads, soundscapes plus drum loops and their isolated parts (snares, kicks, hi-hats, rides…). The kits are available in ACID/WAV and Apple Loops formats.
Future Chill, euphoric ambient & chill out loops and phrases that you can use to create mellow ambient, chillout and downtempo music. There is an assortment of elements included and loads of "musical" inspiration to use as a starting point for the creation of new tracks. Includes 434 ACIDized WAV Loops and 300 REX2 Loops.
Price: USD 49.95
Visit: Equinox Sounds
Out now is "D.N.A", a new double disc set (CD & DVD) which features unique collaborations between John Foxx and some of his favourite film-makers, with all of the short movies on the DVD being made especially for this project. The CD features the music from some of the films, plus tracks that Foxx had recorded as 'possibilities' for soundtracks.
The final track on the disc, "Over the Mirage" is a new collaboration between John Foxx, Harold Budd and Ruben Garcia, while both parts ("2″ & "7″) of "A Secret Life" and "Violet Bloom" were recorded with Steve D'Agostino.
Ex-Japan percussionist Steve Jansen also features on the "A Secret Life" instrumentals. The artwork for the project has been designed by Jonathan Barnbook, who has previously worked with Damien Hirst and David Bowie.
Stereoklang are proud to announce a brand new video from Zoo System – Collision upstairs
[youtube=http://www.youtube.com/watch?v=6R4lWzE-6V0]
Zoo System is an experimental electro act founded in 2006.
Exploring the boarders between ambient and electro the band has successfully released songs that triggers your dreams of space, remote and dark places. Subtle and playful rhythms of voices, machines, noise and metallic beats has become the trademark of this underground band. A full length album is due to be released soon under the Stereoklang Produktion label
[youtube=http://www.youtube.com/watch?v=wSZ7vnEMTPo]
As most of you probably already know I am big fan of KORG and therefore when I saw this on Youtube I just had to make a mirror of it here on my blog, enjoy!
[youtube=http://www.youtube.com/watch?v=jgleogs_ll4&eurl]
Here's what the authour has to say about it:
"This is my first attempt at creating a program for the microkorg, so I picked up a sound that is easily recognizable. This is certainly not the best Synthex "laser harp" sound recreation around, but it should provide a good start for tweaks and improvements. The idea should work with any two-oscillator analog or analog-modeled synthesizer with oscillator sync, filtering and some kind of pitch envelope for the sync sweep. Actual values used in each parameter are shown in parentheses."
And here is JM Jarre's take on it:
[youtube=http://www.youtube.com/watch?v=jAxjzFnEe78&eurl]
While I'm at it making lists of noteworthy album from 2008 here's a list of electronica/IDM/glitch albums:
Alva Noto – Unitxt. Less noisy landscapes, more beats! Carsten is back to the Trans series and moving on.
Lexaunculpt – The Blurring Of Trees. Finaly on mp3 release. 
Nautilis – Sketches
Byetone – Death Of A Typographer
Benge – I am 9
Signal – Robotron (ok, released 2007). Need I say I love the Raster Noton label.
Autechre – Quaristice. Hard to avoid the superstars of electronica.
Venetian Snares – Detrimentalist. Maybe not innovative as so many other releases by AaronFunk but it has got a special place on my mp3 player.
Bitstream – Steeljacket. why can't the Connor brother release more!!!
Xanopticon – Liminal Space. Finaly on mp3 release
Sorry I am a bit late coming out with the annual list of the best albums in 2008, it's the 2nd of February now, hehe. I will definately shape up for next year.
Please note that their are of course more records that should have shown up on the list, but 11 is maximum, feel free to add your comments if there are others you believe deserves to be on the list, and most importantly I have not ranked them, since it is very much based on your current mode what you feel like listening to, since they are quite different beasts:
System – Self Organizing Systems
Sebastien Tellier – Sexuality
Run Level Zero – Arctic Noise
Bomb the bass – Future Chaos
Cut Copy – In ghost colours
Auto-Auto -Celeste
David Byrne and Brian Eno – Everything that happens will happen today
Steelberry Clones – Dig'it
Senor Coconut -  Around the world
Elegant machinery – A soft exchange
Clark – Turning Dragon
Cheers everyone