If you're into lo-fi 80s electronica, the Bedroom Cassette Masters 1980-89 compilations are a must… Check out this free 15-minute mix of tracks from the first two albums..
Out now is the debut EP from London based old school electropop act The Department. The "Transformed EP" holds very enjoyable electropop with 'a penchant for the 80's' as the band correctly calls it. The EP will be out officially tomorrow. The Department itself is a project by Robin Green.
Check Bandcamp for an immediate download of the 4-track EP in your choice of high-quality MP3, FLAC, or just about any other format you could possibly desire.
Below is the video for "Take My Hand", directed by Luke Mescalito.
The debut video from The Department, London. Buy Link: http://thedepartment.bandcamp.com/alb…
© R.Green/C.Bourne 2013
The Department 'Take My Hand' production credits…
Director: Luke Mescalito
D.O.P Izack Morales
Editor: Michael Mikilo
Colourist: Tom Urbye
Production Manager: Irina Smolinskaya
More from The Department…
SOUNDCLOUD: https://soundcloud.com/the-department
FACEBOOK: https://www.facebook.com/pages/The-De…
TWITTER: https://twitter.com/DepartmentThe
Only Roland TR-707 and Roland MC-202.
live demo take.
full track in process.
The newest Hurts single "Somebody To Die For" is out now via iTunes. "Somebody To Die For" is the third single taken from the band's latest album "Exile".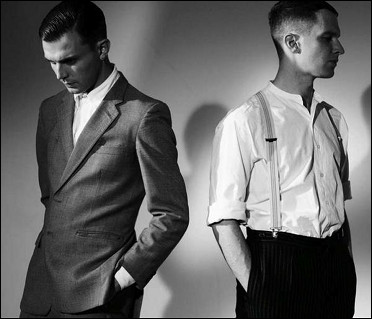 Tracklisting:
Somebody To Die For (Radio Edit)
Somebody To Die For (Unplugged)
Somebody To Die For (Franz Novotny Remix)
Exile (Freemasons Club Mix)
Fan video for Last Dance
Please support the artist: http://www.covenant.se/
http://www.dependent.de/
I do not own the copyrights to any of the material in this video. I made this video for entertainment purposes only.
welle: erdball – DIE LIEBE DER 3. ART (NDS)
Aus der Sendung "Tanzmusik für Roboter" (LP-CD)
http://www.welle-erdball.de
Eine Funkhausproduktion (c)2012
Music video for Painful Like performed by Austra.
Buy Painful Like at iTunes – http://smarturl.it/PainfulLike
Buy Olympia at iTunes – http://smarturl.it/Olympia
Buy Olympia at Domino – http://www.dominorecordco.com/olympia
Directed By: Exploding Motor Car
Camera: Adama Makarenko, Sylvain Chaussée
Production Design: Winston Hacking
Editor: Brett Long
Puppeteer+Puppet Build: Brett Long
Production Assistant: Max Parr, Amanda Wyman
Stunt Doubles: Martin MacPherson, Tony Wallace, Winston Hacking
Produced By: Winston Hacking
Animation: Brett Long
Skaters: Daniel Lefebre, Aaron Wheat, Taylor Ritchie
Chef: Yukiko Hara
Colourist: Evan DeRushie
'Drew', from the forthcoming album "Tales of Us" (out 9th Sept UK / 10th Sept US).
Having trouble viewing the video ? See it here: http://vimeo.com/70190035
Pre-order "Tales Of Us": iTunes: http://smarturl.it/talesofusitunes
Direct: (including the exclusive Deluxe Box set): http://goldfrapp.sandbaghq.com
CD: http://smarturl.it/talesofusCD
LP: http://smarturl.it/talesofusLP
Trailer and all films are co created by Alison Goldfrapp & Lisa Gunning.
Trailer and all films written, directed & edited by Lisa Gunning.
Produced by Stephanie Zari. Cinematography by Brian Strange.
Information:
Mit der limiterten EP "Bambule" präsentieren Tyske Ludder einen Vorgeschmack auf das kommende Album. Eine markante Stimme, treibende Beats, schwebende Synthflächen und coole Ideen verleihen der EP den Schuß Charakter, den ein ordentliches Electro-Release heutzutage braucht. Tyske Ludder! Noch Fragen? Erscheint im exklusiven nummerierten Digifile, streng limitiert auf 1000 Exemplare (keine Nachpressung)!
Tracklist:
01. Bambule (Mexican Edit), 02. U-Boot (Dive into Fear Edit), 03. Bambule (EvvilKing-Mix by Steril), 04. Bambule (Harmbule-Mix by Harm Joy), 05. Bambule (Tikka Masala Remix by Implant), 06. Bambule (Feindflug Rmx)
HD recording of the interactive real-time generated dance and media performance APPARITION, feat. Desiree Kongerod and Rob Tannion.
exile.at/ or exile.at/apparition/
Klaus Obermaier's music: exile.at/music/
Dorit Chrysler AVALANCHE now available at:
12″:
Amazon: http://amzn.to/UPgyVy
Decks: http://bit.ly/ROIni8
Juno Records: http://bit.ly/SXNivA
digital:
iTunes: http://bit.ly/UPRVOk
Beatport: http://btprt.dj/S5tmdn
Juno Download: http://bit.ly/Q4MAjk
Whatpeopleplay: http://bit.ly/TTcncv
Traxsource: http://bit.ly/S5re56
Spotify: http://spoti.fi/UCblAj
Rdio: http://on.rdio.com/Wgax5q
Official music video for the Title Song of the EP "Avalanche" written & performed by Dorit Chrysler, produced and released by Anders Trentemøller on his label InMyRoom.
(www.hfn-music.com/inmyroom/www.facebook
­­.com/inmyroom.page)
The music video, conceived and directed by Martin de Thurah and Jesper Just, is their first collaboration and was shot in New York, shortly after hurricane "Sandy" had devastated the city. The video features Dorit Chrysler & Roxie Turner, placed in a disheveled apartment & unable to see.
Music: The Knife 'Raging Lung' taken from the album 'Shaking The Habitual': http://theknife.net/#album
Video: Montage of live footage filmed at The Knife's headline Shaking The Habitual Show at Hangaren Subtopia in Stockholm in May 2013, self directed by Sorklubben (The Knife performance collective): http://theknife.net/#tour
The team behind the show, also known as Sorkklubben, is a temporary and expanding community that grows and jiggles. Together they made a performance based on collective joy, effort and sweat.
Time for some "high quality" electronica this sunny Monday morning from Kernkraft 400

Join Us on Facebook: http://on.fb.me/EPM_FB
Buy Zombie Nation's Kernkraft 400 on:
ITUNES:
http://bit.ly/LVYne9
EMUSIC:
http://www.emusic.com/album/Zombie-Na…