Looping the output of the monotron back into the input give you a simple feedback loop – going to splice more in later to get a bit of control, but in the meantime you can get an idea of how to push the filter even further!
http://www.myagisounddesign.com
http://www.popandlockrecords.com
If you want to bring your synth out for a spin, check this out

The Monotron mounted to a bike
Korg Monotron modded for darkness: The patch on the side leaves the key on and changes the filter frequency, almost like a high-pass (which makes it even more like an MS-20 ). The photoresistor reacts to different spectrum of light.
Fun music video from the album Kaossilatron by Crystaline: http://crystaline.bandcamp.com/
Featuring: CG (Crystal Gals), Korg Kaossilator Pro, Korg Monotron and several Indonesian Traditional Bamboo Instruments, such: Angklung, Gambang, Suling and Pripitan.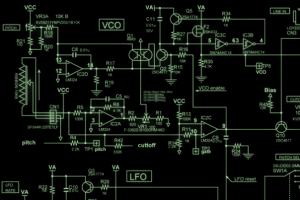 Korg has published a reference schematic for the Monotron analog synth.
It's available on the Korg Japan site. Direct link (pdf).
If you're into synth DIY, this may make it easier for you to create and share your mods.
audibleobsession has posted this nice KORG Monotron groove session
A simple KORG Monotron groove. All sounds are played with the KORG Monotron Analogue Synthesizer. Additional drums from NI Battery 3 (Preset "Dragon Kit") and convolution reverb from NI Reflektor. Compression and EQ from UAD 1176LN, Helios Type 69 EQ, and Ableton Live's 8-Band (mostly for LPF to get rid of that notorious hum that plagues the Monotron). Line-in recording into my trusty M-Audio Firewire Solo. That's it!
Dancing girls are public domain videos found on archive.org.
Apologies if the bassline and groove get repetitive, really just a quick tune trying to show the kind of badass basslines and leads you can get from the Monotron. It really shines when you get some nice PWM going and push that MS20 filter hard. The LFO self oscillates nicely too. Overall, the best $60 bucks I've ever spent. Looking forward to moding it now.
VJ Franz K brings his stentorian tones to this Korg Monotron unboxing & demo video.
NEW Analog Synth in a box the size of a cassette tape! (Remember what those were?
Available NOW at NoiseBug.net. Here is my unboxing, and a demonstration with a variety of other music gadgets – one of the best features is the ability to run external sounds through the (very resonant) analog filter, which is based on Korg's classic MS-20! The sound is quite warm – it could be the perfect addition to various digital gear, and the price is unbeatable.
Sound of Seventy Three created this track to demonstrate how the Korg Monotron could be used to make "a little music….rather than just noise."
Here's what Johnson has to say about it:
This one is called the Monosong featuring the Korg Monotron as a lead synthesizer.

It was improvised in one take. The Monotron was fed into my Mini-KP to add delay & reverb. The backing track was created using my Korg Kaossilator for the first drum loop, the bassline, and the chord progression. The second drum loop was created using the Zoom MRT-3B Micro RhythmTrak filtered through the Monotron's MS-20 filter.
More info at Johnson's Youtube site.
Link:
Korg USA's Rich Formidoni explores the monotron Analog Ribbon Synthesizer. Below are all the monotron's controls are explained and demonstrated.