Another KORG monotron hack, this one is includes on more VCO + petch in, gete in, cutoff in…
ps:
I re-uploaded video after a you tube message saying that: Your video, may have content that is owned or licensed by EMI…
(what the ^%@£$!)
The reason of that message is probablly one audio sample from the prodigy at the end of the video (on the making off) so on this part instead of the prodigy now we can hear a very small part of my friends famous Greek band named direct connection( + the module).
www.myspace.com/directconnectionsoundsystem – hwww.directconnection.gr/
the track is named: 7G and is from the Anticopyright_vol1
www.myspace.com/anticopyright_gr
Background info:
iPad1 16g WiFi Camera Connection Kit
powering korg monotron via USB
ipad is running
Jasuto modular synthesizer
http://www.jasuto.com
signal path :
audio from bleeplabs Nebulophone
http://bleeplabs.com/nebulophone/
into korg montron filter
out from monotron
into AmpliTube®, iRig™
http://www.ikmultimedia.com/irig/features/
then into ipad
Jasuto providing synthesizer bass and reverb/delay FX to line input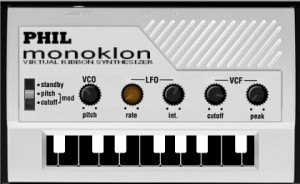 PhilterPlugs has released Monoklon, a free synthesizer plug-in that emulation the Korg Monotron.
Can´t copy the Original Monotron Sound but hey…
Monoklon features
Virtual Ribbon Controller.
Sawtooth Osc.
Sawtooth Lfo.
LP Filter.
Monoklon is available to download as a freeware VST instrument plug-in for Windows.
The Korg Monotron is a great little analog synth with a big, thick sound and amazing filter. However it is controlled not with keys, but a ribbon controller. I find it extremely difficult to play in pitch. So I've sampled it and racked it up in Ableton. Now notes are easy to hit, and there are also a few extra goodies not possible in the original. Follow along as I take you through it and download it yourself and enjoy!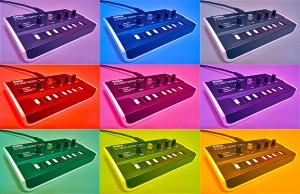 **Non Live users: You can use the samples in your DAW of choice**
Download the rack here: http://bit.ly/freesynth13
More information below:
For something about the size of a cassette tape, the Korg Monotron packs quite the punch.  Don't let that built in speaker fool you, plug this little guy into an amp and it can rattle the windows.  The filter sounds great, and can even be used on external audio sources, very cool.  The downside: I can't play the thing in tune!  Too bad it doesn't have some cheap little buttons for keys instead of that ribbon keyboard.  Hitting the exact pitch consistently, for me, seems to be out of the realm of possibilities.  Thank goodness for samplers

This week, I have created a free Ableton Live Rack using samples from my Korg Monotron.  Although some might argue that this rack lacks one of the most alluring qualities: the built in filter, it is now a much more playable synth, being that you can control it with a normal keyboard with actual keys.  (Plus I think the filter in Ableton's Sampler and Simpler are pretty nice substitutes).  To take advantage of some of the possibilities offered to us in this computer age, I've done a few things the actual Monotron is incapable of.  First, I layered a few Monotron samples to thicken out the sound.  I've made it switchable from mono to polyphonic (Polytron?),  Portamento and Glide are now options, you have control over Attack and Release, the Filter Envelope now has an attack you can play around with, and another macro knob allows you to select different combinations of samples.  For the purists out there that don't want layered samples, I've included an identical rack, with only one sample and a few different effect macros (chorus and delay.)  For both racks, I have the mod wheel set to introduce some vibrato.  So, watch along in the video and download it for yourself, it's free and most importantly, from the heart.  I think you'll be pleased with just how much punch that little box can deliver.  **Big thanks to Big C for giving me the Monotron for Christmas xo **
Beatmaker has published this nice teaser video; its under construction and I'm still Working on it! This is my Korg Monotron AKA Miditron with Beatnic Midi-iF Kit and Midi Mod. This thing is SICK! I'm using bs-16i app for iPad with Line 6 Midi Mobilizer to trigger the Miditron. My next video with it will be much better Audio Quality and the Miditron will be complete. You know how I do! Just giving you a Taste.
The Monotron mini analog synthesizer was made to be hacked – learn how to add your own control-voltage inputs and check out some sample synthing played via strobe light.
Korg Monotron with a DIY CV/Gate interface, sequenced by SQ 10 / played with a roland SH 09

all sounds comes from the monotron, except the drum : sound master stix st-305

For more information about this modification see here :

http://www.dendrobate-magnetique.org/synth/article8/korg-monotron-cv-gate-mod…

sorry for the poor video quality, sound is good, live improvisation.
Star wars

This is a brainwave controlled synth i made for a mate for his birthday. The frequency of brainwaves is sent from the sensor digitally to the base station, all I have done is mod the monotron to have a cv/gate input and added a few components to the force trainer to output a voltage determined by the brain activity sensed.
Looping the output of the monotron back into the input give you a simple feedback loop – going to splice more in later to get a bit of control, but in the meantime you can get an idea of how to push the filter even further!
http://www.myagisounddesign.com
http://www.popandlockrecords.com
If you want to bring your synth out for a spin, check this out

The Monotron mounted to a bike