Background info:
I've added a cutoff slider at the end of the Giant Pitch Lever, which can be played with the thumb, leaving one hand free for additional controls. The slider has a rubberband pulling it back to "closed" position, which makes "playing" it a little more like playing an instrument. Still need to add pitch markers though.
A sound demo of a modded Monotron. Listen on good speakers to hear
the full bass. More info here
http://www.jacobwatters.com/monotron-mod.php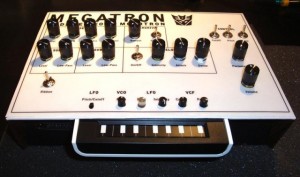 Modifications include: MIDI-IF kit, CV control, Pulse Wave (with PWM,
high-pass filter and low-pass filter), Sub Osc 1 (one octave down)
with low-pass filter, Sub Osc 2 (2 octaves down) with low-pass filter,
AD Envelope, and Overdrive feedback loop.
KORG MONOTRON EURORACK MODULE WITH CV, GATE AND FILTER, DOEPFER DARK ENERGY, DOEPFER A-112 8 BIT SAMPLER, MFB STEP 64, FLAME ECHOMETER, MFB URZWERG PRO, LEXICON MX 300
Piscide . monotron . The MusicVideo,
created and produced by Anke Scheffler aka Anchee of Piscide.
piscide.com
© Fundamenth Media 2010
Ableton Live Instrument rack Emulation of the Korg Monotron Delay. Create with samples from the Korg Monotron, this Ableton Synthesizer has effects built in to model the Monotron Delay. Fun and diverse synth with great sound design potential. The Monotron Delay Rack has 8 macro controls that allow you to greatly alter its sound.  It features controls for the synth's filter and an LFO that is modulating the filter frequency.  There, of course, is plenty of control over the delay.  You can alter the amount of delay, the time between each delay, and a band-pass filter to change the character of the delay.  I have set the delay itself to repitch mode, which emulates analog tape delays.
Free Download @ http://bit.ly/freesynth54
Filthy little modified Monotron jam: LFO out to gate in, 1 sequencer feeds CV to pitch in, another sequencer feeds CV to manipulate the LFO's rate. ////This Tron is a beast! ////// Mods: CV in for pitch, gate, filter cutoff and LFO rate. External LFO out with depth control knob. Two 1/4″ outs, two 1/4″ inputs for the filter and a master volume knob. Also added an over drive feature.
-electro lobotomy
Details:
Korg Monotribe
MFB Seq02
WMD Gamma Wave Source
c1 -1v/oct gamma wave source
c2 -wt1 cv gamma wave source
c3 -wt2 cv gamma wave source
c4 -monotribe sync in
c5 -para cv gamma wave source
the sounds you hear are from the output of the korg monotribe with no aditional processing
Product feature – MFB Step sequencer: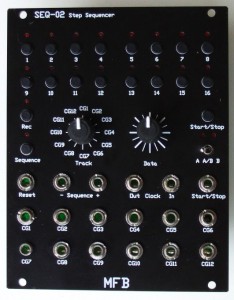 SEQ-02 is specialized in rhythm- and sequence programming.
SEQ-02 can be used as a sequencer with 6 CV- and 6 gate-outputs. Alternatively, it may also be used with either 12 CV- or 12 gate-/trigger-outputs. SEQ-02 allows creating 16 sequences with up to 32 steps each. The sequences can be stored and offer 6 or 12 tracks. In addition, an A- and B-part allows building 2-bar-sequences using the A/B-switch. Use trigger impulses at inputs "Sequence +" and "Sequence –" to switch to adjacent sequences. Start/stop and tempo (clock) can be either controlled directly at the module or remote-controlled through external signals. Of course, SEQ-02's start/stop and clock can act as a master for other sequencers. The RESET-input allows switching the current sequence back to step 1.
Beyond using SEQ-02 to trigger drums and envelopes, there are countless options for trigger-impulses in a modular environment. These may be used for sample&hold, switches, clock-dividers/sequencers or logic-modules. This allows to create rhythmic events, where usually a straight clock would be used for triggering, e.g. in S&H- or clock-dividing-modules. Thanks to the big number of CV- and trigger-tracks, SEQ-02 will always allow for some extra assignments beside the drum-groove.
The module has a width of 100 mm (20 TE).
monotron with cv/gate modification
http://samoletuvvp.narod.ru/​vto/​diy/​monotron.html
Background information (Googlish from japanese):
Palm-sized battery-powered, with analogue synthesizers monotron DELAY echo like an analog delay.
The VCF circuit is equipped with a highly rated circuit is employed to MS-10/MS-20, adopt a similar filter to MS-10/MS-20 DELAY FEEDBACK. Further input to the AUX input sound because it is inserted in front of the filter circuit can be used as a filter / delay effects to monotron DELAY.
For more product information
http://www.korg.co.jp/Product/Dance/monotronDUODELAY/monotronDELAY.html
The powerful and fun-to-play monotron analog synthesizer has been joined by two siblings. The Dual Oscillator monotron DUO offers X-MOD capabilities for generating even more extreme sounds. The monotron DELAY features a Space Delay that can produce intense, analog-like echo effects. Each is equipped with a ribbon keyboard and a live, ready-to-be tweaked front panel offering five knobs and a single switch.
monotron DUO key features:
Two analog oscillators (VCO) with individual tunings
Edgy X-MOD (with Intensity knob) circuit from Korg's classic Mono/Poly
VCF with Cutoff and Peak Control
Ribbon controller keyboard with Scale Select
Original Analog (VCF) Filter taken from the classic MS-10 & MS-20
Aux input jack lets you apply filter to any audio source
Built-in speaker and battery power for Go Anywhere Analog sound
Headphone jack for private use
Dual Oscillator / X-Mod Design
Offering two oscillators, the monotron DUO adds an extra dimension, delivering an even more extreme sound. Tune the oscillators in unison for a rich, thick, analog tone. Tune them in intervals for classic soloing sounds and generating new effects. The X-MOD (cross modulation) circuit taken from Korg's classic Mono/Poly can introduce a mild or razor-sharp edge to the overall sound; everything from a rich vibrato to extreme metallic sounds reminiscent of an FM synth.
Enhanced Ribbon Controller Keyboard
The monotron DUO's ribbon controller keyboard now features the familiar Scale function used on the KAOSSILATOR. You can use this button to select one of four scales: Chromatic, Major, Minor, or Off. Choose the Chromatic scale to play precise pitches as on a piano, or choose Major or Minor to generate musically coherent phrases by simply sliding your finger around on the keyboard.
monotron DELAY key features:
Space Delay with Rate and Intensity controls offers analog-style echoes
New Pitch LFO with selectable Waveshape and Intensity and shape controls
VCF with Cutoff Control
Wide-range ribbon controller keyboard
Original Analog (VCF) Filter taken from the classic MS-10 & MS-20
Aux input jack lets you apply filter and delay to any audio source
Built-in speaker and battery power for Go Anywhere Analog sound
Headphone jack for private use
Classic Analog Synth / Space Delay Combination
A good delay was an essential part of the classic analog synthesizer sound. More often than not, that delay came from a tape-style echo machine until affordable digital delays were created. The monotron DELAY is an analog synthesizer optimized for sound effects. In addition to its analog oscillator, filter, and LFO, it also provides a Space Delay that's indispensable for swooping, cosmic sounds. The monotron DELAY even reproduces the pitch changes that occur when you vary the delay time, just as though you were using an analog tape echo. As with the filter, the delay effect can be added to any external sound via the Aux In jack. This fat and warm delay will add an authentic edge to your analog sounds!
Dual-Waveform LFO
The Low Frequency Oscillator (LFO) waveform used to modulate the pitch now offers a choice of waveshapes – a new square wave plus the traditional triangle wave. Both the Rate (Speed) and the Intensity (Depth) can be adjusted independently. In addition, a trimpot on the back panel can continuously adjust the shape/direction of the triangle wave or the pulse-width of the square wave to deliver even more versatility. Used in conjunction with the delay, the LFO can create dazzling effects and provide unique possibilities for embellishing your songs.
Wide-Range Ribbon Keyboard
The monotron DELAY's ribbon controller keyboard features a wide, four-octave range. This design allows the pitch to be controlled even more aggressively and dynamically, making the monotron DELAY a great weapon for a DJ to get the floor moving with irresistible sound. The reversed white keys and body adornments glows under black light illumination, making the monotron DELAY ideal for delivering a striking visual impact in nearly any club environment.