Rhythm Core Alpha is a music creation system designed for creating and performing live music in-front of an audience. It contains DRUM GRID for creating drum parts, a NOTE GRID for creating instrument parts, a unique 2D SOLO MODE where the user can play music live with the stylus, and a PATTERN SCREEN for arranging pattern and key/scale changes.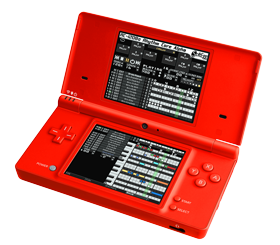 "The great thing about Rhythm Core Alpha is that the music never has to stop. You can be editing one block, while playing another." says program creator T. B. Trzepacz. "Rhythm Core Alpha detects the key of the music automatically, so you can change the key of the music you sequenced with the +Control Pad or face buttons, like fingering a guitar, while soloing with the stylus using your other hand. Or you can sequence all of the chord changes in the pattern mode and concentrate more on your playing."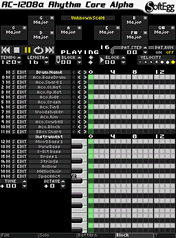 Features:
Drum Grid
• 12 tracks
• 64 beats per track
• 122 sounds
• 7 velocity levels
• Track mute and solo modes.
• 7 powerful editing options: copy, shift, set, clear, random, echo, and velocity.
• Up to 100 drum / note blocks (loops) can be stored.
Note Grid:
• 8 tracks
• 64 beats per track
• 166 sounds
• 7 velocity levels
• Track mute and solo modes.
• 8 powerful editing commands: copy, shift, set, clear, random, echo, velocity, and transpose.
• Automatically detects key and scale, allows remapping using +Control Pad or buttons.
• 24 key/scale (chord) change options using buttons, from 120 possible key/scale combinations.
• Up to 100 drum / note blocks (loops) can be stored.
Solo Mode:
• 2D solo grid gives over 6 octaves of notes on screen.
• Each note can reach 6 other notes without lifting the stylus for more fluid play.
• Notes in grid remap to current scale… no wrong notes can be hit!
• User can override scale selection.
• Drums can also be played from the solo screen!
Pattern Screen:
• Up to 1000 steps can be set.
• Sequences key/scale (chord) and block (drum and note loop) changes.
• Powerful loop-back feature allows looping chord progressions.
• +Control Pad and face buttons can be used to jump to steps in the pattern for flexibility.
SoftEgg™ presents Rhythm Core Alpha™ on DSiWare™. 500 Nintendo Points™. Rated E for Everyone.
Rhythm Core Alpha
Hotelsinus Sound Design has released version 0.23 of TonesynthDS, a free software synth for the Nintendo DS. TonesynthDS is an easy to use matrix tone synth with a simple instrument generator.
TonesynthDS features
16×16 pattern editor (16 accord, 16 tone (the scale is selectable), first line is always the C3).
16 different pattern stock.
Different volume setting possibility for each accord (in the second editor mode).
Adjustable tempo.
Possibility to play a pattern looped with the default sound samples or with generated sound samples.
With the button X you can clear a pattern (and set the volumes of that pattern to maximum).
Sound sample generator. You can listen a test sound with ADSHR, play a continuous test sound without adshr (but you can set the parameters on the fly) or generate the full stock, that will be used by the pattern player. The system is fully usable while you play or generate samples. Although the playing of the pattern will be paused during the generation.
For the generation there are two oscilloscopes. Both can generate sinus, saw, rectangle and organ. The frequency of the second oscilloscope can be set relative to the frequency of the first oscilloscope with a slider under that except for the 'am' mixing type where you can set the absolute frequency between 0 and 20 hertz.
3 mixing types: Amplitude modulation, ring modulation (the difference is in the base frequency of the second oscilloscope) and cross modulation. For the last one you can set the cross fade factor with the slider under the first oscilloscope.
Low pass filter with resonance.
ADSHR for the generated samples. The length of the samples are limited to 2 seconds.
TonesynthDS v0.23 is available as freeware for Nintendo DS.
[youtube=http://www.youtube.com/watch?v=rorBOzwR3Tc]
Features:
Dual dual synths: Two patchable virtual synths, with two oscillators each
Drum machine: Four-part drum machines loaded with samples of the virtual synth
Sequencer: 2 synth tracks, 4 drum machine tracks, 16 steps
Effects: Delay, chorus, flanger
Input methods: Touch-control screen with real-time sound control, a keyboard screen, and matrix screen
More than just a piece of software, KORG DS-10 lets you control a "four part drum module, two analog synth simulators, and 6-track/16-step sequencer" with your Nintendo DS's touchscreen.