"a little demo tune (NINTENDO DS) with KORG DS-10 software and recorded with Cubase in Trier 2011 by CHIPBEAT"
The Korg DS-10 is a synthesizer/step sequencer for the Nintendo DS. More on this subtly animated cartoon video can be found below:
"Happy go lucky (but downtempo) tune on the Nintendo Korg DS-10 synthesizer sequencer. I think it's melodic electronica. More DS-10 stuff at http://korgds-10.blogspot.com. All my best selling albums are available at http://records.ugocapeto.com. If melodic electronica is your thing, check my new melodic electronic music forum at http://forum.ugocapeto.com."
This 71st track kinda marks the return to my roots, musically speaking: the happy go lucky tune, downtempo style. Yes, I had strayed a bit from that kind of tuneage recently. One more track and the next album is gonna be ready for release on Ugo Capeto Records.
I had reserved a pattern (the last one) to end the song but ended up not using it, opting for the not very creative fading out repeated (random) pattern.
The bpm for this song is 60. The scale is F major.
KORG DS-10 is a music creation program for the Nintendo DS that emulates the Korg MS range of synthesizers. Frequently people refer to the Korg MS-10 but this is a single oscillator monosynth. The DS-10 adds sync which the MS-20 is lacking. A newer, DSi compatible version, entitled KORG DS-10 Plus, was released in Japan on September 17th, 2009 and in the United States on February 16th, 2010. It doubles the number of synth and drum machines. It also adds some minor new features for the standard DS. The DS-10 creates sound with two analogue synthesizer emulators, each with two Voltage-Controlled Oscillators (the Korg MS-10 had only one VCO). The VCOs feature a sawtooth, a pulse (with a non-modifiable pulse width), a triangle and a noise waveform. There is also a four part drum machine that uses the same sound creation techniques as the synthesizers. The sounds made by each of the synthesizer emulators are modified using virtual knobs to change the value of standard synthesizer parameters such as cutoff frequency and waveform shape. Additionally there is a screen where users can patch certain parameters to be modified by an LFO, the envelope generator, or VCO.
See video for how to, this would also work with iMS-20 app or most other drum machines, just remember to create a short pulse and pan it hard opposite to any audio, have fun!
If I ever were to play a live set anywhere, this is what I would play. By using two Nintendo DSi units with copies of Korg DS-10 Plus, I can mix my own songs back and forth. It's quite handy, and a lot of fun. Every sound you hear was created on Korg DS-10. Feel free to ask questions. Please enjoy!!! =)
SONG LIST:
Introduction
Mysterious Forest
The Seventh
In the Whirlpool
NEON
MB LINK (Anthony Seeha Remix)
Licensed For Use (Anthony Seeha Remix)
CYCLONE
STROBE LIGHT
Download this mix on my Soundcloud: [Check back soon!]
Shared by seehanth001
Amazingly cool chip video featuring a Nintendo DSi music workstation
100% Rhythm Core Alpha. This time I used the lo-fi sounds (mainly Square, Saw and C64 samples) and tried to assemble retro tunes whith many tones and some arpeggio sounds, which personally remind me of my Game Boy childhood. Are you a Lo-Fi Johnny, too?
Amazing: You can play all your patterns (blocks) in realtime and even change the key/mode of your created tunes automatically. LIVE !!!
Thank you very much again for this awesome DSiWare release and keep up the good work, SoftEgg!!!
Rhythm Core AlphaTM is the most advanced, easiest to use music creation system for the Nintendo DSi. It's advanced DRUM GRID and NOTE GRID allow rhythm loops, basslines, and melodies to be created simply by tapping spots on the screen. You can see all the parts at once, making it much easier and faster to get your beats down.
It also has a unique 2D SOLO MODE, which lets you play sound live with the Nintendo DSi stylus. This mode's 2d grid makes the largest number of notes available at once, making it easy to play real melodies.
Finally, the PATTERN SCREEN ties it all together, allowing the beats and chord changes to be ar- ranged into complete songs.
Not only does Rhythm Core AlphaTM have the easiest and most powerful sequencing on the Nintendo DSi, but Rhythm Core AlphaTM also does things no other music program will do. It recog- nizes the key and scale of the music you have created, and allows you to
change key easily with the +Control Pad. You can also sequence those changes in the PATTERN SCREEN. Nothing else does this.
Patterns can contain many loops that you can also select with the Nintendo DSi's buttons, allowing you to change your beat or chord progression when- ever you want. Nothing else does this.
Finally, the SOLO MODE only shows notes that match the key and scale of the music you have sequenced, making it impossible to hit a wrong note. Nothing else does this.
Rhythm Core AlphaTM comes with nearly 300 built-in sounds, including synth sounds, orchestral sounds, rock sounds, and even old computer and video game (chipmusic) sounds. Furthermore, it al- lows the sounds to be customized with an adjustable ADSR envelope, and now with a powerful multi- waveform vibrato feature that is new to this release!
Numerous features have been added for this release, including not just the Vibrato, but also live recording of your solos directly into instrument tracks, live recording of your block and key changes into patterns, and enhanced pattern editing. This makes it not only the fastest program for sequenc- ing, but also a great tool for live performance. You can actually build an entire song live, in front of an audience! You can change the key of the music you sequenced with the +Control Pad or face buttons, like fingering a guitar, while soloing with the Nintendo DSi stylus using your other hand. Or you can sequence all of the chord changes in the pattern mode and concentrate more on your soloing.
We are pleased to announce that no changes have been made to the graphics in the program at all for this release. It is ugly because it is pow- erful, and we haven't wasted any time or system resources on making it pretty. Rhythm Core Alpha presents you with as many controls as we could cram onto the Nintendo DSi's two screens, which may overwhelm some, but gives the most power to the user. We consider this a profes- sional music tool, and think that it is a mistake to dumb down programs for the perceived "general audience". Rhythm Core AlphaTM is the most advanced music program on the Nintendo DSi.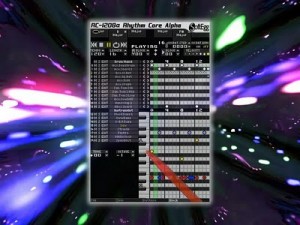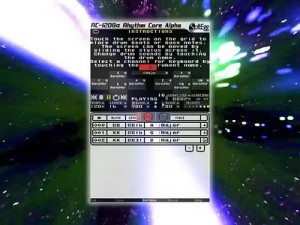 Features:
Drum Grid
ENTERPRISES
• • • • • • Note Grid • 8 tracks • 64 beats • 166 sounds • 7 velocity levels • track mute and solo modes • 8 powerful editing commands: copy, shift, set, clear, random, echo, velocity, and transpose. • automatically detects key and scale, allows changing with +Control Pad or buttons.
12 tracks 64 beats 122 sounds 7 velocity levels track mute and solo modes 7 powerful editing options: copy, shift, set, clear, random, echo, and velocity.
• 24 key/scale (chord) change options using buttons, from 120 possible key/scale combinations.
Solo Mode
• • • • • • Pattern Mode
2D solo grid gives over 6 octaves of notes on screen each note can reach 6 other notes without lifting the Nintendo DSi stylus for more fluid play notes in grid remap to current scale… no wrong notes can be hit! user can override scale selection drums can also be played from the solo screen! Can now be recorded into the note and drum grid!
• • • • • Sound Engine
Allows sequencing of drum & bass loops and key changes! Can be recorded live! Allows multiple loops of beat and key changes for performance flexibility! New easier editing features added! Select pattern step with +Control Pad or buttons!
• • • Language Support • Fully localized in English, French, German, Italian, and Spanish, including manuals and all in-
Powerful ADSR envelope allows sound customization New powerful multi-waveform vibrato feature! 16 simultaneous sound playback
SoftEggTM presents Rhythm Core AlphaTM on Nintendo DSiWareTM. 500 Nintendo PointsTM. For videos, audio samples, screen shots and support forums, go to http://www.rhythmcorealpha.com"
This is a quick demo of building a song from scratch using the new version of Rhythm Core Alpha, released in the Nintendo DSiWare Shop for 500 Nintendo Points in Europe, the UK, and Australia on January 21st, 2011.
Rhythm Core Alpha is the most advanced music creation system for the Nintendo DSi, It includes a loop sequencer, a pattern sequencer, and a unique solo mode that let's you solo along with your sequences. You can even change the key of your sequences using the +Control Pad, or use the buttons to jump to different parts of the song. Not only is it the easiest sequencer on the Nintendo DSi, but it also is a powerful tool for live performance.
Abylight has introduced Music On: Drums – DSiWare for the Nintendo DSI, described as "The definitive beatbox for creating songs and rhythms".
Here's what they have to say about it:
With a library of 160 sounds, use your creative skills to assign them to each of the 8 tracks available per pattern, activate or deactivate each of the 16 steps that make up a track using the buttons or the stylus, and combine the 8 patterns to compose up to 64 songs.
If you want to produce a more complex tune, you can customize each step and set the volume, change the frequency and assign a panning.
Like a professional DJ, create and play in real time!
Once you have laid down your patterns, you can use them to create much more complicated rhythms in the Song mode, where you can add them to a sequence of up to 32 parts and change their length, activate/deactivate tracks, add repeats, etc.
Release date: Europe+Australia December 24th, the Americas January 3th. Price: 500 Nintendo DSi Points.
Via tukurukoubou