Song title: "Zaat" from 2012 Album "Ssss" (Mute Records)
Song by VCMG (Vince Clarke & Martin Gore)
Video filmed, directed, edited and produced by Mantle Sound Core (Mark Shvartsman)
Assistant director, production, camera, script and lead actor by Mic Pistol (Michael Pistorio)
Assistant director, production, editing, wardrobe, cosmetics and script by Anastasia Gera
Script and supporting actor by Mark Shvartsman.
Official website:
http://www.mantlesoundcore.com
As being a hardcore MiniBrute myself, it is really nice to see one of the legends using it

Check out our exclusive interview with synth legend Vince Clarke at his studio in New-York, talking about MiniBrute, his relation to synths and his up-coming projects.
Vince Clarke and Martin Gore's VCMG project has really hijacked the dancefloors with the album SSSS, plus remixes from the likes of Regis, Byetone and Matthew Jonson – now Mute have just announced a third remixes EP from the album via Twitter. This one's set to feature 'Aftermaths', with a remix by Clarke himself, alongside another veteran name: Warp's mighty LFO. The package is rounded out by a remix by Alva Noto, one half of Diamond Version and co-head of the Raster Noton label alongside Byetone. It's set for release on August 20th through Mute.
That's all we've been told so far – no music for you to listen to yet
OUT NOW. The short trailer featuring a young lady making a very unappetizing looking slice of toast is rumored to be the first in a series of short films sound tracked with music from the SSSS album.
Ssss is now available to buy (UK) from:
Play.com – http://bit.ly/vcmgplay
HMV.com – http://bit.ly/vcmghmv
Amazon.com – http://amzn.to/vcmgssss
For more information:
http://www.facebook.com/VCMGofficial
http://www.mute.com
http://www.facebook.com/muterecords
http://twitter.com/muteuk
VCMG are releasing one of 2012's most anticipated musical collaborations with the album Ssss, out on Mute on March 13, 2012.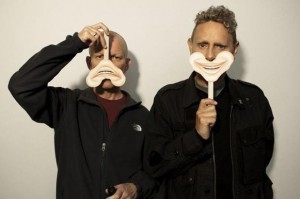 It marks the reunion of electronic pioneers Vince Clarke (Erasure, Yazoo & Depeche Mode) and Martin L. Gore (Depeche Mode). They have joined forces, for the first time in over thirty years, to craft a 10-track album which demonstrates their mutual love of electronic music. Full remix details for EP2/ Single Blip, the follow up to EP1/ Spock – out now on 12" / download and featuring remixes by Edit-Select, Regis, DVS1 and XOQ – will follow.
Ssss Track Listing:
Lowly
Zaat
Spock
Windup Robot
Bendy Bass
Single Blip
Skip This Track
Aftermaths
Recycle
Flux
There is also a fresh interview out with Vince and Gore, below is excerpt from it:
The Quietus spoke to both Clarke and Gore over the phone from America (they're doing their interviews for the UK press separately) to untangle the story of what turns out to have seemed to a project where unfinished creative business reaped some great reward.
Martin, it was interesting to read in The Stool Pigeon that Vince, who first approached you about VCMG, had never listened to techno until recently, whereas obviously you've done more with DJing and so on.
Martin L Gore: I've been listening to techno for a long time now. I read The Stool Pigeon interview as well, and found out things about Vince I didn't know! I never really knew Vince over the years, so that was a surprise to me that he only got into techno a couple of years ago. Mute even had a techno label for ages, NovaMute, and I remember being into the Tresor stuff, and Daniel [Miller, Mute boss] putting some of that out. Techno has been in my blood for ages.
Was it surprising how easily VCMG came about, if in fact it did?
Vince Clarke: I started working on the record on my own. I was working on about three or four tracks before I decided that I'd like to collaborate with somebody and contacted Martin. I think the surprise was how in tune Martin and I were about this kind of music. At the same time, it was really great because I'd send him something and have no idea of what he would be sending me back, but as it turned out it was something I really liked. I wasn't just being nice! We just seemed to fall into the same mould.
Were you ever worried that he might say 'no'?
VC: I didn't know… I wasn't sure… I know Martin's always busy and I didn't know what the Depeche Mode schedule was at the time. What I said in the email was that there's no pressure, no deadline, no timeline, no release date scheduled, nothing, it's something we can do and we can have a bit of fun with, and if you're up for it then let's do it.
Did he get back to you quite quickly?
VC: Fairly quickly – about a week and a half.
Martin, were you quite surprised that the idea was there? What was your initial response?
Martin L Gore: Of course I was really surprised, because I'd never in my wildest imagination thought that Vince might contact me and think we'd do a project together. So when I received that email it was a total shock. Once I'd got over that, it seemed like a really good idea because apart from the fact that it was nice to be doing something with Vince again after 30 years, I've been into techno music for a long time now.
You've said how when you were first together in Depeche Mode you didn't actually know each other that well. Listening to VCMG it sounds very fresh and sparky, do you think that gap or cutting short of a relationship that still had a way to go creatively helped that? It means your partnership hasn't become staid at all?
VC: Oh definitely. When I left Depeche, obviously Martin took over the writing, and his writing style is completely different to mine. Over the years we've developed completely different styles, and I think that's why the record sounds so different. I don't think people would have expected the record to sound as it does if we'd been working together for 25 years in the same band.
http://youtu.be/yOoB0YSVuKw
VCMG' second release from 'Ssss'
VCMG release one of 2012's most anticipated musical collaborations with the album 'Ssss', out on 12 March 2012.
It marks the long awaited reunion of electronic pioneers Vince Clarke (Erasure/ Yazoo/ Depeche Mode) and Martin L. Gore (Depeche Mode)
Ssss Tracklisting:
Lowly
Zaat
Spock
Windup Robot
Bendy Bass
Single Blip
Skip This Track
Aftermaths
Recycle
Flux