The BASE Pack is born from a quest Moog engineers embarked on with help from researchers at The University of North Carolina at Asheville to discover the most primordial sounds known to man. The result is the Biomimetically Augmented Synthesis Expansion Pack (BASE Pack) for the Animoog synthesizer. The BASE Pack is a collection of timbres and presets that radically extends the sonic capabilities of Animoog from the purely electronic realm of its Moog ancestry into a richly organic world of biological sound.
In addition to the over 40 new Timbre files, Moog recruited top sound designers to craft 25 powerful new presets which demonstrate the range of BASE sounds that Animoog can now emit. Some of the Presets included are Extravasation, Eructations, Bad Beans, Bathtub Bubbles, and Oops Sorry Excuse Me. Some of the Timbres included are Sploot2, WetGas1, Dribbly, WetSquish2 and Excuse Me.
Animoog is available for the iPad, iPhone 4, and iPod Touch in the iTunes Store. Animoog version 1.0.2 includes the new "Animoog Store" where users can purchase new Timbres and presets from within the app itself. The BASE Pack is only the first in a series of wide-ranging, boundary-pushing sonic updates to come.
For more information on the BASE Pack go to:
http://www.moogmusic.com/products/apps/base-pack-animoog
http://youtu.be/9FiRqSB-xH0
Short video showing the process of adding a third oscillator from another device to the Moog Little Phatty. In this case, the additional oscillator comes from the iPad iOS app ANIMOOG.
https://jimmclaren.musicteachershelper.com/
Showing some of the many possibilities when using the Moog Voyager as a MIDI controller for the Moog Animoog app and feeding the iPad audio back into the Voyager's filter.
Here's a nice video to get a little deeper into the core of the Animoog:
More info – http://bit.ly/xKwZEj
In part two of a three-part tutorial on Moog's Animoog iPad app, Dubspot Instructor Matt Cellitti shows you how to creatively use Animoog's modulation parameters to achieve complex sounds.
Now that we have looked at how to break down Animoog into a basic initial state, I would like to examine the instrument's creative options to make more complex sounds. Animoog has a clearly labeled and easy to use modulation area, allowing us to add several modulation parameters to the sound at the same time. We are able to use traditional modulation sources like mod envelopes, filter envelopes, and low frequency oscillators, but there are some hidden gems in here as well. For instance, take control of the Touch Keys to manipulate sounds in ways a traditional keyboard is incapable of. By using the the modulation control of "poly-pressure" to manipulate a destination of filter frequency, the areas of the touch key will activate modulation of the filter's cutoff frequency. So you can create filter sweeps just by moving your fingers up and down a single touch key. Furthermore, as if the path and origin controls of the X/Y pad weren't enough, you can use mod controls to effect these parameters even further. It never ceases to amaze me how much flexible control this app has. – Matt Celetti
Some cool sounds in this one

Expand your Animoog! 64 new presets for Animoog covering a broad range of genres from Ambient to Dubstep. Smooth ambient pads, wobbly basses, subtle drones, rhythmic sequences and organic sound effects such as a true budgie tweet, the hypnotic song of whales and the natural purr of a cat.
Luftrum 8 is compatible with both the iPhone and iPad version of Animoog. Included is an easy install instruction, describing how to get the sounds onto your device. All presets are nicely sorted with LUF initials to separate them from the factory presets.
Watch in HD for best quality! More information on luftrum.com
The Animoog in action in a Berlin-school setting. Sequences from Prophet '08 Module and Moog Slim Phatty, percussion from Elektron Octatrack, drones from Moog Little Phatty Stage 1 and Waldorf Blofeld Keyboard. Effects used: Moog MF-103, Moog MF-104Z, Moog CP-251, Vermona PH-16, T-Rex Room-mate, Korg Kaoss Pad 1.
Enjoy

Here's a new tutorial from Dischord on working with Envelopes:
"In this lesson I use Animoog to demonstrate Envelopes and how they can change the sounds we hear in synthesis. At the end I give a brief example of Legato and how that effects Envelopes. We will be returning to iMS-20 in the next lesson."
Music: Qonquer Death
Synths: Xenon Groove Synth, Animoog
Drums: Xenon Groove Synth
Art: J. Wecker
www.godmadeusfonky.com
God Made Us Fonky Records ©
Here's a nice improvisation for Animoog, Moogerfoogers and Piano in C minor.
Shared by experimentalsynth
Just a quick note:
Moogerfoogers are a direct descendent of the original modular Moog synthesizers. Housed in a rugged steel and hardwood enclosure, the Moogerfooger's timeless good looks, versatility, and exceptional sound quality is designed to be equally at home on stage or in the studio. Their expansive functionality combined with warm, analog sound come from their state-of-the-art all-analog circuitry, designed and built under Bob Moog's personal direction. Musical, flexible, playable, and durable Moogerfoogers are the secret weapons of top players and producers everywhere.
Moog Music's Animoog synth for the iPad has been updated.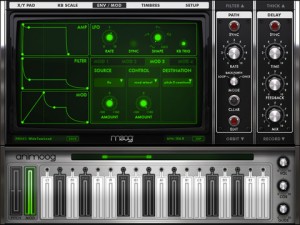 Here's what's new in Animoog 1.0.1:
New functionality:
Background audio support
Record module now has a 4 beat count-in with optional beep (configured on Setup page)
Also on Setup page, a new Random Preset button (warning: dangerously addictive)
Timbres page: 'Preview' button, select timbres silently or select & preview them audibly
Multi-mode knobs are now easier to adjust
Network MIDI session now enabled by default.
Bugs fixed:
Memory leak on switching page views was causing crashes
MIDI Clock Sync much smoother
MIDI note to KB display mapping is now correct
Handles MIDI NoteOn w/ velocity 0 as a NoteOff.
And Animoog is still $.99 in the App Store.