LES SOULIERS is an ensemble of thirty pairs of shoes, piloted by computer and mechanically actived by "tramplers". The shoes strikes and scrapes the floor according to a numerical score (Midi score read by the software Max / MSP).
LES SOULIERS are supported by the Ministère de la Culture et de la Communication, the city of Toulouse, le bbb, Bauer & Durin Réalisations and by Farnell France.
Recorded live in Urbana, Illinois on March 7, 2008. This outdoor concert was part of a student-run open house for the College of Engineering at the University of Illinois. Tesla coils were used to create musical pitches via a control system designed by university student Steve Ward. Two coils were used. The right coil is playing a prerecorded Midi track, acting as the bass, and the left one is performed live as a lead sound via the Continuum Fingerboard. In spite of the frigid temperatures (4 degrees Fahrenheit, 26 mph winds), the concert was well attended and was voted the most popular event of the open house.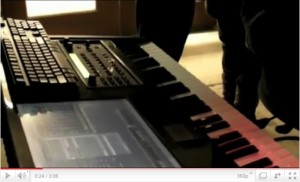 http://www.youtube.com/watch?v=SdhPCTFDfeE
This is the second part of a prog-rock piece I wrote about the history of Easter Island called "The Island at the Center of the World". I played the instruments on the backing track except the drums which were played by Mike Novak.
–Mark Smart
Continuum Fingerboard: http://www.hakenaudio.com/Continuum/i…
Steve Ward: http://www.mastersoflightning.com/
My site: http://www.marksmart.net/
dave wright and karl white rehearsing in the studio in order to leave on tour next week at
http://www.youtube.com/watch?v=Tg4yRYH7LG0
Check out the dates and locations as well as free tickets the Meat Beat folks are giving out at http://www.meatbeatmanifesto…
Feb 2 – Seattle, WA EL Corazon
Feb 3 – Portland, OR Peter's Room Under Roseland
Feb 4 – Vancouver, BC Venue
Feb 9 – Los Angeles, CA El Rey
Feb 11 San Francisco, CA Mezzanine
Feb 15 Denver, CO Summit Music Hall
Feb 16 – Chicago, IL Bottom Lounge
Feb 19 – New York, NY Santo's Party
Video from Dpoint's virtual release party concert.
Swedish Synth Pop duo DPoint recently released their new album In Memory Of Voices No Longer In Our heads on January 15, 2011 with a virtual event.  The video is a single called KIK9 taken from the new album. See their list of synths and other gear at http://dpoint.kodapa.com/?pa…
J M Jarre live in Poland
Perhaps one or two guitars too much for my taste, but hey what the heck
Jean Michel Jarre has announced his 10 10 10 project – a "self-pirated" live show to be broadcast this Sunday, 10/10/10 at 8 PM London Time.
This should be a treat for his fans around the world.
Based on EveryTimeZone.com, 8 pm London time is:
9 am in Honolulu
12 pm in San Francisco
2 pm in Chicago
3 pm in New York
9 pm in Vienna
3 am in Hong Kong
8 am in Australia
Jean Michel Jarre's Concert  will be broadcast live on the Internet, via UStream. Help spread the word by using the Facebook "like" button above, the "Retweet" button below or by sharing the date with other synth music fans!
via jeanmicheljarre:
10 10 10 project

http://www.ustream.tv/channel/ten10ten

http://www.jeanmicheljarre.com/101010
I am not sure it is because they put their machines on fire that they can create these "beautiful" songs.
Full pull is an experimental electronic music happening here in Sweden this weekend

Dependent has announced that Mind.In.A.Box will do its first full-length tour as support for the 19-show European leg of Front Line Assembly's current world tour.
Mind.In.A.Box released their debut "Lost Alone" in 2004. The follow-up "Dreamweb" marked the real breakthrough for the Austrian duo, showcasing a combination of electronic styles and influences from technopop to EBM to trance and beyond. The following albums "Crossroads" and "R.E.T.R.O", along with the single "8 Bits" were also well received, but the duo did not perform live until last summer, when after a year of preparations, they appeared as a five-piece at the Arvika Festival.
Since then the band has played live periodically, surfacing at the Norwegian Elektrostat Festival and Berlin's E-Tropolis.
Festival organizers AC Entertainment have released the lineup for MoogFest 2010.  The three-day festival, celebrating the vision of Robert Moog, will take place Halloween weekend, October 29-31, in Asheville, NC.
The MoogFest 2010 weekend kicks off on Friday with performances by the previously announced MGMT and Big Boi, plus Girl Talk, Panda Bear, RJD2 and others. Artists joining Massive Attack, Thievery Corporation and Jonsi for Saturday at the festival will include Four Tet, Caribou, Emeralds, and Matmos. The festival's final day will be a Halloween party like none other, with performances by Hot Chip and Pretty Lights topping the bill.
Also confirmed to appear at MoogFest 2010 are EL-P, Dan Deacon, School of Seven Bells, Saturn Never Sleeps (Featuring King Britt & Rucyl), Dâm-Funk, Nortec Collective Presents: Bostich & Fussible, the Octopus Project, Jon Hopkins, Mimosa, Kuroma, Mountain Man, DJ Spooky and Two Fresh.
Information regarding MoogFest 2010's workshops, panel discussions, art exhibitions, installations and film screenings, will be announced in the coming weeks as well.
Tickets for MoogFest 2010 go on sale Friday, August 13th at 12 Noon Eastern Time. Weekend festival passes – along with tickets for each individual day – will be available. To purchase tickets and for more information, visit moogfest.com.
MoogFest 2010 Lineup:
Friday, October 29
MGMT
Big Boi
Girl Talk
Panda Bear
RJD2
El-P
Nortec Collective Presents: Bostich & Fussible
Saturn Never Sleeps (Featuring King Britt & Rucyl)
The Octopus Project
Kuroma
Saturday, October 30
Massive Attack
Thievery Corporation
Jonsi
Caribou
Four Tet
Matmos
Dâm-Funk
School of Seven Bells
Jon Hopkins
Emeralds
Mountain Man
Sunday, October 31
Pretty Lights
Hot Chip
Dan Deacon
Mimosa
Two Fresh
DJ Spooky
On 26th June 2010 the most stunning electro festival of the year is going to conquer the German Capital Berlin. The E-tropolis Festival comprises a wide range of different electronic styles in a unique, electrifying event, featuring classic EBM, harsh Industrial- & Cyberelectro, Synth-Pop- and alternative dance acts in one pulsating stream of synthetic music.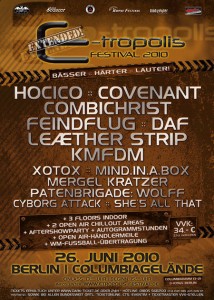 Tickets for the E-tropolis Festival 2010 are on pre-sale now! Original tickets, as well as the most popular 5+1 group tickets are exclusively available at the Amphi Ticketshop under: https://ssl.webpack.de/synotec-newmedia.de/amphishop/welcome.html . You can also buy festival tickets online on www.dark-ticket.de, by phone on +49 (0)1805- 568200 (0,14 /min. from German fixed network), and at all nationwide CTS/EVENTIM, Kartenhaus and Ticket-Online box offices.