J M Jarre live in Poland
Perhaps one or two guitars too much for my taste, but hey what the heck
Jean Michel Jarre has announced his 10 10 10 project – a "self-pirated" live show to be broadcast this Sunday, 10/10/10 at 8 PM London Time.
This should be a treat for his fans around the world.
Based on EveryTimeZone.com, 8 pm London time is:
9 am in Honolulu
12 pm in San Francisco
2 pm in Chicago
3 pm in New York
9 pm in Vienna
3 am in Hong Kong
8 am in Australia
Jean Michel Jarre's Concert  will be broadcast live on the Internet, via UStream. Help spread the word by using the Facebook "like" button above, the "Retweet" button below or by sharing the date with other synth music fans!
via jeanmicheljarre:
10 10 10 project

http://www.ustream.tv/channel/ten10ten

http://www.jeanmicheljarre.com/101010
I am not sure it is because they put their machines on fire that they can create these "beautiful" songs.
Full pull is an experimental electronic music happening here in Sweden this weekend

Dependent has announced that Mind.In.A.Box will do its first full-length tour as support for the 19-show European leg of Front Line Assembly's current world tour.
Mind.In.A.Box released their debut "Lost Alone" in 2004. The follow-up "Dreamweb" marked the real breakthrough for the Austrian duo, showcasing a combination of electronic styles and influences from technopop to EBM to trance and beyond. The following albums "Crossroads" and "R.E.T.R.O", along with the single "8 Bits" were also well received, but the duo did not perform live until last summer, when after a year of preparations, they appeared as a five-piece at the Arvika Festival.
Since then the band has played live periodically, surfacing at the Norwegian Elektrostat Festival and Berlin's E-Tropolis.
Festival organizers AC Entertainment have released the lineup for MoogFest 2010.  The three-day festival, celebrating the vision of Robert Moog, will take place Halloween weekend, October 29-31, in Asheville, NC.
The MoogFest 2010 weekend kicks off on Friday with performances by the previously announced MGMT and Big Boi, plus Girl Talk, Panda Bear, RJD2 and others. Artists joining Massive Attack, Thievery Corporation and Jonsi for Saturday at the festival will include Four Tet, Caribou, Emeralds, and Matmos. The festival's final day will be a Halloween party like none other, with performances by Hot Chip and Pretty Lights topping the bill.
Also confirmed to appear at MoogFest 2010 are EL-P, Dan Deacon, School of Seven Bells, Saturn Never Sleeps (Featuring King Britt & Rucyl), Dâm-Funk, Nortec Collective Presents: Bostich & Fussible, the Octopus Project, Jon Hopkins, Mimosa, Kuroma, Mountain Man, DJ Spooky and Two Fresh.
Information regarding MoogFest 2010's workshops, panel discussions, art exhibitions, installations and film screenings, will be announced in the coming weeks as well.
Tickets for MoogFest 2010 go on sale Friday, August 13th at 12 Noon Eastern Time. Weekend festival passes – along with tickets for each individual day – will be available. To purchase tickets and for more information, visit moogfest.com.
MoogFest 2010 Lineup:
Friday, October 29
MGMT
Big Boi
Girl Talk
Panda Bear
RJD2
El-P
Nortec Collective Presents: Bostich & Fussible
Saturn Never Sleeps (Featuring King Britt & Rucyl)
The Octopus Project
Kuroma
Saturday, October 30
Massive Attack
Thievery Corporation
Jonsi
Caribou
Four Tet
Matmos
Dâm-Funk
School of Seven Bells
Jon Hopkins
Emeralds
Mountain Man
Sunday, October 31
Pretty Lights
Hot Chip
Dan Deacon
Mimosa
Two Fresh
DJ Spooky
On 26th June 2010 the most stunning electro festival of the year is going to conquer the German Capital Berlin. The E-tropolis Festival comprises a wide range of different electronic styles in a unique, electrifying event, featuring classic EBM, harsh Industrial- & Cyberelectro, Synth-Pop- and alternative dance acts in one pulsating stream of synthetic music.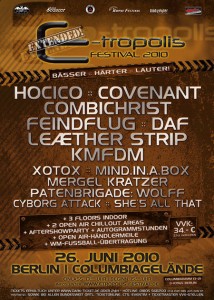 Tickets for the E-tropolis Festival 2010 are on pre-sale now! Original tickets, as well as the most popular 5+1 group tickets are exclusively available at the Amphi Ticketshop under: https://ssl.webpack.de/synotec-newmedia.de/amphishop/welcome.html . You can also buy festival tickets online on www.dark-ticket.de, by phone on +49 (0)1805- 568200 (0,14 /min. from German fixed network), and at all nationwide CTS/EVENTIM, Kartenhaus and Ticket-Online box offices.
Norlander explored the boundaries of the legendary Moog sound and captured the creative, analog-based vibe that is Moog.
One Moogus Operandi attendee summed it up when he was asked by another "What do you think of the music"? to which the response was simply "Goosebumps".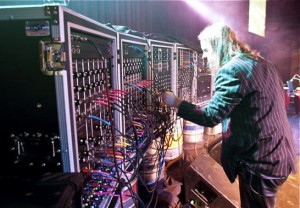 This image of Erik Norlander performing on his recently reconfigured Wall Of Doom modular synthesizer is taken from a collection of photos by Jon Leidel of the recent Moogus Operandi concert.
About the show that was held on April 19th
The Bob Moog Foundation is proud to announce its spring concert event Moogus Operandi,  honoring the pioneering work and legacy of synthesizer maverick Robert Moog, to be held on May 27, 2010 at the Orange Peel in Asheville, North Carolina. The event will be a celebration of the Moog legacy through music, art and mulitmedia entertainment. Tickets are $10 in advance and $12 at the door the night of the event.
Northern California based synthesizer virtuoso Erik Norlander (ASIA featuring John Payne, Rocket Scientists, Lana Lane) will headline the evening, performing songs from his new album, The Galactic Collective. Norlander, an accomplished rock, electronic and symphonic keyboardist known for his command of vintage and cutting edge synthesizer technology alike will bring the Moog legacy alive with his synth-heavy instrumentals and his "Wall of Doom" modular synthesizer (so named by his roadies). The Wall of Doom, a massive analog modular synthesizer with restored 1967 Moog modules at its heart, will grace the stage of the Orange Peel as the musical and historical representation of Bob Moog's legacy of pushing the boundaries of sonic reality. This marks Norlander's first performance in Western North Carolina.
If you enjoy new EBM and synthpop acts make sure to check this concert out, myself I am just having a hard time sleeping struggling with jetlag in San Diego (an 8 hour time difference from Europe)
electriXmas is delighted to announce that mad industrial scientists Agonoize will be joining this year to make the party go with a bang!! Check the Artists section for more info!
Bands confirmed so far : Agonoize, Interlace, Autodafeh and Biomekkanik
Make sure to book your tickets

And of course a video by Agonoize:
[youtube=http://www.youtube.com/watch?v=4XbKz9PdQaU]