Should Be Higher (Live on Letterman version)
Gear Used
Upper: Roland JP8000
Mid: Emu Emax w/Oberheim and Kurzweil samples
Lower: Kurzweil PC1x
Composed by David Gahan / Kurt Uenala
Music video by Depeche Mode performing Should Be Higher. (c) 2013 Venusnote Ltd., under exclusive license to Columbia Records, a Division of Sony Music Entertainment
Following the announcement of EB and Depeche Mode's team-up for their European tour,  Max Dax met the DM's vocalist last November in Paris for an exclusive interview.
Read the whole interview in text here:
http://www.electronicbeats.net/en/fea…

Release Music Magazine has an interview out with the programmer behind Depeche Mode's latest album:
Swedish musician, producer, mixer and programmer Christoffer Berg, 31, had already made a name for himself on the electronic music scene because of his involvement with The Knife and Fever Ray. The rumour about his skills finally reached the Depeche Mode management and, all of a sudden, Daniel Miller was on the phone… Peter Marchione talked to Mr Berg in Gothenburg – his and Release's hometown – and Fredrik "Schlatta" Svensson took some photos in Svenska Grammofonstudion.
Coast to coast
During the past year Christoffer Berg was hired full time to manage the programming on the latest Depeche Mode full length release "Delta Machine". A massive production that took place in two different cities, one on each coast in the US where Martin Gore and David Gahan reside these days: Santa Barbara and New York.
When searching for information regarding Berg's background you may find him rather anonymous. Apart from his own projects, Hird, and the Dreijer connection there is not a lot to find. So, how did this all start; did he just pop up out of nowhere?
– My parents were both professional musicians. My mother was a member of a female musical collective and my father was a producer with his own label, releasing children´s music among other things. He also recorded radio children's programs for Swedish national radio.
So, music was a part of your life from the very beginning?
– It sure was. When I grew up I got to hang around with lots of different musicians and I myself started playing the drums at the age of 6. I then played in different big bands and later on, during high school, I had a lot of own bands. During this period I also worked semi-professionally as an assistant for other engineers and producers. What I learned most from was assisting at mobile recording sessions of classical music. I used to set up microphones at large events around the Gothenburg area.
This is pretty far from electronic music. How did synths, sequencers etc. become your thing?
– I was into electronic music already during my high school days. My father bought me one of the first Macs that were able to record multitrack audio and we also had a PC with a soundcard that allowed onboard RAM sampling. I could then use the computer pretty much like a sampler and started programming songs. Later on I got a Kurzweil K2500 sampler. Back in those days the standard kit was an Atari computer, a sync box, a couple of hardware synths and a mixer… and some rack effect unit, if you were lucky. However, soon after I got the Kurzweil sampler, Swedish software developers Propellerhead released their first version of their Reason software. I then understood that things were going to change and that software synths were the future.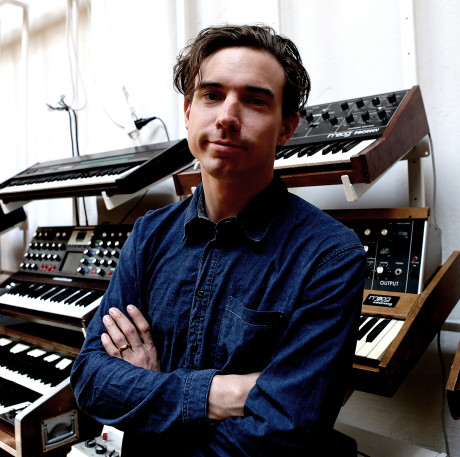 Read the full interview here >>
New interview with Martin Gore, check it out
Depeche Mode have managed to stay in a single time zone this past week, playing a sweaty, raucous two-hour show to the black swarm on the Rhine in Düsseldorf this past Wednesday, and prepping to do it all again tonight. We sat down with Martin Gore to find out about revisiting the sounds of melancholy past and how technology has changed not only Depeche Mode's music but also their live show.
Ben Adams and Jez Webb took the time walking us through the Instrument Setups at the Hamburg Stadium before the Depeche Mode Gig on June 17th, 2013. Ben explained the use of the Virus Polar by Andy Fletcher and the Virus TI by Peter Gordeno. Jez showed us Martin Gore's guitar Setup.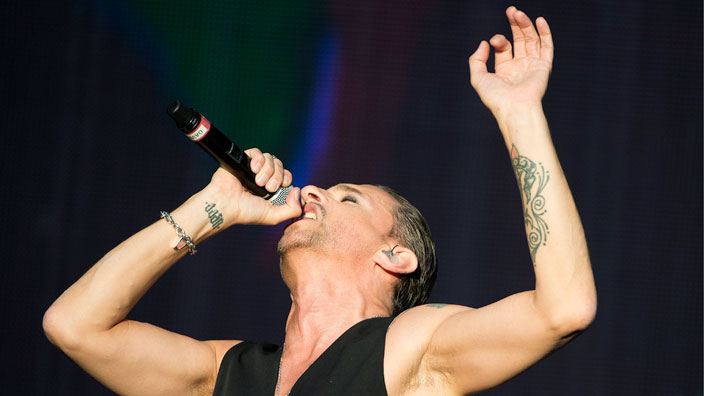 We had a guest writer watching DM's huge Delta Machine tour as the band made a stop at Parken in Copenhagen, DK.
P. Lindstrom, with a long track record as as synth connoisseur, gives us his personal thoughts, and the set list, of last week's main event in the Danish capital, enjoy:
I had low expectations on the Depeche Mode concert in Copenhagen somewhat due to the renown horrible acoustics of the arena Parken. But how wrong I was, Depeche Mode showed once again that they somehow can overcome even a major obstacle like Parken. Even after 33 years they are still one of the greatest band on the earth. The bland concrete arena and the terrible acoustics could not hold back the energetic Dave Gahan, who showed us once again how professional and totally committed they are.
A characteristic slow start with Angel and Walking in my shoes started of the concert and already in the beginning of the show did David take off his jacket hinting of what's to come.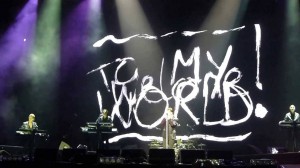 The concert was a perfect mix of new material, well blended with a lot of old classics. An audience of 42.000 totally agreed, with carefully picked songs and a complete roar was heard when Black celebration as song number 5 started, and that set the standard for the night.
The audience was totally consumed of the band's performance and joined David Gahan  singing in most of the songs making the evening unforgettable. Even the minimalistic stage show enhanced the performance, letting the band show that they still perform best just as they are. You only have to look at David Gahan and feel his energy to be spellbound.
Depeche Mode performed a kicking hard core version of Personal Jesus as well as a best ever version of Enjoy the silence – I hope we can look forward to a live album as well as a dvd of this tour.
The encore songs really made the evening complete, here they brought in the heavy machinery and made slowdown version of Halo just before they rip of a long sought after Just can't get enough. To round of the 134 minutes of marvel  they play a raw extended version of Never let me down again, and what could be better to finish of a perfect evening with the greatest band on earth.
Set list
1. Welcome to My World
2. Angel
3. Walking In My Shoes
4. Precious
5. Black Celebration
6. Policy of Truth
7. Should Be Higher
8. Barrel of a Gun
9. Higher Love
10. Judas
11. Heaven
12. Soothe My Soul
13. A Pain That I'm Used To
14. A Question of Time
15. Secret to the End
16. Enjoy the Silence
17. Personal Jesus
18. Goodbye
Encoure
19. Home
20. Halo
21. Just Can't Get Enough
22. I Feel You
23. Never Let Me Down Again
As being a hardcore MiniBrute myself, it is really nice to see one of the legends using it

Check out our exclusive interview with synth legend Vince Clarke at his studio in New-York, talking about MiniBrute, his relation to synths and his up-coming projects.
There is lots of nice gear for all of us electro fans in this in-studio performance of Broken by Depeche Mode.
Check out the Teenage Engineering OP-1, Roland Jupiter 8 synthesizer, Oberheim OB8,  Korg MS20 and Korg MonoPoly synthesizers. Not to mention, the tasty Eurorack modules that have been seen in pictures of the Delta Machine studio sessions.