The Poly Evolver Keyboard excels at producing immense brass patches. I'd say it's one of its strongest sounds. This lumbering improvisation uses one such example, and I intend others of this type to follow.
The dynamic changes are created with the modulation wheel, which opens the filter. If the tone is a tad buzzy, it may be because I trimmed off a bit of the bottom end with the high pass filter.
Instrumentation:
DSI Poly Evolver Keyboard
DSI Poly Evolver Rack
Reverb from Lexicon MX300
Performed live and recorded directly to CD.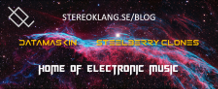 In 2005 Dave Smith Instruments released their third Evolver – The Poly Evolver. Their flagship instrument, it's a four-voice synthesizer (essentially four complete Evolvers) with a 5-octave keyboard, pitch and mod wheels, and a ton of knobs and switches in a clean, clear, easy-to-navigate layout. It can be a four-voice poly synth, four mono synths (each with its own sequencer), or any combination in between. The Evolverseries resurrects some of the oscillator, filter and other component technologies from the classic Sequential Circuits Prophet-VS and Pro-One synths. The Evolver was a huge hit the moment it appeared and this is the super-hands-on-real-time-programmable-polyphonic version of the little beast.
Each voice is a complete Evolver with four oscillators per voice: two analog and two digital – it's a true analog/digital hybrid synth. The analog oscillators feature multiple classic waveforms plus pulse-width modulation and hard sync, and they sound really nice and big. The digital oscillators feature FM synthesis, Ring Modulation and 96 Prophet VS wavetables plus 32 user wavetables (loaded via MIDI only). Each voice also features two Curtis voltage-controlled analog low-pass filters which are fully resonant and switchable for two- or four-pole operation, two digital highpass filters and real analog VCAs. Modulation capabilities are handled by four LFOs and three ADSR envelope generators (for the filter, the amp, and one is user assignable). There are dedicated onboard effects (feedback, delay, distortion, glide, etc.). One of its best features is the MIDI-syncable 16-step 4-parameter analog-style sequencer (with each patch having its own sequence) which really brings things to life with evolving sounds. The LFOs, step sequencer, and three separate delays can all be synced for massive, rhythmic, time-based effects in stereo. A major unique feature of the Evolver is its true stereo signal path. For each Evolver voice, the left and right channels get their own independent analog oscillator, lowpass filter, highpass filter, VCA and effects. This allows for pretty nice stereo imaging effects.
The Poly Evolver essentially quadruples all those Evolver specs! In Program mode, all four voices play the same sound. In Combo mode, voices can be allocated however desired: stack all 4 for a huge unison sound, split or layer the keyboard in any configuration, and/or play one or all sequences at the same time. Each voice can also respond to a different MIDI channel. Each voice has its own stereo output jacks in addition to the mix output. Stereo audio input can be routed to any or all of the voices, enabling parallel audio processing of external stereo or mono signals. The output of one voice can be routed to the input of another for interesting double-processing effects. And multiple Poly Evolvers can be daisy-chained for increased polyphony!
Full of hundreds of jaw-dropping preset patches, the Poly Evolver offers four times the punch of the original Evolver. The Poly Evolver finally answered prayers for a truly hands-on, programmable synthesizer version of the Evolver, and Dave Smith went all out on this one. The keyboard is semi-weighted with velocity and aftertouch, the wood end caps and overall design make for a great, classic look. The Pitch/Mod wheels are back-lit. With 77 endless-turn knobs and 59 switches, pretty much all parameters are within easy reach. There is a Poly Evolver Rack version of this keyboard, but where is the fun in that? Unless, of course, you "Poly Chain" one or more Poly Evolver Rack models to a master Poly Evolver keyboard for tons more polyphony and Evolver madness! The Poly Evolver would soon be followed up by the much less expensiveMono Evolver, a monophonic keyboard version of the original Evolver.
Often changing from even to odd time meter. Reverse Effect parts from Lexicon MX300 preset. Sequenced on Elektron MonoMachine SFX-60 Mk1, and sound fx added with DSI MonoEvolver keyboard.
It's mostly the MonoMachine you are hearing, the Evolver comes in at around (0:23) with a buzzing outdoor ambient like texture. The point of this piece isn't for the listener to figure out the time signature counts, rather listen for where the drums rhythmically modulate meter from a fusion feel to a half time feel, as it does here (1:01) back to fusion feel (1:14) etc…from this perspective you can hear over the barlines easier.
Just a little improv on the prophet 08 going through the space.

The Prophet '08 truly signals the return of the classic Sequential Circuits Prophet synthesizers, in a beautiful, modern and ultra-stable programmable analog synthesizer! Building on the Poly Evolver keyboard, the Prophet '08 offers eight voices of polyphony with a 100% analog signal path. The look is spot-on! Brand new, the Prophet '08 already looks like it's a classic vintage piece of history. And its sound really does blow you away!
Dave Smith is considered a legendary figure in the synthesizer world, he founded Sequential Circuits and designed such classics as the Prophet 5 and Prophet VS, and he was a pioneer in bringing MIDI to synthesizers. The new for 2007 Prophet '08 brings back much of the original technology from those old Prophets (like Curtis filters and analog oscillators), updated of course, to meet today's musicians needs.
While it doesn't sound exactly like an original P5, it does sound and behave more like one than any other pretender. It's cleaner, purer and a little more predictable than its 25 year old predecessors. Actually, it sounds just like the Poly Evolver, minus the digital oscillators.
Regardless, the Prophet '08 is truly a modern day Prophet series synth. Unlike many (Roland) synths that are attaching vintage model names to their current synths even though they are almost nothing alike (Juno, SH, etc.), the Prophet '08 is the real-deal next generation version of its predecessors. As DSI says, the Prophet '08 is the product of evolution, not nostalgia. Of course, it includes features we now take for granted, like velocity and aftertouch. Add to that performance features like an arpeggiator, gated step sequencer, and the ability to split and layer sounds. The modulation possibilities are much deeper than anything Sequential ever produced, making it capable of producing sounds the "classics" simply could not.
adimsimion shared this video with us – First synth jam on 2011 using the usual gear: Roland MC-307, Evolver DSI, Korg microX, Korg Z1, Waldorf Blofeld.
This year will start soon with new acquisitions: Korg microKorg, Clavia Nord Wave, a Mopho keyboard, and I want to upgrade my audio monitors: Adam A7x or Focal CMS50 I think. I didn't decided yet what monitors to choose in 1000 euros price range. Will see!
REVOLVER is an analogue synth refill and multisample library, based on the sounds of DSI Evolver keyboard.
In other words, it can be viewed as a continuation of the Analogue Monsters series: REVOLVER provides vivid, dynamic and rich-sounding real analogue sounds, giving you a powerful new synth in your Reason rack.
DSI Evolver is an incredible synthesizer that incorporates many of Dave Smith and Sequential's old secrets, circuits and technologies. It uses a monstrous four oscillator voice architecture – two analogue DCOs and two digital – with two independent Curtis analog low-pass filters.
The analogue oscillators feature multiple classic waveforms plus pulse-width modulation and hard sync, and they sound really nice and big. The digital oscillators feature FM synthesis, Ring Modulation and 96 wavetables. Modulation capabilities are handled by four LFOs and three ADSR envelope generators.
The Evolver's analog-style sequencer brings itself to life with animated evolving sounds. All modulators can be synced for massive rhythmic sounds.
sample source: 1.63 GB multisample in 24 bit wav format. All samples are perfectly looped and contain the unity note info for quick and proper automapping. The sample source is also included as a multisample library.
Dr.Rex loops: 79 melodic bass, arp & instrument sequence loops
NN-19 bank: 300 NN-19 patches in 5 categories.
• [All layers]   (182)
• Bass & Lead   (35)
• FX (24)
• Key & PolySynth   (35)
• Pad & Atmosphere   (24)
NN-XT bank: 302 patches in 7 categories.
• [All layers]   (136)
• Arp & Sequence   (25)
• Bass & Lead [poly]   (27)
• Experimental & FX   (22)
• Key & Polysynth   (25)
• Monosynth   (36)
• Pad & Atmosphere   (31)
Combinator bank: 112 combi patches in 6 categories. This bank demonstrates the routing possibilities of Combinator and will definitely give you a lot of inspirations:
• Arp & Sequence   (22)
• Bass & Lead   (20)
• Experimental & FX   (12)
• Key & Synth   (14)
• KLP Sequence [RUN]* (30)
• Pad & Atmosphere   (14)
Revolver is available to purchase for 27 EUR.
More information: ReasonBanks / Revolver