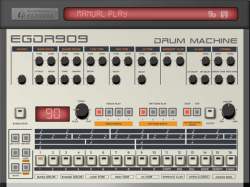 Elliott Garage has released EGDR909, a drum machine that emulates the sound of the classic Roland TR-909.
The iPad virtual instrument lets you create tweak sounds and create beats, and supports Inter-App Audio, Audiobus, Core MIDI and clock MIDI.
You can also share your drum patterns with iTunes filse sharing or Audio Copy.
Features:
16 steps sequencer, with variable length
48 programmable rythm patterns
Save the pattern you've created and play your songs
Manual Play, Pattern Write and Pattern Clear mode
Drumkit pieces parameters control (tuning, decay and snappy)
Song Mode page (swipe to left to open) with loop option
Swing and tap tempo
Core MIDI & clock MIDI (network session, external controller, inter app midi)
Audiobus
Interapp (generator)
Export with iTunes, mail or Audio Copy
Korg Wist sync
EGDR909 is available in the App Store for US $2.99.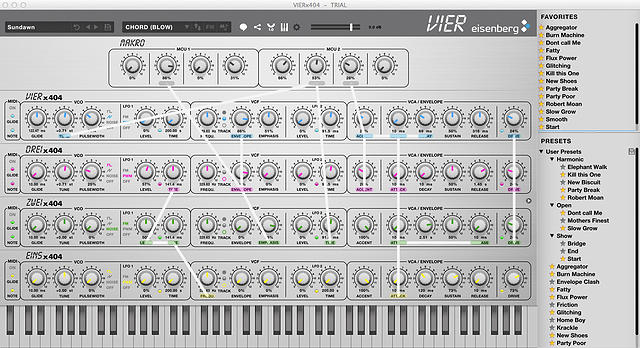 A new emulation of the venerable Doepfer MS-404 – the vibe of classic hardware with all the features of modern software

Eisenberg Audio, a German audio software developer, has released a new software synthesizer VIER. VIER, which means 'four' in German, emulates the Doepfer MS-404, a famous monophonic analogue synthesizer from the 1990s. Today, the now vintage MS-404 is not only known to synthesizer insiders, but enjoys a large fan base of musicians.

The Doepfer MS-404 was a single rack device, and VIER combines four independent rack modules in one seamless interface. VIER uses modern technologies for its synthesis engine, such as anti-aliasing oscillators, which are capable of audio range modulation and zero-delay feedback filters best known from synthesizers like LuSH, Monark or Diva.

VIER offers a wide range of options for parameter linking and cross modulation as well as intelligent voice management. Thus, VIER is much more than an emulation of a vintage synthesizer, and much more than the sum of four parts.

The parameter linking allows the building of groups, which can be manipulated and modulated by macro parameters together, offering fast access to the most important sound properties, and operates the four modules as one unit. VIER also contains a broad variety of factory presets that may be loaded, adjusted, saved, or marked as favorites. Additionally, users may create, save and load their own presets.

The intelligent voice management offers different creative modes, in which each note of a chord can be assigned to the four different modules and operated with unlimited polyphony. The results are truly unique and inspiring.

VIER runs stand-alone on Windows and Mac OS X or as plugin via VST, AU, RTAS and AAX

Availability & Pricing
VIER is available now at www.eisenberg-audio.de/vier for regular $99.00 (EUR 99.00).
Until September 30, 2014, VIER is available for an introductory price of $69.00 (EUR 69.00)
A free trial version is available at http://eisenberg-audio.de/downloads/vier
For more information, please visit www.eisenberg-audio.de/vier
Mitch tries out two apps in this episode of Sweetwater's iOS Update. First, we check out the "BOOM! 808" drum machine app, based on the original Roland TR-808 drum machine. Next, Mitch tries out a metronome/setlist app called Tempo.
The "BOOM! 808″ drum machine app, based on the original Roland TR-808 drum machine: and
a metronome/setlist app called Tempo.
Minimojo is an emulation of an old synthesizer built in Reaktor, available for all registered product owners in the NI Reaktor User Library.
The Juice 3 is not in any way a copy of MONARK. The builder did not have access to or ever used MONARK during the making of Juice 3. Instead, the old ensemble Minimood made by NI in 1999, which has then been modified by several users, has been used as the starting point. I think that the basic structure will be recognizable from that early ensemble.
As the Model D is the most emulated synthesizer the world probably don't need yet another one. Juice 3 should be seen as a proof of concept; how to emulate the should of vintage synthesizers using the Reaktor environment.
The technology developed for this is called Analog Legacy. Analog Legacy is the theory of modulating all functions in a synthesizer at all frequencies. The key is to find the right balance of the modulation depth for each frequency. Juice 3 is the first attempt to use this theory in practice.
http://youtu.be/cAhNylHjX_4