Full track with WAV audio here:
http://soundcloud.com/ritchiedrums/sad-sunday
~The 4 horiontal steps from the Z8000 sequencer are going through Synthesizers.com Quantizers to 4x Q106 VCOs, then a Mattson Mixer & filter to create chords. The 16 step vertical Z8000 steps are receiving a rotated & skipped clock from the 4MS multiplier & going to a COTK quantier to 2 BlackJack VCOs, then to the STG Mankato filter. The Blacet Binary Zone is sending divided clock to my MFOS rotary sequencer which is sending CV to the MOTM e340 generating clouds to the EHX memory boy delay
The Rhizome is a hybrid on which you can install your VST instruments and effects (windows compliant). No limit for the sounds and effects embedded in your device, it's you who choose the style and the musical color of your isntrument. Feeltune have posted a handful of new videos giving us demos of the controller's functions including effects, mixing, compression and eq.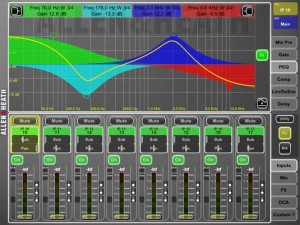 Allen & Heath has released an iPad application for its iLive digital mixing system. Here's their press release with all the details…
iLive MixPad connects to an iLive MixRack on a wireless network and provides the essential controls for live mixing, including channel faders and mutes, DCA faders and mutes, image controls, aux sends, channel processing, mic-pre control and full metering. Channel processing encompasses high-pass filters, gates, parametric and graphic EQs, compressors, limiters / de-essers and delays.
iLive MixPad also offers several useful tools for system set-up, including channel assignment to mixes, a real time analyser and the facility to name and colour channel strips.
Glenn Rogers, Managing Director of Allen & Heath, commented: "As soon as we saw the iPad we were excited by the prospect of giving our iLive customers portable, intuitive control for mixing a show. In certain situations this app could even replace the console altogether, especially when supported by a PC or Mac for accessing setup features using iLive Editor software. Whether its operating standalone or complementing an iLive control surface, I can see front-of-house and AV engineers enjoying the ability to discreetly mix from anywhere in the venue, whilst monitor engineers will appreciate being able to balance monitors from the stage."

The new app is the latest addition to a family of control options for the iLive system which also includes control surfaces, software, PL series remote controllers and the iLive Tweak iPhone app.
Pricing and Availability:
iLive MixPad is available to purchase from the Apple App Store for $99.99
More information: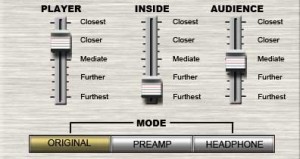 Here's the press release from Sound Magic:
3D Interactive Music is a revolutionary digital audio technology which achieves an entirely new level of realism and playability while opening up incredible new realms of sound! 3D Interactive Music allows audiences to experience music from different physical perspectives, allowing them to "move around the concert hall" – or even "join" the band on stage. And more importantly, it is the first time that the audiences have the right to choose the sounds they prefer – arranging and re-arranging their sounds to create amazing new perspectives of their favorite music.
Totally different from recording, 3D Interactive Music enables its audiences to actively participate in the process of shaping the final sound. Not an equalizer or tone control – or even a basic panning knob – 3D Interactive Music delves deeper into the way our brain interprets the sounds we hear. When we play our music, be it on CD, MP3 or even a Blu-ray Disk, it is static: audiences hear the same thing every time and cannot change it.But in 3D Interactive Music, your ears will be opened to new worlds. You can switch to the player's perspective and hear the same sounds the guitar player heard when he originally played your favorite song. Or you can switch to audience perspective, listening from the back row of the theatre. You can even go crazy and crawl into the grand piano, hearing the band from inside! Still not satisfied and want to build your own rock band? You can mix different instruments from different perspectives by simply dragging them onto the 3D stage. Move instruments around, tweak it, play with it. When you discover your own unique, perfect mix, you can render it to MP3 or burn a CD and impress your friends with "your" new band.
3D Interactive Music offers great detail using nearly 20 times the quantity of information that the latest 24 Bit/192KHz High Definition Audio spec calls for. Every nuance is preserved, each detail will be present in your ultimate mix. And you are no longer forced to listen from one perspective – you now have the ability to hear your favorite songs from anywhere you desire. 3D Interactive Music uses groundbreaking multi position synchronization recording, HRTF and DSP technologies to achieve these incredible effects. And, with an audio resolution up to 32 Bit/384KHz even the pickiest audiophile's ears will be pleased. By using the latest personalized Head Related Transfer Functions, 3D Interactive Music will simulate the effect of binaural recording, preserving an accurate and realistic stereo image at every point in your virtual venue.
3D Interactive Music lets users compare the differences between the original recording and their own creations, A/B switching on demand, allowing anything from subtle changes to sweeping alerations. Listeners demand so much more these days, arguing about studio recordings vs. live shows. 3D Interactive Music puts you in control. You now have the flexibility to arrange the venue as you choose. Move that lovely singer to the front – put that drummer way off stage! You decide!
One of the great advantages of 3D Interactive Music is that it is extremely friendly to both audiences and producers. There's no new hardware to buy, nothing to plug in. In fact, experiencing this revolutionary technology is easy as listening to any of your favorite songs on your PC. All you need is a Windows PC with standard audio outputs. Even your five years old "antique" PC can play 3D Interactive Music without any issues. Any current digital music can easily be transformed into 3D Interactive Music.
With the release of 3D Interactive Music, we are also releasing 2 albums demonstrating the use of 3D Interactive Technology: Piano Magic and Silk Road. Piano Magic is a virtual encyclopedia of grand pianos, featuring five of the greatest (and most expensive!) grand pianos from around the world. This is the first album that audiences can enjoy with these amazing piano sounds heard from different perspectives – with details never heard before. Featuring three different perspectives, you will experience piano sound from a full 360 degrees.
Silk Road contains 4 unusually beautiful sounding Chinese instruments: the Guzheng, Matouqin, Kong Hou and Bawu. Once again utilizing the magic of 3D Interactive Music, you will experience three different perspectives and the unique sound of each.
Pricing and Availability:
See website.
More information: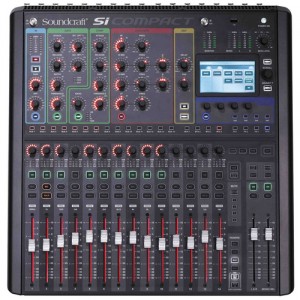 Drawing on the heritage of Soundcraft's acclaimed Si Series digital live sound mixers, the Si Compact packs powerful digital mixing facilities along with stunning Lexicon® effects into a small footprint console. All this and more without compromising a powerful feature set.
As you would expect from any Soundcraft digital mixer the facilities are extensive and include legendary audio quality courtesy of EMMA Lite, the same DSP platform that has helped propel the Si Series to industry standard status; this is united with all the reliability, show management, naming of channels, storing & naming cues and other features that you would expect, but what really sets Si Compact apart from all others is the simplicity of operation…

| | |
| --- | --- |
| • | TOTEM – The One Touch Easy Mix; press a single key to mix to an AUX, FX or Matrix bus, the surface and monitoring instantly reconfigure to allow instant mixing to your chosen bus on the faders. |
| • | BSS GEQ – With a BSS GEQ on every bus there is never any need to assign from a pool of resources and you will never 'run out' of processing. |
| • | 1 Control = 1 Function – With each control dedicated to a given function there is never any 'layering' of controls or navigating through screens; this allows the Si Compact controls to be labeled on the surface just as they would have been on an analogue mixer. |
| • | Global Mode Controls – A row of rotary controls above each fader assignable at the touch of a button to be GAIN, PAN or HPF for all of the inputs allowing instant access to the core functions. |
| • | Soundcraft FaderGlow® – Illuminates the fader slots according to function with clearly defined colours for FX, Stereo, Linked Mono, GEQ, POST Fade Aux, PRE Fade Aux; you'll never be lost again! |
| • | Instant Access Keys – Dedicated keys on the front panel for STORE, RECALL, NEXT, MUTE 1-4, TAP TEMPO and more negate the need to dive into screen & context menus. |
| • | Function Focus – Whenever a control is moved or SELect key pressed the screen displays information about the channel identifying the absolute value of the controls and the channel name, number etc… |

Key Features

16 mono inputs
4 stereo channels
14 mono aux busses
4 FX busses
4 Matrix busses
LRC Mix busses
4 Stereo Lexicon Effects engines
4 Mute Groups
Harman HiQnet integration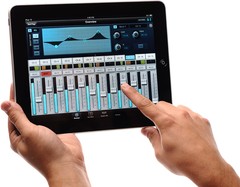 PreSonus has released StudioLive Remote for the Apple iPad, the first dedicated wireless control software for the StudioLive small-format digital console.
At last, you can have wireless remote control of any PreSonus StudioLive-series digital mixer's channels, auxes, effects, subs, Fat Channel processors, and more. Not only can these functions be controlled from anywhere in a venue by the front-of-house sound person, but custom aux mixes can be simultaneously adjusted by any performer with an iPad.

StudioLive Remote, available free from the iPad Apps store, provides direct wireless control over PreSonus Virtual StudioLive software for Mac and Windows, which in turn controls the StudioLive mixer.

Can't set up your StudioLive mixer front-of-house? Put it on stage; grab your iPad, running StudioLive Remote; and stroll to the back of the hall to adjust the main and aux mixes, channel settings, Fat Channel processing, effects, and graphic EQs. Need to tweak a monitor mix while on stage? Now you can!
More information: PreSonus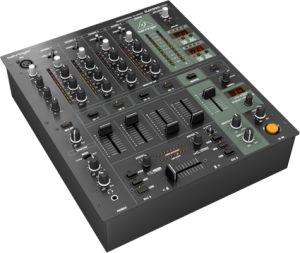 Behringer is introducing the Pro Mixer DJX900USB – a 5-Channel DJ Mixer with infinium "Contact-Free" VCA Crossfader, Advanced Digital Effects and USB/Audio Interface.
Features:
5-channel ultra-low noise DJ mixer with stylish, black design
45-mm infinium "contact-free" optical crossfader with adjustable tension and fader curve
State-of-the-art 24-bit digital effects with advanced parameter control
Built-in USB interface for recording and playback of any digital music file. Works with your PC or Mac computer—no setup or drivers required
Intelligent dual auto-BPM counter with time and beat sync display
3-band kill EQ and precise level meters with peak hold function per channel
Additional 3-way kill switches with extremely steep frequency separation
Awesome adjustable XPQ stereo surround effect
VCA-controlled faders
Adjustable crossfader curve for all mixing styles
Monitor function with master/cue balance control and split option
Auto-talkover function with separate depth control
Rugged construction
Details and pricing to come.
The Telefunken Echomixer is a interesting German mono mixer from the year 1961. A great vintage piece with old discrete comoponents (old transistors, no tubes). It is a Mixer + an amazing spring reverberator. the first A channel is dry, and on B and C you can select the spring reverb amount between the two lower sliders.
Overdriving the input sounds also nice. I did this with a Roland TR-606. In the video I also play a Korg MS-20 through the Echomixer.
The Echomixer has only DIN jacks (they look like MIDI jacks).
It was used by Klaus Schulze.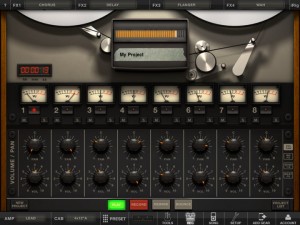 A really nice picture of the next version of Amplitube for iPad showing a very nice retro 8 track recorder, complete with mixer, FX and master section.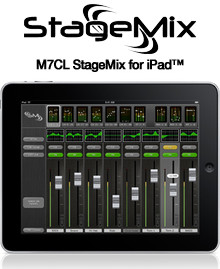 Yamaha has released version 1.1 of M7CL StageMix, an iPad app for controlling the M7CL digital mixing console.
StageMix provides remote control of M7CL functions via a simple, intuitive graphical interface from anywhere within wireless range.

The software has been specifically designed to allow engineers to adjust monitor mixes from the performers' positions on stage, directly controlling mix parameters via the iPad rather than having to rely on verbal directions to a second engineer.
Changes in M7CL StageMix v1.1
Changed image handling when memory is low to prevent crashing.
Improved horizontal pinching responsiveness for Q adjustments.
Added confirmation dialog for Delete Mixer function.
Improved synchronization time after Scene Memory Recalls.
M7CL StageMix is available as a free download from the iTunes App Store.
More information: Yamaha / M7CL StageMix