Arturia has not officially communicated this yet, but it seems like they've got a new iPad synth on the way, iProphet.
According to leaked information that is making the rounds, iProphet is a recreation of the classic Sequential Circuits Prophet VS. The iProphet uses Vector synthesis to create its sounds, which allows for timbrel modulation. The raw sound can then be processed through a multimode filter and output effects.
Official specifications, pricing and availability are to be announced.
One more demo of the recently released Prophet V for iPad
Professor is a Prophet 5 Sim from Alex Smith, the dev who brought us Grit, Interpol, Evil Machine and others.
Professor is a virtual analog polyphonic virtual analog synth inspired by the legendary sequential circuits prophetV!

The waveforms have been carefully shaped to sound a close as possible to the original resulting in a lovely polysynth
Minimoog Voager
Moog Little Phatty
DSI Prophet 08
DSI Evolver
Novation Bass Station 2
Roland Alpha Juno 2
Lexicon MX 300
TC Electronic M 300
EHX Small Stone
Digitech Digidelay
Background video description:
It's alive! This is an experimental drone/noise patch I was messing with on the Prophet '08. LFOs modulating LFOs modulating LFOs for some self-perpetuating insanity. Music for asylums. The sun was setting so I just left it run for a while. Please subscribe, and feel free to post below with any questions or comments!
—Instruments—
DSI Prophet 08
—Effects—
Alesis MIDIVERB II
Alesis Quadraverb
—Other—
Mackie 1604-VLZ3
RME Babyface
Ableton Live, Audacity
Pro 08, Voyager OS, Juno 60, Omnisphere, Hollowsun Drumbox
"Thought I'd give the Prophet the first shout as it contributed to about 80% of the track, including the bass. Super flexible little synth."
Background video description:
Composed and performed by Gianni Proietti a.k.a. "Gattobus" using a DSI Prophet 08.
No other instruments were used, I just added a delay effect and a reverb.
One of the first fully programmable polyphonic analog synths, the Prophet 5 is the most classic synthesizer of the eighties! It is capable of a delightful analog sound unique to Sequential's Prophet series in which the P5 was King! Five voice polyphony – two oscillators per voice and a white noise generator. The analog filters, envelope and LFO all sound great and are extremely flexible. The P5 had patch memory storage as well, which scanned and memorized every knob setting for storing and recalling your sounds – a desperately needed feature at the time!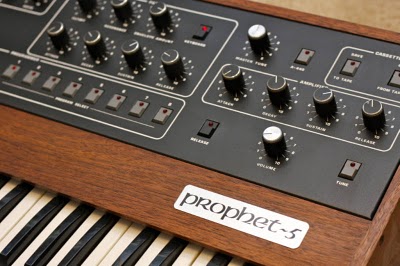 The P5 lacked MIDI (a feature that came later on the P5 spin-off, the Prophet 600). But it is still loved even today for its great string sounds, analog effects, and punchy analog basses. Unfortunately the P5 is not immune to the dark side of vintage synths – it has its fair share of analog synth problems such as unstable tuning, it's difficult to repair, lacks MIDI, etc.
There are basically three versions of the Prophet 5:
Rev 1 P5s are pretty unreliable, if you find one; they're also quite rare. These were all hand-assembled in the 'garage stage' of the company.
Rev 2 uses SSM chips, and has some differences in its control logic capabilities from the final version. It can't be retrofitted for MIDI, but is considered by most to be the better-sounding of the two 'common' P5s.
Rev 3 is the final version, and subsequent Rev 3.1, Rev 3.2 and Rev 3.3 each are capable of taking a MIDI retrofit. They're also capable of microtonal tuning. The audio quality of the Rev 3 is different, however, as it uses Curtis chips instead of Rev 2's SSMs; many people think the Rev 3 units sound 'thinner'. The Rev 3, however, is considered the most reliable of all of the different versions and they had 120 memory patches.
Background video description:
All sounds are coming from the Sequential Circuits Prophet 5 Rev 3.3 Synthesizer. You can also see the Rev 2 Prophet in the video but it will be another video…Composed and Played by Mr Firechild.
Short Demo of the vintage analog synthesizer Sequential circuits Prophet 600.
The first commercially available synth to implement MIDI!! It's a fun synth. Its big brother is the legendary Prophet 5. The P600 is very affordable today and is a great buy. Models with the newest software will enjoy polyphonic MIDI implementation and up to 100 memory patches to store their own sounds! The sound of the Prophet 600 is brighter and harsher than that of a Juno 106 but still just as funky.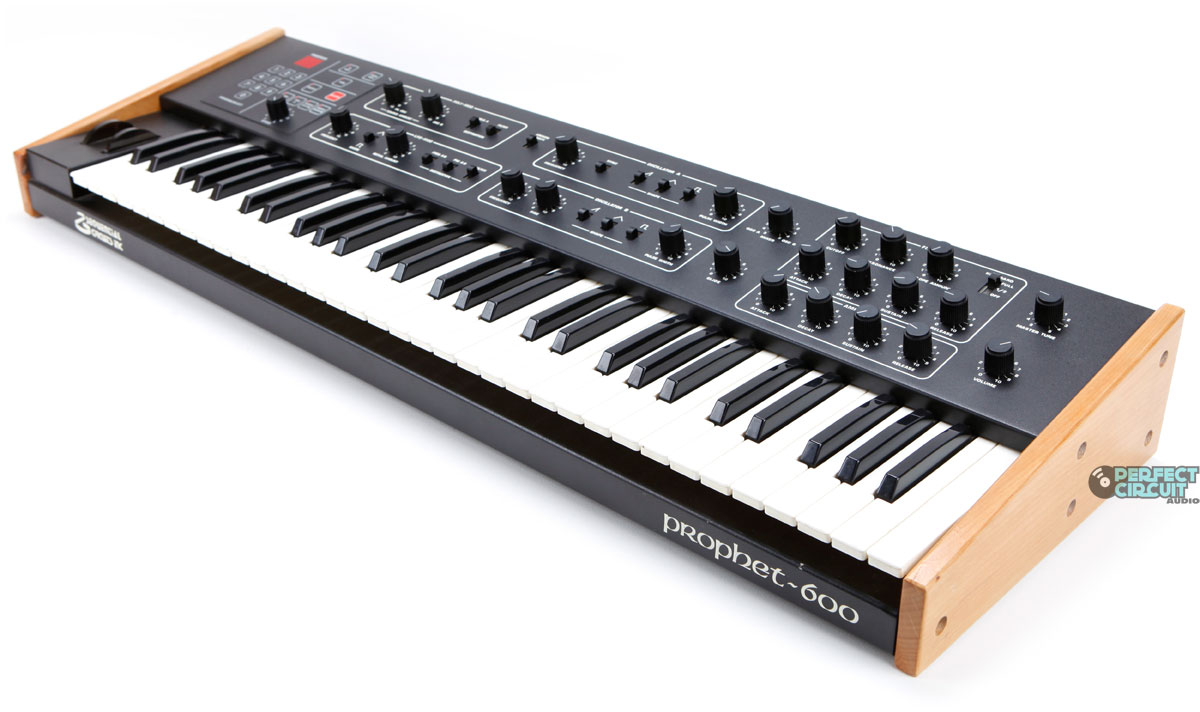 The P600 has two oscillators per voice with sawtooth, triangle and variable pulse waveforms. The oscillators can be individually tuned or synced together. Similar quality VCF and VCA sections from the Prophet 5 can be found here too! The P5's Poly-Mod section has also been passed onto the P600. The P600 is extremely versatile and easy to use! Its best functions include the onboard arpeggiator, 2-track sequencer and poly-modulation. The P600 is great for creating analog effects, swells and drones. It has a cool glide effect and has very flexible modulation possibilities!
The Prophet '08 truly signals the return of the classic Sequential Circuits Prophet synthesizers, in a beautiful, modern and ultra-stable programmable analog synthesizer! Building on the Poly Evolver keyboard, the Prophet '08 offers eight voices of polyphony with a 100% analog signal path. The look is spot-on! Brand new, the Prophet '08 already looks like it's a classic vintage piece of history. And its sound really does blow you away!
Dave Smith is considered a legendary figure in the synthesizer world, he founded Sequential Circuits and designed such classics as the Prophet 5 and Prophet VS, and he was a pioneer in bringing MIDI to synthesizers. The new for 2007 Prophet '08 brings back much of the original technology from those old Prophets (like Curtis filters and analog oscillators), updated of course, to meet today's musicians needs.
While it doesn't sound exactly like an original P5, it does sound and behave more like one than any other pretender. It's cleaner, purer and a little more predictable than its 25 year old predecessors. Actually, it sounds just like the Poly Evolver, minus the digital oscillators.
Regardless, the Prophet '08 is truly a modern day Prophet series synth. Unlike many (Roland) synths that are attaching vintage model names to their current synths even though they are almost nothing alike (Juno, SH, etc.), the Prophet '08 is the real-deal next generation version of its predecessors. As DSI says, the Prophet '08 is the product of evolution, not nostalgia. Of course, it includes features we now take for granted, like velocity and aftertouch. Add to that performance features like an arpeggiator, gated step sequencer, and the ability to split and layer sounds. The modulation possibilities are much deeper than anything Sequential ever produced, making it capable of producing sounds the "classics" simply could not.
Background video description:
This is the first video I've made with the Prophet 08. It's a chord sound inspired by a demonstration of the 8-voice SEM. Just playing a chord progression with it. I hope you like!