July 7, 2010 · Posted in
Uncategorized
·
Comments Off

on Getting the grips on Reaper
Reaper is fast becoming a truly powerful and efficient DAW, are you up to speed on it?
The amazing Kenny Gioia breaks it all down for you in this awesome, in-depth series of video tutorials focusing on Cockos Reaper. You'll learn about project creation, templates, routing, editing, using plug-ins, automation, rendering and exporting, MIDI, markers and regions and so much more. After viewing this collection, you'll be able to work and navigate Reaper like a seasoned pro. More and more people are switching to Reaper everyday, don't get left behind, and don't fear the Reaper! Product Hightlights • 26 Tutorials / Over 4 Hours Total Runtime
• For all beginner to intermediate Cockos Reaper users
• Tutorials written by multi-platinum selling producer Kenny Gioia
• Simple to use video control interface for Mac & PC
June 21, 2010 · Posted in
Uncategorized
·
Comments Off

on Reaper: split the audio into various bands and process each independently
Thanks to AGZ for providing this tutorial
The source audio track is sent (master send disabled) to 6 other tracks, each with a ReaFIR plugin to define the bands. Subs, Lows, Low Mids, High Mids, Highs and Ultra Highs. After that is a simple compressor for each band. You can insert any other plugins you want for each band: Saturation, stereo width etc. You may find this to be a good starting point for mastering.
Here's the Project File: http://dl.dropbox.com/u/1053122/multiband%20template.RPP
Cockos has updated REAPER to v3.12.
REAPER (Rapid Environment for Audio Prototyping and Efficient Recording) is designed for the recording, arrangement, editing, mixing and rendering of audio.
Changes:
* Automation lanes: fixed possible crash when removing FX parameter envelopes.
* CD burning: fixes to native XP mode track divisions.
* Extensions API: GetSetMediaItemInfo() fixes for fade shape settings.
* Fade drawing: when using full-area filling, fixed drawing when zoomed in.
* FX: per-FX buggy plugin compatibility mode (assumes plugin is not threadsafe, needs constant precleaned buffers, etc.).
* Hardware outputs: post-fader track outputs obey track polarity control.
* MIDI editor: show notes pressed as long as the input note is pressed.
* OSX: improved drag/drop support.
* OSX: support for control+alt+drag to render to new file (drag to desktop, finder, sampler, etc.).
* OSX: CD burning support.
* OSX: REX support.
* OSX: special casing for POD Farm VST misreporting view type (VST 2.4 should be composited view).
* OSX: fix for some AUs that do not export automatable parameters until after audio streams are initialized.
* OSX: added correct file locking to prevent writing files open for read.
* Pencil mode: fixed fade/autofade settings for newly drawn media items.
* ReaControlMIDI: support for raw mode (0-127 access to all CC messages).
* ReaControlMIDI: envelopes and TCP knobs report the same value as the slider (0-127, 0-16383, or on/off).
* ReaControlMIDI: support for storing/sending sysex dumps up to 64KB.
* ReaScript: run Python or Perl scripts that call Reaper API functions.
* ReaScript: assign reascripts to key commands or toolbar buttons.
* VST bridging: optimized plug-ins that call for tempo information.
* VST bridging/firewalling: per plug-in option to embed UI (not as compatible, less crash-resilient).
* VST: safer querying of text strings from certain plug-ins.
* Win32: async file reading now has more grace on error.
* Win32: file locking improvements (no longer allow writing to media files that are open and online in REAPER, etc.).
* x64: VST bridging performance improvements, ReaRoute performance improvements.
* x64: will now use same config path as x86 (unless appdata/REAPER64 is valid).
* x64: REX support (via bridging).
* x64: fix for certain (broken) ASIO drivers.
October 1, 2008 · Posted in
Electronic Music
·
Comments Off

on New version of Reaper available
REAPER Latest Version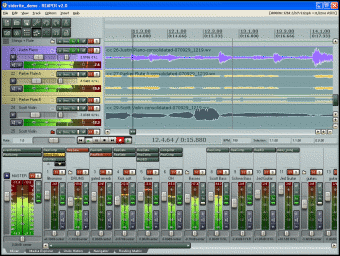 before spending big bucks on a software package (or worse, pirating it), try Reaper – it's fully operational straight away and you're free to demo it for as long as you want, has features enough to rival a lot of commercial packages and only costs $40 if you decide to support it at some point by registering it.
REAPER v2.51 – September 26, 2008
Download: 3.4 MB installer
JS: new development environment with editor, debugging support (variable watches)
Saving track templates now saves any track media items as well (since people seem to want this)
Loading track templates, fx chains, presets, now prompts for missing media (if REAPER is configured to do so)
Action: move cursor back or forward one beat or measure, move cursor to start of this or next measure
Move to start of current measure action moves back a measure if cursor is already at measure start
Create measure from selection actions optionally set project tempo instead of inserting markers
REX2: adjust imported slice length to hear the longest tail of previous slices underneath later slices
JS: better UI auto-sizing/arrangement
JS: MIDI/midi_CC_mapper, updates to spectropaint, added spectropaint_filter
OSX: fixed keyboard focus issue on many actions
OSX: fixed bug with screensets window (could also affect win32)
OSX: fixed keyboard state loading bug (required manually removing some key assignments — could also affect win32)
Vegas EDL: load/save of fade shapes, lock state, preserve pitch state, loading of mute state
ReaSynDr: fixed non-multiout mode
Fixed crashes when MIDI files are not found and ignored on project load
Fixed project start time offset when rendering cues
Fixed FX-add recent search combobox height
Fiddly fixes for zero crossing navigation with high frequency content