July 29, 2012 · Posted in
Uncategorized
·
Comments Off

on Circuit Bent Star Wars – Arch Nemesis
Star Wars – Arch Nemesis – Sound FX unit
A rehoused Star Wars Keyring.
switched mono mini jack output
blue LED
pitch up/down control – turn it down to enter the "Darkside"
switchable pitch down LDR – Use "The Force" to control this one
"Choose One" – Rotary switch – flick through each of the six voices/sound fx
Loop Skywalker Switch – this will loop each of the sound fx
Hands Solo – this will give you one shot playability of the sounds
.fd. online
Facebook – http://www.facebook.com/pages/freeform-delusion/144587583120
Twitter – http://twitter.com/#!/freeformd
eBay – http://www.ebay.co.uk/sch/freeform-delusion/m.html
September 29, 2011 · Posted in
Uncategorized
·
Comments Off

on The sounds of Star Wars
This is one of a series of podcasts exploring the ways sound and sound effects can be used to help bring stories to life.
Meet Ben Burtt, Sound Designer for films like Star Wars, Raiders of the Lost Ark and WALL-E. Learn how he comes up with sounds that complement the amazing things seen on the silver screen – from laser blasts to whirring, buzzing lightsabers. Find out the story behind some of his signature effects and how he first got interested in sound design.
April 25, 2011 · Posted in
Uncategorized
·
Comments Off

on CIRCUIT BENT Star Wars Darth Vader Voice Changer & Casio SK-1
Continuing the space theme from previous post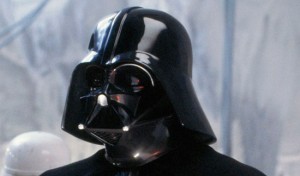 The Vader voice changer was something that I'd started years ago but due to my inexperience, I ballsed it up. Now it's all freshly spanked and fully awesome.
The unit contains 3 Vader samples:
'What is your bidding, my master?'
'Impressive'
and his asthmatic wheeze.
Also there's the voice changing aspect.
It's a bit weird, it does a pitch shift down, but not a full octave, with some slight modulation. It's gritty and dirty and guaranteed to lead you down the path to the Darkside.
The mods are a bit limited. I've added a pitch dial for the samples, which when cranked high will result in a some glitching (although it wouldn't do it for me when I shot the video) and an overdrive dial that affects both the sample and voice effects. There's also a line in for the changer and a line-out for amplification, the speaker is still intact for on the fly sonic Sith noise terrorism and there's 3 LEDs for added ambience.
February 21, 2011 · Posted in
Uncategorized
·
Comments Off

on Deceptikon – Broken Synthesizers
http://deceptikon.net • official Deceptikon music video for "Broken Synthesizers" from the album "Mythology of the Metropolis" out on vinyl now!
video by http://mikrosopht.godxiliary.com
Sure hope they do not get in trouble with George Lucas hehe
February 3, 2011 · Posted in
Uncategorized
·
Comments Off

on Brainwave controlled monotron
Star wars

This is a brainwave controlled synth i made for a mate for his birthday. The frequency of brainwaves is sent from the sensor digitally to the base station, all I have done is mod the monotron to have a cv/gate input and added a few components to the force trainer to output a voltage determined by the brain activity sensed.
Slightly off topic, but since many of you enjoy sci-fi as much as we do

The holographic device plays a 3-inch projection at 15 frames per second, just shy of movie refresh rates of 24 to 30 frames per second, the MIT researchers demonstrated at the Society of Photo-Optical Instrumentation Engineers' conference on practical holography.
The red hologram is jerkier and has much lower resolution than the one in Star Wars that sparked the public fascination with 3-D holograms in the 1970s. In fact, it kind of looks like a red blob on a staticky TV. But it's 30 times faster than a telepresence device created in 2010 by University of Arizona researchers.
"I think it's an important milestone because they were able to get to 15 frames per second, which is almost real time," says physicist Nasser Peyghambarian, who led the Arizona research. "The quality is not as high, but hopefully it will get better in the future."
The key to speed was computational power. The MIT team used a Kinect camera from an Xbox 360 gaming console to capture light from a moving object. Then they relayed the data over the Internet to a PC with three graphics processing units, or GPUs, tiny processors found in computers, cell phones, and video games that render video quickly. The processors compute how light waves interfere with each other to form patterns of light and dark fringes. Light bouncing off these fringe patterns reconstructs the original image. The MIT team used a display to illuminate the computer-generated fringes and create a hologram.
"The students were able to figure out how to generate holograms by using what GPU chips are good at," says Michael Bove, an MIT engineer who led the research. "And they get faster every year. There's room for a lot more understanding of how to compute holograms on them."
Via W
October 14, 2010 · Posted in
Uncategorized
·
Comments Off

on The sound of Star wars
Bluntmation has published a nice video featuring Audio Lead David Collins talking about several aspects of the sound of a scene of "Star Wars: The Force Unleashed II". Also, David directs a pretty cool voice over session, where he makes Nate Burr (Bluntmation blogger) to sound like Darth Vader.
Behind the scenes of Sound design for Star Wars The Force Unleashed 2, In episode 5 of Blunty's Force'Tober, Blunty3000 is In the lucasArts recording studios with David Collins Audio Lead and voice of Proxy, as he takes us through audio design for video games, and even tries his hand at some Darth Vader Voice acting himself!
August 24, 2010 · Posted in
Uncategorized
·
Comments Off

on The mystery behind the sounds of Star Wars finally revealed in a new book
Sound designers, editors, mixers, geeks and Star Wars fans. Our day has come! Ben Burt has presented "The Sounds of Star Wars", a new book written with J. W. Rinzler. Inside the book you'll find all the secrets behind the making of the sound effects of Star Wars, and also includes a sound module with speaker and out connection for playback of 250 different sounds.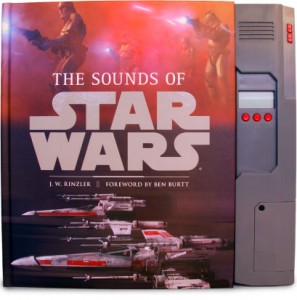 Guests at Celebration V in Orlando were honored with a rare appearance by legendary sound designer Ben Burtt. Burtt should be a familiar name to fans from his iconic work on all of the live-action Star Wars and Indiana Jones films. His accolades include academy awards for A New Hope, Raiders of the Lost Ark, E.T., Indiana Jones and the Last Crusade, and nominations for many more. As panel moderator Pablo Hidalgo puts it, "He's the reason so many of us have high-end surround sound systems in our home theaters."

Burtt came to discuss his latest book project, The Sounds of Star Wars. Written with New York Times best-selling author J. W. Rinzler, Sounds tells the intimate details behind your favorite Star Wars sound effects. From the majestic hum of a lightsaber to the lowly chitter of a Jawa, every effect has a story. This lavishly illustrated tome is more than just a book, it includes a sound module that lets you listen to over 250 original sounds from the Star Wars series in high-quality stereo as you read along.
This book has more than just sounds from the films; it also includes sounds taken from the original recordings that are only available here. It includes all of the growling and snarling recorded for the reptilian bounty hunter, Bossk, most of which was not used in The Empire Strikes Back. Burtt mixed recordings of himself growling into a microphone for most of the effects. "Paul Hirsch, editor on the film, was up to that scene where the bounty hunters are briefed by Vader. He just needed something quickly so I just went down and made that sort of snarly, vomit-producing [growl]."

It's not just the sound designers themselves being recorded, often it's the sound designer's friends and family. After playing a booming, growling sound that reverberated through the auditorium, Hidalgo explained, "That is the sando aqua monster, one of the largest creatures in the Star Wars movies. Where did that sound come from?"

"That's my lovely daughter, Emma," Burtt beamed. "When she was about three months old, she had a growly, little cry. Of course, I recorded it because it was interesting. I thought, 'I have to use this for a monster,' so I slowed it way down to match the size, the mass of the creature. It's a performance, it's her wanting milk… or maybe a diaper change."
Well, more than a must-have for me. What about you? Do you want to get it? If so, It's only $60 and it's available to buy right now at Chronicle Books.
R2D2 PHRASES
Initially, the idea was to record babies and then somehow alter their sounds. But it was hard to persuade babies to perform properly. "Once you put a microphone on a baby, they usually cry, go silent, or fall asleep," says Burtt. "So, out of necessity, I started making the sounds myself. I started imitating babies and babylike noises, and then combining those sounds with the electronic noises that I'd been making."
Burtt spent many lonely days isolated in the sound design basement of Park Way huddled over a warm Movieola, endlessly chopping and splicing 35mm magnetic film into R2-D2 phrases.
"I would close my editing room door and curl up in a quiet corner with the tape recorder and mic and generate baby talk," Burtt says. "I put myself into the mind of an infant and acted out a scene with a droid's intentions. I'd whistle and coo, I would sigh and groan, and at the same time I'd move the oscillators of the synthesizer. But I was periodically interrupted by noisy footsteps on the kitchen floor above my room. In fact, many of the sounds in Star Wars contain low-level footsteps if you listen closely—the refrigerator door opening and closing, plates of cheese puffs being carried off…"
July 30, 2010 · Posted in
Uncategorized
·
Comments Off

on Designing sound for Star Wars
You can see three great minutes of sound designer master Ben Burtt showcasing some of the source material he used the layering of a sound for Star Wars. The video is a part of a rare documentary about John Williams and the music of Star Wars published between 1989-1990.
This is part 3 of a rare documentary made juring the Making of the Empire Strikes Back between 1979-1980. If you consider this the best of the Star Wars films and love the score then this is the holy Grail of documentaries.
July 4, 2008 · Posted in
Electronic Music
·
Comments Off

on Great interview with Ben Burtt
Ben Burtt, he's the sound designer who worked on huge films such as Star Wars, E.T. The Extra-Terrestrial, and Indiana Jones to name a few.
[youtube=http://www.youtube.com/watch?v=7ZRPHp3UxvA]
If a robot falls on a deserted planet, does it still make noise? According to sound designer extraordinaire Ben Burtt, the talent behind the stars of Disney·Pixar's "WALL·E," it most certainly does. And you'd be surprised at how many years of research and development it takes to make every squeak, creak, click, and clank seem so real.
"The assignment was inventing original voices and all the sounds associated with the main characters … mechanisms, movements, force fields. Since WALL·E doesn't use conventional dialogue, I had to convey the story through the types of sound each character made. By providing the illusion that they had feelings, the audience would care about them," Ben explains. With a visual start from preliminary paintings and sketches, he …