Here's a nice new video with the guys from Teenage Engineering:
http://ohdratdigital.com We caught up with David from Teenage Engineering at NAMM2012 to learn about the Teenage Engineering design philosophy, take a look at the new operating system, and learn about how the guys approach creating a synthesiser instrument. We have the OP-1 in the studio right now for testing with the new OS, video coming soon!
Teenage Engineering @ NAMM 2012 – OP-1 OS update
Cyril from MOOG shows off their new MINITAUR @ NAMM 2012
The Oplab Musical Experimental Board allows you to interconnect virtually any electronic musical instruments. And finally it's just plug and play. No more hassle with one box for MIDI and another for CV or a third for USB. Oplab has it all in one place. Just connect your cables, set the appropriate scenario and experience a perfect sync. You could use a mouse to bend pitch, or use an old hard drive as a scratch pad. You can even turn your own body into a musical instrument (great if you are in the business of interpretive dance or you're a stripogram) by wearing the TS-1 sneaker. A sensor attached to the show will trigger when you stomp your foot to the ground, and could trigger a kick drum or any other sample.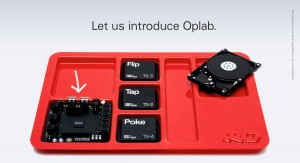 For all of these nifty little ideas, check out the OpLab page on Teenage Engineering's website.
Teenage Engineering OP-1 meets Propellerheads Reason in a very short demo of the OP-1 / Reason control surface functionality.
Working with Reason 6.0.2, OP-1 OS #12234 and newer.
http://www.teenageengineering.com/
http://www.propellerheads.se/
"Just prior to packing all my stuff up ready for my return to London I wanted to try controlling the Buchla from my new Teenage Engineering OP-1 which I bought off Alessandro the other day. Its a beautiful little workstation, and even though it looks like a toy it most certainly is not. I hooked it up to my laptop with the USB cable, then from the laptop out to the Buchla 225e. I'll post more on the OP-1 I'm sure, but for now heres a very abstract 'proof of concept' video"
Seems the guys at Teenage Engineering are hard at work before Winter NAMM, whatever they are doing

"Just a little teaser vid and some glimpses from our workshop/studio."
http://www.teenageengineering.com
Short demo featuring the OP1
Nice attempt to make an entire song just using the OP-1:
Decided to try and sit down and actually create a full song on the OP-1 for once. The result is… OK. I had fun while making it at least! I tried to listen to other music and narrow down how they are composed, for example how long an intro is and where the drum kicks in and how the sounds repeat in a certain way etc. Song is in 140 bpm. All 4 tracks are used to various degree. The pattern for the synths are really really simple but they make a nice effect together. The whole song have the Spring FX on it which I like but I really should use the effect on different sounds instead. Everything you hear is directly from the output of the OP-1.
Thomas White Rocking Kolony SF Oct 8th 2011
"Trying out a drum sample and synthesizer to get that 8-bit music feeling sort of. Kind of works.

I'm going to do some more test on this. All sounds are directly from the OP-1″
OP-1 is the all-in-one portable Synthesizer, Sampler and Controller. With additional features like the FM Radio and an assignable G-Force sensor for motion controlled effects. With OP-1's built-in Tape feature you are able to record everything you do on to the 4 tracks, with overdubbing, reverse recording. 8 built-in synthesizer engines, multiple effects and LFO's. And some really unique sequencers ready to explore.
Connect it to your computer and control your DAW with the common play, stop, rec, forward and rewind. Use the 4 rotary encoders and 8 x 2 dedicated quick keys for fast selections.
Image below? Just a bonus