A short demonstration of the new accessories released for the Teenage Engineering OP-1 Portable Sampling Synthesizer.
Mind you, you still pay for the style – though these are just plastic, that design and packaging will cost you anything between €9 (crank or brickshaft) and €79 for the Soft Case.
More Information
Tryggve Stakkeland is testing out the crank. OP-1 runs through el cap and cathedral. Polar controlling NI The Giant.
—-
soundcloud.com/trygvestakkeland
Presented here is DJ Thomas White's review of the new Teenage Engineering OP-1 Accessories line including:
Brick Knobs
Antenna
Crank
Bender
Screen Protector
Accessory Bag
Unit Portables OP-1 Bag
Thomas provides a brief overview of each item with as much detail as he has at this time. His focus is on packaging, quality and basic application. In depth use and techniques may be presented in future videos.
"I love the bag! Get one now to protect your OP-1 from the elements. Thank you Teenage Engineers and also to you, the viewer for checking out another one of my videos. Happy music making!"
A simple little demo with the Teenage Engineering OP-1 and it's new accessories the Bender and the Crank. There are a lot of things one can do with the Bender and the Crank, and the couple of things here aren't even the most interesting.
The Bender is acting as an "LFO" on the parameters of the Digital synth of the OP-1. The Crank is operating the Endless Sequencer, like a music box.
Screenshot of these quirky little things below: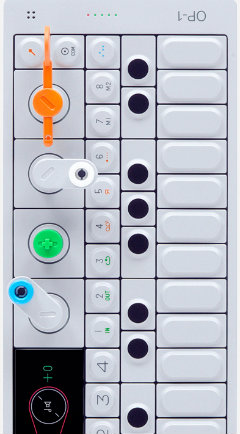 All sounds (including drums, percussions etc.) made with Trogotronic Model 676 Fury M Series and sampled, edited & arranged with Teenage Engineering OP-1. Voice with Qneo Voice Synth on iPhone (thru Trogotronic 676) Mixdown & some edits in Logic Pro.
Like any Trogotronic worth its salt the 676 Fury's functions are not conservative… Meaning, while there are two Main Oscillators, other parts of the circuit can command more complicated frequencies in an intuitive manner. Similarly the Main Oscillators themselves may be applied as filters serving to broaden the utility of the instrument even more so. With regard to BOTH mayhem AND stability 676 Fury's switch settings offer different parameter reactions: Toggles "down" Oscillators & Track navigate pitch black F-5 electron turbulence; Switched "up" same controls "play nice" in crimson livery with accordance to classical form.
The sound? Curiously akin to R. Lee Ermey switching on the kilowatt floods & screaming through an Orange Full-stack set to "11" first thing the morning after an all-night gin bender; i.e. relentless punishment applied to all head-holes within audio range. Add to this the inclusion of 5 CV inputs compatible with sequencers, envelopes etc. and this little box may well become a classic in its own right; "May the Gods save us from this menace; girls and mothers—dress our Fury now in blood-red robes!"
I'm not shure about the sound because I'm not at home & had to mix the track on some cheep iPhone earbuds

Okay – I did this track just 4 fun, messing around with this sick module, thinking the guys from Togotronic still don't know what it's doing – I don't know that too 😀

So let's go noise!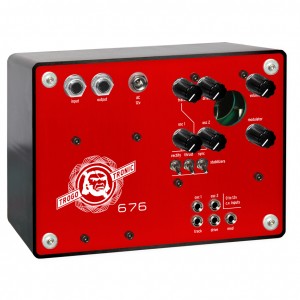 All Analog Circuit
2 Main-Oscillators 
2 Amplifiers
2 Unique Filter/FX parameters (Drive & Modulation) 
Input for use with other audio elements
5 Modular compatible CV inputs for patchable parameter control 
1 Medium Frequency Control Oscillator: Track
3 Stabilizer Switches (on for stability, off for mayhem) 
Slovakian Max. Gain, Twin-Triode Vacuum Tube run at high voltage
New video focusing on the Nitro effects processor is capable of, details below:
Here is a demo of a quick house song I made while checking out what the new "Nitro" effects processor added in the new OS update is all about. Nitro is, or can be, many different types of effects depending on how you set it. As a base description it is a resonant bandpass filter with an envelope follower. You can use it as the following modes:
– Lowpass Filter (sounds like 12db to me)
– Highpass Filter (same sounding slope)
– Bandpass Filter
– Auto Wah
– Sine Generator
The envelope follower affects each filter in a different amount it seems with the Lowpass filter getting more of the frequency sweep (to my ears only, not proven). I am thrilled to finally be able to remove the low end frequencies from patches and particularly audio samples. You could always do this with the main bus EQ, but now you can target specific drum kits and synth engines as you lay them down to tape tracks. This was the single biggest omission from the OP-1 OS for me and now it is here and awesome!
Repeat: I love nitro, I love nitro, I love nitro…
Thank you TE! You continue to amaze with support for this product/platform.
The OP-1 world is continously evolving with new accessories and new OS updates adding more effects and functions for every release. Your OP-1 will always be the best and easiest to use portable wonder synthesizer. Visit http://www.teenageengineering.com/store for more info.
Making some atari arcade sound effects with the Op-1 and schippmann filter. Modular running Cyclebox II and WMD gama wave into two MakeNoise Optomix's all clocked from one plan-b mini-ELF LFO.
OP-1 (Teenage Engineering) – Abelton Live – Basic setup
I'm using a Dell PC (running Windows XP) in this example.
Initially the OP-1 wasn't recognised. It took a connection through a powered USB hub
before I saw it in the system.
Check that Abelton can see it:
In Windows XP it is recognised as a "USB Audio Device"
Options/Properties/….Under midi ports click Track, Sync,remote.
In this demo I sample the OP-1 directly into an Abelton Audio channel.
It's triggered from the midi send channel…. playing Calvin Harris featuring Ne-Yo – "Let's Go".
Thanks to Matt from RhythmActive for the OP-1
http://www.rhythmactive.com.au/
EMS Synthi 100 sequenced by a Teenage Engineering Op-1
@ Otic Sound – http://www.oticsound.com/
Vancouver, British Columbia, Canada
via Kenton (USB-MIDI) to Kenton Pro-Solo (MIDI-CV)