Short demo featuring the OP1
Nice attempt to make an entire song just using the OP-1:
Decided to try and sit down and actually create a full song on the OP-1 for once. The result is… OK. I had fun while making it at least! I tried to listen to other music and narrow down how they are composed, for example how long an intro is and where the drum kicks in and how the sounds repeat in a certain way etc. Song is in 140 bpm. All 4 tracks are used to various degree. The pattern for the synths are really really simple but they make a nice effect together. The whole song have the Spring FX on it which I like but I really should use the effect on different sounds instead. Everything you hear is directly from the output of the OP-1.
Thomas White Rocking Kolony SF Oct 8th 2011
"Trying out a drum sample and synthesizer to get that 8-bit music feeling sort of. Kind of works.

I'm going to do some more test on this. All sounds are directly from the OP-1″
OP-1 is the all-in-one portable Synthesizer, Sampler and Controller. With additional features like the FM Radio and an assignable G-Force sensor for motion controlled effects. With OP-1's built-in Tape feature you are able to record everything you do on to the 4 tracks, with overdubbing, reverse recording. 8 built-in synthesizer engines, multiple effects and LFO's. And some really unique sequencers ready to explore.
Connect it to your computer and control your DAW with the common play, stop, rec, forward and rewind. Use the 4 rotary encoders and 8 x 2 dedicated quick keys for fast selections.
Image below? Just a bonus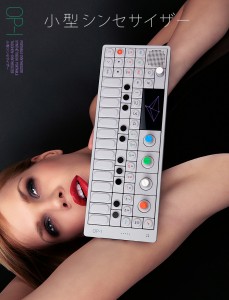 Always nice to here the OP-1 in action:
Decided to try and add 12 seconds from "Scrillex – Kill Everybody" to an drum in the OP-1. Looped one of the sounds in the drum pattern section and that is basically what is playing through the whole beat. Using Spring as effect. I wanted to do some more creative stuff here but … this is just a test.
Here's a new Live rack featuring the OP-1 (price is set to 3USD)
"I have created and sampled ten different presets on my OP-1 synthesizer and placed them into an Ableton Live Instrument Rack. The OP-1 is an amazing synthesizer/workstation and this rack is intended to give a sampling of some of its potential. "
Download @ http://afrodjmac.blogspot.com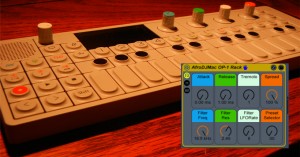 Headphones recommended.
Recorded on a hill near Siena, Tuscany, Italy.
Music composed and played by Gianni Proietti a.k.a. Gattobus using Teenage Engineering OP-1 and Curtis for iPad
Debaser Slussen 12/8/2011. The OP-1:s sequencers were used extensively throughout the show.
Here's a nice review of the OP-1:
Firstly, you'll be surprised at how well built this is – CNC machined case (think unibody) massively over specified buttons and four, rotary encoders (industrial grade avionics quality) and a gorgeous AMOLED 360×120 LCD display.

The 24-key keyboard is just switches (think well built nanoKey) and does not transmit velocity, but the synth will respond to it via MIDI over USB. A tiny but surprisingly loud built-in speaker as well as stereo output, built in mic and line in complete the connections. The unit is battery powered, with up 16hrs from this non user removable Li-ion cell. Charging is handled via USB.

What Is It?
So the Teenage Engineering OP-1 (Operator 1) is a synth  wirth up to 6 voices, with eight synthesis engines which can played one at a time – its monotimbral.
Synth Engines:

Cluster – Multi layered oscillator cluster
Digital – True digital synthesis
String – Waveguide String Model
Pulse – Dual Pulsetrain Oscillator
FM – Four operator FM synthesis
Phase – Phase Distortion
Dr Wave – Frequency Domain Synthesis
Synthesizer Sampler Engine – Teenage Sample Player

Each engine has a single VCA envelope ADSR, single effect and an LFO for routing and modulation – sources include – LFO, FM radio – yes there is one built in, and G sensor – that's gravity – shake it and modulate baby.
Tiny OP-1 review (kind of):
The Op-1 arrived a couple of days ago, I wanted to experiment a lot more, but I ended up getting caught making a track straight off the bat. Great fun! The voice was sampled from the internal radio.
Goods:
Easily playable, intuitive, great interface, recording, looping, fm radio for sampling, super fun and addictive, amazing tech squeezed in (that's why its so heavy I guess).
Not so good:
No midi clock sync, crashes a _TON_ when doing tape edits (although it boots back up with no loss, just takes time and funks up the workflow), faint but audible high pitch noises.
Verdict:
I love it!