September 9, 2012 · Posted in
Uncategorized
·
Comments Off

on Trogotronic Noise (Trogotronic model 676 & Teenage Engineering OP-1)
All sounds (including drums, percussions etc.) made with Trogotronic Model 676 Fury M Series and sampled, edited & arranged with Teenage Engineering OP-1. Voice with Qneo Voice Synth on iPhone (thru Trogotronic 676) Mixdown & some edits in Logic Pro.
Like any Trogotronic worth its salt the 676 Fury's functions are not conservative… Meaning, while there are two Main Oscillators, other parts of the circuit can command more complicated frequencies in an intuitive manner. Similarly the Main Oscillators themselves may be applied as filters serving to broaden the utility of the instrument even more so. With regard to BOTH mayhem AND stability 676 Fury's switch settings offer different parameter reactions: Toggles "down" Oscillators & Track navigate pitch black F-5 electron turbulence; Switched "up" same controls "play nice" in crimson livery with accordance to classical form.
The sound? Curiously akin to R. Lee Ermey switching on the kilowatt floods & screaming through an Orange Full-stack set to "11" first thing the morning after an all-night gin bender; i.e. relentless punishment applied to all head-holes within audio range. Add to this the inclusion of 5 CV inputs compatible with sequencers, envelopes etc. and this little box may well become a classic in its own right; "May the Gods save us from this menace; girls and mothers—dress our Fury now in blood-red robes!"
I'm not shure about the sound because I'm not at home & had to mix the track on some cheep iPhone earbuds

Okay – I did this track just 4 fun, messing around with this sick module, thinking the guys from Togotronic still don't know what it's doing – I don't know that too 😀

So let's go noise!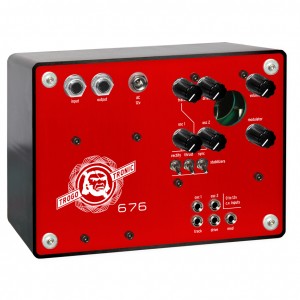 All Analog Circuit
2 Main-Oscillators 
2 Amplifiers
2 Unique Filter/FX parameters (Drive & Modulation) 
Input for use with other audio elements
5 Modular compatible CV inputs for patchable parameter control 
1 Medium Frequency Control Oscillator: Track
3 Stabilizer Switches (on for stability, off for mayhem) 
Slovakian Max. Gain, Twin-Triode Vacuum Tube run at high voltage
September 3, 2012 · Posted in
Uncategorized
·
Comments Off

on OP-1 Demo House Track feat Nitro FX
New video focusing on the Nitro effects processor is capable of, details below:
Here is a demo of a quick house song I made while checking out what the new "Nitro" effects processor added in the new OS update is all about. Nitro is, or can be, many different types of effects depending on how you set it. As a base description it is a resonant bandpass filter with an envelope follower. You can use it as the following modes:
– Lowpass Filter (sounds like 12db to me)
– Highpass Filter (same sounding slope)
– Bandpass Filter
– Auto Wah
– Sine Generator
The envelope follower affects each filter in a different amount it seems with the Lowpass filter getting more of the frequency sweep (to my ears only, not proven). I am thrilled to finally be able to remove the low end frequencies from patches and particularly audio samples. You could always do this with the main bus EQ, but now you can target specific drum kits and synth engines as you lay them down to tape tracks. This was the single biggest omission from the OP-1 OS for me and now it is here and awesome!
Repeat: I love nitro, I love nitro, I love nitro…
Thank you TE! You continue to amaze with support for this product/platform.
August 29, 2012 · Posted in
Uncategorized
·
Comments Off

on Teenage Engineering – OP-1 Accessory Demo
The OP-1 world is continously evolving with new accessories and new OS updates adding more effects and functions for every release. Your OP-1 will always be the best and easiest to use portable wonder synthesizer. Visit http://www.teenageengineering.com/store for more info.
August 6, 2012 · Posted in
Uncategorized
·
Comments Off

on Op-1-Atari Arcade
Making some atari arcade sound effects with the Op-1 and schippmann filter. Modular running Cyclebox II and WMD gama wave into two MakeNoise Optomix's all clocked from one plan-b mini-ELF LFO.
August 3, 2012 · Posted in
Uncategorized
·
Comments Off

on OP-1 as a control Surface for Abelton – Basic Setup
OP-1 (Teenage Engineering) – Abelton Live – Basic setup
I'm using a Dell PC (running Windows XP) in this example.
Initially the OP-1 wasn't recognised. It took a connection through a powered USB hub
before I saw it in the system.
Check that Abelton can see it:
In Windows XP it is recognised as a "USB Audio Device"
Options/Properties/….Under midi ports click Track, Sync,remote.
In this demo I sample the OP-1 directly into an Abelton Audio channel.
It's triggered from the midi send channel…. playing Calvin Harris featuring Ne-Yo – "Let's Go".
Thanks to Matt from RhythmActive for the OP-1
http://www.rhythmactive.com.au/
August 3, 2012 · Posted in
Uncategorized
·
Comments Off

on EMS Synthi 100 sequenced by a Teenage Engineering Op-1
EMS Synthi 100 sequenced by a Teenage Engineering Op-1
@ Otic Sound – http://www.oticsound.com/
Vancouver, British Columbia, Canada
via Kenton (USB-MIDI) to Kenton Pro-Solo (MIDI-CV)
July 4, 2012 · Posted in
Uncategorized
·
Comments Off

on Dataline Improvising on Machinedrum + OP1
Follow it here:
Facebook : http://www.facebook.com/Project.Dataline
Soundcloud : http://www.soundcloud.com/dataline
Download music : http://www.dataline.bandcamp.com
July 2, 2012 · Posted in
Uncategorized
·
Comments Off

on orangePeels : Beatsurfing / Teenage Engingeering op1 / Machinedrum
Checking out the Beatsurfing app:
New set up test three. Now that other gear can be used in conjunction with the op1, I was able to try out a new midi controller app for the iPad : Beatsurfing.
Imho, its the best 'build a midi controller' app that has been made so far. It is designed in a way that is more conducive to working with a PC and software synths, however, there is still a lot that can be done in an all hardware setup like mine.
This video shows a template I have created. In this test of the app, I chose to try and keep it simple with focus on being musical rather than create a complex setup where I tend to lose the music along the way.
June 25, 2012 · Posted in
Uncategorized
·
Comments Off

on Teenage Engineering OP-1 cover of Daniel Miller's "Warm Leatherette"
A cover of warm leatherette by the normal put together on a teenage op1.
"Warm Leatherette" was released as the B-side to "T.V.O.D.", the only single by Miller's musical project The Normal. It was the very first release on his Mute Records label, and an early example of the then-burgeoning industrial music genre. The lyrics of the song reference J.G. Ballard's controversial 1973 novel Crash.
Miller plays a series of sawtooth waves on a $150 Korg 700S synthesizer. It was recorded in his apartment using 2 ReVox B-77 tape machines. With 'Mute 1' written on it, it sold thirty thousand copies
And here's the original version:
"O.K HERES A PUZZLE, THE NORMAL,ROBERT RENTAL BECOMES DANIEL MILLER.
THERE WAS NO VID FOR THIS SONG,SO I MADE ONE UP FROM A LIVE CLIP FROM WHEN DANIEL MILLER GIGGED WITH ROBERT RENTAL AS THE NORMAL,THIS WAS THE ONLY SINGLE FROM THE NORMALSO ENJOY."
May 23, 2012 · Posted in
Uncategorized
·
Comments Off

on Teenage Engineering OP-1 Demo
Demonstration video of the Teenage Engineering OP-1 portable synthesizer by Nigel Mullaney & Ray Sherwin from Mazmoneth.