A quick tutorial how to timestretch a loop on the OP-1, it is a bit of a hack but works quite well in a lo-fi way, here is how it works, the value LFO is assigned to loop direction, with a fast speed the tempo will change without affecting the pitch, seems to work best with vocals or beats. Enjoy!
Teenage Engineering introduced an update to the OP-1 at Frankfurt with various new features.
Details:
Get ready for the new OP-1 OS. This time we´ve focused on instant fun. Yet, under the cute surface there´s some serious research and development to make your OP-1 even more intuitive and inspiring. So don't get shocked by the kooky gorilla drummer or the ol´skool drum synthesizer, because we are serious about making music more amusing than ever before.
You asked for more sequencer patterns. You got it. You've had wet dreams about instant fill-ins? You got that to. Chaining patterns? Check. Add a truly inspiring visual interface on top and you get the Finger sequencer. Now you have 14 polyphonic patterns that you can chain, mix and replace at your fingertips. Everything in perfect sync. Super easy to use and more fun than ever. It's almost like a musical auto-pilot!
The Finger sequencer has a 32 step pattern per key. And every pattern is polyphonic which means you may enter a complete melody on every single key. A pattern has an adjustable length that lets you play a 4 step sequence on one key and a 32 step sequence on another.
Even the graphics change between synthesizer and drum mode.
As a part of making connectivity even more fun, we've added a quadruple MIDI Modulator/LFO. Now you can modulate four params at the same time by using external controllers over MIDI. A perfect companion to our Oplab Musical Experimental Board.
The OP-1 Controller mode now integrates out of the box with Propellerhead's Reason 6.0.2. The Remote protocol is hooked up and ready to use.
Introducing a completely new drum Synthesizer based on two multi-shaped oscillators, a filter and a source mixer. With double envelopes you have the choice to shape any percussion sound, from hi-hats to kicks and snares all the way to fat bass sounds.
The perfect compliment to the Drum Sampler, mix up you beats with unique Drum Box synthesized sounds.
Create a full range of drum sounds from just eight parameters.
You travel. You have your OP-1 in your bag. Need to kill some time, right? As a part of the new OS update we included the game "ChopLifter". You control your little helicopter by turning the four colored knobs. Use the wire and clamp to lift up things and transport them around the game world.
You have to figure out the magic key-combo to launch the game. Good luck, you'll need it.
It's a pretty darn hard game.
http://ohdratdigital.com The Teenage Engineering OP-1 is a synth, sampler, and virtual four track tape recorder all in a chassis that looks akin to a classic home synth instrument – the Casio VL Tone looks like it might have been a big design inspiration. In our epic review we go through our likes and dislikes about the instrument, show you some sounds, and show off a beat we made by performing it live.
Here's a nice new video with the guys from Teenage Engineering:
http://ohdratdigital.com We caught up with David from Teenage Engineering at NAMM2012 to learn about the Teenage Engineering design philosophy, take a look at the new operating system, and learn about how the guys approach creating a synthesiser instrument. We have the OP-1 in the studio right now for testing with the new OS, video coming soon!
Teenage Engineering @ NAMM 2012 – OP-1 OS update
Cyril from MOOG shows off their new MINITAUR @ NAMM 2012
The Oplab Musical Experimental Board allows you to interconnect virtually any electronic musical instruments. And finally it's just plug and play. No more hassle with one box for MIDI and another for CV or a third for USB. Oplab has it all in one place. Just connect your cables, set the appropriate scenario and experience a perfect sync. You could use a mouse to bend pitch, or use an old hard drive as a scratch pad. You can even turn your own body into a musical instrument (great if you are in the business of interpretive dance or you're a stripogram) by wearing the TS-1 sneaker. A sensor attached to the show will trigger when you stomp your foot to the ground, and could trigger a kick drum or any other sample.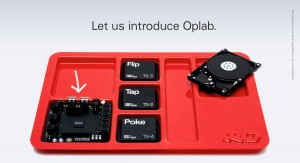 For all of these nifty little ideas, check out the OpLab page on Teenage Engineering's website.
Teenage Engineering OP-1 meets Propellerheads Reason in a very short demo of the OP-1 / Reason control surface functionality.
Working with Reason 6.0.2, OP-1 OS #12234 and newer.
http://www.teenageengineering.com/
http://www.propellerheads.se/
"Just prior to packing all my stuff up ready for my return to London I wanted to try controlling the Buchla from my new Teenage Engineering OP-1 which I bought off Alessandro the other day. Its a beautiful little workstation, and even though it looks like a toy it most certainly is not. I hooked it up to my laptop with the USB cable, then from the laptop out to the Buchla 225e. I'll post more on the OP-1 I'm sure, but for now heres a very abstract 'proof of concept' video"
Seems the guys at Teenage Engineering are hard at work before Winter NAMM, whatever they are doing

"Just a little teaser vid and some glimpses from our workshop/studio."
http://www.teenageengineering.com
Short demo featuring the OP1