Background info:
Here is an awesome computer mod that I have been working on for the last four months. I built this computer mod to appeal to DJ's and music artists. I call it DJ SOUND CONTROL or DSC for short.
I made it as compact as possible, but not too small that you could not be comfortable performing a set. I added a powerpack that allows true portability, giving you a full hour of power without plugging it in.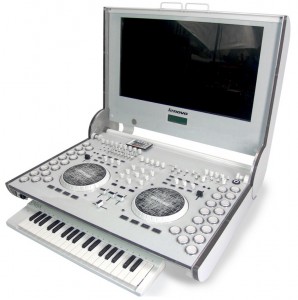 With the 23″ touch screen the performance can now include finger gestures and multitouch controls. Crazy RGB backlit panels makes sure your party keeps hoppin' through the night. Cutting edge DJ hardware, like the Midifighter that has been customized to put super fresh effects right at the fingertips of both your right and left hands, will make this a musical game changer. Built in Meeblip digital synth controlled by the optional slide out keyboard will let you rip off an amazing bass solo or dub step routine.
On board effects from the Alesis NanoVerb give you instant overall expression of the multiple outs. And the meat and potatoes customized Numark Mixtrack gives you all the standards that every DJ needs to stylize their set. With tough Lexan custom CNC machined panels and high strength aluminum frame this box is ready to travel around the world with you no matter where and how you perform.
See Blarsky's site for more info!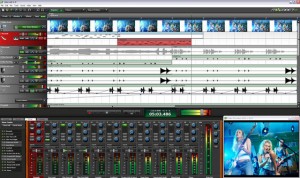 Acoustica has announced the release of Mixcraft 6, the latest version of the powerful music production and multi-track recording workstation that comes packed with thousands of music loops and dozens of audio effects and virtual instruments.
Mixcraft enables you to record audio, arrange loops, remix tracks, compose with MIDI and virtual instruments, add effects, score and edit video, and mix and master your tracks to create polished, professional compositions.

Mixcraft is your music production dream come true, instantly turning your computer into a fully-stocked professional recording studio.
New in Mixcraft 6
New interface & artwork.
Over 6,000 loops in version 6.
Major improvements to MIDI editing, piano roll.
Submix tracks for grouping tracks together.
Multiple lanes for tracks (including multiple MIDI channels).
Improvements to loop library including loop importing & search.
Loop recording mode with multiple takes.
Video transitions, automation, text & titles, still image importing.
Built-in guitar tuner on every audio track.
New virtual instruments (ComboV & ComboF organs, Acoustica Studio Drums).
Improved quantize and other new MIDI Editing tools.
Reverse audio clip feature.
Drum maps in the piano roll interface.
Control surface support for transport & plug-in controls.
Support for VSTs with multiple outputs.
ReWire support.
Output busses.
Route MIDI track data to audio plug-ins.
Live automation recording.
Option to mix down all individual tracks for exporting project to another DAW.
Insert/Remove time from project.
Ability to draw selection in the time-line (to select data in all tracks).
Improved time signature support.
Effect chain presets.
Phase reverse option on audio clips.
Faders & meters now logarithmic when in dB mode, MX6 now defaults to dB mode.
New project folder helps to keep your recordings organized.
Backup file created every time a project is saved.
Auto-rewind to playback start preference added (on by default).
Ability to arm MIDI tracks for a specific MIDI device.
Mixcraft for Windows is available to purchase for $74.95 USD.
THE TRINITY
Korg Trinity Pro-X 88 Keys Music/Video Demo by Ares Kalogeropoulos. Korg Trinity is a commercially successful synthesizer music workstation released by Korg in 1995. It was also the first workstation to offer modular expansion for not only sounds, but also studio-grade feature such as SCSI, ADAT, various sound engine processors, audio recording capability, and more. It was considered one of the most comprehensive music workstations, in term of features, at the time. It is affectionately referred to as the silver beast by many of its owners.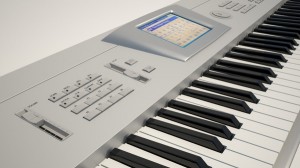 The Trinity workstation features a massive set of effects (100 Insert effects & 14 Master effects), a large graphic touchscreen (320×240) and a complete 16-track sequencer, as well as double sound generation system:
ACCESS (Advanced Control Combined Synthesis System). A PCM-based sound synthesis with 16 bit – 48 kHz PCM playback on a 24Mbyte ROM. However, since 2:1 data compression has been used, these are equivalent to 48Mbyte of samples held in conventional RAM. The PCM data includes well over 1,000 individual samples comprising 374 multisamples.
MOSS (Multi-Oscilator Synthesis System). The sound generation system of the Korg Prophecy and Z1 with: analogue modelling, VPM (Korg's version of FM synthesis) and physical modelling (brass, reed, plucked string, bowed string, organ, electric piano modelling)
Along with the Korg Prophecy, the Korg Trinity synthesizer was a descendant of the original OASYS synthesizer, an acronym for Open Architecture Synthesis System, which was a mega-synth prototype that the company previewed in 1994 but never marketed. The foundation of the system was an open concept DSP system where the OS could load various unrelated models of different synthesis and physical modelling sound generators. It was a multiple digital signal processor (DSP) architecture, with the entire system clocking in at over 900 million instructions per second. Korg later adapted some of the core technologies and released three initial products: Trinity, Prophecy and Wavedrum.
All Sounds/patches made with Korg Trinity.
Multitrack Recording on a DAW.
Software Reverb and Delay added.
Here's the pitch form Akai:
SynthStation49 is the most advanced, intuitive music controller designed specifically for use with the iPad and is the first true iPad performance tool for musicians. Working seamlessly with Akai Professional's heralded SynthStation software, SynthStation49 provides unparalleled music creation capabilities, including direct in-app MIDI recording from its velocity-sensitive keyboard, nine MPC-style drum pads and array of transport controls. In addition to its integration with the SynthStation app, SynthStation49 is also completely iOS CoreMIDI compatible, making it instantly compatible with dozens of music apps already in the App Store and hundreds more on the way.
http://www.akaipro.com/synthstation49
Additional information:
Dock, power and position the iPad perfectly using the adjustable-angled cradle, or establish commanding control over your favorite computer software using SynthStation49's USB/MIDI port. Professional ¼" outputs and extreme portability ensure you'll be able to take your sequences straight to the stage at a moments notice.
SynthStation49 is the only full-featured, professional keyboard controller allowing direct MIDI performance recording onto an iPad. Bridging Akai Professional's popular MPK controllers with the previously released SynthStation25, SynthStation49 provides immense software control with forty-nine, full-size velocity-sensitive keys, nine backlit MPC-style drum pads and full transport buttons. An adjustable-angled dock for iPad allows the user to easily slide their tablet into the SynthStation49's cradle and position the screen to their preference.
SynthStation49's keyboard, pitch/modulation wheels and sustain pedal input provide great feel and the essential controls for musicians and producers to compose, record and perform. The nine drum pads of SynthStation49 give users immediate, intuitive beat-creation capabilities over the 50 classic and modern kits available within the SynthStation software. Program, Sequence, Song select and Transport buttons also provide quick navigation to the SynthStation App's most used components for a seamless, efficient workflow.
SynthStation49 also contains a stereo pair of professional ¼" TRS outputs with volume knob for easy connecting to other pro audio equipment on stage or in the studio. A headphone output also lets users practice and compose in private. The SynthStation49's USB port can be connected directly to a Mac or PC computer to receive power in addition to transmitting MIDI to and from music software – a great way to turn the SynthStation App or other CoreMIDI compatible App into a sound module. You can even use SynthStation49 as a traditional USB MIDI controller with your computer – no iPad required!
AkaiConnect SDK allows third-party developers to take advantage of all the professional controls and capabilities of Akai Pro's SynthStation49 keyboard controller and incorporate support for those controls within their iPad applications. Software developers interested in creating programs compatible with SynthStation49 can submit an application now at SynthStationApp.com.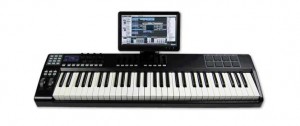 Music Computing has announced its new ControlBLADE Gen2 line of all-in-one music keyboard production stations. Priced from $1,899, the company says that the line represents a new standard in value and performance.
Victor Wong, CEO, Music Computing, told us,, "At Music Computing, we strive to bring the latest technologies to our users. The release of the new ControlBLADE Gen2 models reinforces that fact and our commitment to being the very best at what we do."
Here's the details in Music Computing's own words…
ControlBLADEs are all-in-one music production stations complete with piano keys, drum trigger pads, knobs, sliders, thousands of sound presets and software for live and studio use. They allow users to compose, record, mix, and master songs that are ready for radio or direct Internet distribution.
The new Gen2 ControlBLADEs are powered by high-performance computer cores utilizing Intel® Core i-series® third-generation (Ivy Bridge) processors that are perfect for today's demanding musicians and the virtual instruments and software application they use. Options include i5 and i7 quad core versions. The Windows 7 (64-bit) operating system is pre-configured for music production and can run virtually any software application or plug-in. Capable of running over 500 plug-ins at once, sequencing thousands of tracks simultaneously, and storing millions of sound presets, the ControlBLADE packs a serious punch for the money.
ControlBLADEs are also available for Mac OS X, which are powered by the latest Mac® mini from Apple®. Both i5 and i7 processor options are also available as well as a variety of RAM, hard drive, SSD drive, and other upgrades.
The ControlBLADE is available as 25-Key and 61-Key models. About the same size as a typical keyboard controller and weighing only 22-lbs (61-key) / 13-lbs (25-key)…FULLY LOADED, the ControlBLADE brings true portability to the keyboard production station world.
New with the Gen2 models is the option for the ProTouch™ piano keybed. The new ProTouch keybed brings higher levels of playability and better feel to the ControlBLADE line via high quality semi-weighted keys with after-touch. The optional upgrade is priced at: $199.
ControlBLADEs all come with built-in Wi-Fi standard. This mean the user can be online anywhere there is a hot spot. Send and retrieve files, log into remote servers, collaborate with others, or download new software and sounds directly into the ControlBLADE. Users now have the freedom to create virtually anywhere they like.
Upgrades for Gen1 models to the new Gen2 versions are available.
Pricing and Availability:
See website.
More information:
Detune has released iYM2151, a new iPad music app that they describe as 'the world's first FM synthesis music workstation'.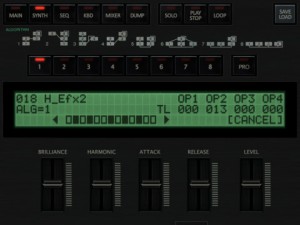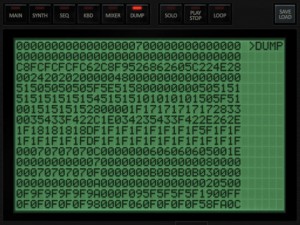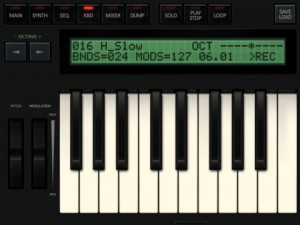 Here's what they have to say about iYM2151:
YM2151, aka OPM, is a single-chip FM synthesis implementation, an eight-channel four-operator sound chip. it was used in many 80′s arcade games and home computers.
iYM2151 is the The world's first FM synthesis music workstation app, using YM2151 simulator engine for iApp.
iYM2151 not only tries to recreate the 80′s FM sound, but it also recreates the experience of working with an 80′s FM interface.
Features:
uses YM2151 simulator engine for iApp
4 operators per 8 Algorithms
8 voices
3 software LFOs
max 99 scenes (1scene with 64 steps)
easy FM edit mode
MML mode : programable huge FM parameters in every steps
DUMP mode : realtime all FM operator parameters viewer
song data file sharing and mail attachment
80′s design user interface
Pad app for controlling symbolic sound corporation's Kyma sound design software for Mac. http://ipadloops.com/kyma-controller-app-for-ipad/
Kyma Control is the Swiss-army-knife of controllers for the Kyma Sound Design Workstation, providing four of the most popular Kyma controller-modes in one, wireless multi-touch package: a bi-directional mirror of Kyma's Virtual Control Surface, a multi-touch pen/tablet controller, a standard and a Tonnetz keyboard, accelerometer controls, and compass heading for using direction as a control.

For use in the studio, on stage, in the lab, at home, or in classroom, Kyma Control frees you from having to sit in front of your laptop; put yourself inside the sound field and perform your Sounds in an expressive, intuitive manner using your hands and gestures.

What's New in Version 1.1.1

This version adds support for two dimensional faders, and buttons and switches with distinct on and off labels. The standard and Tonnetz keyboards are now on separate tabs, the keyboard range indicator now includes keyboard rounding mode selector, and the Volume control faders are now longer. This version is compatible with iOS 5.

FEATURES

• Auto-mapping, bi-directional multi-touch mirroring of Kyma's Virtual Control Surface (VCS)
• Pen/tablet surface tracking as many as 11 fingers with color trails to help you track finger position
• A keyboard for sending !KeyDown and either continuous or discrete values for !KeyPitch & !KeyTimbre
• A Tonnetz pitch-space with configurable vertical and horizontal intervals
• Pitches can be rounded to equal tempered pitch, rounded only on !KeyDown and continuously variable after that, or, in Strum-mode, triggered when your finger passes by the key
• Trigger or control Sounds with the iPad's accelerometer measurements in the X, Y, Z directions, as well as controls corresponding with Pitch, Roll and Yaw
• Compass heading from the iPad's magnetometer tells you which way the iPad is pointing so you can use it for panning and other controls

REQUIREMENTS

• iPad
• Symbolic Sound Kyma X.77 (or newer) with Paca(rana) Sound Computation Engine
• WiFi connection to network accessible to the Paca(rana)

KymaControl is available for $14.99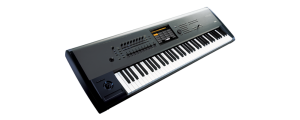 Korg is pleased to announce the availability of many diverse expansion libraries and sample sound libraries for the Korg Kronos Music Workstation, including the EXs13 Jazz Drums Expansion Kit, the EXs11 Legendary Strings Expansion Library, and two series by KARO, a sound design team based in Germany who has been producing high-quality sounds for Korg workstations for several years (including the OASYS and the M3). Korg welcomes KARO as the first third-party KRONOS sound developer.
EXs13 Jazz Drums Expansion Kit
This expansion kit for the Jazz Ambience Drums is included in the Korg Kronos presets, and contains approximately 1GB of PCM samples, 48 programs and 12 drumkits. The unique collection focuses on unique drum and percussion sounds created using a variety of techniques including mallets, brushes, and multi-rods. All sounds are easy to use, and will set off other instruments to their maximum advantage. Substituting these sounds on an existing drum track will also offer a dramatic difference through changing stick sounds.
EXs11 Legendary Strings
This collection delivers approximately 2.5GB of PCM samples and 128 Programs, for a wide vocabulary of string sounds. Choose from solo performances created on coveted instruments such as a Stradivarius, to the sound of a full orchestra. In addition to samples of individual performance techniques such as trill, vibrato, and pizzicato, the collection also includes ensembles offering differing numbers of players, providing everything needed for meticulous production work. Large samples allow the nuances of the performances to be captured, completing this ultimate collection of string sounds.
EXs11 will be Available for download in late April, for a special price of US $249 (regular price is US $299).
EXs13 and EXs11 can be downloaded and purchased at the Korg Web Shop: www.korg.com/kronos/SoundLibraries
KARO's EXs Expansion Sample Series libraries span a wide variety of instruments and genres, including orchestral instruments and ensembles, vintage keyboards, ambient soundscapes, and much more. Along with Programs, Combis, and Drum Track patterns, these libraries include varying amounts of PCM data, which is played back directly from KRONOS' internal solid state hard drive.
KARO's KRS Professional Sound Series libraries are collections of Programs, Combis, and Drum Track patterns that collectively take advantage of every synthesis engine within KRONOS. These large collections of synthesizer sounds, organs, dance grooves, and Wave Sequences each have at least 128 Programs; most have much more.
Free demo versions of the EXs libraries can be downloaded; purchasing an authorization code from the secure Korg Web Shop unlocks full access to the libraries. Please see Korg.com for download/installation system requirements, along with sound demos.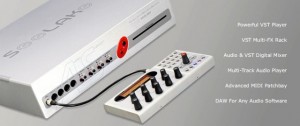 The Seelake AudioStationis a all-in-one audio workstion, combining a powerful CPU, multiple audio and MIDI inputs and outputs and microphone preamplifiers in one device. AudioStation can be used in many situations both live and in the studio, thanks to the integration of a powerful CPU, multiple audio and MIDI inputs and outputs, microphone preamplifiers and an operative system expressely built and tailored for real-time audio signal processing and compatible with every audio application written for Windows.
AudioStation functions:
Powerful Multi-Instrument VST Player
VST Multi-FX Rack
Advanced MIDI Patchbay
Performance Digital Audio Recorder
VST and audio Digital Mixer
Multi-Track Digital Audio Player
Main features:
Powerful processor
Large RAM memory
1 or 2 large hard disks
DVD writer
Main Operative System expressely built and optimized for audio signals, based on Microsoft Windows kernel and compatible with any musical application written for Windows.
AudioStation software Audio and VST Mixer-Host integrated in the operative system.
Completely independent additional operative environment, to use AudioStation like a traditional computer for word processing, graphics, web or any other, with no risk to the AudioStation audio/musical functionality.
operative environment for the maintenance of the device, where users can: restore factory defaults; clone installations into the (optional) backup hard disk and vice versa; wipe the file system in case of shocks or free falls
Audio system with 10 I/Os and high quality converters
MIDI system with 8 I/Os and ultra precise timing
Live Control remote controller for controlling AudioStation in live performances with no need for monitor, keyboard nor mouse
Specifications below. See the Seelake site for details.
Features
CPU:
Quad-core latest generation processor (updateable)
4 GB RAM Memory
1TB SATA 3 Hard disk, 7200 RPM (updateable)
Dual layer DVD writer, with slot-loading mechanisms
PS/2 connector for PS/2 keyboard and mouse (not included)
3 Video connectors for hooking up 1 or 2 displays (not included):

1 D-Sub 15 for VGA connections
1 DVI-D for digital monitor with resolution up to 1920×1200 (DVI to VGA adapter not supported)
1 HDMI for digital monitor with resolution up to 1920×1200

6 USB connectors:

4 USB 2.0 type (USB 1.1 compatible)
2 USB 3.0 type (USB 2.0 compatible)

RJ45 connector for Gigabit LAN.
Optionals:
1TB or 2TB Backup hard disk, can be used in case of fault of main hard disk (must be factory installed)
2TB main hard disk (must be factory installed)
256 GB or 500 GB Solid State Disk (SSD) (must be factory installed)
Audio/MIDI System:
4 high quality microphone preamplifiers (in analog inputs 1-4), each one with:

Adjustable gain over 60dB
Signal and clip LED
48V Phantom power with activity LED

8 analog inputs:

Inputs #1-2 with combo connector XLR+TRS 6.3mm jacks
Inputs #3-4 with combo connector XLR+TS 6.3mm jacks
Inputs #5-8 with TS 6.3mm jacks

8 analog outputs with 6.3mm TS jacks
+4dBu/-10dBV signal level can be adjusted via software individually, for inputs and outputs
Stereo digital coaxial S/PDIF input
Stereo digital coaxial S/PDIF output
Word Clock I/O for sample-accurate syncing of external digital audio devices
8 MIDI I/Os (2 I/Os on front panel and 6 I/Os in rear panel), 128 MIDI input channels and 128 MIDI output channels
LiveControl safe connection plug
Live Control:
Alpha-numeric backlighted 2×20 characters display
10 encoders:

9 endless rotative
1 endless rotative with push

22 enlighted buttons
Main unit safe connection plug
CyberStep presents their standalone portable audio workstation, KDJ-ONE at NAMM 2012 in Anaheim, California.
Features:
The KDJ-ONE is a mobile audio workstation with synthesizer, sequencer, and audio capabilities.
Compact size and battery allow it to be carried and used anywhere.
WLAN support enables quick and wireless integration into any existing production environment.
Multi-touch screen, keypad, and jog dial.
ACIDized WAV support allows time stretching/pitch shifting of audio clips.
Internal synthesizer can also be accessed via external software as a VSTi.
Sonic vibrator
The KDJ-One is priced at $799 without WIFI or $829. Which seems pretty high, but none of our gear came with a sonic vibrator, either.
Check out the details and let us know what you think of the KDJ-One.
Hardware Specifications
CPU - Intel ATOM E640 1.0GHz
Display - 5.0 inch WVGA (800×480) with Multi-Touch Panel
Main Memory -512MBytes
SSD - 4.0GBytes
External Storage - microSD, USB Memory
Battery - Lithium ion battery 2000mAh x 2
Connection - USB 2.0 host x 2, slave x 1, wireless LAN
Audio I/O - Mic/Line in, Line out, Built-in mic
Speaker - 0.5W (0.25W+0.25W Stereo) 120Hz – 20,000Hz, QW Body Sonic Vibrator
Synthesizer
Max. Polyphony - 64 voices
Waveform Memory - 14 MB (Extendable)
Waveform - 240 Types (Multi-Layered)
Oscillator - 2 Units 10 algorithms
Filter - 7 Types
Modulator - 4 Units, 10 Algorithms (Correspondence to Step Modulator)
Num. of Programs - Preset: 200 Voices, 100 Drum Kits, 100 Audio Clips
Max. Audio Volume - 1GB Per Project
Effects - 20 Types, 2 Systems for Each Track, and Master Effect
Sequencer
Tracks / Pattern - 6
Patterns / Song Play - 4
Resolution - 384tick / Quarter Note
Tempo - 40 – 400
Recording Mode - Loop (Real Time) Recording, Step Recording
Score Editing Mode - Piano Roll
Pattern Length - 999 Measures
Song Length - 9,999 Measures
Number of Patterns - 999 Per Project
Number of Songs - 99 Per Project
Data / PC Link
Read - WAV (ACID Format), OggVorbis
Write - WAV (ACID Format), OggVorbis, SMF
DAW Plug-in - VST-i, Audio Unit
OS - Windows XP/Vista/7, Mac OS X 10.5 or later