Information has leaked out about a couple of new workstations from Yamaha, the MX49 and MX61.
Here are features (unofficial) for the Yamaha MX49 & MX61:
49 and 61 keys (MX49/MX61)
Over 1.000 voices from MOTIF XS
128 maximum polyphony
VCM effects
999 arpeggios
4 knobs
Ultra compact and lightweight
Stereo Aux
Audio and MIDI USB interface
Software YC-3B and HALion SE
MIDI IN / OUT
If the rumored pricing is correct, the MX 49 and MX 61 could be very competitive:
Yamaha MX 49 – 499 euros = 402 British pounds sterling
Yamaha MM 6 – 444 euros = 358 British pounds sterling (£337.00 at one dealer)
Note: This is unofficial information. Actual specs, availability and pricing are TBA.
Korg announces the availability of seven additional expansion libraries and sample sound libraries for the Korg Kronos Music Workstation. These expansion libraries include: EXs64 KARO Ethno World and EXs67 KARO Upright Piano by KARO, as well as new titles from Korg's newest third party sound developers, Irish Acts and Kid Nepro. New titles from Irish Acts include: EXs90 Kronos Assault, and new Kid Nepro titles include EXs80 Vintage Synths, EXs 82 Hit Factory, KRS80 Soundtrack Mix, and KRS81 Sonix Bliss.

EXs90 Kronos Assault
EXs90 includes massive, luscious pads, movie sounds and effects, all topped off with a selection of classic synth sounds, plus an assortment of sampled human voices, from natural sounds to dreamy vocals. Exs90 is currently available for download for US $180
Exs80 Vintage Synths
EXs80 Vintage Synths includes over 250 MB of new sample data with a wide assortment of classic analog basses, leads, pads, strings & killer synth sounds that have that vintage analog sound that many musicians pay big bucks for – now at a fraction of the cost. An amazing assortment of Programs & Combis that utilize KARMA and are perfect for producers and keyboard players looking for classic synth sounds to add to their Kronos. Exs80 is currently available for download for US $69
Exs82 Hit Factory
EXs82 Hit Factory is a mix of Programs & Combis utilizing KARMA, that is perfect for producers and keyboard players. Hit factory includes six new drum kits with hundreds of samples. Also included are a wide mix of funk guitars, orchestra hits, noises, scratches, human beat boxes, analog vocoders and more. Exs82 is currently available for download for US $69
KRS80 Soundtrack Mix
KRS80 Soundtrack Mix features a mix of killer pads, synth sounds and unique rhythms – an assortment of different "atmospheres" that are ideally suited for TV, video games, film projects, or for composers scoring modern classical music. KRS80 is currently available for download for US $39
KRS81 Sonix Bliss
KRS81 Sonix Bliss focuses on the MOD-7 sound engine, including a wide assortment of classic FM-style synth sounds along with a mix of complex sounds. Everything from 80′s DX-style electric pianos to modern 21st-century synths is included, with a mix of basses, leads, pads, drums, percussion and much more. KRS81 is currently available for download for US $39
Exs64 Ethno World
The first World library for the KORG Kronos, EXs64 KARO Ethno World was produced in collaboration with Erkan Ucar (Ecomusik). These Ethno instruments-include strings, winds, keyboards, percussion, and more-were collected around the globe and arranged into this single and extremely versatile library. Exs64 is currently available for download for the special price of US $199 (Normally $249)
Exs67 Upright Piano
KARO's EXs67 Upright Piano library delivers the familiar sound of an upright piano, with all the modern advantages and possibilities that Kronos technology has to offer. A traditional German piano was sampled with 6 velocity layers, for a total of 1.6GB of high-quality samples, and 36 Programs specifically designed for them – including six by Michael Geisel of Korg & More in Germany. Exs67 is currently available for download for the special price of US $99 (Normally $169)
All libraries are available at: www.korg.com/kronos/SoundLibraries. Free demo versions of the EXs libraries can be downloaded; purchasing an authorization code from the secure Korg Web Shop unlocks full access to the libraries. Please see Korg.com for sound demos and download/ installation system requirements.
A new video from KORG featuring the Krome workstation, description below (Googlish from Japanese):
Only real sound, I do not memorable.
PCM is also equipped with a large capacity of 3.8GB, beginning with the piano sound sampling all key quality that boasts overwhelming, break at once the sense of class. Premium standard model that bears the name was derived from the "Chroma" means color in Greek, which brings to life the vivid music. Music Workstation, KROME Introducing (Chrome)!
Click here for product information.
http://www.korg.co.jp/Product/Synthesizer/KROME/
Introducing the Krome Music Workstation. Powerful yet affordable, Krome provides sound quality and features unheard of in its class. Experience huge, Kronos-derived acoustic piano and drum sample libraries, large electric piano libraries, and hundreds of additional sounds to jump-start your creativity. The widescreen color TouchView™ display and hands-on controls make performing or creating your music easy, fun, and inspiring. For more information, please visit www.korg.com/krome.
The next step in the legendary Micro line of synthesizers is here! MicroKorg XL+ delivers a fresh update to the sounds and look of the MicroKorg XL, making it an ideally versatile compact keyboard. It includes a reimagined palette of analog modeled sounds, PLUS new dedicated PCM for Korg's SGproX piano and M1 organ, well-known VOX organs, and instantly recognizable "Tape" instruments. The new all-black panel ups the "New vintage" vibe that looks great on stage or in the studio.
microKORG XL: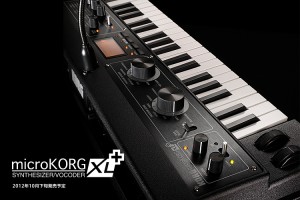 With its unmistakably unique exterior and its inimitable sound, the microKorg set the standard for analog modeling synthesizers. The year 2008 saw the introduction of the microKorg XL, which inherited the microKorg's fat and powerful sounds, while adding keyboard staples such as electric piano and the CX-3 organ. And now, in the next evolutionary step, the microKorg XL+ delivers a fresh update to the sounds and design of the microKorg XL, making it the ideal compact keyboard.
Googlish from Japnese:
Became the standard model microKORG analog modeling synthesizer with a unique look anything, the sound of the place of work is not authentic. MicroKORG XL to take over the powerful sound while its thick and enhanced, such as the CX-3 organ and electric piano, the function as a keyboard appeared in 2008. microKORG XL +, the brush-up and design of sound microKORG XL. Pursue the ideal that users expect in this compact keyboard, I have evolved further.
Piano SG, such as the organ of the VOX and M1, vintage sound is more comprehensive.
Program genre selector that matches the needs of the times.
New to nostalgic, vintage New design black panel.
Crystal analog modeling technology Korg, with MMT.
Comes with a gooseneck microphone, featuring vocoder function.
Effects engine adopted Korg boasts intense.
Equipped with a natural touch mini keyboard Korg's proprietary with an emphasis on ease of play.
Corresponds to the drive battery easy to carry.
"MicroKORG XL + Sound Editor", available for free download preset programs, such as further microKORG.
KORG Krome: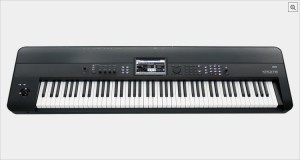 Googlish description from Japanese:
And 73 in KROME-61, Natural Touch keyboard employs a semi-weighted, from tone to tone synthesizer piano, you can play with a natural touch. In KROME-88, adopted the keyboard (Natural weighted Hammer Action) NH, in a tone that can be expressed, exhibits a strong power, such as electric piano piano and subtle nuances.
And aluminum panel to produce a sense of luxury, design full of personality.
Side surface to form a line flowing which made full use of the curve, body dressed in color very dark, making it the elaborate design that combines aluminum, two panels with different design to the panel surface. Unique design and it can be seen on stage lined with a lot of equipment, will leave a strong impression on the audience with a clear sound.
View with color LCD display with large touch with excellent visibility.
Excellent visibility to KROME, 7-inch color display that can be many parameters at once, with a large LCD display of WVGA (800 x 480 pixels). You can come into direct contact with a parameter that also features touch graphical user intuitive interface view is displayed on the display, and edit the parameters of the sound-making. We're also supports drag-and-edit feature that can be manipulated to direct the knob and slider also. In addition to this, I was with a number, such as a calculator handy stop watch handy, in numeric input features, convenient touch unique view started playing the piano roll editor, to count the time a live performance.
Updated with press releases from KORG:
KORG microKORG XL+ Synthesizer/Vocoder
Vintage … and more!
With its unmistakably unique exterior and its inimitable sound, the microKorg set the standard for analog modeling synthesizers. The year 2008 saw the introduction of the microKorg XL, which inherited the microKorg's fat and powerful sounds, while adding keyboard staples such as electric piano and the CX-3 organ. And now, in the next evolutionary step, the microKorg XL+ delivers a fresh update to the sounds and design of the microKorg XL, making it the ideal compact keyboard.
Highlights
Even more vintage sounds, including the KORG SGproX piano, the M1 and the VOX organs
New program genre selector that fits today's needs
New yet nostalgic – black panel "new vintage" design
Featuring MMT – the distillation of Korg's analog modeling technology
Vocoder feature with included gooseneck microphone
The powerful effect engine you expect from Korg
Korg's proprietary natural touch mini-keyboard, designed with an emphasis on playability
Battery powered operation is supported for increased portability
More Vintage Sounds than Ever
Lush analog modeled synthesizer sounds that are characteristic of the microKORG have been freshly added to the microKORG XL+. In addition, for band use, the microKORG XL+ comes equipped with the piano sound from Korg's classic stage piano, the SGproX (famous for its ability to stand out in your band's mix), as well as its hard-edged grand-type electric piano. This compact package also includes sounds from the M1 and the VOX organ, vintage tape-type string and flute machines, as well as other gorgeous sounds from keyboard history. Each of these 128 programs are genuinely usable sounds, giving the microKORG XL+ plenty of variety to serve as your main keyboard or of course as a secondary keyboard in your rig.
Program genre selector
The microKORG XL featured a sound selector that lets you choose your sound using two large dials: "music genre" and "instrument category." The new microKORG XL+ offers an additional selection of
these "music genres" to fit today's fast-moving music scene. Now you can select a program that matches your song more intuitively than ever. For even more convenience, you can also leave one of the dials fixed and only use the other dial to make program changes during a song (music genre fixed), or use the dial to select vocoder variations (instrument category fixed).
New Yet Nostalgic – "New Vintage" Design
The microKORG XL+ projects a style that's reminiscent of vintage electric pianos, featuring a futuristic yet retro design with a stylish black panel. High-quality parts such as metal levers, dials that move with an audible click, and knobs with a sturdy operating feel are some of the ways that the microKORG XL+ outclasses other instruments in its range and enhances your experience editing synthesizer sounds.
MMT — the distillation of Korg's analog modeling technology
The microKORG XL+'s sound engine uses MMT (Multiple Modeling Technology), borrowing from Korg's well proven wealth of analog modeling technology. The MMT sound engine has been featured on numerous products, and provides two oscillators that generate huge powerful sounds. Oscillator 1 (OSC1) gives you a total of seven types of oscillator algorithm to choose from, including formant waveforms such as human voice, and PCM/DWGS waveforms for vintage keyboard and strings. It also lets you use techniques that cannot be imitated on typical PCM synthesizers, such as cross modulation, unison, and VPM (Variable Phase Modulation). By taking advantage of modulation (sync or ring) with oscillator 2 (OSC2), it's easy to create complex and powerful sounds.
Vocoder Function with Included Gooseneck Microphone
The microKORG XL+ can function as a powerful vocoder that lets you connect a mic and use its audio input to shape the tonal character of the oscillator's sound to create "talking" effects. The vocoder consists of a 16-band filter bank that can simulate the vocoder sounds of the past and also shift the filter frequencies (Format Shift function) or adjust the level and pan of each band to dramatically change the sonic character. Using the Vocoder is an easy way to add sounds that can be found in today's popular electronic music. Since a gooseneck microphone is included, you can immediately start using thevocoder in your songs.
The Powerful Effect Engine You Expect From Korg
Two master effects utilize the effect engine that was brought to perfection in Korg's Kaoss Pad series, giving you a total of 17 powerful effect types including delay and echo effects as well as dramatic effects such as ring modulator and grain shifter. In addition, effects such as delay can be synchronized to MIDI clock for a wide range of possibilities in live performance.
Natural Touch Mini-keyboard
The new Natural Touch mini-keyboard offers an even better playing feel than ever before. The proportion of the keys has been adjusted to make chords easier to play, and the touch has been refined for greater ease when playing rapid phrases. The waterfall-type keys project an aura of sophistication, and they also help when playing a glissando.
Battery-powered for Convenient Portability
The microKORG XL+ can take advantage of the included AC adaptor or it can run on six AA alkaline batteries. Checking in at a mere 22 inches long and 4.4 lbs. in weight (main unit only; not including batteries or mic), the microKORG XL+ is a convenient size to take with you, opening up new performance possibilities on the go.
Expanded Sonic Possibilities via USB
By using a USB cable to connect the microKORG XL+ to your computer and using the sound editor software, you can edit all of the parameters easily from your computer. In addition to this software, you can also download preset program data from the microKORG and the MS2000/MS2000B free of charge to gain access to an even larger number of programs.
PRICE: £407.99 RRP (£339.99 RRP ex VAT) AVAILABLE: October 2012
KORG KROME MUSIC WORKSTATION
On Stage. On the Go. On Top.
Offering full-length, unlooped samples of every key for a spectacular piano sound, this new keyboard redefines your expectations for an instrument in this class. Taking its name from the Greek word meaning "color," KROME is the new standard for sonic excellence in a gigging musician's keyboard, providing a limitless palette of sound to bring vivid inspiration your music. Introducing the KROME Music Workstation.
Product Highlights:
The Korg workstation ideal for any style of piano playing
KRONOS-derived full length, unlooped piano and drum sounds, plus new electric pianos designed to shine on stage
Electric pianos with eight-level velocity switching for unmatched expressive power
Clear, intuitive control with Korg's exclusive 7-inch color TouchView™ display
Drums offering separately mixable direct and ambient sounds for studio-grade quality
Drum Track plays back realistic, inspiring grooves at the touch of a button
Expertly created, in-demand sounds including 640 Programs and 288 Combinations
Powerful Effects with 5 Inserts, 2 Master, and 1 Total FX, plus per track/timbre EQ
Distinctive aluminum panel design exudes a sense of quality
USB connection to your computer, plus an SD Card slot for data storage
You can use the KROME editor to edit sounds on your computer
Available in 61, 73, and 88 key models.
Hear what the artists are saying about how Korg's Kronos Music Workstation has been evolving their stage and studio rigs.
For more information about Kronos, please visit http://www.korg.com/kronos
Kronos Highlights

9 Sound engines, each offering a unique sound-creation technology (see list below)

16-part Combis allow all engines to function together in perfect harmony; Dynamic Voice Allocation keeps the polyphony high.

Available with 61, 73 or 88 keys. The 73 and 88 key models feature Korg's finest RH3 Graded Hammer Action. The 61 key model borrows the responsive synth action from the Korg M3-61.

Comprehensive interface, based around a new large 8" TFT TouchView™ display

A revolutionary sample playback system aided by a fast SSD (Solid State Disk) provides high polyphony and massive, ultra-long, and unlooped samples; offering unheard of performance from a hardware instrument

Smooth Sound Transition: this often-requested feature allows held or sustained notes to keep sounding when changing sounds or modes.

Set List mode: Organize the Programs, Combis, and Songs you need to perform your set in a single, easy-to-select screen – including performance notes!


Use up to 16 premium-quality effects at once; individual effects rival dedicated units

12 Insert effects

2 Master effects

2 Total effects


On-board sequencer offers 16 MIDI tracks + 16 audio tracks (24-bit, 48kHz recording quality)

Open Sampling System – Instant sampling and resampling from any mode: Program, Combination or Sequencer.

Sophisticated KARMA® technology generates infinitely variable performance-driven phrases, musical effects, and backing tracks to catalyze your creativity

Expanded Drum Track for play-along grooves and inspiration


Signature sounds created with guidance from world class musicians
Background info:
Here is an awesome computer mod that I have been working on for the last four months. I built this computer mod to appeal to DJ's and music artists. I call it DJ SOUND CONTROL or DSC for short.
I made it as compact as possible, but not too small that you could not be comfortable performing a set. I added a powerpack that allows true portability, giving you a full hour of power without plugging it in.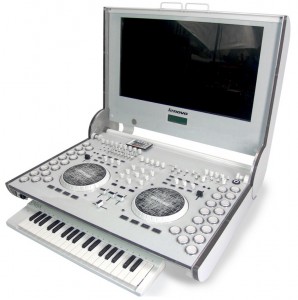 With the 23″ touch screen the performance can now include finger gestures and multitouch controls. Crazy RGB backlit panels makes sure your party keeps hoppin' through the night. Cutting edge DJ hardware, like the Midifighter that has been customized to put super fresh effects right at the fingertips of both your right and left hands, will make this a musical game changer. Built in Meeblip digital synth controlled by the optional slide out keyboard will let you rip off an amazing bass solo or dub step routine.
On board effects from the Alesis NanoVerb give you instant overall expression of the multiple outs. And the meat and potatoes customized Numark Mixtrack gives you all the standards that every DJ needs to stylize their set. With tough Lexan custom CNC machined panels and high strength aluminum frame this box is ready to travel around the world with you no matter where and how you perform.
See Blarsky's site for more info!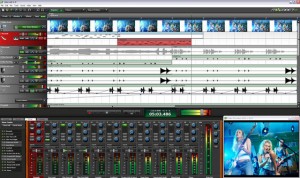 Acoustica has announced the release of Mixcraft 6, the latest version of the powerful music production and multi-track recording workstation that comes packed with thousands of music loops and dozens of audio effects and virtual instruments.
Mixcraft enables you to record audio, arrange loops, remix tracks, compose with MIDI and virtual instruments, add effects, score and edit video, and mix and master your tracks to create polished, professional compositions.

Mixcraft is your music production dream come true, instantly turning your computer into a fully-stocked professional recording studio.
New in Mixcraft 6
New interface & artwork.
Over 6,000 loops in version 6.
Major improvements to MIDI editing, piano roll.
Submix tracks for grouping tracks together.
Multiple lanes for tracks (including multiple MIDI channels).
Improvements to loop library including loop importing & search.
Loop recording mode with multiple takes.
Video transitions, automation, text & titles, still image importing.
Built-in guitar tuner on every audio track.
New virtual instruments (ComboV & ComboF organs, Acoustica Studio Drums).
Improved quantize and other new MIDI Editing tools.
Reverse audio clip feature.
Drum maps in the piano roll interface.
Control surface support for transport & plug-in controls.
Support for VSTs with multiple outputs.
ReWire support.
Output busses.
Route MIDI track data to audio plug-ins.
Live automation recording.
Option to mix down all individual tracks for exporting project to another DAW.
Insert/Remove time from project.
Ability to draw selection in the time-line (to select data in all tracks).
Improved time signature support.
Effect chain presets.
Phase reverse option on audio clips.
Faders & meters now logarithmic when in dB mode, MX6 now defaults to dB mode.
New project folder helps to keep your recordings organized.
Backup file created every time a project is saved.
Auto-rewind to playback start preference added (on by default).
Ability to arm MIDI tracks for a specific MIDI device.
Mixcraft for Windows is available to purchase for $74.95 USD.
THE TRINITY
Korg Trinity Pro-X 88 Keys Music/Video Demo by Ares Kalogeropoulos. Korg Trinity is a commercially successful synthesizer music workstation released by Korg in 1995. It was also the first workstation to offer modular expansion for not only sounds, but also studio-grade feature such as SCSI, ADAT, various sound engine processors, audio recording capability, and more. It was considered one of the most comprehensive music workstations, in term of features, at the time. It is affectionately referred to as the silver beast by many of its owners.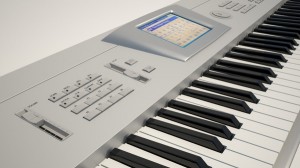 The Trinity workstation features a massive set of effects (100 Insert effects & 14 Master effects), a large graphic touchscreen (320×240) and a complete 16-track sequencer, as well as double sound generation system:
ACCESS (Advanced Control Combined Synthesis System). A PCM-based sound synthesis with 16 bit – 48 kHz PCM playback on a 24Mbyte ROM. However, since 2:1 data compression has been used, these are equivalent to 48Mbyte of samples held in conventional RAM. The PCM data includes well over 1,000 individual samples comprising 374 multisamples.
MOSS (Multi-Oscilator Synthesis System). The sound generation system of the Korg Prophecy and Z1 with: analogue modelling, VPM (Korg's version of FM synthesis) and physical modelling (brass, reed, plucked string, bowed string, organ, electric piano modelling)
Along with the Korg Prophecy, the Korg Trinity synthesizer was a descendant of the original OASYS synthesizer, an acronym for Open Architecture Synthesis System, which was a mega-synth prototype that the company previewed in 1994 but never marketed. The foundation of the system was an open concept DSP system where the OS could load various unrelated models of different synthesis and physical modelling sound generators. It was a multiple digital signal processor (DSP) architecture, with the entire system clocking in at over 900 million instructions per second. Korg later adapted some of the core technologies and released three initial products: Trinity, Prophecy and Wavedrum.
All Sounds/patches made with Korg Trinity.
Multitrack Recording on a DAW.
Software Reverb and Delay added.
Here's the pitch form Akai:
SynthStation49 is the most advanced, intuitive music controller designed specifically for use with the iPad and is the first true iPad performance tool for musicians. Working seamlessly with Akai Professional's heralded SynthStation software, SynthStation49 provides unparalleled music creation capabilities, including direct in-app MIDI recording from its velocity-sensitive keyboard, nine MPC-style drum pads and array of transport controls. In addition to its integration with the SynthStation app, SynthStation49 is also completely iOS CoreMIDI compatible, making it instantly compatible with dozens of music apps already in the App Store and hundreds more on the way.
http://www.akaipro.com/synthstation49
Additional information:
Dock, power and position the iPad perfectly using the adjustable-angled cradle, or establish commanding control over your favorite computer software using SynthStation49's USB/MIDI port. Professional ¼" outputs and extreme portability ensure you'll be able to take your sequences straight to the stage at a moments notice.
SynthStation49 is the only full-featured, professional keyboard controller allowing direct MIDI performance recording onto an iPad. Bridging Akai Professional's popular MPK controllers with the previously released SynthStation25, SynthStation49 provides immense software control with forty-nine, full-size velocity-sensitive keys, nine backlit MPC-style drum pads and full transport buttons. An adjustable-angled dock for iPad allows the user to easily slide their tablet into the SynthStation49's cradle and position the screen to their preference.
SynthStation49's keyboard, pitch/modulation wheels and sustain pedal input provide great feel and the essential controls for musicians and producers to compose, record and perform. The nine drum pads of SynthStation49 give users immediate, intuitive beat-creation capabilities over the 50 classic and modern kits available within the SynthStation software. Program, Sequence, Song select and Transport buttons also provide quick navigation to the SynthStation App's most used components for a seamless, efficient workflow.
SynthStation49 also contains a stereo pair of professional ¼" TRS outputs with volume knob for easy connecting to other pro audio equipment on stage or in the studio. A headphone output also lets users practice and compose in private. The SynthStation49's USB port can be connected directly to a Mac or PC computer to receive power in addition to transmitting MIDI to and from music software – a great way to turn the SynthStation App or other CoreMIDI compatible App into a sound module. You can even use SynthStation49 as a traditional USB MIDI controller with your computer – no iPad required!
AkaiConnect SDK allows third-party developers to take advantage of all the professional controls and capabilities of Akai Pro's SynthStation49 keyboard controller and incorporate support for those controls within their iPad applications. Software developers interested in creating programs compatible with SynthStation49 can submit an application now at SynthStationApp.com.