Edgar Choueiri, a professor of mechanical and aerospace engineering at Princeton University, has developed a way to play true three-dimensional sound recordings over regular loudspeakers, such as those found in televisions and computer laptops.
The technique may one day be used to allow 3D televisions to produce lifelike sound and to help people with certain types of hearing impairments locate noises. Segments of the video above incorporate Choueri's 3D filter to demonstrate the phenomenon.
The filter is designed to work with loudspeakers – not headphones – and can be experienced through standard computer speakers. (Make sure the right and left speakers are on the correct sides.)
Video by Michael E. Wood.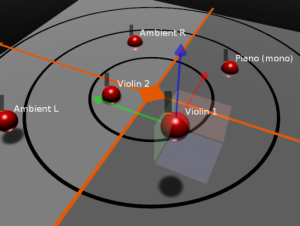 Longcat Audio Technologies has announced the Mac version of H3D VST, a 3D audio binaural plugin for Digital Audio Workstations. The Windows version, which was previously available, has been updated also.
H3D works within your DAW and lets you place and "animate" instruments in a virtual 3D space.
Features:
3D object-based mixing: use the 3D interface to visually place and animate sounds.
Longcat Audio H3D technology: when listening on headphones, H3D allows panning sound in 3D all around the listener's head.
Unique HRTF processing: H3D uses Longcat own processed HRTF filters in order to achieve the best spatialization effects.
H3D Reverb: immerse your tracks with H3D Reverb, a spatialized binaural reverberation.
Automation: fully automate parameters and 3D animation of audio tracks.
No tedious settings: Just insert H3D plugins and start moving sounds in 3D.
H3D is available now for 99€ (incl. EU VAT) via Longcat's online shop.
I wanted to recreate this mythical game just for fun. Very soon in the library users.
Shared by Krumlek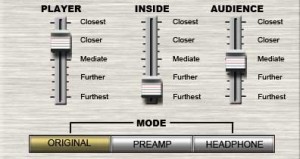 Here's the press release from Sound Magic:
3D Interactive Music is a revolutionary digital audio technology which achieves an entirely new level of realism and playability while opening up incredible new realms of sound! 3D Interactive Music allows audiences to experience music from different physical perspectives, allowing them to "move around the concert hall" – or even "join" the band on stage. And more importantly, it is the first time that the audiences have the right to choose the sounds they prefer – arranging and re-arranging their sounds to create amazing new perspectives of their favorite music.
Totally different from recording, 3D Interactive Music enables its audiences to actively participate in the process of shaping the final sound. Not an equalizer or tone control – or even a basic panning knob – 3D Interactive Music delves deeper into the way our brain interprets the sounds we hear. When we play our music, be it on CD, MP3 or even a Blu-ray Disk, it is static: audiences hear the same thing every time and cannot change it.But in 3D Interactive Music, your ears will be opened to new worlds. You can switch to the player's perspective and hear the same sounds the guitar player heard when he originally played your favorite song. Or you can switch to audience perspective, listening from the back row of the theatre. You can even go crazy and crawl into the grand piano, hearing the band from inside! Still not satisfied and want to build your own rock band? You can mix different instruments from different perspectives by simply dragging them onto the 3D stage. Move instruments around, tweak it, play with it. When you discover your own unique, perfect mix, you can render it to MP3 or burn a CD and impress your friends with "your" new band.
3D Interactive Music offers great detail using nearly 20 times the quantity of information that the latest 24 Bit/192KHz High Definition Audio spec calls for. Every nuance is preserved, each detail will be present in your ultimate mix. And you are no longer forced to listen from one perspective – you now have the ability to hear your favorite songs from anywhere you desire. 3D Interactive Music uses groundbreaking multi position synchronization recording, HRTF and DSP technologies to achieve these incredible effects. And, with an audio resolution up to 32 Bit/384KHz even the pickiest audiophile's ears will be pleased. By using the latest personalized Head Related Transfer Functions, 3D Interactive Music will simulate the effect of binaural recording, preserving an accurate and realistic stereo image at every point in your virtual venue.
3D Interactive Music lets users compare the differences between the original recording and their own creations, A/B switching on demand, allowing anything from subtle changes to sweeping alerations. Listeners demand so much more these days, arguing about studio recordings vs. live shows. 3D Interactive Music puts you in control. You now have the flexibility to arrange the venue as you choose. Move that lovely singer to the front – put that drummer way off stage! You decide!
One of the great advantages of 3D Interactive Music is that it is extremely friendly to both audiences and producers. There's no new hardware to buy, nothing to plug in. In fact, experiencing this revolutionary technology is easy as listening to any of your favorite songs on your PC. All you need is a Windows PC with standard audio outputs. Even your five years old "antique" PC can play 3D Interactive Music without any issues. Any current digital music can easily be transformed into 3D Interactive Music.
With the release of 3D Interactive Music, we are also releasing 2 albums demonstrating the use of 3D Interactive Technology: Piano Magic and Silk Road. Piano Magic is a virtual encyclopedia of grand pianos, featuring five of the greatest (and most expensive!) grand pianos from around the world. This is the first album that audiences can enjoy with these amazing piano sounds heard from different perspectives – with details never heard before. Featuring three different perspectives, you will experience piano sound from a full 360 degrees.
Silk Road contains 4 unusually beautiful sounding Chinese instruments: the Guzheng, Matouqin, Kong Hou and Bawu. Once again utilizing the magic of 3D Interactive Music, you will experience three different perspectives and the unique sound of each.
Pricing and Availability:
See website.
More information:
Introducing AudioStage LITE, a free edition of our 3D audio mixing technology AudioStage, now available for public download. Visit us on www.longcat-audio.com!The interface may be used with tactile screens or a mouse, and allows for a simple sound and space authoring.
We said that  Schaaf "introduced an entirely new form of wankery to the world of keyboard performance", when he introduced the Radikal Accelerator and its 3D motion sensor. Fortunately, the Accelerator also offers a Radikal synth engine and performance controls….
This live performance synthesizer sounds really good, but it also has a few tricks we hadn't seen before. Wait until you see how it bends pitch…
Features:
3 oscillators with sweepable waveforms, time linearity modulation, phasemodulation, ringmodulation between Oszillator 2+3
oscillator synchronisation
6 envelope generators
4 LFOs (3 voice, 1p art LFO)
noise with noise filter (multimode filter 12 / 24 dB)
independent amp EG for noise
2 multimodefilter per voice
LP, HP, BP and Notch with 12/24 dB per filter switchable
independent oscillator to filter feeds
serial and parallel filter configurations
8 voices (expandable per DSP upgrade)
categorized randomize sound function
monochrome graphic display with RGB backlight
modulationmatrix – 2 FX – arpeggiator
step sequencer
split, dual, single and performance mode
3D positioning sensor for parameter control
61 lightweighted keys with channel aftertouch
512 sound memories
floating point for enhanced dynamic range
expression pedal input
footswitch input
USB (USB MIDI class device)
two external inputs
two outputs
MIDI In, Out, Thru
headphones output
Longcat Audio Technologies has released AudioStage, 3D audio authoring and mixing software, but comes at a price that, unfortunately, puts it out of the range of most users.
Aimed at movie and music postproduction, AudioStage inserts in major audio workstations such as ProTools, Pyramix, Nuendo or Logic Pro, and lets you visually place and animate audio tracks in editable 3D environments.
Features
Input tracks: Mono or multichannel.
Acoustic environment: complete with connected rooms, physical simulation of openings, walls and reverb.
Authoring: infinite number of scenes, tracks and environments in one single project.
Automation: Full parameter automation and animation of audio objects.
Commercial editions: AudioStage Stereo, Surround and Unlimited.
Free LITE edition: to achieve your first 3D mixes.
3D object-based mixing: simultaneously mix in stereo, surround or any full-3D format up to 64 channels.
Spatialization: Comprehensive techniques (including stereo, binaural, stereo3D, surround, Ambisonics and VBAP) applied individually to audio sources in each mix.
AudioStage starts at 990 € (special introductory price for Stereo edition), and is available immediately in Longcat's online shop for Windows and Mac OS X, with VST/AU/RTAS plug-in connectors.
The free AudioStage LITE edition is also immediately downloadable from Longcat Audio's website.