Chip tunes with a touch of Japan

Hietsuki Bushi (Full version) / Omodaka (Far East Recording)
Animation+Dir.: Ryo Hirano
On 2011/8/14 Omodaka has a new release!!!
New album including "Hietsuki Bushi" will be downloadable
in iTunes Store,Amazon MP3 or many online music stores
on 2011/8/14. The physical CD is also available from
amazon.co.jp (Asin: B005DDNIGW) on 2011/8/14,too.
It can be searched with"Omodaka" as the artist's name.
http://fareastrecording.com
http://www.amazon.co.jp/dp/B005DDNIGW
From the album "Surrender" by 4mat. http://4mat.bandcamp.com/
http://www.facebook.com/4matchipmusic
(contains some strobing effects)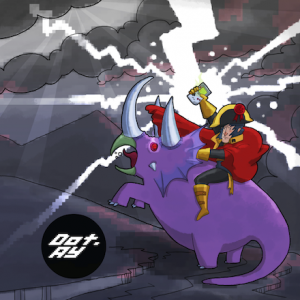 Dot.AY wanted to be a paleontologist, instead he makes music on gameboys. This is an EP of dinosaur themed Chip Bass, an exploration in wonky beats, wobbly bass and all in all a LARGE sound. Created entirely using a single Gameboy to try and make the biggest fiercest least Video Game related sounds possible.
1. Bambiraptor
2. Dayglodocus
3. Dandyceratops
4. Shit Drop
5. Thumpasaur
Download now
Also check out the new Website designed by Entter
This post was submitted by Dot.AY.
So about DrunkenNES. I had recently done a workshop for 8static and bought a bunch of sensors to show the basics of physical computing. I came across an alcohol sensor and thought it would be fun to play with – I hooked it up to a scope and showed it to a couple of friends I had over. A couple of hours we had a ROM with the sound pitching up as it detected more alcohol – which we really couldn't stop laughing about. I got to leverage all the previous work in the NES communications driver I had written for the Arduino using an RBBB in an enclosure. We forced a friend to drink for science – we all did a lot of drinking for science. The thing is actually pretty accurate provided you didn't have a drink in the past 3 minutes – it was fun having excel open "collecting data".So alcohol sensor -> ADC on Arduino -> NES communications driver -> gameport #2 -> homebrew software on NES powerpak ram cart
Here's our new playlist for Spotify. We've been scanning the Spotify database for 8-bit pop songs and conluded there are 666. It's just got to mean something!
Video from Crashfaster's new album called Disconnect
For all you chip fans out there
More on Crashfaster can be found here >>
New video from deadmau5:
modular-vania. lots of midi to CV, the M5n, SK1, Oberkorn, BLD's, Cwejman VCOS's, dark energy, voyager, couple of kenton USB's. yadda yadda. fun stuff.
Very simple chip tune musical instrument, built by Unatronix, featuring a very limited set of control, but still carries couple of intriguing features; lightning senors and echos. the sound it generates is actually quite awesome
Enjoy
Rhythm Core Alpha is a new music synthesizer & sequencer for the Nintendo DSi.
Rhythm Core Alpha is a fun and powerful music creation system for Nintendo DSi. This video shows how to create your own music quickly and easily, explaining every step of the process. It starts with creation of a simple drum loop in a matter of seconds! Then it adds simple bass and melody parts, and shows how to build an automated chord progression. Finally, simply solo over the top of your backing tracks using the stylus.
Finally, a musical instrument for everyone!
Rhythm Core Alpha comes with 122 drum sounds and 166 instrument sounds from synths to orchestral instruments, allowing you to make many not just electronic trance music and chiptunes, but almost any style of music.
Rhythm Core Alpha is available for 500 Nintendo Points in the Nintendo DSiWare shop.
For more info: http://www.rhythmcorealpha.com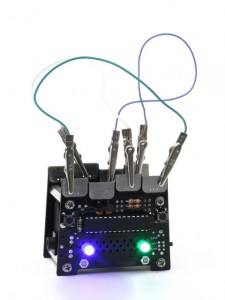 Dr. Bleep posted this teaser photo of the new Bit Blog, Jr., available for pre-order from Bleep Labs 11/11/10 as a kit or assembled noise synth.
Here's an older video showing the concept: